With the challenges brought about by the COVID-19 pandemic, SM Foundation (SMFI) ensures the continuity of its programs by adapting to the so-called "new normal" of accomplishing things.
Since the start of the lockdown, the SMFI team, specifically their education pillar conducted virtual home visits and interviews for SY 2020-2021 scholar-applicants– especially those who are scheduled during the quarantine period.
This process was previously done by some officers of SMFI. It is the last step for those who passed the initial screening and exam for a candidate to become one of the SMFI scholars.
SMFI executive director for education Linda Atayde shared the success of their online house visits and interview.
"The quarantine period and isolation posed a big challenge for our team. Through digital technology, we were able to establish connections with our candidate scholars. We were able to interview most if not all of the scheduled candidate scholar. There's a big advantage using the virtual setup because the team from the Foundation were able to reach the scholar-applicants faster in spite of some of the candidates were living in the countryside," Atayde said.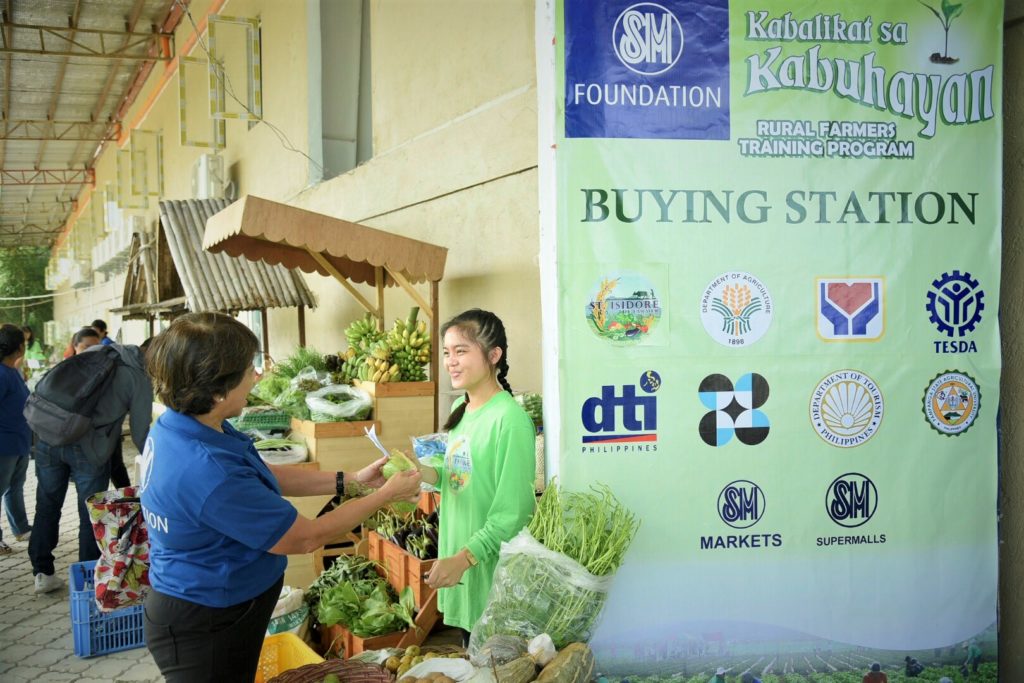 It was heartwarming to see some former SM scholars volunteering to help the SM education team in conducting the virtual home visits and interviews. According to them, this serves as a great venue to exercise their spirit for volunteerism considering that this program is closest to their hearts as they themselves are products of the SM Scholarship Program.
As for SMFI's Kabalikat sa Kabuhayan (KSK) program, the team partnered with SM Development Corp. (SMDC) in rolling out its weekly community grocer initiative, The Good Guys Market. Through the collaboration, SMDC residents can now purchase affordable fresh produce while helping and supporting local farmers.
Through the social enterprise organized by the Kabalikat sa Kabuhayan (KSK) trainees and farmer group, residents in SMDC communities such as the Sea, Shell, and Shore Residences located in the MOA complex can now order fresh vegetables and fruits online. Their orders will be delivered every Sunday straight to their doorsteps, with no delivery charges.
"Aside from partnering with SMDC in providing market linkage to its farmer trainees, the bayanihan spirit lives on amidst the pandemic through its collaboration with its partners, Maricon Mills and Rice Up. Through this partnership, local produce of KSK trainees were gathered and sold at fair market prices in the provinces," said SMFI AVP for outreach programs Cristie Angeles.
"In addition to selling agri-based products, most farmer trainees also distribute free seeds to their neighbors in order to spread the love for farming and promote food security. This is very vital since during a pandemic, planting and harvesting your own produce would go a long way," Angeles added.
In addition to the innovative execution of SMFI's program pillars, SMFI also launched its Social Good Stories Campaign. Through the program, SMFI continues to strengthen its social development through communication by promoting positivity amidst the pandemic and by communicating its social good efforts in a fun and engaging way.
"We believe that through our stories, we can also create positive impact for our stakeholders. Spreading social good news is important especially now that the country is experiencing a pandemic," a Board of Trustee of SM Foundation commented.
"We will continue to find innovative ways to help our fellowmen to rise from this crisis. If we can't resume our programs in the traditional way, we will continue in finding alternatives to execute our programs safely and sustainably," the Trustee added.