The Philippine Institute of Certified Public Accountants (PICPA) has a new set of officers. Lope L. Bato, Jr. has been inducted national president along with other officers by Cabinet Secretary Karlo Alexei Nograles.
The virtual turn-over and induction ceremony had President Rodrigo R. Duterte as keynote speaker and Senator Christopher "Bong" Go as guest of honor.
As PICPA president for 2020-2021, Bato has adopted a six-point agenda for the organization—RISING—where R stands for Recovery Programs; I for In-house Programs; S for Social Responsibility Programs; I for International Programs; N for New Programs; and G for on-Going Programs.
Bato acknowledged that the pandemic COVID-19 has not spared the Accounting Profession. Those in the Accounting Profession, he says, have also to contend with the new norm as they shift to work from home arrangements, virtual meetings and virtual trainings.
He exhorted PICPA members to continue to deliver their mandate as CPAs as seamlessly as they can, notwithstanding the difficulties. He also urged everyone to "stand in solidarity as we make ourselves relevant to our country despite the hardships that we encounter at our inner core from our family life, to work life, to spiritual life."
A graduate of BSBA in Accounting from the Mindanao State University-Iligan Institute of Technology, Bato pursued his MBA at Centro Escolar University.
He is currently a candidate for Doctor in Business Administration at La Consolacion University of the Philippines. He has an extensive experience in Public Accounting and Taxation. He is currently the Chairman and CEO of Lope Laranjo Bato & Co., CPAs (LLB & Co., CPAs).
Bato succeeds Ms. Evelyn S. Corpuz as President of PICPA.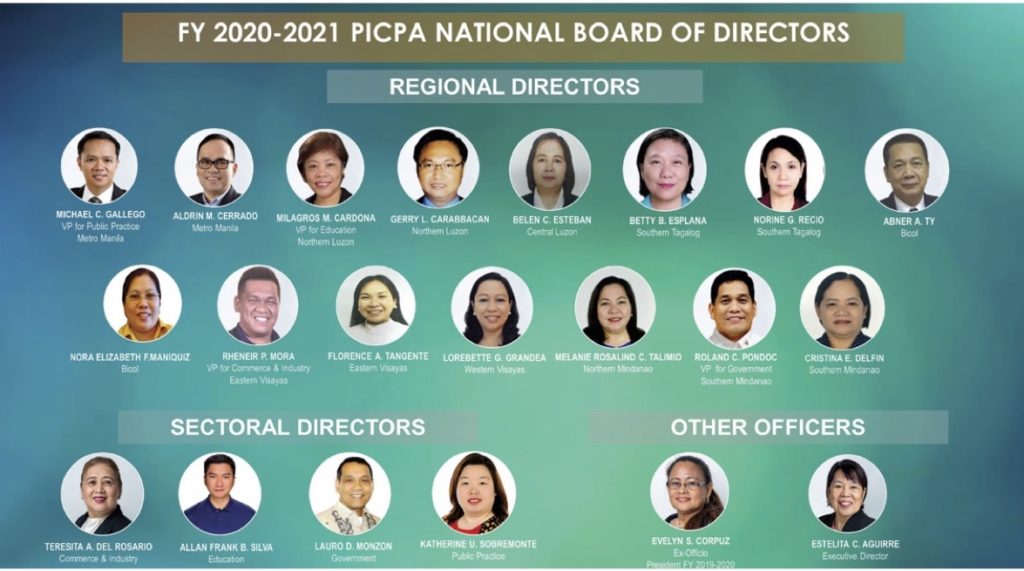 Other key officers of PICPA are Marydith C. Miguel, Executive Vice President; Gladeys Jill A. Santos-Cua, VP for Operations; Atty. Rheneir P. Mora, VP for Commerce & Industry; Milagros C. Cardona, VP for Education; Atty Roland C. Pondoc, VP for Government; Michael C. Gallego, VP for Public Practice; Estelita C. Aguirre, Executive Director; Anna Lissa C. Dycaico, Secretary; and Ma. Teresita Z. Dimaculangan, Treasurer. All the members of the national board, presidential advisers, board of trustees of PICPA Foundation, committee chairpersons, vice-chairpersons and members, regional sectoral representatives, and chapter presidents were likewise inducted.
PICPA is the accredited professional organization (APO) of Certified Public Accountants by the Professional Regulation Commission (PRC) founded in November 1929.