What happens when legions of Filipino fans of BTS, now the world's most popular K-pop boy group, unite toward a community cause?
A lot. Last September 20, almost two metric tons of rice and kamote (sweet potato) were donated to the jeepney and tricycle drivers of Balic-Balic in Sampaloc, Manila. This is part of the "Support Farmers, Help Jeepney Drivers" umbrella project, a series of parallel multi-stakeholder initiatives brought together by the Philippine fandom BTS ARMY, Rotaract Club of Tugon-Rescue, Patches4Piston, and Mayani, a rapidly-growing farm-to-table digital platform.
"In honor of BTS members RM's and Jungkook's birthdays, we launched this drive to aid our jeepney drivers who stopped operating due to the pandemic," said Levyl Alcala, the Project Head. "Farmers were also negatively affected so when we spoke with Mayani, we raised the possibility of coming up with a solution with the BTS ARMY community."
ARMY stands for Adorable Representative M.C. for Youth, a global network of millions of fiercely loyal fans of BTS, the first Korean group that made it to the #1 of the Billboard Hot 100, on top of its more than 200 music awards worldwide.
Last June, BTS donated $1 million to the racial justice movement Black Lives Matter, which has been matched by ARMY in less than 24 hours via the influential social media activism of its fans.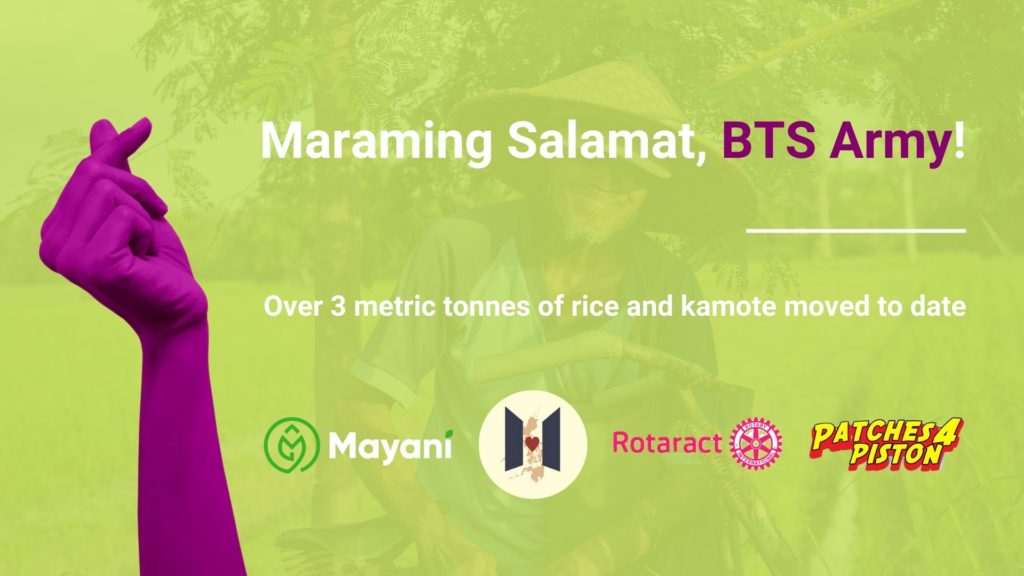 "What we are seeing here is a global movement that actually cares about specific social causes, and I am glad that BTS' Philippine ARMY considered our Nueva Vizcaya and Cabanatuan farmers as a key impact sector of the project," said JT Solis, the Co-Founder & Chief Executive Officer of Mayani, who negotiated and structured the unified fresh produce sourcing for the mega-project's parallel runs until December 2020.
Under the banner initiative "Tugunan: Tsuper Helping Hands," Rotaract Club of Tugon-Rescue led the repacking and delivery efforts to the target driver recipients in Sampaloc, Manila in collaboration with PLM College of Science Student Council, PLM Tugon Rescue, Rotary Club of Sampaloc, and Tsuper Helping Hands.
"Rotaract members believe that we always have a shared responsibility to take action on our society's most persistent issues. For this endeavor, we aspire to help not only our jeepney drivers but also our farmers," said Edwin Karl Basa, its Transformational President.
By next month, Patches4Piston, another initiative by volunteers of the Boy Scouts of the Philippines-National Capital Region, will also come to fruition by selling customized patches and then donating crops to drivers in Taguig, Marikina, and Quezon City. At least one metric ton of rice from Mayani is earmarked for it. Backing the scout volunteers are Rotaract STI-College Pasay-EDSA, Sangguniang Kabataan-Batasan Hills, Pagkakaisa ng mga Samahan ng Tsuper at Operation Nationwide (PISTON), PhilPatch, Hipajoda, and our Lady of the Holy Rosary Parish Youth Council.