SUBIC BAY FREEPORT—Two months after joining the government's crew-change program, the Port of Subic has serviced a total of 37 ships and enabled more than 500 mostly Filipino seafarers to either take badly-needed rest or renew work aboard commercial vessels.
SBMA Chairman and Administrator Wilma T. Eisma said the crew-change program is a direct response to President Duterte's call that no one should be left behind in government efforts to ensure the safety of all Filipinos and provide assistance to vulnerable groups in face of the COVID-19 pandemic.
"We understand that crew change is necessary for the health and safety of seafarers," Eisma said. "And considering that around 80,000 Filipino seafarers with lapsed contracts are stranded aboard their ships, there is a lot to be done to ensure movement among seafarers, especially Filipinos, during this humanitarian and economic crisis."
Subic started operations as a crew-change hub on Sept. 10 with the arrival here of five Filipino seafarers who were stranded for about three months aboard MV Dapeng Star, a liquefied natural gas (LNG) tanker based in Hong Kong.
Since then, One Stop Shop (OSS) Subic, the inter-agency task force which manages the Subic crew-change operations, has recorded a total of 260 "off-signers", or inbound ship crew, and 255 "on-signers", or outbound seafarers, as of Nov. 9.
Of the total 515 seafarers who either arrived or departed in Subic under the program, only 24—or 12 on-signers and 12 off-signers—were foreigners.
Ships of all shapes and sizes have arrived here for crew-change. These included MV RTM Cook, a bulk carrier based in Singapore, with seven Filipino on-signers and 11 off-signers; LNG Dapeng Moon, a tanker based in Hong Kong, with five Filipino on-signers; MV Mindoro, a Panama-flagged vehicles carrier with three on-signers and two off-signers, all Filipino; MT Jason, a chemical tanker from Marshall Islands with 12 Filipino on-signers, and one Croatian and 13 Filipino off-signers; MT Euro Integrity, a Liberian-flagged crude oil tanker with 15 on-signers and 16 off-signers, all Filipino; and MV Nine Eagle, a Panama-flagged livestock carrier with five on-signers and five off-signers, all Filipino.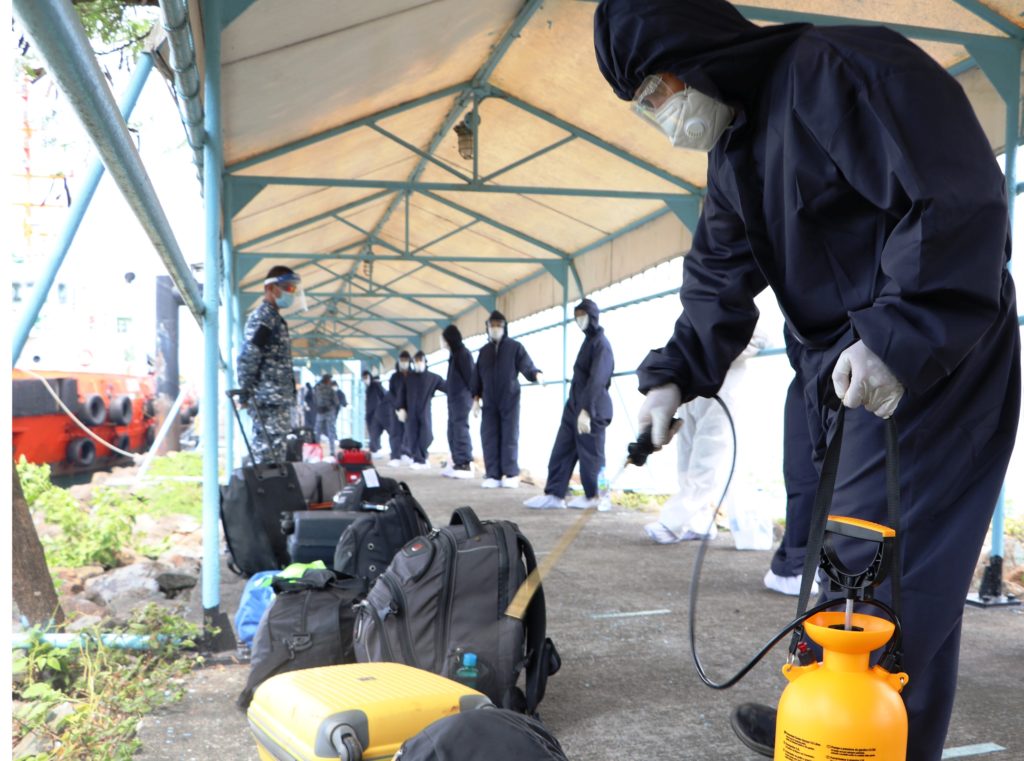 SBMA Seaport Department manager Jerome Martinez, meanwhile, stressed that OSS Subic has laid out strict health and safety protocols for the program, with all outbound and inbound seafarers undergoing RTC-PCR testing prior to departure from Subic or upon arrival at the Subic Bay International Airport.
"In case an on-signer tests positive, he is brought back point-to-point to Manila where he was swab-tested. Meanwhile, upon disembarking, off-signers are brought directly to the Subic-OSS for swab testing, after which they are transported to an isolation facility in Manila," Martinez explained.
He added that in the two months period that crew-change has been undertaken in Subic, only one positive case among seafarers has been recorded.
Seafarers have been designated "key workers" by many countries, including the Philippines, which belong to the International Maritime Organization (IMO) to enable them to travel to and from ships and ensure the operation of commercial vessels. The IMO said that commercial ships now transport more than 80% of global trade by volume, including vital food and medicine, energy and raw materials, as well as manufactured goods.