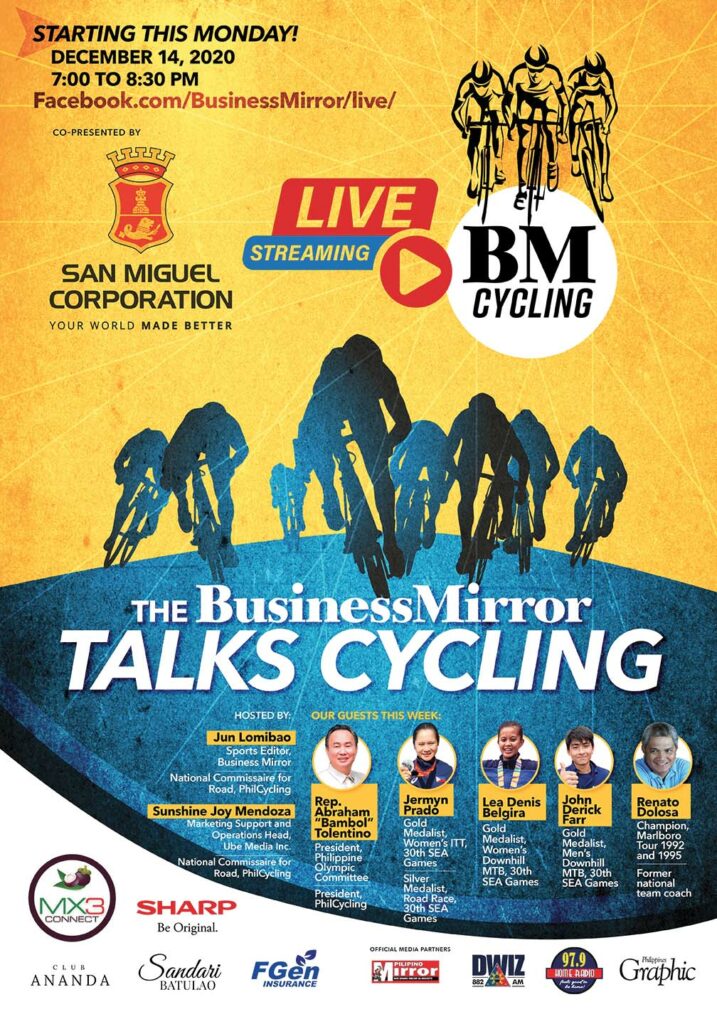 What couldn't happen on the road, the BusinessMirror accomplished on air—thanks to the wonders of technology called the internet, Facebook and Youtube.
BusinessMirror Cycling, or BM Cycling, is the multiawarded business daily newspaper's answer to the Covid-19 pandemic that shut down most—if not all—of sports for a year.
"It wasn't that tough a decision to come up with a program on Facebook Live and Youtube about cycling, all forms of cycling—from the elite down to the so-called weekend warriors," BusinessMirror publisher Anthony Cabangon said. "Putting it simply, the passion for cycling is what put together and flagged off BM Cycling."
BM Cycling aired 13 episodes to complete one season.
The inaugural episode—aptly called Stages to conform with cycling parlance—aired December 14 last year with the country's pride in the 2019 30th Southeast Asian Games as guests.
"It was a work in progress to begin with," Cabangon said. "Yes, BusinessMirror was already doing podcasts on business, economy, politics, etc., but BM Cycling offered a different flavor, a soothing one."
For the first four stages, BM Cycling aired live from 7 p.m. to 8:30 p.m. on Mondays from the newspaper's conference room-cum-studio in Makati City. But because of demands from BM Cycling's audience from the local and international cycling community, the airing was pulled down to a more convenient time slot of 5 p.m. to 6:30 p.m.
ANTHONY'S SHIFT IN PASSION
ANTHONY CABANGON'S passion was golf. Until he discovered cycling.
It was some five years ago in the pre-pandemic era when Cabangon and two close friends joined BusinessMirror Sports Editor Jun Lomibao, Race Director Sunshine Joy Vallejos and Ube Media Inc. president Donna Lina in the Le Tour de Filipinas's Bicol Region swing.
The Le Tour de Filipinas is the forerunner of the fabled Tour—which had various names among them Tour of Luzon, Marlboro Tour, FedEx Express Tour of Calabarzon, Tour Pilipinas and Padyak Pinoy. The last three Tours were all bankrolled by Air21 of former PhilCycling president now chairman Alberto Lina.
It took only two stages for Cabangon and his friends to be enamored with the bicycle, having been exposed to world-class cycling in the Le Tour, the longest running International Cycling Union Category 2.1 multi-stage race in the country (the pandemic halted its 11th edition in 2020).
Back at the BusinessMirror offices, Cabangon dreamt of a BM Cycling road race, not exactly in the mold of the Le Tour or the LBC Ronda Pilipinas, but one that's unusual for a business newspaper to get involved with.
Plans were laid out, surveys were conducted and everything but logistics were put in place at the Subic Bay Freeport.
But for several reasons, the race didn't get to see the road.
PANDEMIC YEAR 2020: BICYCLE'S KING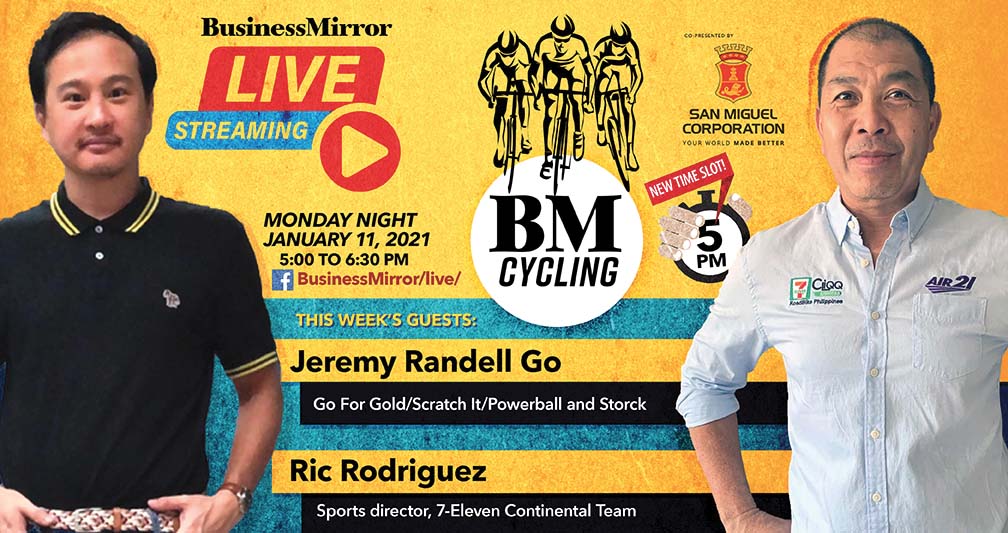 WORKING from home was one of the safest ways to avoid contracting the virus. And from all corners sprouted podcasts, online seminars or talk shows which gave birth to the word webinar.
Everyone was glued to their gadgets as strict safety and health protocols banned live or face-to-face activities. BusinessMirror embarked on podcasts and webinars bordering on the economy, agriculture, arts and business.
And the bicycle? The two-wheeled wonder sensationally became a necessity when public transport wasn't available.
And then it hit him.
Cabangon has a road bike. At times, he cycles from his Quezon City residence to the office in Makati City and back. A round trip covers around 30 kilometers, peanuts for someone who walks the golf course for at least three hours to complete 18 holes under all conditions.
"Why not do cycling on the web?" Cabangon asked himself.
And the rest, as they always say, is history.
FROM RAGS TO, WELL, WORK IN PROGRESS
A WET-in-the-ears crew for a pseudo live television production was formed for BM Cycling—which, initially was christened BM Talks Cycling (Talks was dropped for brevity).
BusinessMirror Art Director Ed Davad was, well, the director. The staff was composed of Sari Osorio (guest coordination and monitoring), Philip Navarro (IT and technical) Brix Villaruel (IT and technical), Faye Pablo (guest coordinaton and monitoring) and April Sarabia-Bornales (ways and means).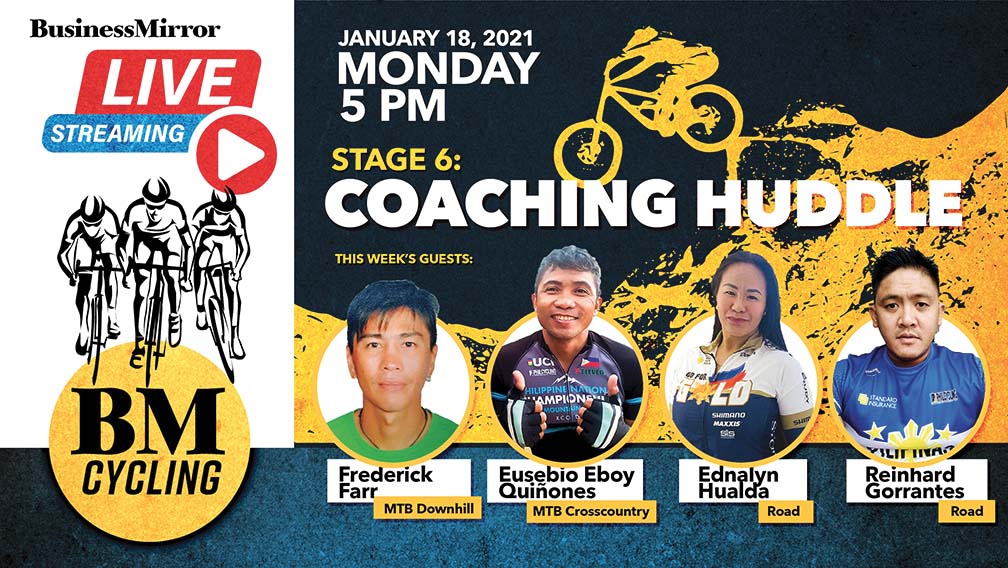 The BusinessMirror Photo Department composed of chief Nonie Reyes, Nonoy Lacza, Roy Domingo and Bernard Testa were added to the team. Later in the season, Loreine Galang joined the team for IT and Leah Caling Bonotan for local government unit coordination.
BusinessMirror Advertising Manager Aldwin Maralit Tolosa headed marketing with Rodel Suarez, Boyet Nicasio and Carlo Abalos as active lieutenants.
Lest we forget, BusinessMirror sportswriter Josef Ramos dropping by every BM Cycling night for moral support and Carlos Ganabban helping out at logistics.
Tasked to host the one-and-half-hour show were Jun Lomibao and Sunshine Joy Vallejos, both directors of the national federation for cycling, PhilCycling, and UCI national commissaires for road.
Lomibao as a long-time sportswriter had covered the Tour when it was still called the Marlboro Tour and up to 2019, chronicled all of the 10 annual editions of the Le Tour de Filipinas.
Vallejos, on the other hand, has 11 years of experience in organizing road races with Ube Media Inc. She worked the last edition of the Padyak Pinoy in 2009 and was the race director of the Le Tour de Filipinas from 2015 up to the present.
She was also race director and chief organizer of the 2016 World University Cycling Championships in Tagaytay City in 2016 and the 2018-19 PhilCycling National Road Championships.
Why was the cycling competitions of the 30th SEA Games in in Tagaytay City and Batangas a success? Fingers are pointing at Vallejos.
But BM Cycling would not have answered the start gun with enough ease if not for the precious pieces of advice from the Panahon TV staff.
SAN MIGUEL CORP. AS SPEARHEAD
A SPEARHEAD in a road competition is a race official who rides in a marked vehicle way ahead of the race column. He makes sure that the road is a green-and-go for the riders and that any obstruction is properly cleared to guarantee safe passage for the race column.
San Miguel Corp. (SMC) played that role as a title sponsor-cum-presentor of BM Cycling.
The Ramon S. Ang-led conglomerate was BM Cycling's partner from start to finish. That iconic SMC logo became part and parcel of the program, thanks to SMC Media Affairs Group Head Mary Jane Llanes.
"Anyone who watches BM Cycling could now incorporate San Miguel Corp. with the program, and vice versa," BusinessMirror account executive Boyet Nicasio said.
CONCRETE SUPPORT FROM BIG BOSS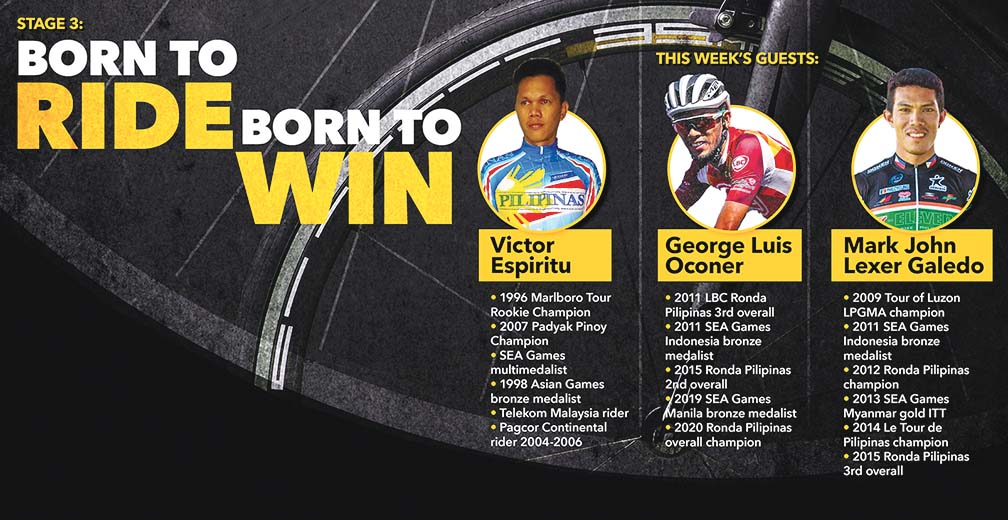 THERE was little hesitation on the part of Engineer Gilbert Cruz when Big Boss joined the race midway Season 1.
Big Boss prides itself as a 100 percent Filipino-owned company that specializes in producing environment friendly cement in the country, according to Cruz, the company president and chief company innovator.
Cruz is no stranger to cycling and sports. Years ago, he was the country manager of a major cycling company and at present, Big Boss supports basketball, particularly the Adamson University Soaring Falcons and International Boxing Federation junior bantamweight champion Jerwin Ancajas.
STAGE 1: SEA GAMES CHAMPS ON BOARD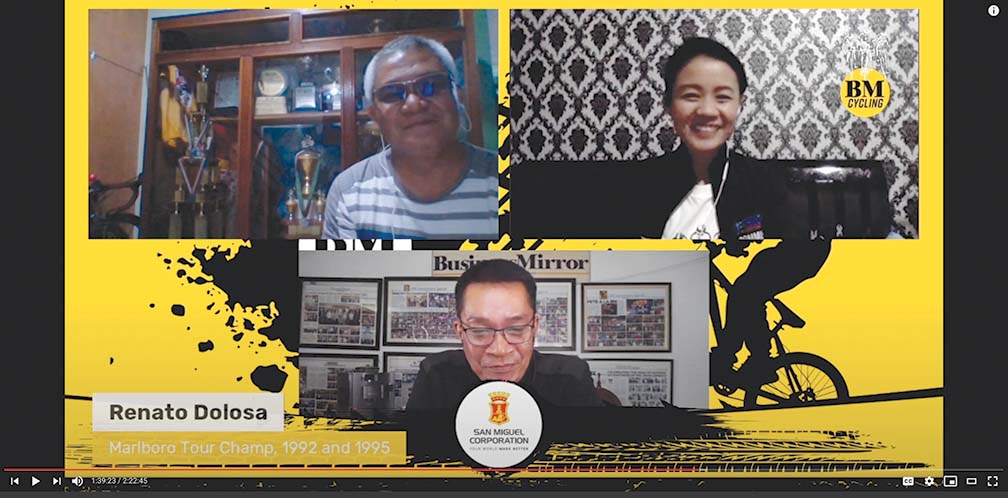 STAGE 1 actually didn't have a title—a birth pain. But it was filled with fresh stars—the gold medalists in the 30th SEA Games the country hosted in December 2019 in Tagaytay City and Batangas.
And because it was the inaugural episode, it was a jittery start. Jun Lomibao has no experience hosting a live program—writers are said to be better read than seen or heard. Sunshine Joy Vallejos has in her portfolio experiences in live production, so she knew the flow and was composed.
On tap for Day 1 were Jermyn Prado, gold medalist in women's individual time trial and massed start of road; Lea Denis Belgira, gold medalist in women's downhill of mountain bike; and John Derrick Far, gold medalist in men's downhill of mountain bike.
They were joined by Renato Dolosa, a two-time Marlboro Tour champion who remains to be one of the most popular riders in Philippine cycling history.
PhilCycling President Rep. Abraham "Bambol" Tolentino missed the opening salvo as he was in Dubai attending an important Olympic Council of Asia meeting as president of the Philippine Olympic Committee.
STAGE 2: THE WAY WE WERE
THE title says it all and the guest list for the December 21 episode was a clear writing on the wall—BM Cycling was to talk with the legends of Philippine cycling and a former UCI President who once called the country home.
The legendary Paquito Rivas, the original Eagle of the Mountain who won the Marlboro Tour in 1979, sat at the head of the table. Renato Dolosa was back along with Juancho Ramores, Rivas's heir as King of the Mountain.
But the internet connection wasn't cooperative with Rivas, Dolosa and Ramores, leaving former UCI president Pat McQuaid as the solo guest for the day.
McQuaid was one of the top UCI officials who were responsible for transforming the Marlboro Tour into a major international road race on this side of the planet.
The conversation with McQuaid had that elite touch, with the Irishman advising on how a Filipino rider could be molded into a world-class elite cyclist.
STAGE 3: BORN TO RIDE, BORN TO WIN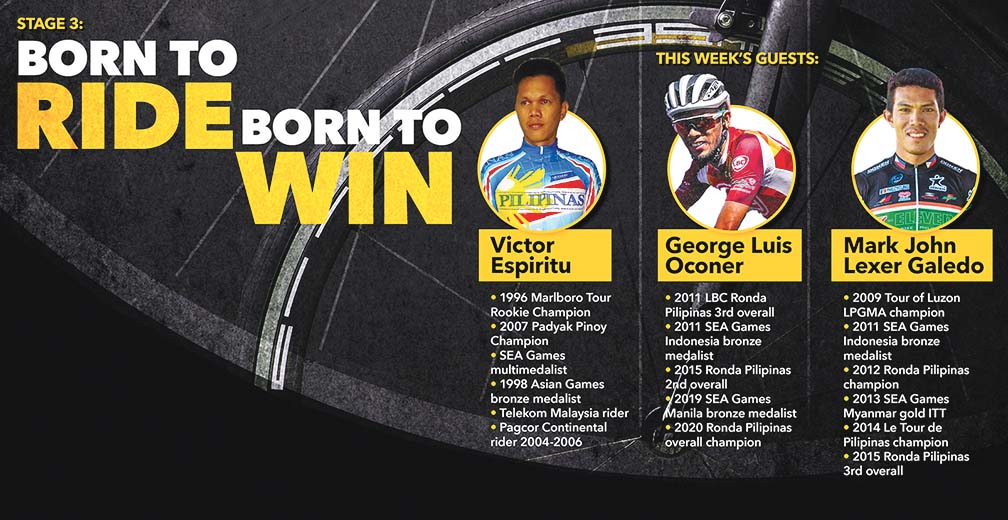 IT was another night of the champions four days before New Year 2021.
First, Victor Espiritu, a rare complete cyclist—someone who is as fierce in the climb as he is in the sprint. A multi-gold medalist in the SEA Games and bronze medalist in the Asian Games, he was the rookie champion of the 1996 Marlboro Tour racing for the national team against grizzled professional veterans.
Here's more: Espirutu was feared in the velodrome as he was on the road, winning gold in track's points race at the Nakhon Ratchasima 2007 SEA Games.
Talk about Espiritu and Mark John Lexer Galedo is a bike's length behind and the younger George Oconer two bikes further back, if we take seniority into account.
Galedo was the Myanmar 2013 SEA Games individual time trial gold medalist, a feat that put a target on his back in the games that followed. He also etched his name as champion of the 2009 LPGMA Tour of Luzon, 2012 LBC Ronda Pilipinas and 2014 Le Tour de Filipinas.
Like father, like son, this Oconer. Son of two-time Olympian Norberto Oconer, one of the dreaded amateur riders in his prime, the young Oconer won the individual title and led the Philippine Navy-Standard Insurance Cycling Team to the team crown in the 2020 Ronda Pilipinas that wound up a day before the pandemic lockdown.
STAGE 4: GIRLS RIDE OUT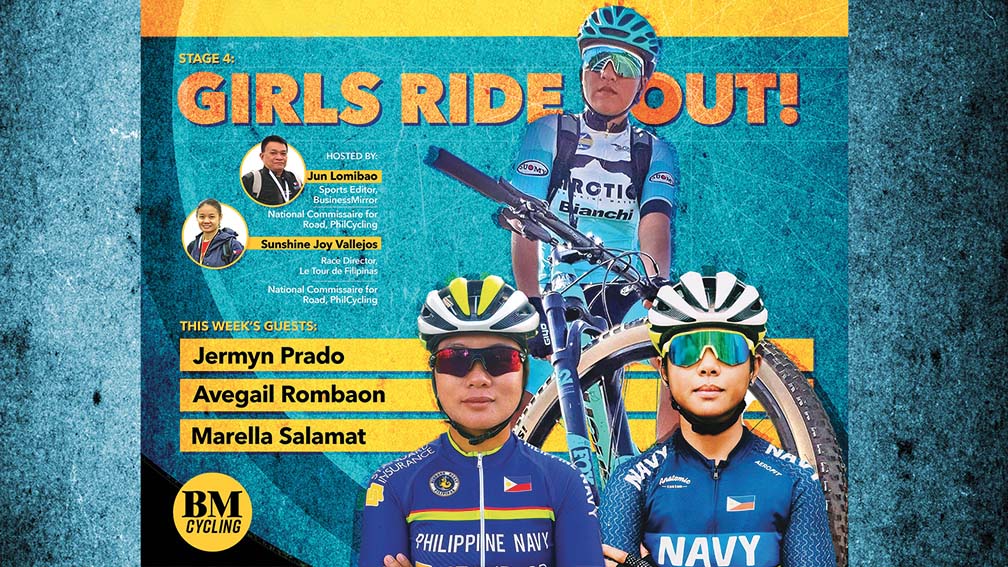 LET the ladies in and bring forth fresh hope for the new year and rid mother earth of the pandemic.
Jermyn Prado, Marella Salamat and Avegail Rombaon, to date the country's top lady riders, have proven their mettle in the SEA Games.
Prado returned for the January 4 episode to join the ladies' night with former rival-turned best friend Salamat, who was a nobody in SEA Games cycling until she competed for the first time in the biennial regional games in Singapore in 2015 and surprised everyone by snatching the women's ITT gold medal.
Rombaon is as versatile as the former SEA Games cycling queen Marites Bitbit was at the top of her career. The Iriga City pride did road before shifting to mountain bike, bagging a bronze medal in women's cross country in the 2019 SEA Games.
It was ladies' night alright but efforts by the hosts to squeeze their colorful yet intriguing past as national team members turned futile. Girls!
STAGE 5: CONTINENTAL CONVERSATIONS
AFTER the ladies, the men came marching in.
The January 11 episode featured continental team owner Jeremy Go of Go For Gold and sports director Ric Rodriguez of 7-Eleven Cliqq Air21 by Roadbike Philippines.
A former athlete, Go, vice president for marketing of Powerball that runs Scratch It, plunged into the continental team venture with Go For Gold but hasn't limited his support for sports to cycling.
A triathlete and cyclist, Go also supports triathlon, basketball, sepak takraw, among others, and is the exclusive distributor of Storck bikes and accessories in the country.
Rodriguez has been with cycling for decades. He was once a spearhead of the Tour Pilipinas under the Philippine National Cycling Association of Paquito Rivas and was a co-pioneer with Luis Carlos, a former director of the Philippine Amusement and Gaming Corp. (Pagcor, in forming the Pagcor Trade Team in the UCI.
A continental team is a professional cycling team registered with the UCI. The team could be invited to race in UCI-sanctioned races—for Go For Gold and 7-Eleven Cliqq Air21 by Roadbike Philippines case, they are eligible to race in competitions in Asia.
STAGE 6: COACHING HUDDLE
IN basketball and most team sports, they say players win games and coaches lose them. Does this apply to cycling?
The cyclist has the road, track or trail to himself when he/she is competing. That's where all the long hours of training and suffering get into play, when the legs are about to give in, the mind takes over.
This was the consensus of Ednalyn Calitis Hualda and Reinhard Gorantes of road and Eusebio Quinones and Fredirck Farr of mountain bike in BM Cycling's sixth episode on January 18.
The national coaches are one in declaring that it's the athlete's heart, mind, passion and dedication that have to work in sync to accomplish the mission.
Don't count these national coaches out. Their resume is topped by the three gold (two in mountain bike and one in women's ITT), four silvers (one in men's downhill and cross country of mountain bike, one in women's road race and one in BMX racing) and four bronze (one each in men and women cross country and one each in men's team time trial and massed start of road race).
STAGE 7: PANGASINAN PRIDE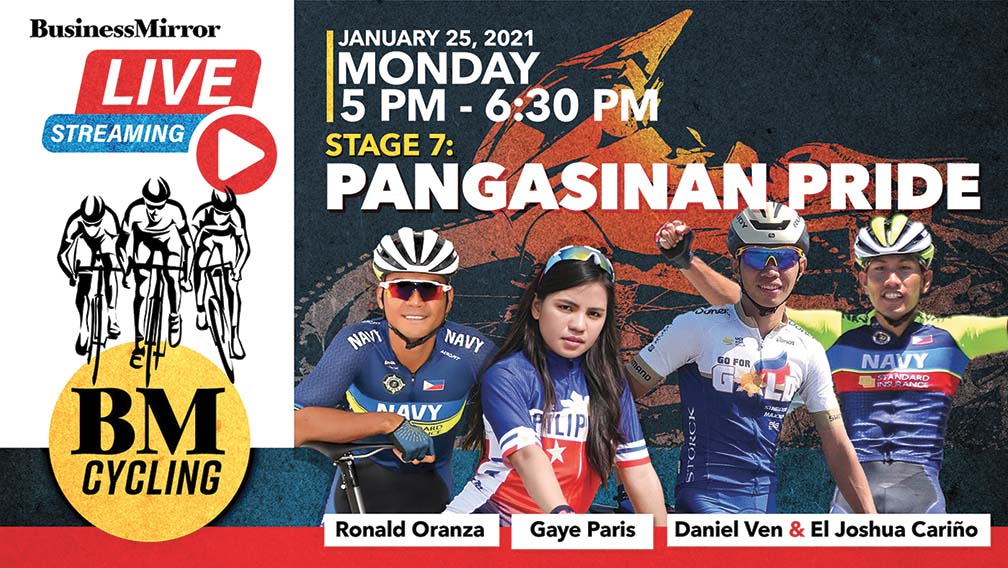 WHAT'S up mga karonda, this is Gaye Paris, ang siklistang Filipina ng Pangasinan, so today's ride . . .
Gaye Paris who? If you're a cycling enthusiast, you must know Paris, a bike blogger with close to 25,000 followers on Youtube. A physical therapist at the Rural Health Unit in her hometown of Binalonan, Paris has been making those fearless rides up Kennon Road and Marcos Highway to name a few—and she's not even an elite rider—she claims she wants to be a duathlete and not a triathlete because she has yet to master swimming.
Paris was the rose among the thorns in the January 25 episode, upstaging elite national team mainstays Ronald Oranza and brothers El Joshua and Daniel Ven Carino.
Oranza, of course, was the 2018 Ronda Pilipinas champion, the elder El Joshua Carino topped the 2018 Le Tour de Filipinas and his younger brother Daniel was the Best Young Rider (Under-23) in the 2019 edition also of the Le Tour de Filipinas.
The episode featured the present generation of champion riders from Pangasinan, the cradle of Philippine cycling.
STAGE 8: PROMOTING CYCLING CULTURE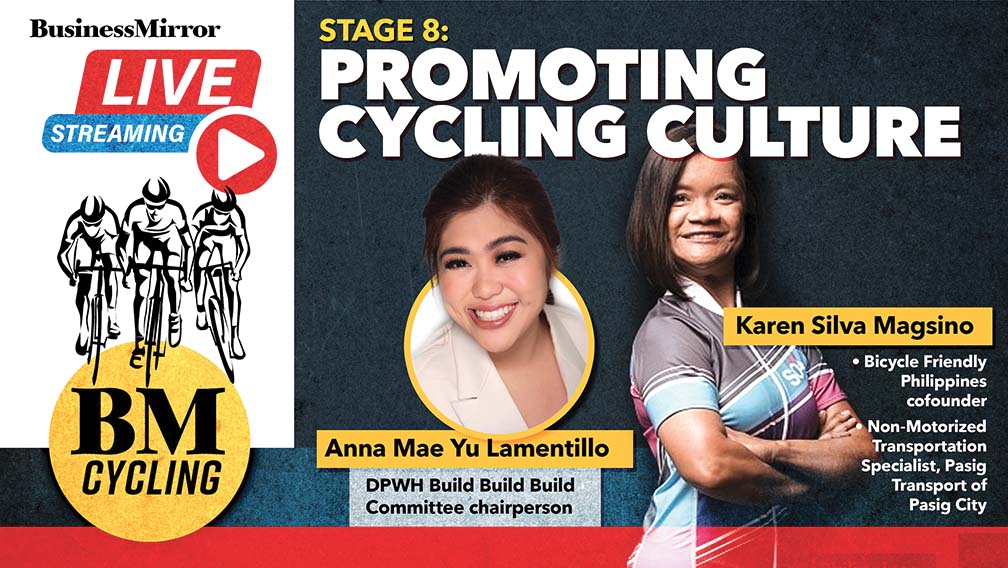 Cycling culture, like walking, hasn't really created an impact to the community primarily perhaps because of the warm and humid climate and that Filipinos, sad to say, wanted to get together to their destination door-to-door.
But in the afternoon of the first day of February, such was addressed with two lady guests.
The first was Anna Mae Yu Lamentillo, chairperson of the Build-Build-Build program and Infrastructure Cluster Communications Committee of the Department of Public Works and Highways.
The second was advocate Karen Silva Crisostomo, cofounder of Bicycle Friendly Philippines and Pasig City's Non-motorized Transportation Specialist.
It was one healthy exchange of notes from two ladies with comprehensive and logical ideas on how to adopt and address cycling in major and busy roads and to eventually achieve a culture where the easiest way to go from A to B is to ride a bike.
STAGE 9: INJURY-FREE RIDE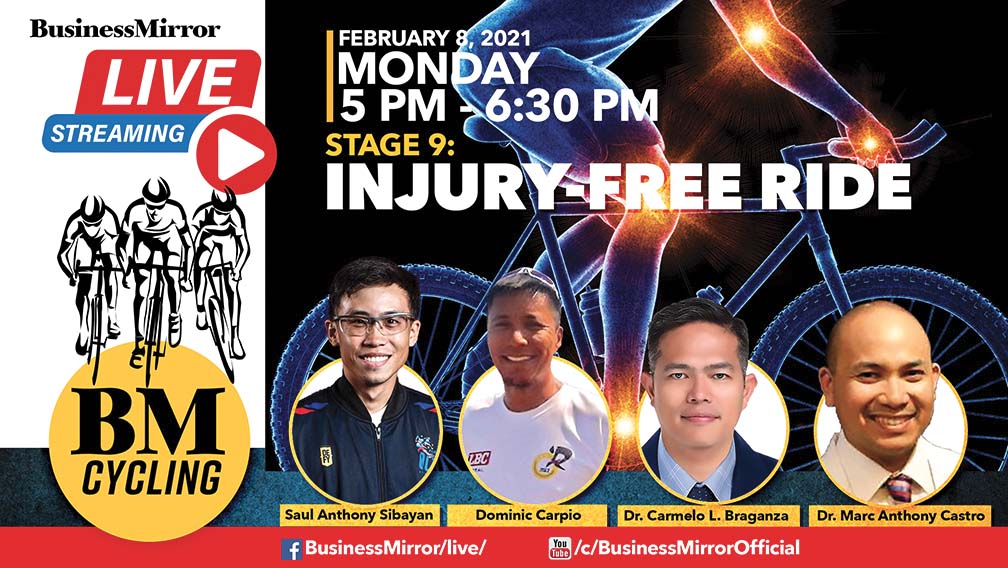 ALBERT EINSTEIN had an interesting quote on cycling: Life is like riding a bicycle, to keep your balance, you must keep moving.
Keeping your balance is the hardest thing to do for starters, but once you get the feel of the equipment, it becomes second nature and the tendency is to keep moving forward—faster and faster and faster.
Then a crash and the injury that comes with the fall.
Two orthopedic surgeons who also specialize in sports medicines—Dr. Carmelo Braganza and Dr. Anthony Castro—along with Doha-based Master in Sports Science Saul Anthony Sibayan and veteran coach, trainer and a former national track and road team member Dominic Carpio of Davao City were an interesting quartet on discussing how to prevent and heal cycling injuries.
Besides being doctors, trainers, sports science experts and coaches, they definitely knew what they talked about, being athletes or practitioners of what they are preaching.
STAGE 10: POLITICAL WILL
A CITY mayor and a former councilor now city administrator were a dynamic duo a day after Valentine's Day.
Mayor Marc Brian Lim was good copy for most of the entire one-and-a-half-hour program, talking about his local government's approach to the new bicycle normal in the most progressive and congested city in Pangasinan, Dagupan City.
Dagupan City is not exactly a big LGU if its commercial center is concerned. Downtown, as they call it up there, is just one rectangular area no bigger than four square kilometers, but extremely busy during the day and almost empty come nightfall.
Thus, Lim has little to worry about bike lanes in the commercial area and has enough reason to rejoice because of the accessibility by bike's in almost all of the city's barangay roads.
Danao City's Oscar "Boying" Durano Rodriguez is an authority on cycling. The Duranos are responsible for introducing the mountain bike to country, bringing with them their equipment when they finished school in the US.
Because of that, Danao City became the Mountain Bike Capital of the Philippines, having hosted at least four Asian Championships and two SEA Games. Most of the country's champion mountain bikers earned their spurs in the city's world-class and challenging tracks.
STAGE 11: NORTHERN SWING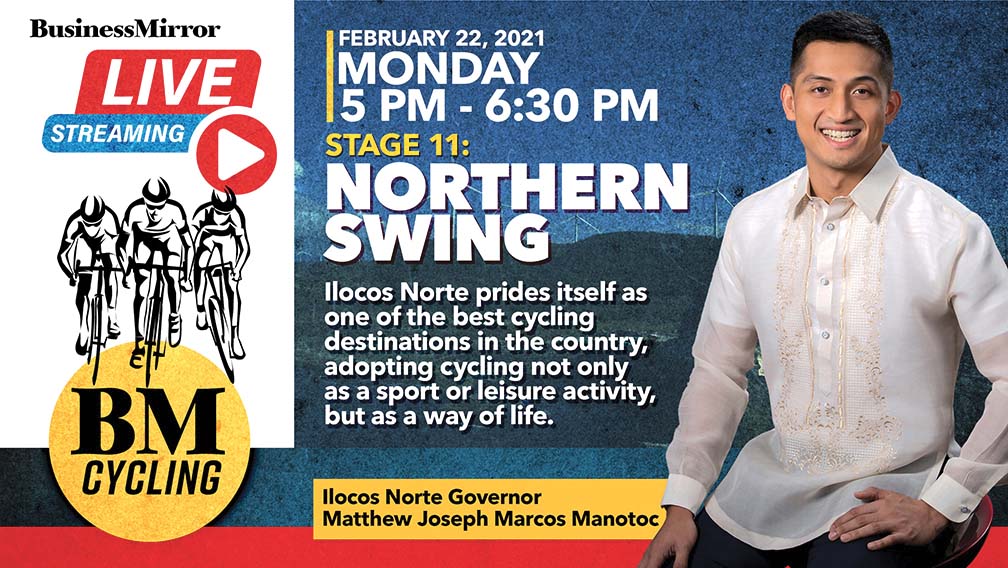 IT was a governor's turn to talk about cycling on February 2. Ironically, this provincial executive was first a champion junior golfer with a mean swing and steady putt, and later evolved into a promising basketball star.
Perhaps it's in Ilocos Norte Governor's Matthew Joseph Marcos Manotoc's genes—his dad is champion golfer, grand slam basketball coach and gentleman sportsman Tommy Manotoc.
The only guest on that day, Manotoc teed off with ease, comfortably swung through the conversation about a sport he doesn't seriously engage with and dribbled and shot the answers traceable to his senator mother Imee Marcos side's political savvy.
Yes, Manotoc doesn't bike, at least perhaps on a regular basis, but take note of this: during the pandemic when sports remained shut down almost all over, the governor organized three legs of the Ilocos Cycling Tour (ICT).
The ICT was not a race but a province-wide activity where participants rode bicycles of all shapes and sizes with one goal to achieve—announce to the entire country that Ilocos Norte is winning the battle against Covid-19 and that Ilocanos are healthy and strong, and so is the province's economy and tourism.
STAGE 12: DUTCH THE WAY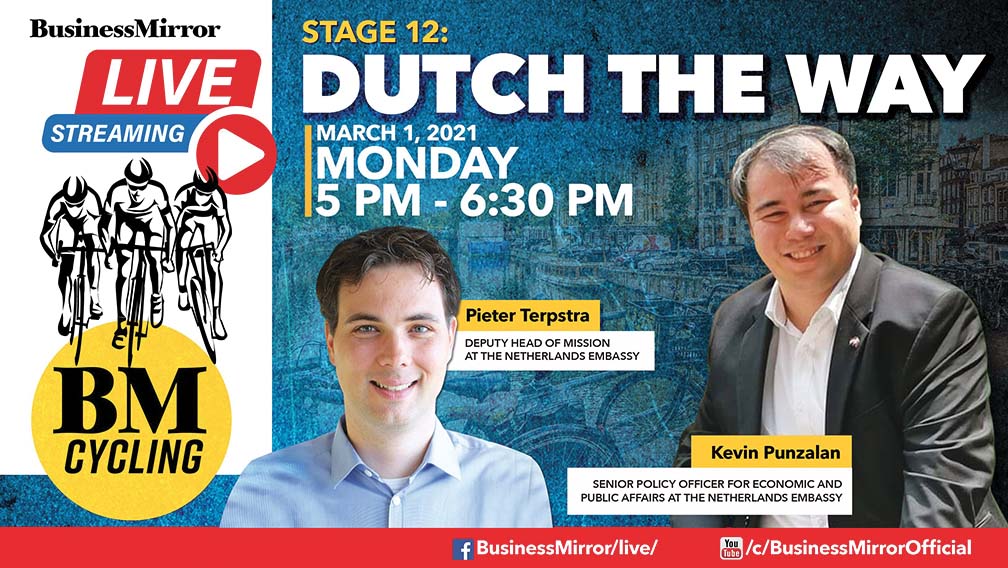 BM Cycling went international again on March 3, riding over the paved and at times cobbled roads and pathways of Amsterdam, one of the most bicycle-friendly cities in the world.
Of course, the program wasn't shot live all the way from The Netherlands. It's still difficult to fly out of the country with all these travel restrictions.
Joining the show were Pieter Tepstra, Deputy Head of Mission at the Embassy of The Netherlands, and Kevin Punzalan, Senior Policy Officer for Economic and Public Affairs also at the Dutch embassy.
It was one jolly tete-a-tete as Tepstra and Punzalan were as conversation-friendly as the bicycle-friendly Dutch capital.
Three points of discussion drew the most interest. The first was Tepstra's revelation that the Dutch don't wear helmets when they ride their bikes at home, only foreigners do (it's easy to spot who's local and who's not in The Netherlands).
The second was that bicycle thieves abound in some places in his country, something that caught the program's hosts, staff and viewers by surpruse. It was like "it's not only in the Philippines."
And the third: comparing Amsterdam and Metro Manila in terms of the use of bicycles and bike lanes is like comparing apples and mangoes.
STAGE 13: RIDE HIGH LADIES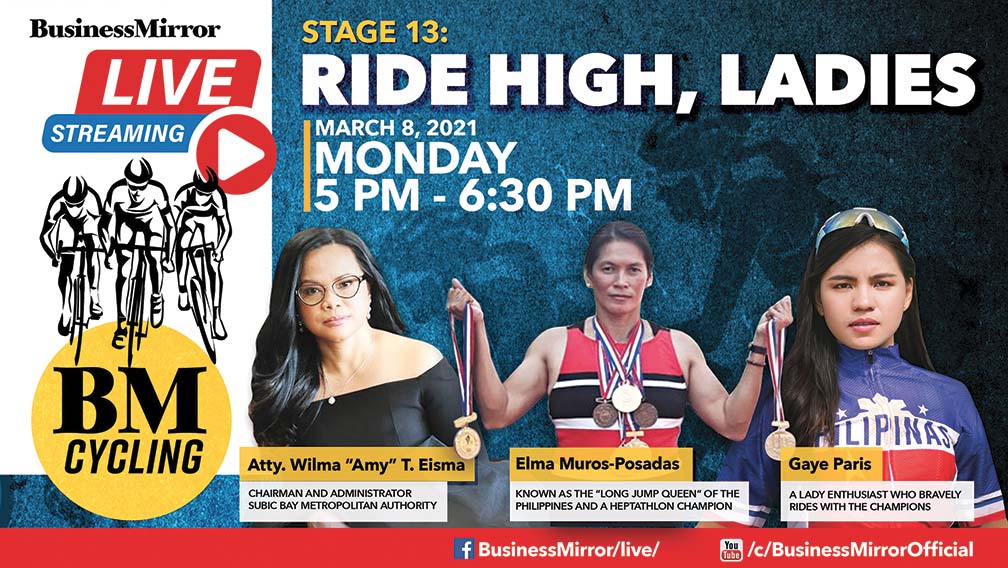 BM Cycling crossed the finish line for Season 1 on a very special day—International Women's Day—on March 8.
Three respected ladies representing various sectors of society gleamed and charmed the cycling community with their wit and enviable experiences.
Elma Muros Posadas never cross-trained on a bicycle, but never mind, she's one of the most accomplished Filipina in the field of athletics, dominating the SEA Games with more than a dozen gold medals in long jump, hurdles and sprints.
Atty. Wilma "Amy" Eisma is no cyclist, too. She's into obstacle sports but as Administrator and Chairman of the Subic Bay Metropolitan Authority, she made sure to the show's audience that Subic will remain as the country's top sports destination—and even do better—as soon as this pandemic is vanquished.
Gaye Paris was back on the panel representing the young ladies who embraced the sport during the pandemic and braving routes that many believe only the men could conquer.
For Paris, she was "star-struck" that day as she shared center stage with sports icon Muros Posadas and a strong woman leader Eisma.
CONNECTIVITY WOES MAKE CLIMBS TOUGHER
THE 13-stage, one-season ride was generally fun and informative, but issues on connectivity at times neutralized the program.
Actually, it's not only BM Cycling that occasionally experiences poor internet connection during its inaugural season, the whole country does. At times, the show hung, leaving the hosts Comm1 (Jun Lomibao) and Comm2 (Sunshine Joy Vallejos) lost as to what to do next.
Comm2 missed some stages because connectivity is as worse in her home base of Bambang, Nueva Vizcaya. Stage 1 featured Lea Denise Belgira guesting from her native Guimaras, but her connection was as murky as a muddy puddle in a mountain bike course.
Well, as they say, it comes with the territory and you'll never know what to expect in a live program.
Hopefully, the country's internet connection woes are gotten rid of as quickly as everyone wants to eliminate the virus.
MTB BIKES AND MORE FOR KA-BM CYCLING
THREE mountain bikes and several limited-edition BM Cycling t-shirts, pairs of socks and bar tapes were given away to loyal BM Cycling viewers who we call Ka-BM.
The lucky winners of the three mountain bikes courtesy of the show and BusinessMirror boss Anthony Cabangon were Rose Serafica of Tondo, Manila; Susan Bermas of Sucat, Parañaque; and Kai Garcia of Bagong Ilog, Pasig City
All three winners had one common denominator: they were intending to buy themselves bicycles like many of their friends and neighbors, but because of BM Cycling, they don't need to shell out cash anymore.
But what really made the MTB contest even more fun and exciting? The BM Ducklings. Watch Season 2 and you'll know why.
Making up the the honor roll for the trivia contest winners were Cesar Jose Salvador Vertiz, Lee Contreras, Jefree Villamil, Mark John Lexer Galedo, Connie Jardin Carpio, Faija Sakaluran, Edwin "Dwain" Badua and John Christian Rivera.
CYCLING CLUBS BM PARTNERS
CYCLING clubs have thrived long before and it was one of BM Cycling's goal to honor the men and women, boys and girls who make up these groups who ride normally on weekends.
Among the clubs BM Cycling featured on video were Gruppo Italia (Las Pinas City), Canlubang (Laguna), Avengers, Intransit, Sayti Bikers Club (Caloocan City) and Team Excellent Noodles Cycling Club.
BM CYCLING: ALL TERRAIN, RAIN OR SHINE
WHEN the internet connection was fine—audio 5×5 and video crystal—BM Cycling was pedaling over well-paved or well-maintained asphalt roads. When connectivity was bad, it was a punishing climb to a hors category King of the Mountain summit.
Cycling is fun, a cheap and practical way to move around. As a competitive sport, expect a treacherous and painful ride through thirst and hunger. But that's the beauty of cycling, that's what make's cycling unique.
BM Cycling completed one race, Season 1. The ride may not have been that perfect, but there's always tomorrow's race and it won't matter whether it's terribly hot or precariously wet and slippery. Rain or shine, go out and cycle.
See you on April 12, same time and same day, for BM Cycling's Season 2.
End it…end it