500th Anniversary of the Arrival of Santo Niño
TOP PHOTO: SANTO NIÑO AT 500 YEARS (1521-2021) COMMEMORATIVE STAMPS. (From left to Right) Dr. Rene Escalante, Chairperson, National Historical Commission of the Philippines (NHCP); Presidential Assistant for the Visayas Secretary Michael Lloyd Dino, Philippine Postal Corporation Postmaster General Norman Fulgencio, Cebu Archbishop Jose Palma and The Most Reverend Archbishop Charles John Brown, Apostolic Nuncio to the Philippines during the launching of the Commemorative Stamps to mark the 500th Anniversary of the Arrival of Santo Niño which was held at the historic Basilica Minore del Santo Niño in Cebu City
Philippine Postal Corporation Postmaster General Norman "Mr. Postman" Fulgencio together with His Excellency Archbishop Jose Palma of Archdiocese of Cebu unveiled the commemorative stamps to mark the 500th anniversary of the arrival of the image of Señor Santo Niño and the first baptism that both took place in Cebu.
The launching ceremony of the historic commemorative issuance of postage stamp characterized the expression of faith and deeper devotion among the Filipino Catholic Community to the Holy Child Jesus.
Santo Niño is known for his miracles and people's devotions that transcend religions. In the words of Pope Francis, the Holy Child is the Protector of the Philippines for half a millennium.
This oldest religious icon of the country has been enshrined and widely venerated at the Basilica del Minore del Sto. Nino in Cebu City under the care of the Augustinians of the Province of Sto. Nino de Cebu-Philippines.
The popular image of the Sto. Nino was given by the Portuguese navigator Ferdinand Magellan to the local queen Humamay (later named Juana), after her baptism on Apr. 14, 1521. On Apr. 28, 1565, Miguel Lopez de Legaspi's expedition landed on the island of Cebu. One of his soldiers found an image of the Child Jesus in a hut believed to be the same image Magellan had given the queen of the island forty-four years earlier.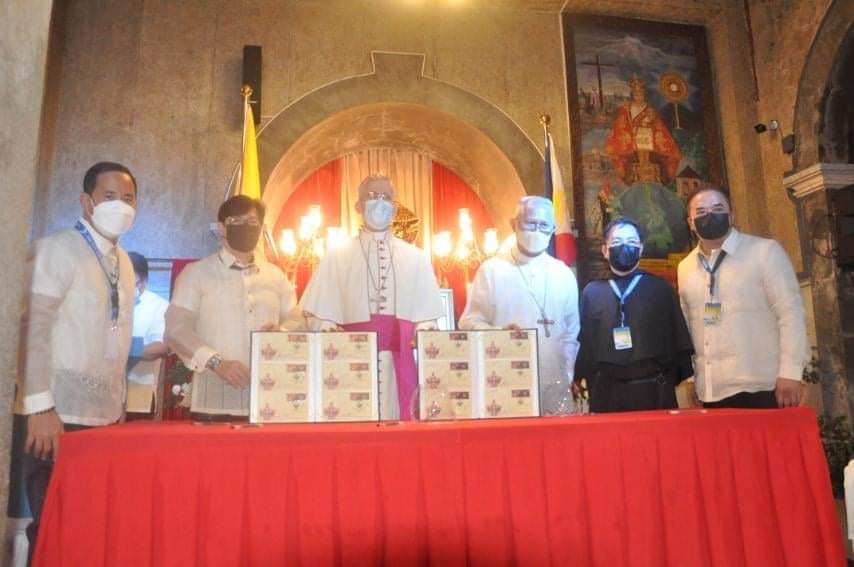 "The Post Office pays its homage to the image of Señor Sto. Niño of Cebu, the source of hope and faith of the people, who is historically recognized as the oldest religious relic in the Philippines," Postmaster General "Mr. Postman" Norman Fulgencio said.  
He added, "The stamp features the rich cultural heritage showcasing our country's many manifestations of art. The milestone commemoration of the arrival of the image of Señor Santo Niño is one such important moment that recalls the uniqueness of Filipino culture and history."

Stamps and Official First Day Covers of "Santo Niño at 500 –1521-2021: Santo Niño, the Abiding Presence of the Father in Our Journey of Faith" are now available at the Philatelic Counter, Manila Central Post Office, all Mega Manila Post Offices, Postal Area 1,Tuguegarao, Postal Area 2, San Fernando, La Union, Postal Area 4, San Pablo, Area 5, Mandaue, Postal Area 6, Iloilo, Postal Area 7, Davao, Postal Area 8, Cagayan de Oro, and Postal Area 9, Zamboanga.
For inquiries, please call 8527-01-08 or 8527-01-32 or follow/like the facebook page https://www.facebook.com/PilipinasPhilately/ for updates.