Four outstanding Taiwan Excellence award-winning companies—Artcera Corp., YZTEK Co., Lt., Taiwan Glass Ind. Corp., and Seda Chemical Productions Co. Ltd.,—took centerstage in the recently held 2021 Household Goods Online Product Launch that was done via livestream. These companies created the most innovative products and solutions with the hope of providing a better quality of life
Among the most novel products introduced during the launch include a reusable Travel Mug, a Heat Wave Massager, a Plug-in Stove Safety device, Designer Glassware, and a Smart-Health mattress.
From the start of 2020, the COVID-19 pandemic has had a significant impact on household consumption patterns and people's personal living habits. Since people are spending more time at home during COVID, the demands of housework and home comforts have increased significantly compared to pre- pandemic levels, according to Mark Wu, Executive Director of the Strategic Marketing Department of Taiwan External Trade Development Council (TAITRA), Taiwan's premier trade promotion organization.
The Household Goods Online Product Launch included short presentations from each of the featured companies. Artcera Corp. is behind the brand Acera which refers to a combination of arts and ceramics. The subjects of every Acera creation come from Chinese culture rendered with modern design skills.
In terms of mugs, the strength of ACERA's mug is its capability to release infrared rays and negative ions, which give users a pleasurable experience every time they use it. Furthermore, all ACERA mugs are eye-catching and stylishly designed.
Another one of Acera's product is the Heat Wage Massager where the energy released from the ceramics when it is combined with warm water enters the body to rapidly relieve muscle stiffness and fatigue.
YZTEK Co. showcased e+Autoff, the world's first automatic stove with its own switch off device. With its exclusive patented automatic fire-off function, you can now upgrade your original gas stove and make it a smart one.
What's more, YZTEK not only provides safety in the kitchen, it also protects the health of people while they cook. Its new Airenewal Systemcan turn your normal range hood into a smart system range hood that keeps the air clean. The higher the heat, the faster it works to expel smoke and dirt.
Taiwan Glass Ind. Corp is currently the 4th largest glass manufacturer in the world and established a new brand of tableware and home decoration TG in 2018. TG targets the younger generation who prioritize daily quality of life. The product featured during the online launch was its Heat-resistant Water Pitcher Set where its many special features were highlighted.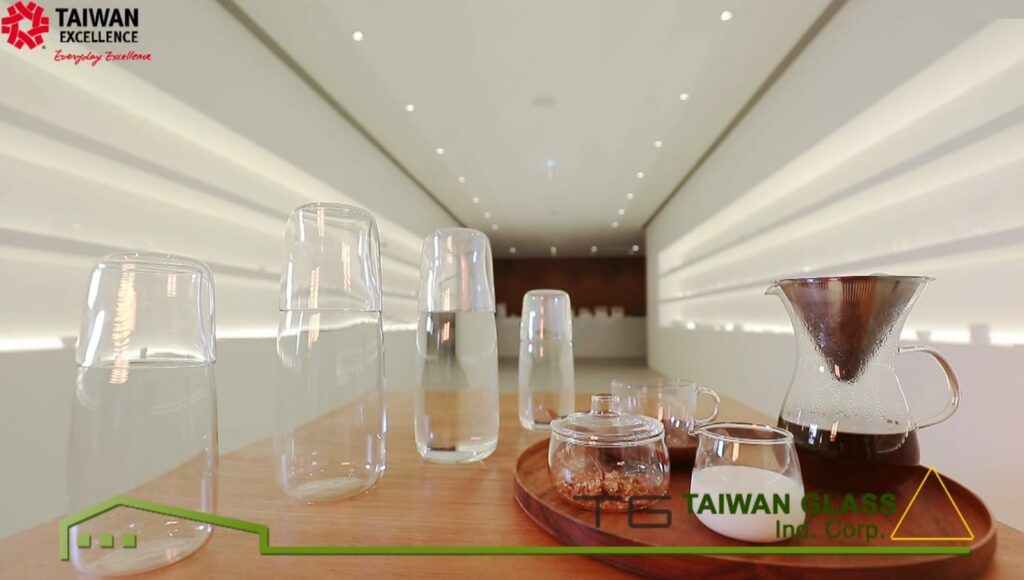 First, the cup matches seamlessly with the pitcher; second, the thin glass allows liquid to flow wide in the mouth; and third, the almost lip-less edge of the cup decreases the oxidation of beverages while drinking. With its simple yet stylish and sleek design, TG was given the RED DOT Design award this year.
Seda Chemical Products Co., Ltd has its own brand called the Imager-37 and it includes products such as memory foam mattresses, pillows, seat back cushions and furniture, among others. In particular, the mattresses are widely used in many of Taiwan's most famous hotels and hospitals.
As many people may know, temperature is one of the keys in determining sleep quality. The AeroKaki+ Series Mattress integrates Phase Chan Material (PCM) with Temperature-Sensitive and Viscoelastic Memory Foam (TSVMF) to provide the perfect body support to the spine and facilitate internal temperature regulation and control.
Aside from holding informative and innovative virtual events, TAITRA launched the Taiwan Global Anti-COVID-19 Pavilion for the fight against COVID-19. The website features an anti-pandemic products and solutions provider section for information on suppliers or any particular business solutions, where visitors can reach out to more than 2,000 Taiwanese companies.
There's also a Medical Services section that provides information on 20 of Taiwan's top medical institutions, plus a view of Taiwan's strategies to stop the spread of the virus. Just visit https://www.anticovid19tw.org.
Taiwan Excellence is known for handpicking the best products in the household goods industry and beyond. To learn more, visit Taiwan
Excellence's website: https://www.taiwanexcellence.org/en. For the video of the online product launch, please visit: https://youtu.be/Y57Qs6KAIaU