This essay is one of many written during a Memoir Writing workshop at Sunshine Place under the mentorship of Dr. Oscar Peñaranda, a Gawad Pambansang Alagad ni Balagtas awardee. An educator, author, and advocate of Filipino-American studies, Dr. Peñaranda's work includes "Seasons by the Bay," winner of the Global Filipino Literary Award and "Full Deck: Jokers Playing," judged as the best book for poetry in 2005 from the Philippine American Writers and Artists. Sunshine Place is a senior recreation center and member of the Felicidad Tan-Sy Foundation.—Ed
"Please have everyone in the house be tested, Ate Kit," my pulmonologist sister Sarah advised me one day in August 2020. She herself had just contracted the COVID-19 virus while working in the hospital.
All of us tested negative, except for our all-around helper Joellyn. That was the first time COVID-19 visited our household, when my family was staying temporarily in my sister Angel's house in Avida Settings Nuvali in Canlubang, Calamba City. As close contacts of Joellyn, we were advised by Sarah to go on home quarantine, which we did for 14 days.
For the first time, I found myself stuck in the house 24/7 in contrast to my half-day office, half-day field work routine.
Before the quarantine, I was also used to doing onsite inspections for projects of our family-owned land development company.
The day would not end without me going to social functions, most especially at Rotary Club of Calamba, where I previously served as District Governor. (I was one of the first three lady District Governors in the Philippines. I joined Rotary in 1990 when my husband had already passed.)
SUNSHINE PLACE
I readily kept myself busy attending Zoom meetings and seminars sponsored by the Department of Tourism, Rotary, and Social Space—the marketing arm of our family-owned Palms Farm Resort in Mercedes, Camarines Norte.
Palms Farm Resort is a 2.4 -hectare property that my family acquired in 2007 and was supposed to be my retirement place had the COVID-19 pandemic not struck. My children refused to allow me to settle there because of the lack of medical and health facilities in the area.
It was also the workshops offered by Sunshine Place Makati which made a difference in my quarantine experience.
I had earlier been given a tour of the place and decided to take a course for the first time. One course I took was acrylic painting under Maestro Fidel Sarmiento. With my love for painting revived, I painted benches in the cul-de-sac of Avida Settings Nuvali for free.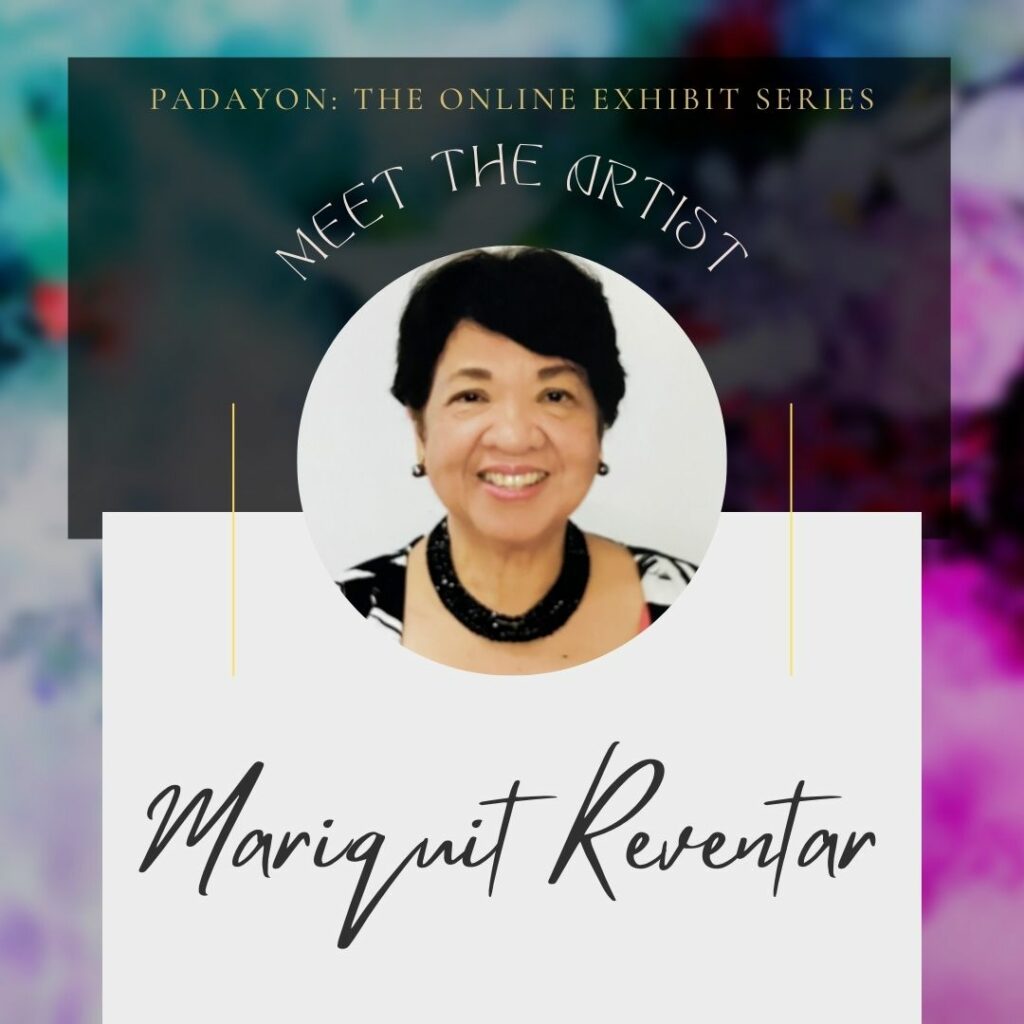 In May 2021, I joined the GSIS Art Competition, signing my works as "KITREV." It felt good to be named as a semi-finalist, and I continued my painting workshops in Sunshine Place to pursue the honing of my craft and to be able to share my art.
SECOND QUARANTINE
The second time our household caught COVID-19 was during the last week of August last year. My daughter Rhoda, who was our runner for food and other essentials, experienced severe headaches, sore throat, and difficulty in focusing while studying.
Without prior advice from me, she went to the nearest hospital and had herself tested. Upon arrival at our house, she locked herself in her room and waited for the result, which she received the next day via email.
She was COVID-positive and the whole household immediately observed household quarantine.
A week later, my pediatrician daughter Rachel—who accompanies me in the house together with her 14-year-old son Rex—and I underwent RT-PCR testing courtesy of a mobile diagnostic laboratory, Hi-Precision. They did the usual blood works (in my case, they needed to take more samples because I am diabetic). The results came out the next day and I was diagnosed as positive.
I accepted the diagnosis readily as I knew that anyone could contract COVID-19. The pragmatist in me made me think that at my present age of 71, I have lived a full life although I prayed for a longer one. My worry was more for my companions in the house as I could not afford to infect them. Thus, I was totally willing to be in isolation.
I think it is my entrepreneurial mindset that made me think that whenever I would face events that were beyond my control, I was not afraid to take a step back and bide my time, making the most of the situation.
Even as a COVID-19 patient with several co-morbidities: asthma, diabetes, and having claustrophobia, I remained calm and cheerful.
I chose to be always aware of my mortality. I think I began to think like this when I became a widow at 39 years old. (My husband, a licensed electrical engineer, died suddenly from a heart attack.)
Quarantine arrangements for me followed the usual protocols: I would be alone in my room and would be brought my food ration, which was conveniently placed on a table just outside my door. No one was allowed to enter my room, which meant I would take care of cleaning and disinfecting my room. My children could only talk to me through video calls.
NOVICE PLANTITA
As soon as the sun rose in the morning, I would peer through my window and look out the garden where many sunflowers were planted.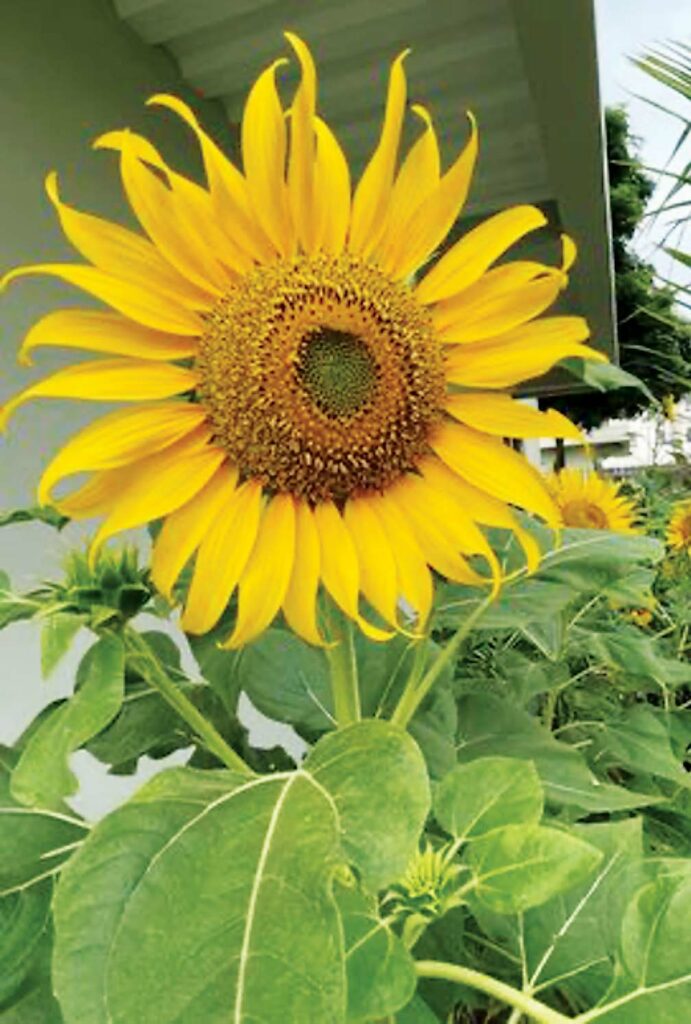 Since our transfer to our new residence in Avida Shophouse Technopark in Biñan, Laguna, I asked our family company's workers to help me plant more than 180 seedlings of sunflowers and a hundred cosmos plants in our garden and outside our house. I got excited counting the sunflowers every day.
While I had been supervising the planting of flowers and setting up gardens in the different projects of our family business, I did not personally plant and nurture plants until my quarantine.
"I don't have a green thumb!" I would sometimes tell my friends, and now, in this quarantine, I proudly called myself a novice plantita, watering the plants myself. (I now remember that my lack of knowledge in growing plants made me make the mistake of scheduling the planting of the sunflowers just before the rainy months set in. It was almost a miracle that the sunflowers grew despite the heavy rains which came.)
The plants around me, which were of different heights and appearances, often reminded me of my 11 siblings, who are so different from each other, not only in height and physical features, but also in talents.
SILENT COMPANIONS
My mother used to tell us that all of her children are different from each other like the fingers of her hands but that they should all be kind and considerate. My quarantine reminded me to find ways to remain close to them.
The sunflower seeds were sown and then replanted in a span of two weeks. I knew though that even all of them are of the same variety, they would grow to be plants of different sizes and, looking at them, I would be reminded of my siblings, who are so different from each other.
One plant grew up to three feet and had four beautiful flowers and I thought of my younger sister Vic and her four children. Another grew high and slender, and I thought of my sister Susan, who is slim and has five children. Some sunflower plants have bigger stems and I thought of my sister Ruby and her four children. One plant grew to an exceptional height, around eight feet, and had multiple flowers, and it reminded me of my eldest sister, Cecille, a pediatrician now living in New York and her three morena daughters.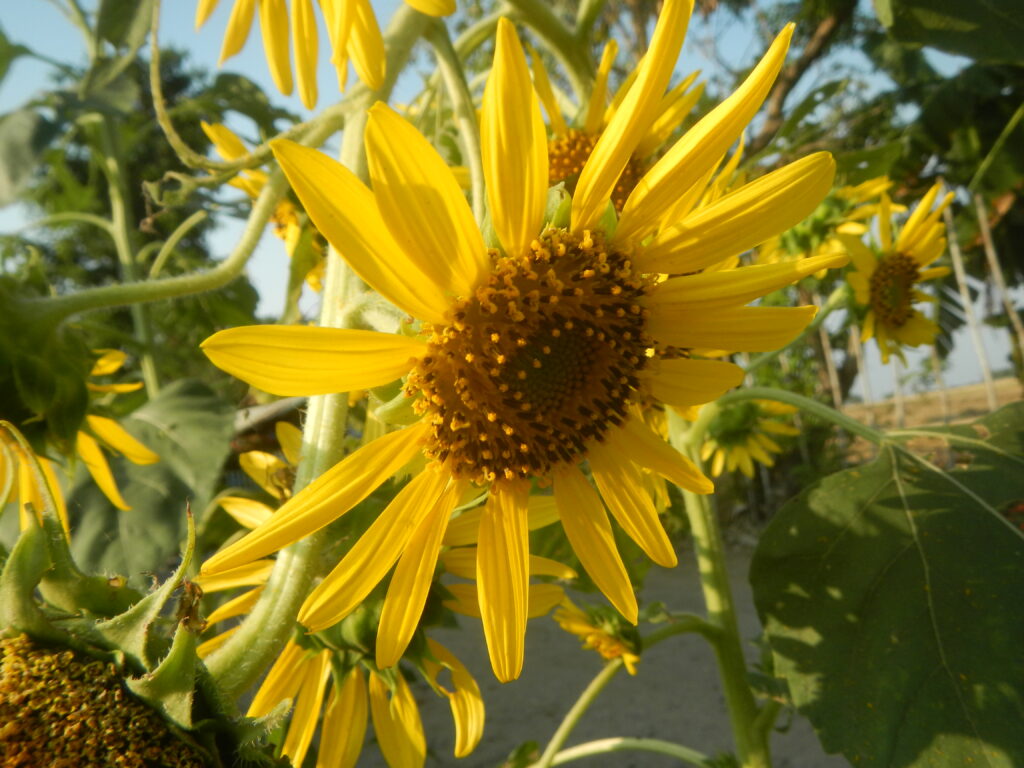 Towards the middle of a row of sunflower plants, I saw one taller than two plants on each of its sides and with tiny buds branching out and standing proudly, and I was reminded of my lawyer sister Liz.
Finally, in front of our house stood three plants of different heights but with the most flowers in bloom. They reminded me of my two doctor sisters who are inseparable, Raquel and Sarah, and myself, Ate Kit, to my younger siblings.
In my mind, I could not compare my three brothers to any of the sunflowers in my garden.
These sunflowers are my silent companions in my quarantine and they give me instant joy whenever I see them as I went to our lanai to have X-ray and blood tests, as prescribed by Sarah, one of my four doctor siblings.
While the nurse was extracting blood from my right arm, my eyes wandered to the sunflowers near our gates. I saw a plant with three huge flowers and another with one flower and several buds. I was so engrossed with their beauty that I did not feel the needle piercing for the blood extraction.
I was led to the mobile laboratory outside our gate for the required X-ray and I saw the tallest sunflower plant, about eight feet high (like a tall basketball player in the NBA League), with the biggest flower in bloom, around eight inches in diameter. God's creation is really remarkable!
BUTTERFLIES
Like the orphan girl in the movie Secret Garden (not the K-drama), I would be curious and observe the butterflies in my garden, mostly black with white or gray colored wings.
I noticed that there were more butterflies before the rains. I would wonder where they go whenever I do not see them among the flowers.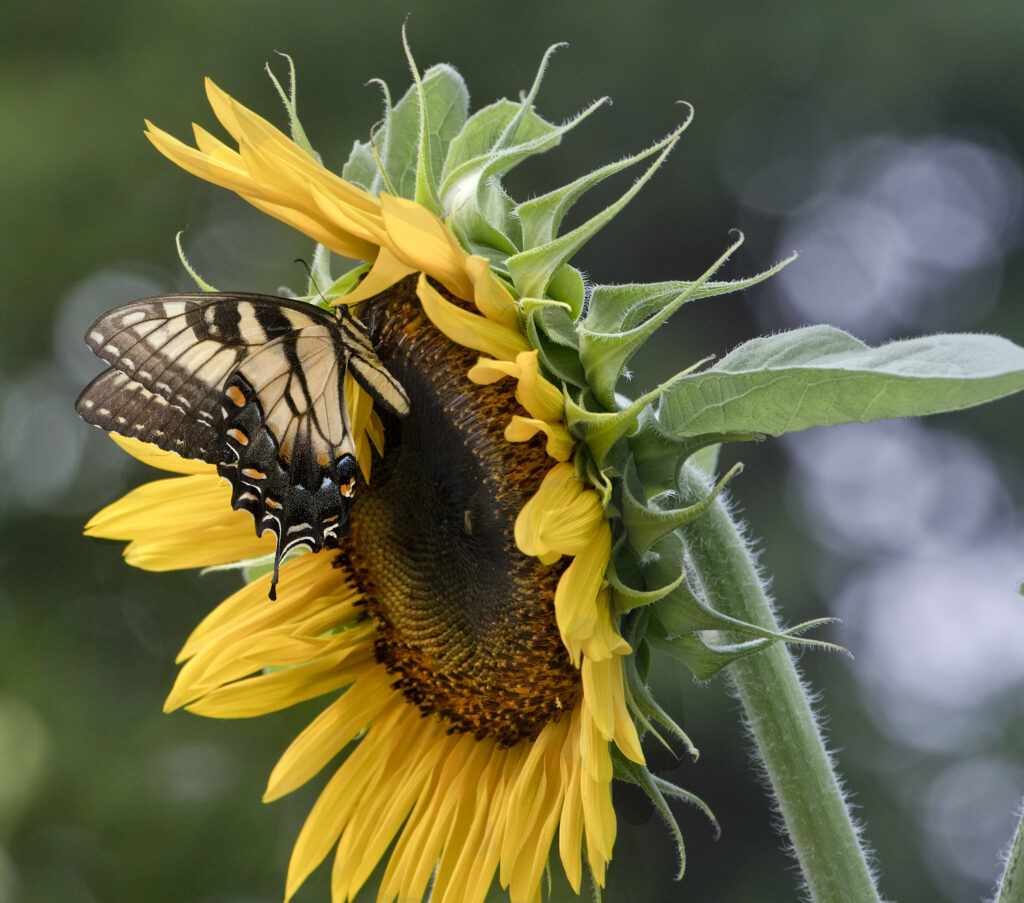 The butterflies reminded me of my brothers. I remember my eldest Kuya Brahm, who could analyze a problem quickly and who taught me Algebra and Calculus during my college days. There is my Diko Gil, who never failed to call me once a week to ask how I was. And then there is my youngest brother Stanley, who lives in Australia and who can repair all kinds of light and heavy vehicles.
Our parents married young during the war. Our mother was only 16 and our father, 19. Their own parents arranged their marriage out of fear of the Japanese soldiers who were on the lookout for young, unmarried girls. That is why they had many children, though my siblings and I are two to five years apart.
My father was a public schoolteacher before he became a businessman. My mother had a great love for education but since she married young, she was not able to finish high school. This explained why they had a great desire to send their children to school. Their efforts bore fruit. All of us finished college and had taken on different professions.
The X-ray took only a few minutes, and I went down the mobile laboratory and crossed paths with my daughter Rhoda, who also needed to have X-ray to monitor the status of her lungs.
My pulmonologist sister had warned us that the first eight hours after diagnosis were crucial. We instinctively avoided each other like those butterflies in the garden, which would keep distance from each other.
Passing through the living room and before entering my room, I picked up my breakfast tray and entered my isolation room. The sunflowers in my room will keep me company until I am well again to mingle with my family.
"The splendor of the rose and the whiteness of the lily do not rob the little violet of its scent nor the daisy of its simple charm. If every tiny flower wanted to be a rose, spring would lose its loveliness." This is a famous quote of St. Therese of Lisieux, called the little flower, who must have been mesmerized by the flowers around her.
I would walk up and down the little garden in my house on sunny mornings. There is something in the yellow sunflowers standing majestically along the sidewalk of 100 steps long and the hundreds of cosmos flowers in yellow and orange colors that make me think of my family in these extraordinary times. It makes me thank God for the gift of life, family and friends.
PAINTING, MEMOIR-WRITING
Besides gardening, my painting hobby has also been taking a front seat during my quarantine.
"Please help me transfer all of my painting paraphernalia from the living room to my bedroom," I told Joellyn.
After one and a half years of the pandemic, I realized I had accumulated dozens of brushes, acrylic paints, unfinished paintings, new canvases, artist canvas pads, palette knives, soft pencils, chalks, and other painting materials. I also made sure my old architect's T-square, triangles, scale, and drafting board were "quarantined" with me inside my room.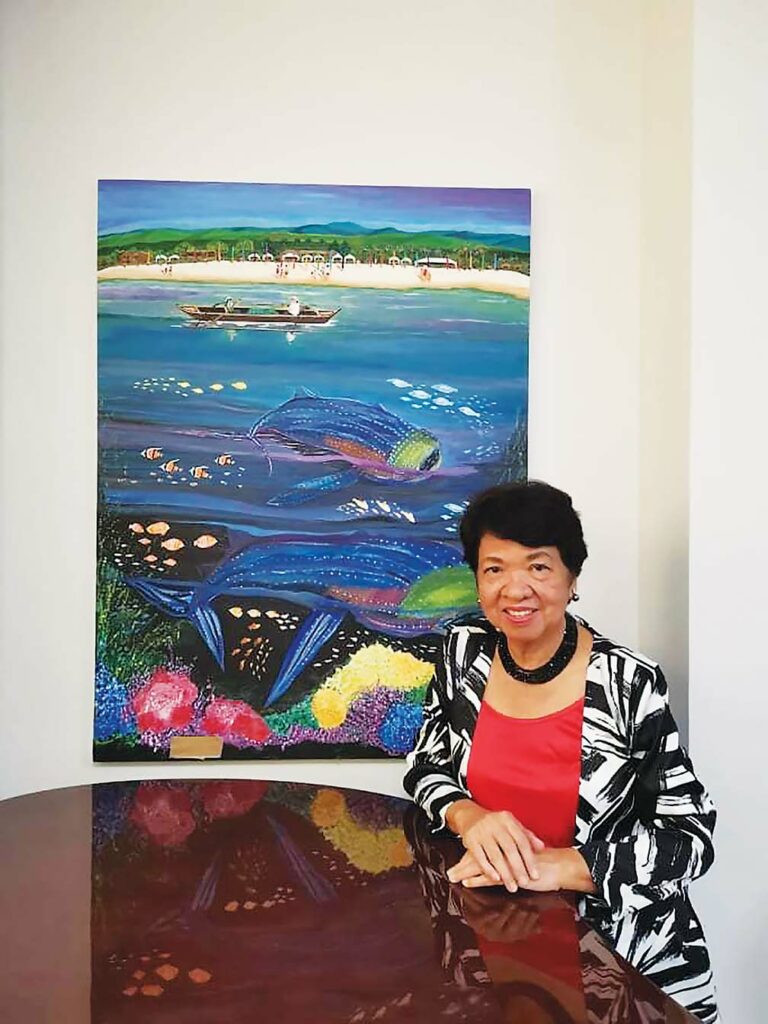 I would spend long hours painting in my room and later, write my memoirs, as I also enrolled in the memoir writing class in Sunshine Place. All these gave me a reason to get up with excitement in the morning.
I merged my love for flowers with my love for painting. I painted abstract art designs on plastic flowerpots with acrylic paint.
At a cheap P5 each per pot, I bought 40 pots and finished a total of 24 flowerpots, which now adorn the Avida Shophouse Technopark grounds just before I got afflicted with COVID-19. I am now impatient to paint more flowerpots using the park bench once I recover. I paint it outdoors because it is so messy to be painting inside my house.
As Frank Sinatra sang, "Love is lovelier the second time around." In my case, I tried to make my second quarantine "lovelier" by indulging in hobbies that make me feel good and make this pandemic more bearable. Accompanied by my plant friends, I am one happy child of the earth.