"How did Taling end up in our household, Mommy?" I have turned my curiosity during the pandemic to our family history and my question to my Mom must have sent the neurons in her 90-year-old brain firing. But she did recall Taling's story quite clearly, and her voice had a lot of energy and enthusiasm when she told me that it all began in the early months of 1956, when two sisters, Taling and Juling, who were household helpers of a suki of my Lola Iska, presented themselves to my grandmother. My Lola was then tending a rice store in Hulong Duhat Market in Malabon, an offshoot of the simple rice business that my Mom started as a 10-year-old girl during the Japanese occupation. Post-war, my grandmother scaled up my mom's small business and got a strategically located stall in the local market. One day, the two helpers told her stories of their harsh working conditions, having so many things to do, staying up late every night working, and waking up early the following morning. My grandmother was moved by their tales of woe and so she discreetly found them new homes to work in. Eventually, they left the employ of my grandmother's suki, the wife of a venerable lawyer and civil rights activist. Taling came to work for my mother and Juling for my uncle.
The live-in arrangement of helpers is, of course, quite normal in the Philippine setting, and so Taling, who left her home in Calapan, Oriental Mindoro, made her home in ours. It was a modest bungalow along Gil Pascual Street, built next to my two uncles' houses in a small family plot that was purchased by my Lola when my Lolo Eulalio died. My grandfather was one of only two dentists in Malabon and Caloocan at that time (the other one being Meynardo Espiritu, the patriarch of the political clan) and with the good income he had, the family had enjoyed some middle-class comforts and had lived in the only two-storey house in Gil Pascual Street of that era. That house needed to be sold to cover the hospitalization costs of my grandfather before he passed away from illness and with the proceeds, the first house of my childhood was built.
   I was not born yet at the time Taling came to live with us, as I am the fifth child in a family of seven children, and my mother had just given birth to my eldest sister Yasmin. The 1950s was the time when soft drinks would mean now vintage drinks like Cosmos Sarsaparilla, and hobbies for women would mean knowing how to pedal a Singer sewing machine or how to do crochet projects. Taling was around 21 years old, and like her younger sister, quite plain in appearance and illiterate both in the three Rs and in home culture. In my family, education was first priority and so, once, when my mother was on maternity leave from her teaching job, she taught Juling the Tagalog alphabet, and after some time, Juling was able to read comics. It was not the same case with Taling. My mother said, "She was not interested in learning how to read, but she had a high IQ."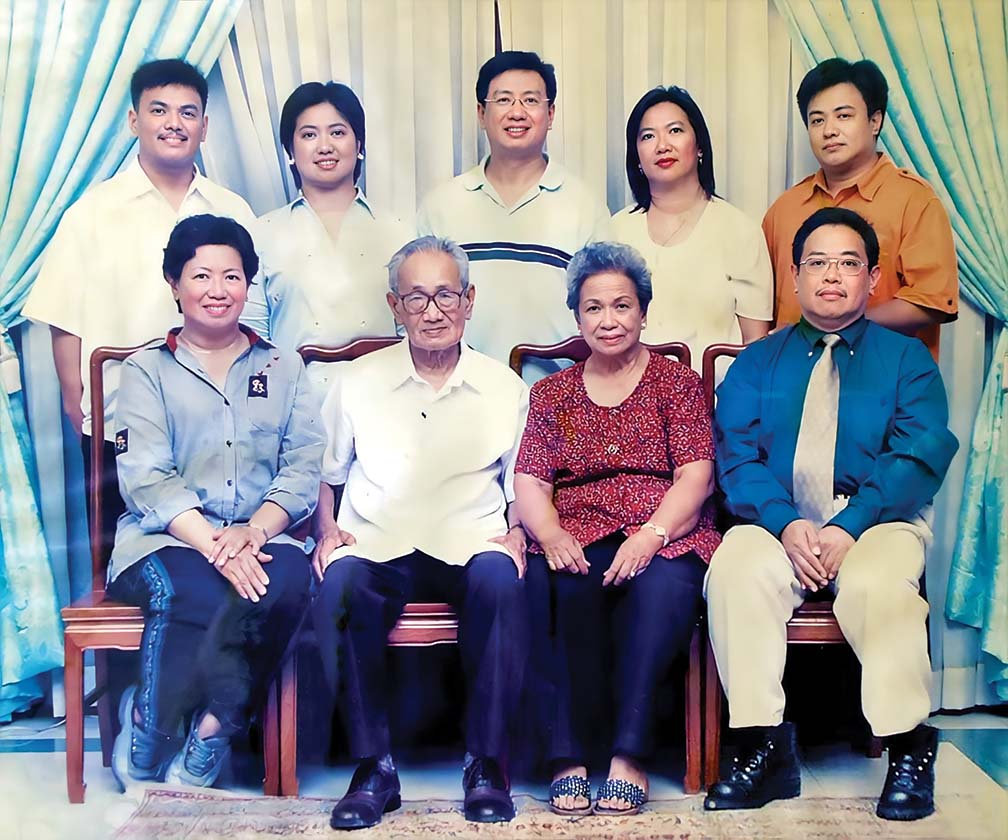 And so Taling became the nanny of all of us, though not all at the same time. She started with the rearing of my parents' firstborn, then the second-born, and so on down to the seventh child, though she was able to focus on the rearing of just four of them: Ate Yasmin, Kuya Danton, Diko Doy, and my youngest brother Milo. That left my older sister Deb, my younger brother Darrow and me with several other nannies, some of whom were sisters of Taling. I knew this as a little child. My mother was always busy either in her teaching chores or in housework (and as a four or five-year old, I would stay up late at night waiting for my Mom to finish since I couldn't sleep without my Mom by my side). But she was able to manage every aspect of our homelife (with the topsy-turvy schedule of running a household with seven kids) and make ends meet (being a fulltime high school principal and teacher and working on side hustles on weekends, mostly selling jewelries and Tupperware, a lifelong passion of hers) because of the presence of the housekeeping help.
So, I have silently watched our Yaya Taling, this gentle woman, such a "good person," according to my Mom, over the years of her stay in our house. I know from experience how it is to be given chores by my mom and how she would give me a talking-to for even small mistakes made. But Taling? She coped so well with my mother's high standards such that my mother never scolded her in more than two decades of being our nanny and cook. "Why don't you treat our other helpers like you treat Taling?" my father would occasionally ask my mother; she had little patience with our other helpers. My mother would reply to him that she could not find any fault with Taling, and she was quick to learn. It is told that when my mother taught her how to cook some dishes, like rellenong bangus, Taling could, later on, cook them even better than she.
As well as working hard in the domestic chores, Taling was a down-to-earth person who would fill in the shoes of my mother while she was busy at work in school. Taling knew how exacting my mother's standards were (to say that my mother was a very meticulous person is an understatement). Taling would make sure the other helpers in the house did their jobs to match my mother's standards. She was a person who did the job; she was irreplaceable; she made herself part of our family and was not just a helper. With my father usually away in the province for work and my mother being in school the whole day, Taling's role in our household was critical. My mother could carry out her school duties without worrying about her children because of her complete trust in her. "Taling could do everything," my mother would tell me.
Taling was also very honest and frugal. My mother would leave her with some money (25 centavos a day) to buy snacks for my eldest sister when she was still little since my mother would be busy at school the whole day. One day, my mother discovered that Taling did not spend the money but saved it until it became ₱60 (a lot of money at that time), which my mother used to open a savings account for my sister. Taling kept her simple, hardworking ways, and steadfastness in her services to our family through the years. I never heard her complain. It was her "malasakit" (concern) for us, whom she considered as her children (she remained unmarried her whole life), that stood out throughout the years we were growing up. With Milo, who would often throw tantrums and was a bit hardheaded, her remark, "I will just go home to the province," was enough for him to calm down and obey her. Her close guarding of me and two other siblings was not as much since we had other nannies during those odd years when she was back in her own province because of her sick mother or for vacation.
I remember the simple way she made me feel cared for and loved. She would bring me to the market when I was around five or six years old, and we would happily return home, her one hand holding mine and her other hand holding a basket filled with big yellow mangoes reflecting the sun and some Tex playing cards or cheap plastic toys. My heart would skip a beat with our little haul.
One anecdote showed Taling's peace-loving character. One day, two of my older siblings were quarreling. One side of the story was that the younger sibling wanted the electric fan to be stationary on him as he was sweating, and the older sibling insisted that the fan had to swivel to share the cooling as it was a hot day. The fight was getting to be physical, and they were recklessly matching strengths to prove their point. But Taling risked herself being hurt and intervened to prevent the potential injury. She always had my siblings' best interest at heart.
   If I were to recall my first conscious years, they would be about playing in our backyard alone, digging soil with some stick and unearthing an occasional worm by accident (that was how my older siblings would tease me as "Dina-liligo," as I seemed to have taken a love affair with the soil, though I never really took up gardening afterwards because I was always involved in some cerebral pursuit).  But I was happy being alone in my introspection. I would consider myself a healthy solitary person, except for that one time when I accidentally fell from a ledge in the backyard and ended up with a bloodied forehead with no adult in sight. I enjoyed some measure of freedom and privacy. But my parents were disciplinarians and expressed no sympathy for bad behavior in the house, and neither did Taling. When Taling acted like a second parent too, she would sometimes take the risk of being misunderstood. My older sister Debra was cheeky, naughty and stubborn; she was referred to as 'Debra bratinella' as she was strong-willed to the point of being too stubborn and vengeful, always trying to get even when wronged. One day, when Taling disciplined Debra by telling her what she shouldn't do, Debra took it badly.  She left the scene for a few minutes, and when she came back, she had a big stone in her hand, which she was ready to throw at Taling. Fortunately, my older sister pacified Debra.  My Ate Yasmin and the rest of us siblings, at times, felt Taling did so much more than a parent because she would have taken the risk of being undermined as just the Yaya or katulong. But she carried out her duty with utmost dedication, responsibility, vigilance, and reliability. Above all, we always felt that she loved us like her children, and she wasn't just doing a job. I would later understand how this kind of "giving life to others," a sort of motherhood of the spirit, rubbed on me big time when it came to making my own life choices.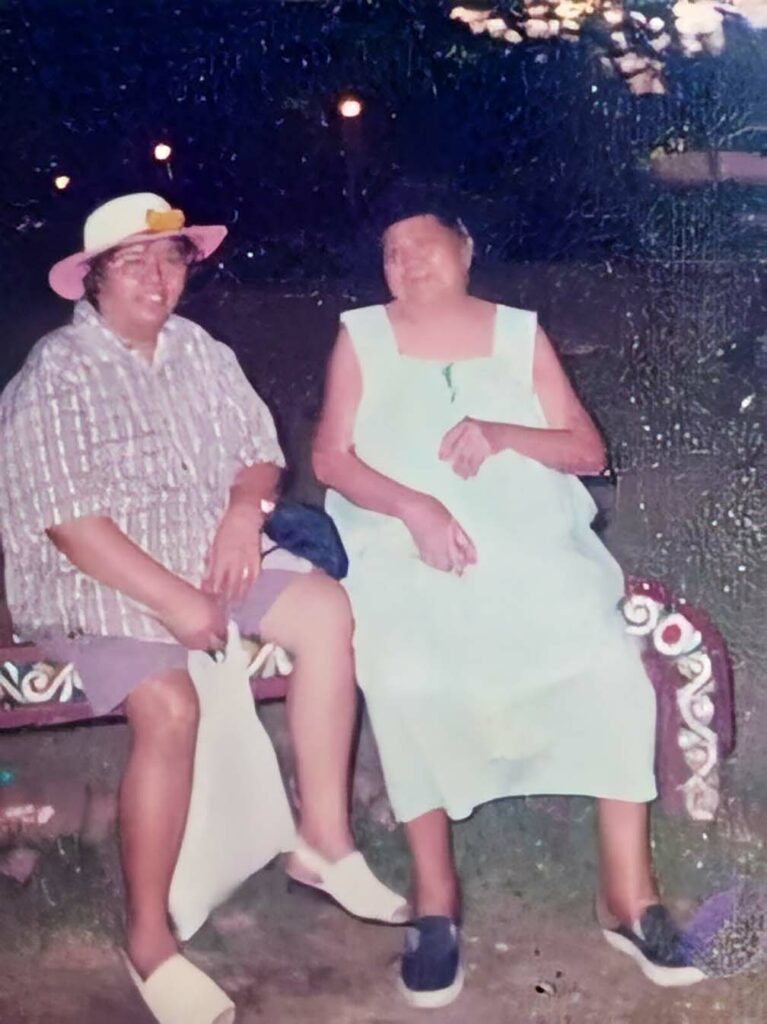 Taling was someone we found safe to tell things in confidence. Some of my siblings, especially my eldest sister, who was then in her awkward teens, shared with her many secrets, worries, and anxieties, as well as growing pains. I had no clue what was happening to her at that time, but she told me much later that whenever she would be reluctant to show her weaknesses, problems, and sadness to our parents, Taling was her refuge. She listened to my sister patiently, endlessly. And my sister confided in her a lot, cried a river on her shoulder when she was angry and going through trials in her life, and that's how she survived her growing pains. My sister said, "Taling was never judgmental or mean. She soothed me, gave me serenity, comfort, and peace, helped me regain balance, encouraged me to restore my faith in people who failed me." That is why she has no hesitation in saying that Taling was our second mother: "She always made me feel I was protected, and that she was our protector. I ran to her when I had challenging household tasks I couldn't do. I read letters for her and helped write letters for her because she could not read and write. The times I shared with her are unforgettable."
When Taling would go home to her province for months, we would always ask the question, "When will Taling be back?" And when she did, she would bring us pasalubong of homemade desserts, using her little money to share unselfishly. Her humanity knew no bounds and it spilled over to us into our growing years.
While Taling took care of us and looked after the management of the house, she never looked for comfort or privilege. She stayed with the other helpers in a storeroom, which was converted into a maid's quarters as the house was relatively small for a family with seven children. After she and the other helpers (sometimes, these were her younger sisters Surek, Linda, Tansing, etc.) were done with the dishes and cleaning up, they would go to their room where they would use a pallet as a table, almost as low as the floor, and there partake of "poor man's food:" dilis or some small, cheap fish; soup made of monggo beans or malunggay; and grilled talong. Those were moments when they would talk about goings-on in their family, and as the eldest, Taling would often give out her advice to them, but she was never controlling. With the happy conversations they experienced being with Taling in that cramped bodega, they must have felt like being in some corner of heaven. At night, they would lay out a banig and sleep on the floor.
When my family went to Bicol because of my father's work, Taling did not come with us as she always missed her family in the province. She would return to live with us for just a few months in our new residence in Manila and later in Quezon City.
Years passed, and my siblings and I had finished our studies and started our own careers. One day, she visited our house with a relative accompanying her. She was almost going blind because of cataract. My eldest sister arranged for her cataract operation. While Taling was very grateful for having received help, she shied away from receiving more money from us, though my eldest brother started to send her money regularly. She was a very decent person who had integrity and never abused anyone's generosity. She hardly spent money on herself, not even for her clothes, and used the money she received to help her sisters and numerous nephews, nieces, and apos. Some of them managed to finish their school education, and some did not despite her giving them her modest pay. Taling lived a life of sacrifice, constantly helping her family in whatever way she could see amidst her conditions of poverty.
In her old age, Taling was in constant pain because of her rheumatoid arthritis, and her condition got worse to the point that she could not even dress, much less bathe herself. Some of my brothers kept up their habit of visiting her in her house in Mindoro, and the last time they went there, they brought her a wheelchair. "In hindsight," my eldest sister told me once, "I realized that I have always experienced God's love and kindness through people like Taling. As a priest once said, if you ever wonder where the proof of God's goodness lies, it is really in the goodness of people who touch your life. No doubt, I have been most fortunate that in Taling's journey in life, with her heart so pure, she touched my life like no other."
When I heard of Taling's passing, I lost no time going to her funeral wake in her home province. I endured the rough Ro-Ro ferry ride on a stormy afternoon (my first Ro-Ro experience and I swore it was going to be my last because at one point during the trip, water filled a portion of the ship due to the heavy rains) and the drive through the tall talahib weeds in the night before I reached her house, but it was all worth it. I entered the small hut, which had no flooring and was bare except for a small bamboo bed, and approached her casket. I silently prayed for the repose of her soul and thanked her for all her goodness to us. She was too good for this world, but her goodness remained through us children. Even after death, she was still giving.