Luxury hotel goes full throttle on 5th Anniversary
In 2020, Winford Manila Resort & Casino (WMRC) began the year on a stellar note, with record earnings from December 2019 that went on to be surpassed in January 2020. The luxury hotel in San Lazaro, Manila, was on a roll and more than ready for what was shaping up to be an amazing year for the world-class entertainment destination.
Sadly, the COVID-19 pandemic broke out just a few weeks into March. Together with other players in the tourism and hospitality industry, WMRC quickly complied with a government order mandating all businesses to temporarily cease operations amid growing concern over the safety of the nation's 100 million-strong population.
During the closure, WMRC's goal was to fulfill its obligation for love of country and do its part to curb the dire situation. More than that, the company ensured that its employees—who make up the heart and soul of Winford—were looked after. WMRC also spent this downtime making the necessary upgrades throughout its property in adherence to all safety guidelines set by local health authorities.
"No doubt that the past two years have been challenging for Winford Manila and the tourism industry," said Jeffrey Evora, WMRC president and chief operating officer, during the company's annual stockholders' meeting last November.
SAFETY ENHANCEMENTS
"We found ourselves in uncharted waters due to the sheer magnitude of the pandemic. But through dedication, perseverance, and adaptability, we succeeded in weathering arguably the worst economic crisis in centuries," Evora said.
In July 2021, WMRC's efforts to make safety enhancements were recognized when it received the highly-coveted Safety Seal Certification—an exclusive distinction bestowed upon accommodation establishments that implement and enforce safety protocols set by the Inter-Agency Task Force (IATF) to combat the spread of COVID-19.
Finally, in November, WMRC received the green light from authorities to accept leisure and business bookings anew, with luxury facilities like the 600-seater ballroom also allowed to recommence operations for banquet events such as weddings and conferences.
"Our goal in 2022 and beyond is to regain the momentum we enjoyed in early 2020, now that things are slowly returning to normal. We are ready to welcome guests back to Winford Manila with their safety a top priority not only to ensure they have peace of mind, but so they will feel like they are in a place that is as safe as their own home," Evora added.
'SINGKO SWERTE'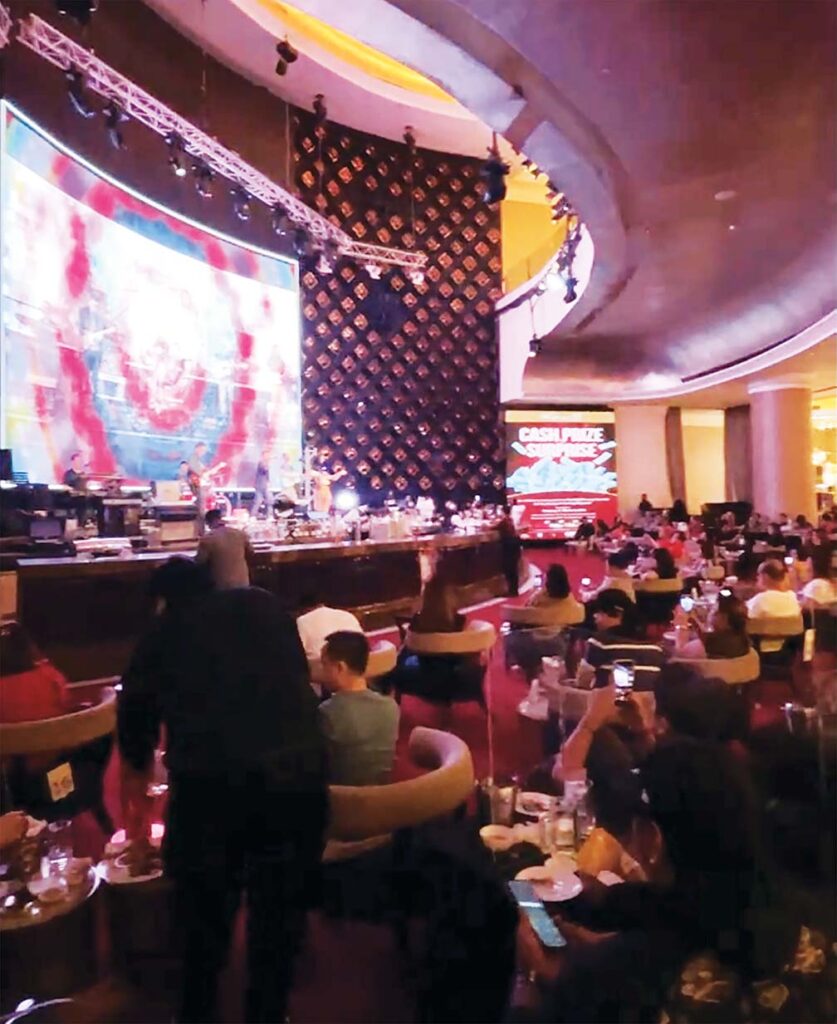 Since February, WMRC has already delivered on this promise by rewarding members and guests for their continued patronage with a live concert series top-billed by big names such as Truefaith, Imago, and Ice Seguerra on Apr. 30. The OPM bands performed at Hippodrome Bar & Lounge, WMRC's newly-refurbished entertainment hub now with safety dividers in every table.
Bannered under a campaign dubbed 'Panalo ka sa San Lazaro,' WMRC's key message is that its amenities and offerings are at par with those of five-star hotels minus the prohibitive rates, providing guests with a 'win-win' or 'panalo' customer experience in San Lazaro. The campaign slogan also pays homage to San Lazaro Hippodrome, home of the Manila Jockey Club, the first horse racing club in Southeast Asia built in 1912.
    In celebration of its 5th Anniversary this April, WMRC recently activated 'SINGKO SWERTE', a one-month-long extravaganza wherein members and guests are invited to sign up for a chance to win one or more of 15 brand new motorcycles, plus a variety of big ticket prizes from any of 15 ongoing raffle draws until Apr. 30, 2022.
Other exclusive deals include a one-night stay in WMRC's spacious Deluxe Room with breakfast buffet for two for as low as PHP3,600 nett. And for a scenic dining experience with a panoramic view of the city, there's the eat-all-you-can pastry buffet for only PHP450 nett per person at WMRC's alfresco poolside dining outlet Zabana Bar on the hotel's 11th floor.
Winford Manila Resort & Casino is located at San Lazaro Tourism & Business Park, MJC Drive, Sta. Cruz, Manila. For more information, call the Guest Services Hotline at (02) 8528-3600 or send a message to guestservices@winfordmanila.com or sales@winfordmanila.com. For reservations, contact reservations@winfordmanila.com.