Spectrum, a wholly owned subsidiary of the Manila Electric Company (Meralco), has completed new solar projects for Ajinomoto Philippines Corporation (APC) and Dasmariñas City, helping its partners advance their sustainability goals.
Its partnership with APC involved a pilot solar project with a capacity of 1-megawatt peak (MWp) at the company's manufacturing plant in Guiguinto, Bulacan which was energized on June 1. 
The project, which was completed about three months after the start of construction, can now generate approximately 1,331,500 kilowatt-hours (kWh) of energy every year. 
With this, APC is expected to reduce its carbon footprint by an estimated of 950 tonnes, which is equivalent to planting 2 million trees over 20 years or reducing 3,800,000 kilometers in vehicle travel per year. 
"By 2030, as Ajinomoto Group of Companies, we would like to realize two outcomes. First, we aim to help extend healthy life expectancy of 1 billion people around the world; and second to reduce our environmental impact by 50%," said APC President Tsutomu Nara.
"Through this win-win partnership with Spectrum and Meralco, we are able to realize an important milestone to make our business operation sustainable by reducing our carbon footprint in the country," he added.
While industrial and commercial customers like APC account for the lion's share of Spectrum's current portfolio, its aim is to make solar energy beneficial to all segments of society.
Spectrum also successfully energized on May 30 a combined 510 kWp solar installation for 14 public schools in Dasmariñas City in Cavite in partnership with its local government unit (LGU).
These schools are Congressional Integrated Highschool, Dasmariñas Elementary School, Dasmariñas Integrated Highschool, Dr. Jose P. Rizal Elementary School, Francisco E. Barzaga Integrated High School, Francisco E. Barzaga Memorial School, Paliparan III Elementary School, Paliparan III Senior Highschool, Paliparan National Highschool, San Nicolas Elementary School, Sta. Cristina Elementary School, Paliparan II Integrated High School, Dasmarinas West Elementary School, and Dasmariñas North National Highschool.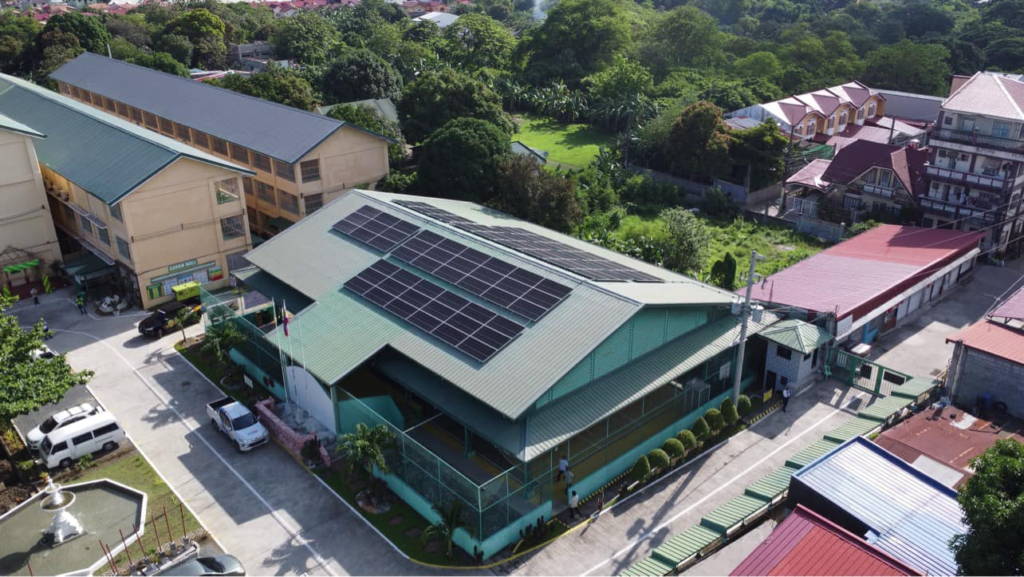 The LGU, through the Department of Education-Dasmariñas, in December 2021 partnered with Spectrum to install the solar facility in a bid to save on the schools' electricity expenses by up to 50%. 
The solar project will generate an estimated 650,000 kWh of energy every year. 
Aligned with the LGU's push for sustainability, the project will also help in its environmental goals by lessening the schools' carbon footprint by 460 tonnes, equivalent to 950,000 trees planted over 20 years and 1,800,000-kilometer reduction in vehicle travel in a year.
"The objective of this initiative is not just to save money and help the environment, but also to serve as an inspiration and encouragement to our students to take part in caring for our environment," Dasmariñas City Mayor Jennifer Barzaga said during the inauguration.
With the expected benefits of this project, Spectrum and Dasmariñas LGU hope to inspire more LGUs to promote the use of solar energy within their localities.
Spectrum has been actively engaging partners in both the private and public sector to help them achieve their sustainability goals through clean energy. Since 2016, it has installed solar panels with a total capacity of over 40 MW.
"We are pleased to announce the back-to-back solar facilities we have completed and fully energized for Ajinomoto and Dasmarinas LGU. We are grateful to our partners who have entrusted the development of their solar installation with us. Our shared mindset and goals, which are anchored on sustainability, has led us to contribute to the environment by reducing our carbon footprint emissions while simultaneously enabling operational efficiencies and increased savings through solar," Engr. Ferdinand O. Geluz, Spectrum President and CEO said.
"As a solar company of Meralco, we are committed to making our solutions as accessible and affordable to our customers while upholding the highest safety standards and quality control measures. We hope that our customers continue their sustainability journey and we will continue to support them as we all move forward to Power the Good Life and reach a cleaner and greener future," he added.
Spectrum offers tailor-fit solutions for industrial, commercial, and residential customers through an in-depth understanding of energy consumption behaviors and strategic partnerships with world-class technology partners.
Backed by Meralco's energy expertise and proven safety track record, the renewable energy company has been providing services and solutions to help customers reduce their costs while taking part in saving the planet.