Muntinlupa City, Philippines—Two weeks prior to the 2022 national elections, in late April, 2022, Football for Humanity Foundation gathered 40 coaches from all over the Philippines in Davao City, for the field training of its Stop the Online Sexual Abuse and Exploitation of Children (StopOSAEC) project.
StopOSAEC is under the supervision of sport for development education partner Coaches Across Continents. The field training was implemented following online coach training sessions focused on using sport to create effective community interventions especially for vulnerable children.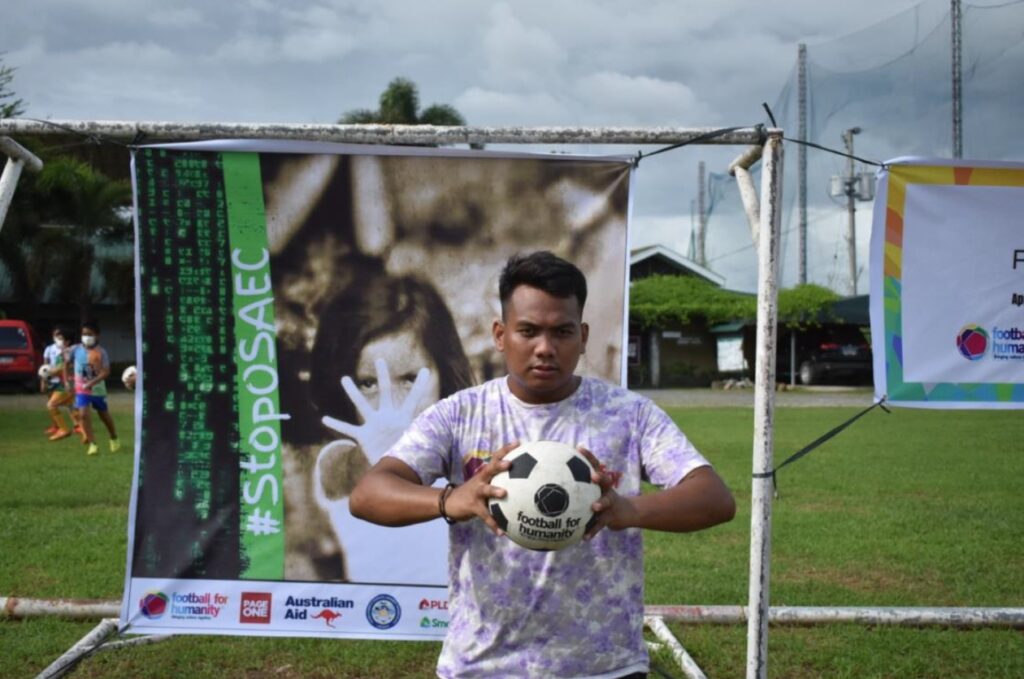 A Football for Humanity (FFH) project, StopOSAEC aims to eradicate the crime of online sexual exploitation of children.
According to an August 2020 report published by the Anti-Money Laundering Council of the Philippines, sexual exploitation of children had grown exponentially following the Covid lockdowns that brought even greater economic hardships for many disadvantaged communities.
The Philippines was cited by UNICEF as the "global epicentre of live-stream sexual abuse trade of children" (https://www.unicef.org/protection/philippines_91214.html).
POWERFUL TEACHER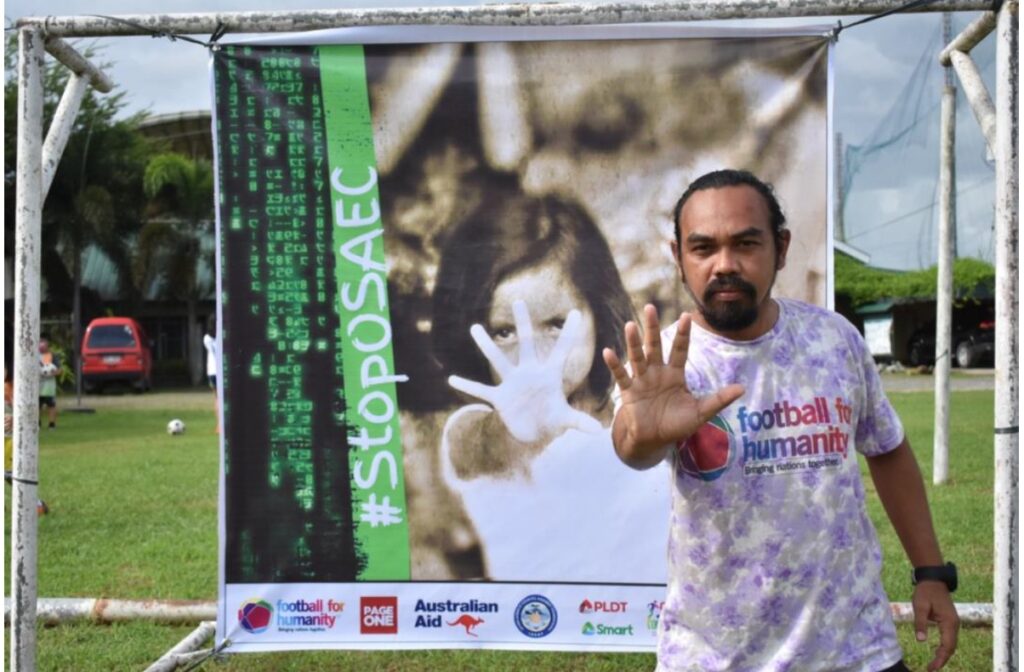 According to FFH founder Chris Thomas: "Football is a powerful teacher of children's rights and a platform for their voices to be heard and valued. Online sexual abuse is modern slavery and has no place in humanity. This is where FFH steps in with its proactive and preventive strategy to educate, equip and enable children, as well as their families, with robust tools to stand against this horrific crime."
The FFH family is composed of volunteer coaches from Luzon, Visayas, and Mindanao. Working with visiting coaches Charlie Crawford from Atlanta, Georgia, USA, and Patti Caceres from Tacloban, Leyte, the group validated a unique set of games and lectures that emphasize child protection, children's rights, teamwork, respect, discipline and environmental awareness.
This curriculum will be implemented in over 20 communities assessed as being high risk from online child sexual exploitation.
"After months of online learning, it was a privilege and honor to work with the FFH coaches on the ground in Davao. The passion they demonstrated Online and On Field was palpable. More than that, the momentum that they will carry back to their home communities throughout the Philippines is one of the strongest possible indicators of upcoming change. Online Sexual Abuse and Exploitation won't disappear overnight. But with the skills these coaches have developed and implemented, we are confident that the day when it has will come sooner," Coach Crawford said, in a text message to FFH co-founder Belle Tiongco.
Tiongco disclosed that the program will require approval by "barangay" leaders or LGU officers before a coach can engage the children, most of whom are in the 5-17 age bracket. In addition, FFH, with inputs from its partners, will make use of storytelling techniques to promote internet safety among children and their families.
SOCIAL MEDIA
"I created a story—"Sikat na si Maimai," which dramatizes the good, as well as the bad side of social media. Social media has become a channel for child pornography and we believe a realistic and cautious relationship with the internet and social media will prevent the victimization of innocent children," Tiongco added.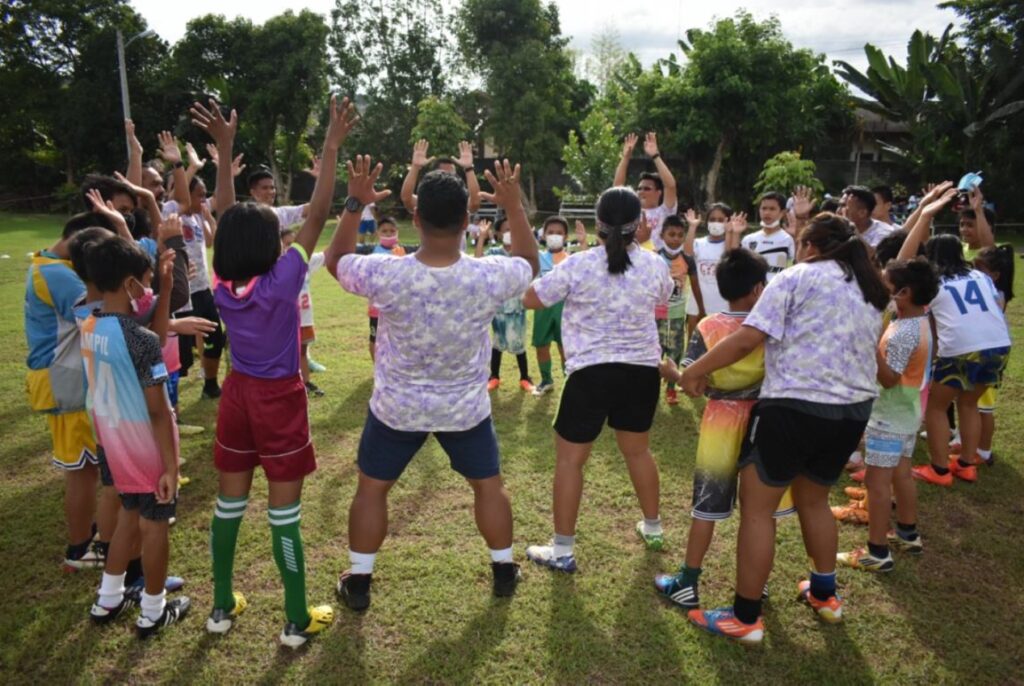 With 22 targeted communities averaging 50 children per community, FFH hopes to impact approximately 1,100 children in the pilot run. Now on its second month of implementation, over 20 communities have been successfully activated. Secondary beneficiaries are parents and community leaders who are likewise marginalized and who continue to struggle under debilitating economic conditions.
The project was made possible with funding from the Australian government through the Direct Aid Program (DAP) of the Australian Embassy in the Philippines. Other partners include the Department of Justice/Inter-Agency Council Against Trafficking (IACAT), SMART/PLDT, and PAGEONE/Advocacy Partners Asia Inc.
Football for Humanity is a charity registered in the Philippines and the UK. The charity uses the power of play to educate, empower and protect children facing the threat of violence, exploitation and extreme poverty.