Makati City. The Philippine Charity Sweepstakes Office (PCSO) Vice Chairman and
General Manager Melquiades Aypa Robles and Philippine Racing Commission (PHILRACOM) Chairman Aurelio P. De Leon signed the Memorandum of Agreement (MOA) for sponsorship of various horse racing events for CY 2022 on Thursday, August 04, 2022 at the Philracom Office, 4th Floor, Electra House Building, Salcedo St., Legaspi Village, Makati City.
The MOA signifies the continued commitment of PCSO to support the horse racing industry by sponsoring prizes of several races conducted by PHILRACOM.
With the shared vision of promoting Horse Racing Sports Tourism and PCSO's gaming products in the country, the PHILRACOM and the PCSO agreed to create a joint advertising and publicity promotion by co-sponsoring various races and maximizing the different avenues of marketing and advertisement in order to promote various races and PCSO's games including its gaming products while at the same time generate government funds for various projects.
GM Robles is very excited with the upcoming events that PCSO will be participating,
"We welcome another opportunity for us to sponsor charity races which has been a long tradition of partnership between PCSO and PHILRACOM. We hope we could help more people with our programs and activities like this" he said.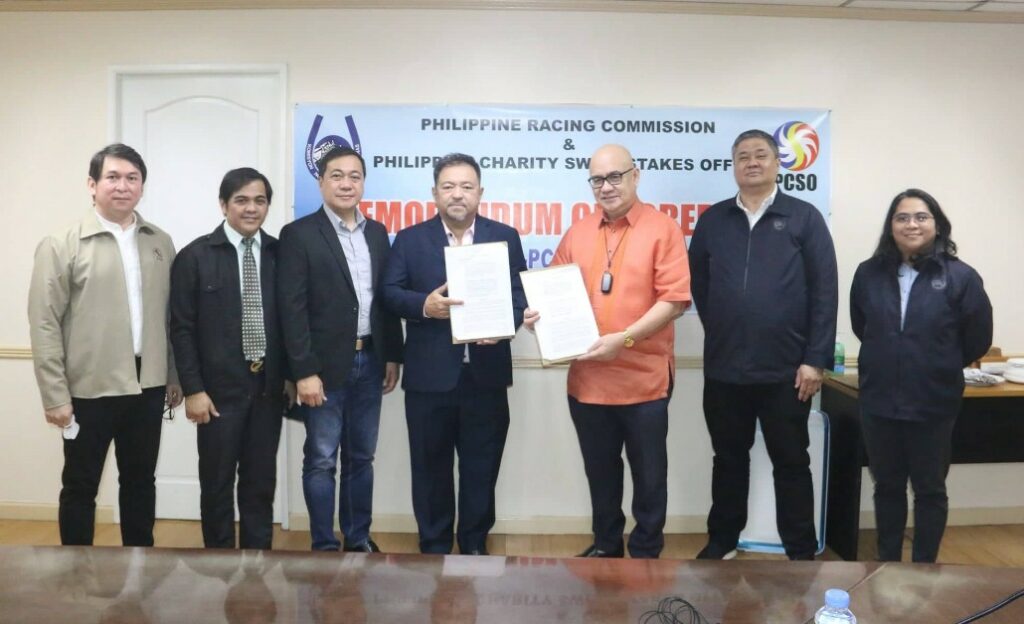 On the other hand, PHILRACOM Chairman De Leon expressed his sincere gratitude
saying "Thank you PCSO, it is our great pleasure to welcome GM Mel Robles, the new
GM of PCSO. In other countries, horse racing is considered sports tourism so we want to do the same here in the Philippines. Two or Three years from now, it will be called sports tourism industry and of course we would like to have PCSO as our partner. Marami pong Salamat."
(By: Jerwin Palo Nohay / Photos by: Justin B. Santos and Arnold T. Ramos)