Amidst the global health issue and social challenges, young Filipino innovators continue to become bearers of hope for the country.
This was on full display during the 5th imake.wemake:create.innovate.collaborate.'s Awarding Ceremony held on Aug. 26, 2022.
The Department of Science and Technology – Science Education Institute (DOST-SEI) recently bestowed the coveted Youth Innovation Prize (YIP) Award to three school-teams for their creative solutions for eye disease detection, monitoring and conservation of the haribon or the Philippine Eagle, and aerial emergency aid for isolated areas.
These projects emerged as winners for their technology's novelty, functionality, patentability, extensibility and practicability.
Youth Innovation Prize Award 
The first YIP winner is Bansud National High School – Regional Science High School for
MIMAROPA for their project "SINAGTALA: Automated Detection Kit for Selected Eye Diseases Using Ensemble Framework of Deep Learning Neural Networks (CNN x ANN)".
The project focused on automatically detecting certain selected eye diseases using convolutional (CNN) and artificial (ANN) Neural Networks to address the need for a medical screening device to promote high-quality and accessible eye care interventions, particularly for diabetic retinopathy, glaucoma, and cataract.
The team is composed of Franklin Razon, Jarell Aldrix Famadico, Josh Vincent Sario, and Sophia Margaux Dilodilo, with Alexis Albo as their coach.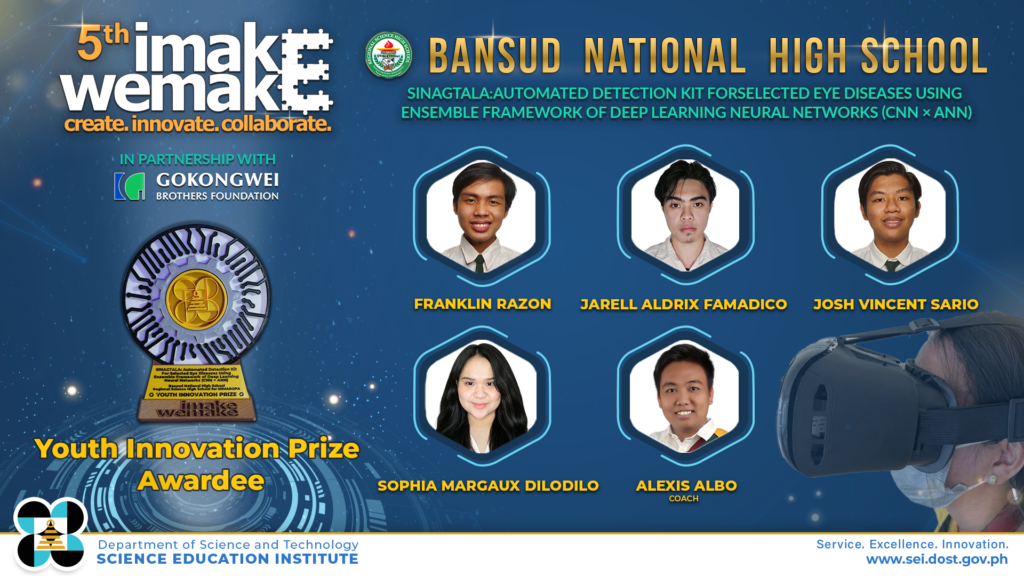 Philippine Science High School (PSHS) – CALABARZON Region Campus also received the YIP award for their "Deep Neural Network Embedded on a Microcontroller for Detection of the Bird call and songs of the Philippine Eagle Pithecophaga jefferyi" project.
Here, they showcased a system wherein an Embedded Deep Neural Network programmed to a microcontroller with an external microphone captures calls of the Philippine Eagle helping bantay-gubat and bird trackers by determining and understanding calls made by the Pithecophaga jefferyi in their natural habitat.
The team is composed of Amina Javellana, Alexander Bañados, Lance Alilio, and Weinfree Saludares, with coach John-Niel Masong.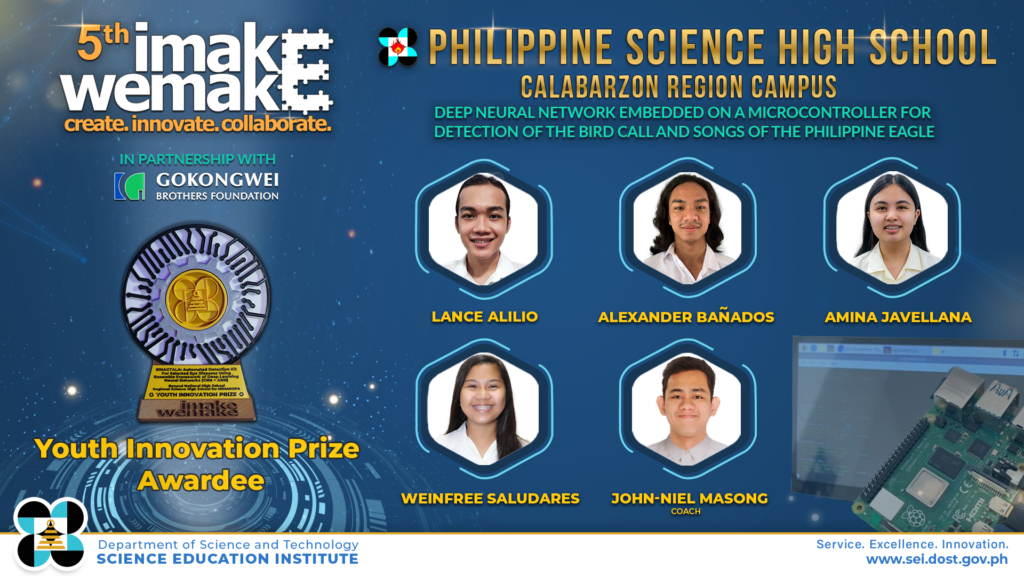 "Project Kidlat: Inter-Island Automated UAV for Medical Delivery and Emergency Response" of Ramon Teves Pastor Memorial – Dumaguete Science High School likewise secured the YIP for their innovation addressing the difficulty of delivering medical and emergency aid to isolated places.
Project Kidlat is capable of crossing seas and assisting in medical response and disaster by carrying supplies needed in remote areas.
Project Kidlat is crafted by team members Mondrayneil Sarte, Marvin Nillas, John Raymond Enolpe and Kristine Mae Tilos, with coach Ivan Jayson Macabenta.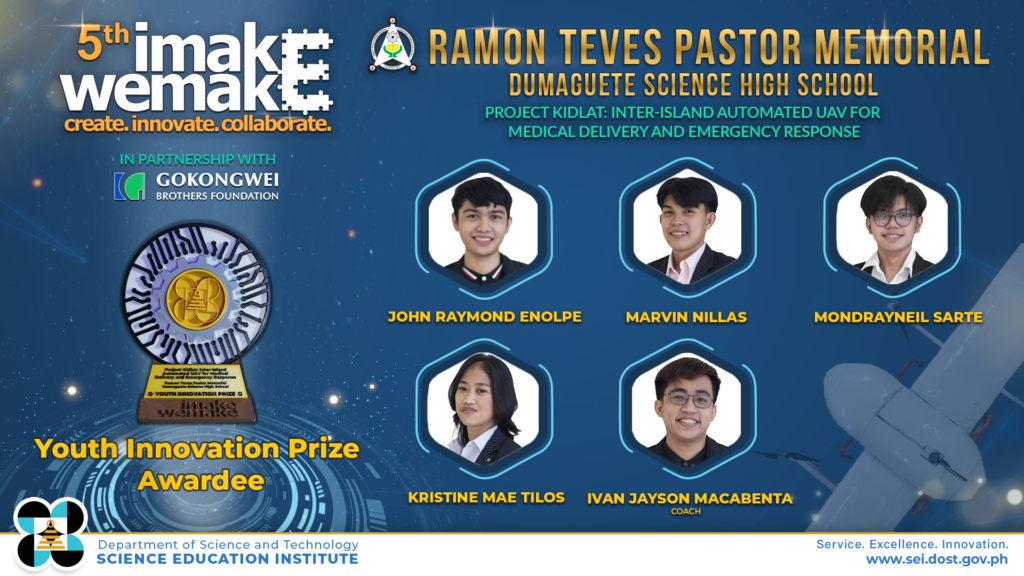 With the win, the school-teams each received Php 200,000.00 cash prize along with the YIP trophy.
The winners were determined based on scores of the Board of Judges composed of Engr. Percival Magpantay from the University of the Philippines Diliman, Engr. Carlos Matti Opus of the Ateneo de Manila University, and Engr. Edison Roxas from the University of Santo Tomas.
Young Scientist Award

DOST-SEI's partner, the Gokongwei Brothers Foundation (GBF), also conferred three students with the Young Scientist Award (YSA). Winning this award are Alexander A. Bañados and Amina M. Javellana of the PSHS CALABARZON Region Campus, and John Raymond P. Enolpe of Ramon Teves Pastor Memorial – Dumaguete Science High School.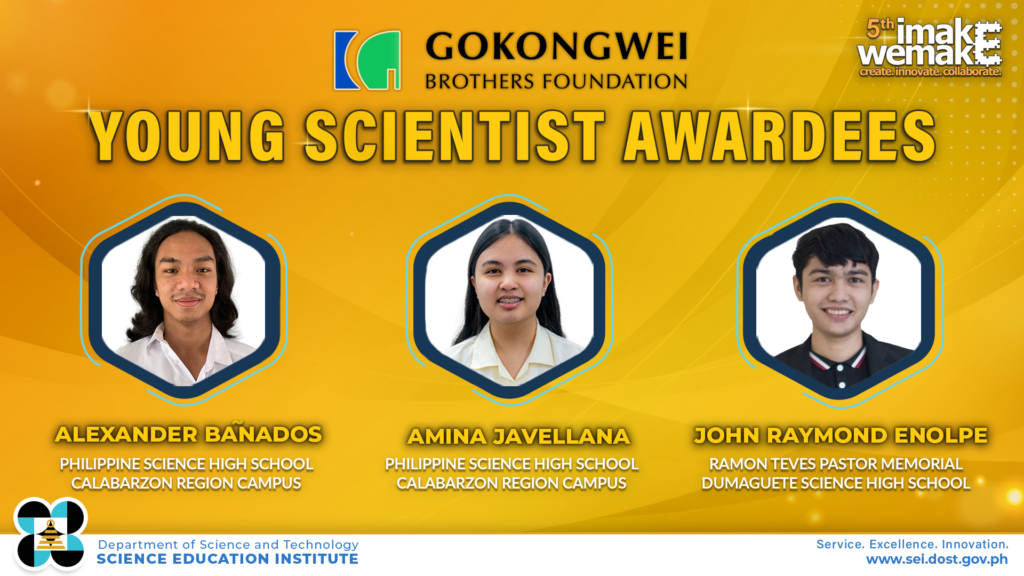 They were given the "STEM Scholarship for Excellence" for demonstrating global competence through their innovations.
The GBF scholarship allows them to pursue a STEM course of their choice at any university or college in the country.
Ms. Grace Colet, GBF's Executive Director, led the announcement of their new scholars.
"Originally, we planned to select just two scholars, but after watching and listening throughout the final presentations, we decided to add another recipient due to the quality of work they all have done," Colet bared.
DOST Secretary Dr. Renato U. Solidum, Jr. graced the hybrid event and congratulated all the winners and participants for their creativity and thanked them for striving to create positive impacts needed to solve the problems of today and of the future.
"More than declaring winners for the Youth Innovation Prizes and the GBF Young Scientist Awardees, what matters most to us is to have successfully convened budding makers with great mentors, advisers, and of course, people from the government and private sectors, as all of us are stakeholders in the innovation process," said Secretary Solidum.
The DOST Secretary also led the announcement of the opening of the 6th imake.wemake competition.
DOST-SEI Director Dr. Josette Biyo also congratulated all the winners and urged them to pursue STEM courses and avail of the Institute's undergraduate scholarships.
"This imake.wemake project should give you an idea of how to be in the field of innovation, and we hope that science and technology will have an asterisk among your list of careers to pursue," she said.