Weekend was an escape from the compactness in the city to relish the freshness of the rustic surroundings of my hometown in Pulilan, Bulacan. This weekend retreat was stepping into a totally different space—rural, natural and simple. Home was where I find vibrant life.
From my room's window, I would enjoy a picturesque canvas. Against the backdrop of clear blue sky and white clouds, the scenery of green trees in our backyard dancing and swaying in the direction of the wind was a sight to behold.
My skin would feel the cool air conditioning, free of charge and purified. The chirping birds,
chuckling ducklings, and clucking chickens joined the bass voice of the geckos or tuko inhabiting the mango trees, forming a live band of their own. It is a complete departure from the lifeless, metallic sound of the staplers and typewriter keyboards in the office in Makati.
The dining table would be the favorite fixture, serving the local delicacies called kakanin like puto, kutsinta, and bibingka—constant desires of the Tagalog tastebud. The aroma of the native chicken cooked as sinampalukan or tinola would fill my nostrils again.
I imagined my mother Guadalupe cooking in front of the earthen stove fueled by firewood. It was often said that food cooked under firewood was more flavorful. As proof was in the eating, I believe the saying is true.
A WEEKEND AT HOME
Every weekend at home was alive and organic, compensating a workweek that was still and static. And most significantly, weekend was a precious time to be reunited with my family. The weekdays were just so long without them.
Another thing I looked forward to was engaging my sister-in-law Arsenia or Ate Seny in some tête-à-tête. The weekend was also her break from a local school as a teacher.
Ate Seny was a hometown lass and her husband was my eldest brother. As a couple, they opted to live and stay with my parents to keep them company and on weekends we were all together.
What was also remarkable at this time was that she was on her full term pregnancy and was expected to deliver a baby any day soon.
I arrived in town and expectedly in a few minutes, I would be home. Several meters from the gate, I was promptly and hurriedly met by my cousin, Thelma. She told me to stop for a while and then slowly broke the sad news to me, "huwag kang mabibigla [Do not be shocked]."
True enough, when I entered the house, I was greeted by crying and tears of mourning. Purposely I was not informed even by phone by anyone so that sorrow and worry would not overtake me so early.
LOSS
Before my eyes, I saw Ate Seny lying in state in the living room. The atmosphere was so tense and distressful. Her mother, Nana Itang was clearly devastated. She had fits of fainting in utter display of sorrow over the loss of her eldest daughter who meant a lot to the family.
A commotion followed to see to it that she would be given the immediate relief needed. I sobbed uncontrollably upstairs in my room. Nobody expected she would die of childbirth at the hospital as her attending physician was our own relative. And to think that if she had her way, she wanted to deliver the baby in our house. She often said, all 11 of them were delivered in their house, assisted only by a midwife or comadrona.
So young to pass on to eternal life, 33 years of age but a martyr in her own way. She offered her life to give new life to a baby boy.
The newborn, named Gerard after St. Gerard Majella, patron saint of expectant mothers was the name already chosen by Ate Seny for her son. He was my first nephew and understandably, he was so special to all of us and to me.
The joy he gave was overwhelming, we couldn't take our eyes off him. Almost all of his movements were recorded in photos.
I remember going home more often, even on work days, just to get a glimpse of the baby. Even if this meant getting up very early the following day to travel back to the office. Nothing preoccupied my mind but to come back home again.
Going to the malls became more regular just to buy anything from feeding bottles to onesies to a portable bathtub. Perhaps due to the lack of mother's milk, his body's immune system seemed to be weak and every year for the first seven years of his young life, he would be confined in the hospital and I would be by his bedside until he recovered.
NIGHTTIME
My mother tightly guarded my orphaned nephew, the only grandchild then. Dusk-time would be home-time and no matter how enjoyable, playing should stop.
The boy did not break the rule. He was docile to his Lola, obliging to whatever his Lola wished. Maybe because he also realized that he was pampered, in terms of toys and in anything that he wanted. His father, my widower brother, was also a good provider and a good father to him.
Call time was the praying of Angelus, signaled by the tolling of the church' bells at six o'clock every evening. After prayers, the doors would be closed for the night.
But nighttime would still be playtime for the other kids in the neighborhood. And full moon was what they were eagerly waiting for, to play hide and seek under the moonlight. Gerard would only hear the loud noise and laughter of his playmates and pitifully, could not join.
But from time to time, he could outwit his Lola, whenever there was a wake in the community. He would enjoy free time with playmates at nighttime while Lola spent a few hours with the bereaved family.
Once he wishfully but innocently asked, "Kailan kaya ang susunod na patay [When is the next death]?" His playmates, now grown-up, could not forget his childish statement and would laugh at the memory. I can't remember any time when he was spanked or punished for a misbehavior or misdemeanor.
STAGE MOTHER
Gerard reached preparatory school age and school was at Malolos, about 20 kilometers away from our town.
The educational system in the capital was far better than what we had at our place. I knew my mother would be incapable to look after his school needs so it was decision time for me.
I finally decided what my heart dictated—to give up my job in the city and finally came home permanently.
I devoted my full attention and presence to Gerard's preparatory year. We went to school together, and while I waited for him till his classes ended, I would sit in peace and quiet at the Cathedral located beside the school.
In that solace, I thought that at the right time, I would be compelled to look for another job, not in the city anymore but here in our province.
Early in life, Gerard would already display a sense of determination to achieve a goal. remember he had in mind a toy he liked and it was quite pricey. For one week he did not spend his allowance, did not buy his snacks until he had the enough amount to buy the toy he desired.
Some off-school days, I would be the stage mother to the kid. We travelled the stretch to Quezon City, bringing him to his swimming lessons and to the Milo Best competitions.
Gerard proved to be sporty and would end up bringing home trophies. In his effort to excel in basketball, he would patiently measure his height, put a mark in the wall for his latest measurement and every so often, checked if he had grown taller.
Unfortunately, he got his father's height. In short, he was short. Basketball was not for him.
GOAL-ORIENTED
After high school, Gerard went to College in Manila and he fended on his own as a college student.
He proved to be conscientious in his studies and grew up to possess the trait he manifested in his young life: goal-oriented.
Gerard took up Nursing at UST, graduated with honors, and later pursued Medicine. As with every other medical student in the country, his ambition was to go to the United States, knowing that advances and breakthroughs in the field of medicine were the best in the West.
His goal was set and we knew we could not disagree with his plan. The day of his departure for the US was a day of sadness because of the separation.
My mother that day did not get up in bed, covered her head and whole body with blanket while crying. There was a lump in my throat while he kissed and hugged us.
Gerard, too, was teary-eyed but was determined to go. His goal was to weave a brighter future, improve himself and become worthy of the profession.
True enough, he would become Chief Resident of the hospital he was first connected with and pursued to specialize in Diabetes. He is now a diabetologist and patients' evaluation spoke favorably about him. He transferred to another workplace and his patients at his former clinic would follow and seek him.
MOTHER'S ROLE
All the siblings of my late sister-in-law Ate Seny are also US residents now, made possible by another sister marrying a US citizen and by way of petition system, the whole family was uprooted from our hometown and settled in the state of Washington, not far from my nephew's domicile.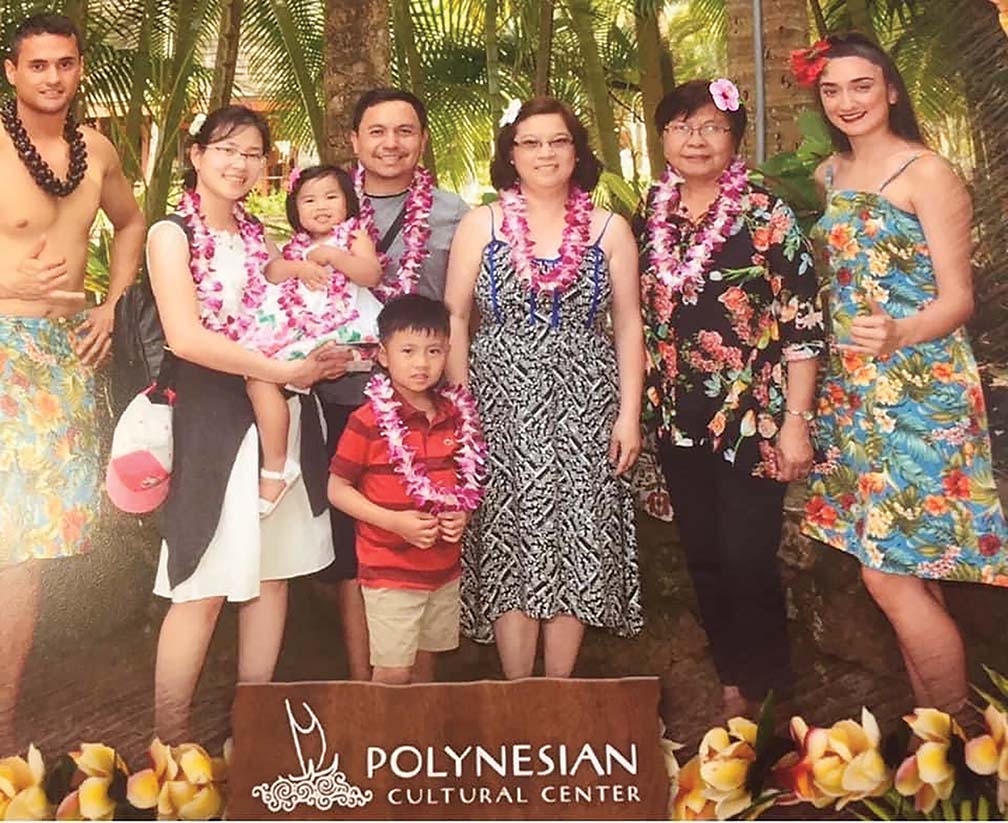 I considered it as God's way to favor Ate Seny's love for her family. She assumed a mother's role to all her siblings in her short but worthy life. Her wish to see her family enjoy what she strove for them, to go through life with less hardships was realized.
Ate Seny was reunited with her family through her son. Gerard assumed his Mom's presence in the clan. He kept the balance, in his growing up years, he stayed with us, on his father's side. Now, his presence is kept on the side of his Mom's family.
It is said that when a baby is born, a mother is also born. As motherhood is nurturing, caring and protective, any woman can assume the role. Therefore, motherhood is not only biological. It does not discriminate, as single ladies could be mothers, too. Motherhood is not only giving birth from the womb but essentially giving and nourishing life from the heart.