Experts from the University of the Philippines – Diliman are in agreement that precautionary and safety measures are still necessary in the wake of the COVID-19 pandemic, even though improved vaccination numbers across the country have warranted an overall easing of restrictions.
The experts also stressed the need for a carefully planned, calculated, and gradual return to face-to-face (F2F) classes to allow universities and schools enough time to adapt their facilities to accommodate hybrid learning. 
These were some of the key takeaways from "Pagbabalik sa Unibersidad: Mga Aral Batay sa Paghahanda at Karanasan," a gathering of some of UP Diliman's health experts and veteran administrators to tackle best practices for a safe and healthy transition back to F2F.
Organized by the University of the Philippines – Diliman College of Science (UPD-CS), the discussion was held simultaneously online and in person last Oct. 17.
The panel of experts represented a variety of disciplines and perspectives, with College of Mass Communication (CMC) Dean Dr. Fernando Paragas; College of Law (UP Law) Dean Carlo Vistan; CS Associate Dean for Mentoring, Academic Progress, and Advancement Dr. Eizadora Yu; Philippine Genome Center (PGC) Laboratory Manager and Clinical Health Officer Dr. Marc Edsel Ayes; Institute of Biology (IB) Biosafety Officer Dr. Ivan Imperial; and National Institute of Molecular Biology and Biotechnology (NIMBB) Deputy Director for Academic Affairs Dr. Ron Leonard Dy.
'Hyflex' classrooms and workspaces
The "hyflex"— or 'hybrid-flexible" — event was not just a public forum but also a proof-of-concept showcasing the possibilities and benefits of such spaces for work and learning, moving forward.
"It's not easy shifting, especially if we're trying to explore new modes of work and study," said UPD-CS Dean Giovanni Tapang as he opened the discussion.
"But today isn't just about exploration, it's about sharing and facing the problems of COVID head-on in terms of addressing the pandemic as well as continuing to pursue teaching and learning."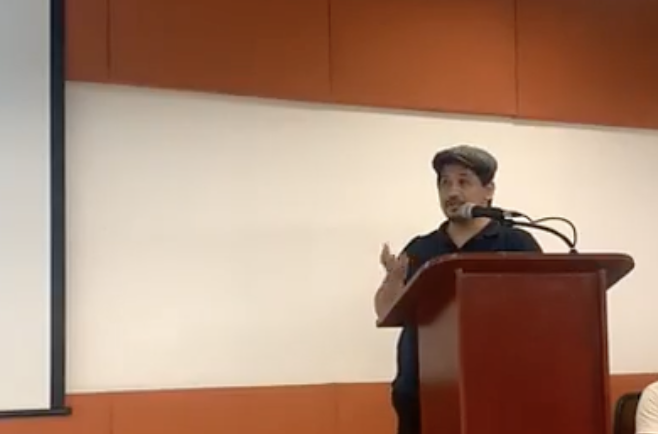 "Newer virus variants are more infectious than those before them, but vaccines have blunted the rise of cases and prevented outbreaks from overwhelming our hospitals," explained Dr. Ayes, a pandemic expert.
However, he also warned against complacency: "Regardless of vaccine status, people can still get the virus but unvaccinated people are at the highest risk of severe complications."
Dr. Yu agreed, underscoring the need for a "phased return" to F2F to enable institutions to design and implement safety measures, such as customized safety guidelines; improved ventilation and socially-distanced seating in classrooms; and easier and more stable online access for everyone.
"We recognize the flexibility afforded by blended learning to both students and faculty. CS needs to have a balanced approach to quality instruction, health risk assessment, response, and beyond," Dr. Yu shared.
Hybrid work and study spaces are an immediate need
The experts raised the pressing need to accommodate hybrid online learning by creating bigger and more open spaces to allow social distancing, accompanied by stable internet connectivity and proper ventilation.
Institutes under the CS, for example, retrofitted their laboratories to ensure safety while conducting F2F classes.
"Science is experiential. We cannot wait until the pandemic is over or when COVID is declared endemic. Guidelines may change but some things remain," said Dr. Yu.
Even UP Law resorted to bringing its library tables out into hallways and corridors to allow for proper distancing and ventilation.
Dean Vistan recommended having more classrooms and areas where students can stay under safely distanced and well-ventilated conditions: "The ideal model for us is to have each class have its own classroom. Kasi even if we maximize our spacing, hindi pa rin kasya," he said.
Importance of social media and direct communication
Dean Paragas also stressed the importance of always having a direct line with students.
He shared how the CMC implemented its own back-to-school program, in which the College enhanced its visibility and ties to its constituents by having the dean himself manage the institution's social media account.
"Tuluy-tuloy pa rin [PR campaign] sa aming Facebook page. Alam nila na nandoon ako. Mahalaga na the students know I'm always there," Dean Paragas said.
"Have a platform to be able to broadcast announcements really fast, so that when cases happen you have a way to mobilize and adapt," added Dr. Dy.
He presented a primer on F2F guidelines that students can use during their stay at the university and also recommended looping in student leaders to help disseminate information faster.
According to the speakers, the faculty, staff, and other community leaders should set an example to other UPD constituents by conducting regular F2F meetings while still following proper safety protocols.
"Mahalagang makita ng faculty and students na nandoon kami sa building," Dean Paragas further stated.
Crisis management teams
The gathered experts also underscored the need to establish clear protocols for handling suspected and confirmed COVID-19 cases, and delegating teams specifically tasked with handling various aspects of safety.
"Every unit should have a proper crisis management team. There should be a COVID reporting system because voluntary reporting is crucial for ensuring safety in face-to-face activities and having a stock of rapid antigen test kits," Dr. Dy said.
Meanwhile, Dr. Imperial emphasized the importance of having antigen tests on hand, saying that "it is really helpful, even if it's not the gold standard."
He also added that voluntary reporting of possible COVID-19 cases is essential.
"We always emphasize that if you're already symptomatic, stay at home," he said.
UPD-CS Post-ECQ Team (PET) Chair Dr. Rene Rollon closed the forum by reiterating the critical role that PETs had in ensuring a well-planned shift to F2F learning.
UP Diliman bounces back from COVID-19
At the onset of the COVID-19 pandemic in early 2020, UP's Diliman campus alone had 23,360 students attending regular F2F classes.
The university administration quickly suspended work and classes on Mar. 9, 2020, and things have never been the same since.
The university's faculty and staff had to immediately work remotely, juggling the challenges of new technologies and family obligations.
Even now, there are still thousands of students who do not have access to computers and stable internet connection.
After almost two years of a fully online learning setup, UP Diliman eased back into limited F2F classes this year, only accommodating some 400 students out of over 25,000 students in Jan. 2022.
For the current academic year, the university implemented blended learning after seeing the COVID-19 situation in the Philippines improve.

For more information and interview requests, please message media@science.upd.edu.ph.