More than 18 years ago, Kris Aquino became the face of Pinoy horror. How Star Cinema managed to scare the whole nation with the teaser of Feng Shui made an unprecedented marketing triumph possible in the absence of social media back in 2004.
The platform was just free TV, and the scale it had reached easily made it a movie to watch for. I remember hearing conversations among teenage kids about how creeped out they were upon hearing the eerie sound of Lotus Feet's hard sandal tapping on the floor, and the airy voice chanting "May inuwi si Nanay, si Nanay sa bahay…" These Filipino kids sounded scared, but they had this sense of eagerness to see the whole film.
After seeing it myself, I knew that Star Cinema had instantly made a hit just with that teaser. It had easily won over adults and kids alike, the same audience that did not miss seeing the Chito Roño film in theaters. Grossing more than PhP100 million, Feng Shui earned for Kris Aquino the 2004 Box Office Queen title from the Guillermo Mendoza Memorial Scholarship Foundation.
RELATIVE CONSTRUCT
These days, conversations on Philippine cinema being compared to its Asian neighbors and the rest of the world have stirred admonitions to look at the true state of cinema in the country and how far we have really gone from the last two decades or so. It was a time when South Korea, for instance, was still earnestly doing the hard work in cementing their identity as artists and creators. They were making sure their series and films were undeniably theirs.
It's easy to feel frustrated given how we seem to be left behind, as it also helps to ask where we are in the era of KDrama or in efforts to get us to support our own while being fixated on the idea that we are world-class, that we are undoubtedly on a par with our competition, and that our film and TV outputs are worth being seen by the world. There is more to the positive motivation, though.
For one, 'world-class' is a highly-relative construct, a term taken less deeply than it should or a standard merely seeking Hollywood validation. That we do not limit our film or TV creations to local audience is expected, but getting our art to be appreciated outside the country does not necessarily mean we're making the most of what we have. It does not readily give credence to 'world-class.'
The other thing is the fact that we can produce films we can certainly be proud of, regardless of whether foreigners see them or not. It allows for a serious look into what value the stakeholders are willing to put in—from the directors, screenwriters, cinematographers, make-up artists, production designers, editors, musical scorers, and producers, to the rest who represent Philippine cinema and are participants in it, the audience and the government included.
Unless we seriously look into what we have, as a people and as a culture, we can only speak of world-class like a goal in a race against other artists. Our notion of world-class should not be dug out of the mere desire to be seen in film festivals abroad or to be as ubiquitous as the KDrama across streaming platforms. It should be in the shaping of the narratives that nurture our cultural blood, so that we get to be the audience that really see what is dutifully made for us. The bigness of any accomplishment germinates from a deeply-planted seed. Roots must obviously grow strong. What is world's reverence without us to applaud or question it first?
SERVING THE FILIPINO AUDIENCE
The point of bringing back the classics is not simply the remembrance of Filipino film history nor the reintroduction of these films as 'world-class.'
Since 2012, ABS-CBN's film restoration program through its Sagip-Pelikula initiative has been serving the new generation of Filipino audience with the opportunity to see what our own cinema is made of. But it must go beyond the goal of viewing and remembrance.
Stakeholders must look into the value of these films, so as to be reminded that we have actually had a great deal of achievement, and that the feeling of being left behind is not an end in itself.
It is a fact that we have the ability to produce films we can be proud of. National Artists Manuel Conde and Lamberto Avellana had certainly done so with the former's Ibong Adarna (1941) and Genghis Khan (1950) and the latter's Anak Dalita (1956) and A Portrait of the Artist as Filipino (1965), to name a few from their rosters that were made for the Filipino.
When Lino Brocka brought Bayan Ko: Kapit sa Patalim and Bona to Cannes in the 80s, he surely brought works made for his people. Ishmael Bernal's courage to go against commercially viable narratives by making Himala was for the Filipinos whose faith is hardly smashed by the worst of circumstances. The timelessness of the Ricky Lee-written film was only recognized by the world long after Bernal passed. His first masterpiece Pagdating sa Dulo was a critique of the film industry and the systemic decay that prevents the art from doing its foremost job. It is a film within a film speaking to the people that created it.
Conversations on classic Filipino films should reignite our belief in our own cinema, or in our art as seen in big and small screens. Anything better we see from South Korea or from Hollywood or from Europe is not a cause for relegating our own. It's a good thing to look into how faithful our films or TV series should be in serving us, the Filipino audience, with stories that reflect our own culture, struggles, and aspirations.
This is how efforts to restore the classics can be used to the full. While we acknowledge that a lot need to be done to meet the standards that define our TV and film industry, we move forward realizing that excellence is no stranger to us.
MORE THAN A MAINSTREAM GEM
Feng Shui is just one of the films of the third millennium that works in being a genre and more. It is a Filipino film that delivers more than its expected horror appeal. It does not beg world-class, its weight simply not needing the label.
Starring Kris Aquino, the film sees through Joy as a mother and a wife whose life dramatically changes after a Chinese charm falls under her possession. The small, octagon shaped mirror called bagua brings fortunes its owner could only dream of.
But it has its curse, too. This idea of good luck prevailing over bad luck or the other way around is very familiar, its lure being inherently known to Filipinos who struggle to do anything and everything to get a better chance at life.
For a horror film, Feng Shui is intuitive enough to have centered its narrative on a woman who practically deals with everything almost 24/7. A doting mother of two, she works her way up in a career that also promises fortunes to her clients—starkly ironic, given the fact that such fortune is actually not easily earned in a networking business, however open-minded one is. It capitalizes on a promise of fortune, but it is hardly as certain as the luck accorded to Joy.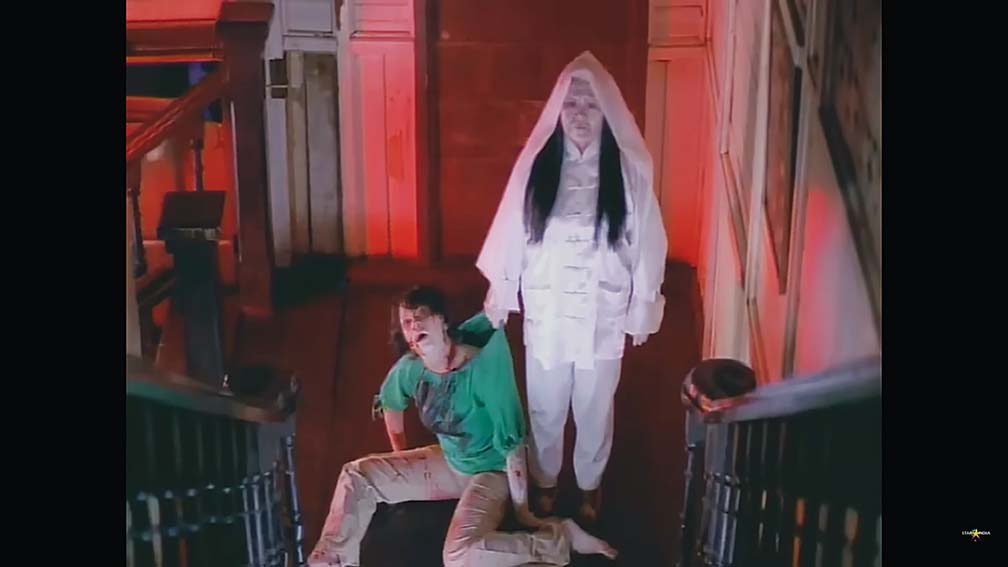 She is also a dutiful wife. A forgiving one, to a fault. Her husband's infidelity is no reason to give up her dream of having a complete family, not to mention having to deal with a mother-in-law who does not like her. Most heartbreakingly, she asserts herself as a mother like it's something she also needs to earn.
True to its marketing, Feng Shui delivers jump scares that come with Aquino's iconic screams. But they are not cheap, however clear the preoccupation to pack it with those spine-tingling sequences. The moment the film progresses to the ghosts appearing to Joy, her dream of building a family slowly crumbles. We now see her having to stop the curse herself, while she lives through the 'curse' of being a woman in a society that demands much from her but does not care to recognize her worth—a woman scorned.
We cannot miss Lotus Feet, the film character that has become infamous in popular culture. A ghost icon. A woman. Imagine the palpability of imminent doom upon hearing her footsteps, her slow but willed pattering footsteps exacted by her bound feet. Like Joy, Lotus Feet is a woman scorned, abandoned, and oppressed. She is easily seen as the villain, but is she Joy's greatest enemy? While she saves her loved ones from Lotus Feet's curse, Joy was actually working hard for her own emancipation even without realizing it. We ask, "Whom did Joy really save?"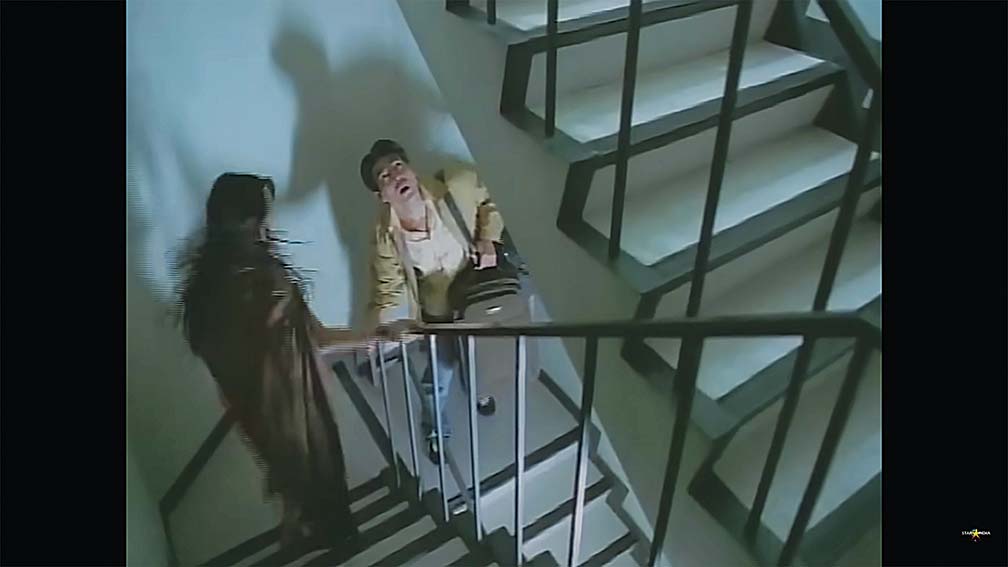 Throughout the film, there is also no sense of a woman being pitted against another woman. It is not exactly Joy against Lotus Feet. And while Lotus Feet brings death, the film naturally evokes one to root for Joy without having to think about Lotus Feet's defeat. She may be feared, but not necessarily hated.
Feng Shui is a film set on the horrors that have been hounding Joy even before the bagua came. She lives in a world of everyday horrors which she has no time to think about because she has a lot of daunting tasks to accomplish. That the film revolves around good luck and bad luck mirrors us, struggling Filipinos, subscribing to superstitions even if we are hardworking people ourselves.
The film, co-written by Chito Roño with Roy Iglesias, also shows the sore condition of the society we live in being in dire need of salvation or a stroke of luck if you will, for how can the sufferers be truly alleviated from their hell?
Roño immediately lays down this unspoken question right in the beginning of the film, the opening montage showing abject poverty interspersed with congested streets, religious statues, and charms. Joy, in her own cramped world, lives through these images, and she does so with plenty of consequences because she is a woman.
We remember or hear about Hitchcock's Psycho, Friedkin's The Exorcist, Polanski's Rosemary's Baby and more from Western cinema; or Japan's Ring, South Korea's Train to Busan, Thailand's Shutter and more from Asian cinema.
TV has also recently boasted of Flanagan's Haunting and Midnight series or Del Torro's Cabinet of Curiosities. Then we speak of Feng Shui, less for its shock value but for its depiction of the malady that the Filipino has long been suffering from, for its depiction of the Filipino woman caught in institutionalized oppression and manipulation, for its timelessness—its truth that haunts for as long as society fails to pay its dues.
With a story that is very Filipino, Feng Shui mindfully leaves messages that dig deep into what is eternally horrifying. Only a filmmaker that truly knows his people and his culture could deliver such feat.
This piece is very little of the greatness that can be spoken of Philippine cinema. It's not merely mentioning the merit that ends the conversation, though. There's a lot more to be done, but a restored Filipino film classic such as Feng Shui seen beyond its commercial success wouldn't hurt. One small but viable reason not to sulk over the thought that our own cinema is way behind.