"You have to have a dream, whether big or small. Then plan, focus, work hard and be very determined to achieve your goals." – Henry Sy Sr.
Mark Christian Balod had to run as fast as he could in the middle of the cornfield just to find a good internet connection while taking a qualifying examination.
Hurdling the exam, the same problem of poor connectivity had him in the field holding a flashlight as he fielded questions from the interviewer. 
But the difficulty he underwent was worth it as he is among the current crop of SM scholars.
The examination and the interview were the most challenging part of the scholarship application process for Mark Christian.
"The application process for SM Scholarship is quite challenging yet fulfilling for me, not only because of the anticipation of waiting for the result but also because of the challenges I faced during the application process," he shared.
The eldest among three children, Mark Christian was born in Tuguegarao City.
After finishing Senior High School at the San Vicente Institute of Solana, Inc., he enrolled for BS in Civil Engineering at the University of Saint Louis-Tuguegarao. 
Had it not been for the SM scholarship, he would be able to enroll in his dream school.
"Luckily, SM Foundation gave me the opportunity to study at the school of my choice. Now, I can focus on my studies without thinking of financial burdens."
For academic year 2021-2022, Mark Christian was in the University President's list.
As a child, Mark Christian dreamed of becoming a teacher like his mother.
However, after the death of his father, he decided to take up civil engineering to pursue his father's unrealized dream.
Young as he is, Mark Christian is determined to become his family's pillar of hope to overcome poverty.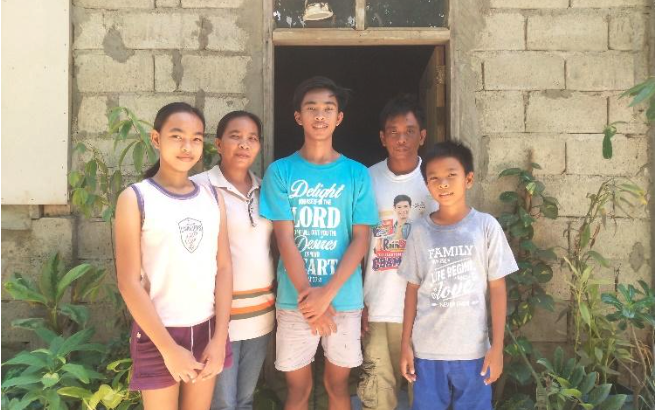 "I want to show the world that nothing is impossible as long as you persevere in life. Fortunately, SM Foundation is beside me to support my academic endeavors, I believe that with SM Foundation I will be able to achieve this dream and motivate my siblings to do the same."
As an SM scholar, he considers the Christmas parties hosted by SM Foundation as the most memorable.
"Having to meet your fellow scholars in celebrating Christmas gave me the sense of gratitude to always be thankful for all the blessings that come in my life. In addition, being with my fellow scholars, even just in a virtual setting, gives me the motivation to study better and excel."
Mark Christian looks forward to working with the SM Group after graduation.
"I plan to work at SM not only because I want to return the support they gave me in my academic endeavors but because I believe that through SM, I will be able to further my career someday."
Another current SM scholar from Region 1 is 20-year-old Alyssa Kate Abuyuan from Cauayan City, Isabela.
As the oldest child among three siblings who grew up in a broken family, she experienced the ups and downs of life at a young age.
Her mother worked as a house helper and sometimes as a vendor, while her father, Roger Gutierrez, is a regular employee in a telecommunications company. 
Although she received support from her parents who are separated, she was able to navigate the difficulties of life with the help of her grandmother, Natividad Abuyuan. 
Her grandmother stood in as parent figure for Alyssa and her siblings. 
"Her sacrifices, both big and small, made it possible for me to pursue my dreams and aim for a better life. I never let my circumstances define me. I worked hard in school and strived to achieve my goals for my family. I recognized the importance of education as a key to success, and I was determined to succeed despite the obstacles that I faced."
Alyssa finished senior high school at Cauayan City National High School with high honors.
Now a 2nd year student at the Cagayan State University – Andrews Campus, she is pursuing Bachelor of Science in Accountancy. 
It is her dream to be a certified public accountant.
Last school year, she landed on the President's List, and this last semester she qualified for the Dean's List.
She recalled that applying for the SM scholarship required a lot of documentation, patience and "load" for mobile data.
She found the interview portion as the most challenging.
With the SM scholarship, Alyssa is confident she will achieve her goal.
"With the financial assistance and support provided, I will be able to focus more on my studies and take the necessary steps to succeed in this path."
Like Mark Christian, Alyssa finds the Christmas party most memorable.
"I always anticipate the online raffle and especially the messages from the people behind the foundation. It was also a good activity to bond with my co-scholars."
She also hopes to land a job with the SM Group after graduation.
"Working at SM would be an opportunity to repay the kindness and give back to the community that supported me."
She calls on her fellow SM scholars to take advantage of the privilege by being dedicated, responsible, and hardworking in our studies.
"Let us strive for excellence and continue to learn and grow."
"Remember, we are all here because we have great potential. Let us support and encourage one another and push each other to be the best that we can be."