Known as the country's only "All-Filipino Food Show", the much-anticipated Philippine Food Expo is bringing its 15th biennial run this April 28 to 30 to the SMX Convention Center in Pasay City.
The mega-exhibit organized by the Philippine Food Processors and Exporters Organization (Philfoodex) Inc and co-presented by the Department of Agriculture will also spotlight the vital role of agriculture in the Philippine food industry and its overall dynamism and interdependencies with the other allied verticals such as the food service and retail sectors.
Philfoodex is championing this through MAYANI, the expo's first agri-tech partner and known as the country's fastest-growing farm-to-table platform.
The 3-day event is also poised to round up over 300 food-oriented micro, small, and medium enterprises, key exporters, food manufacturers, and value chain players in the growing, packaging, equipment, ingredients, additives, food safety, kitchen equipment, and related industries.
"Food security remains to be a pressing issue in the country. With Mayani's presence in the expo, we hope to not just highlight the importance of sustainable food ecosystems, but also make accessible affordable produce cultivated by our local farmers. Afterall, they are our food security frontliners in this post-pandemic era," shared Philfoodex President, Ruben See.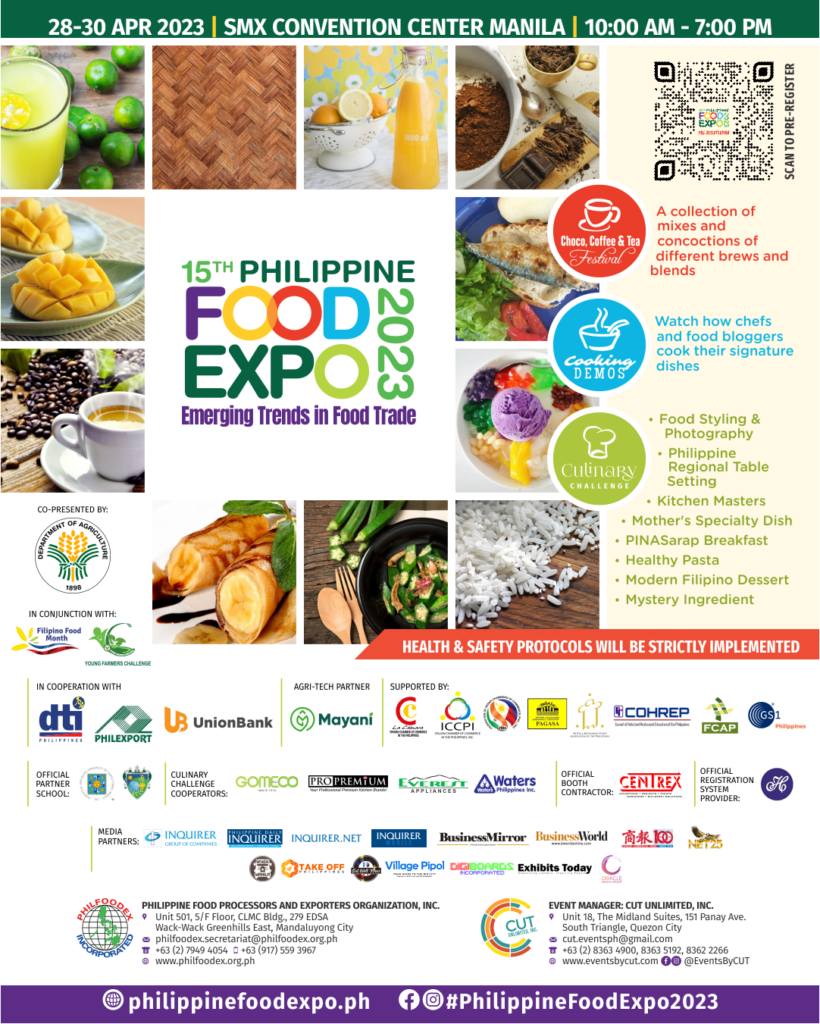 Since April is the Philippine Food Month, the event serves as the timely showcase of the country's rich culinary heritage and tradition through simultaneous cooking demos, technical workshops, and seminars.
Expo delegates are also expected to get an experiential journey through the MAYANI Hakot Challenge, a bayong-all-can initiative that features the fresh produce and key crops of MAYANI's Calabarzon and Cordillera farmers while drumming up contextual discussions around the centrality of smallholder value chains in the broader food industry.
"There is no better platform than the PH Food Expo in bringing to the fore the significance and impact of the agriculture sector to the food industry and our post-pandemic economy. It's a team-up that will allow us creatively engage all food stakeholders and rally the synergies to create a positive dent in Philippine agriculture," says JT Solis, the Co-Founder & CEO of MAYANI, who concretized the partnership deal.
The 15th Philippine Food Expo will be open to the public from 10 a.m. to 7 p.m. Pre-registration is required with discounted passes available at www.philippinefoodexpo.ph