Beginning Apr. 11, the Philippines' premiere science and technology (S&T) research and teaching institution and the country's premiere S&T scholarship program are once again opening their doors to prospective applicants.
The University of the Philippines – Diliman College of Science's (UPD-CS's) Graduate Programs are now accepting applications, alongside the Department of Science and Technology's Accelerated Science and Technology Human Resource Development Program (DOST-ASTHRDP).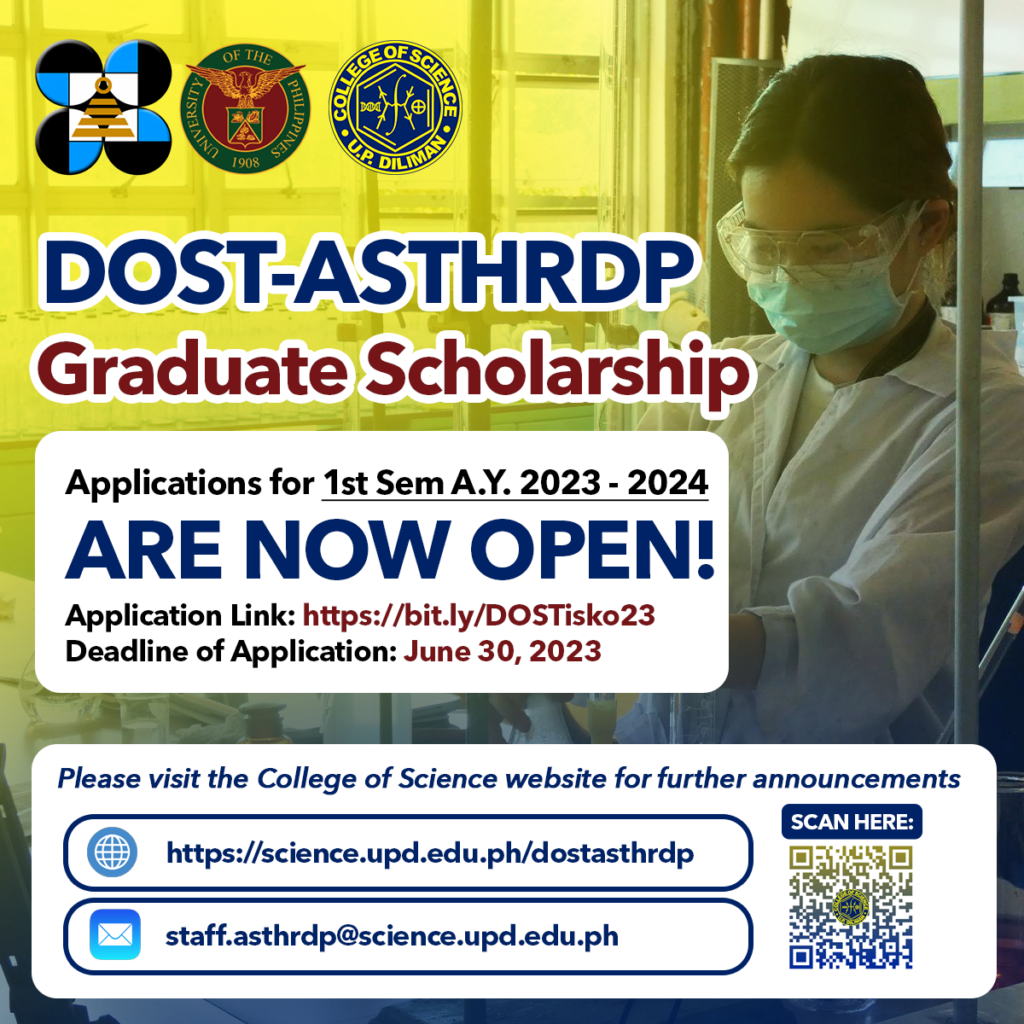 Applicants to the UPD-CS's Graduate Programs are also eligible to apply for the ASTHRDP scholarship.
To be eligible for DOST-ASTHRDP scholarship, prospective applicants must be Filipino citizens; not more than 50 years old at the time of application; be in good health; pass the admission requirements for graduate studies at any National Science Consortium (NSC)-member university; and pass any requisite interviews and other screening procedures.
Prospective DOST-ASTHRDP scholars are encouraged to undertake theses and dissertations in the following priority areas: Climate Change and Disaster Preparedness; Materials Science and Nanotechnology; and Natural Products and Drug Development.
Established in 1983, the UPD-CS's main mission is to contribute to the advancement of science and technology in the Philippines through the education of high-caliber scientists, the acquisition of scientific and technological knowledge, and the provision of scientific and technical services.
The UPD-CS provides international-quality graduate and undergraduate education in the natural and mathematical sciences; undertakes basic and applied scientific research that are of high standards and national relevance; and renders technical extension services in support of national scientific and technological development.
Meanwhile, the DOST-ASTHRDP aims to help improve the country's global competitiveness and capability to innovate through S&T, and also seeks to accelerate the production of high-level human resources needed for Research and Development (R&D) in S&T.
The deadline of applications for both UPD-CS Graduate Studies and the DOST-ASTHRDP is June 30, 2023.
For more information on UPD-CS Graduate Programs and how to apply, please visit https://science.upd.edu.ph/graduate-student-guide
For more information on the DOST-ASTHRDP and how to apply, please visit https://science.upd.edu.ph/dost-asthrdp/