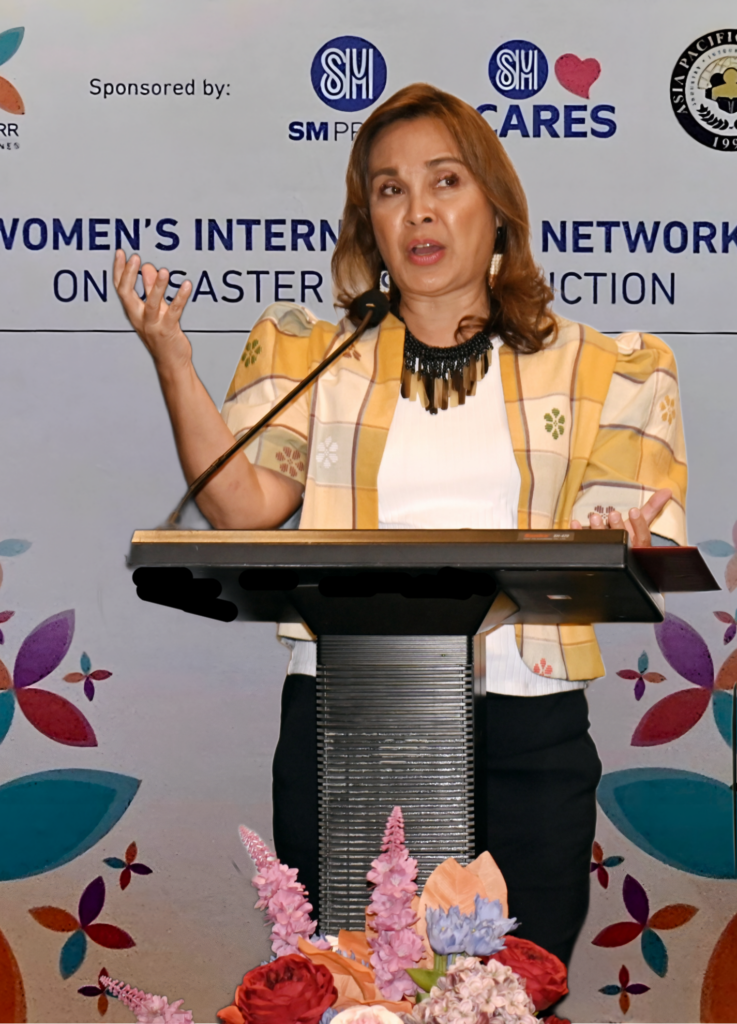 Senator Loren Legarda, a staunch environmentalist and disaster risk reduction advocate, gave the Keynote Address in the recently launched Women International Network for Disaster Risk Reduction (WIN DRR) – Philippines. 
In her speech, Sen. Legarda lauded the WINDRR – Philippines for its initiatives of convening women leaders in disaster risk reduction in the Philippines. 
"I am delighted to be part of the launching of WINDRR PH and to be chosen as one of its founding members" she told women leaders gathered in Directors Club 2 of Mall of Asia, Pasay City and the more than 330 watching online. 
The UNDRR Global Champion for Resilience further stated: "The WINDRR is a powerful platform where we can do more and deliver greater impact. Empowering women to make families, homes, community, livelihoods disaster resilient means freeing them from the vulnerability and the inequality. Thus, the WINDRR network can properly address gender issues in the design and implementation of the DRR and Management Programs and ensure that the contribution of women in disaster resilience will be valued.'
Present in the event launch were empowered women leaders including Dr. Ma. Teresita "Tata" Pastor-Medado, President of Asia Pacific College and WINDRR Ph Convenor; Engr. Liza Silerio, Vice President of SM Supermalls and ARISE Global Board Member; Climate Change Commissioner Atty. Rachel Herrera; SM CARES for Women Program Director Atty. Pearly Joan Turley; Bureau of Fire Protection Chief Superintendent Belinda Ochave; Rosemarie Rafael, Chairperson of the Airspeed Group of Companies; former Philippine Commission on Women Chair Sandy Montano; Dr. Emma Porio of Ateneo de Manila University; Atty. Violeta Seva of the Earthquakes and Megacities Initiative; Dr. Marqueza Reyes of the Asian Institute of Management; Johanna Rose Laddaran of the University of the Philippines Institute for Small-Scale Industries; Minet Aguisanda Jerusalem of Leyte Center for Development; Dr. Angela Zafra from Strategia Development Research Institute.
The WINDRR PH network launch on Apr. 26, 2023 was also supported by Mami Mizutori, Special Representative of the Secretary-General for Disaster Risk Reduction and Head of the United Nations Office for Disaster Risk Reduction (UNDRR). 
In her congratulatory video message to WINDRR PH, SRSG Mizutori said she looks forward to the participation of the Philippines in the 2023 WINDRR Excellence Awards. 
WINDRR is a flagship program of the UNDRR on women's leadership on disaster risk reduction in Asia- Pacific and is supported by the Australian Government.
In the Philippines, WINDRR PH is powered by SM Prime through its SM CARES Program for Women and the Asia Pacific College.