Hotel101–Cebu Mactan Airport project fully sold out in just 21 months from the start of pre-selling; over a year ahead of target completion date
Hotel101 pipeline of inventory from secured prime titled land sites in Cebu, Libis, Boracay, Palawan and Bohol expected to generate P18.14 Billion in revenues, excluding the dollar revenues to be generated from the Hotel101 overseas projects
DoubleDragon Corporation's ("DoubleDragon") hotel subsidiary, Hotel of Asia, Inc. is pleased to announce that it has fully sold out its most recently launched project— Hotel101–Cebu Mactan Airport ("the project").
The project was sold out in just 21 months from the start of pre-selling and over a year ahead of target completion date.
Hotel101-Cebu Mactan Airport with its 548 rooms is poised to be the biggest airport hotel in the Visayas and Mindanao Region and currently ongoing construction on a 5,493 square meter prime commercial lot along the Cebu Mactan Airport Terminal Road near Mactan Marina Mall.
With Hotel101–Cebu Mactan Airport as a new addition, Hotel101 now has the essential strategic seeds in place towards its near term goal of becoming the top-of-mind branded hotel chain in the country and eventually, in other parts of the world.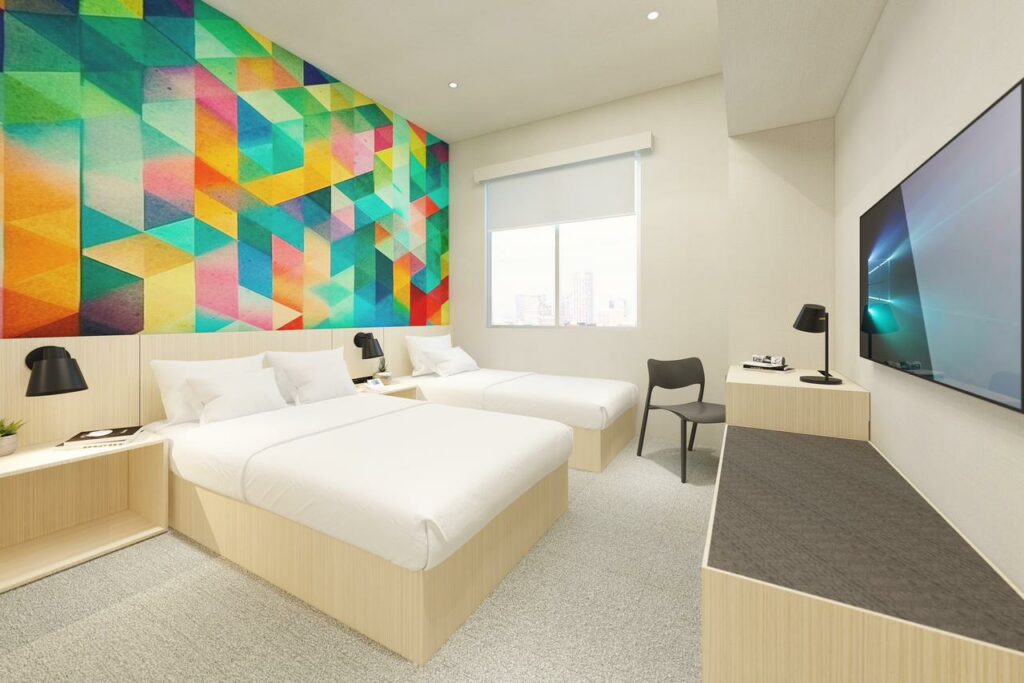 "Having just fully sold out the 548 room Hotel101-Cebu Mactan Airport project, and having fully sold out the first two Metro Manila Hotel101 projects—606 room Hotel101–Fort and 518 room Hotel101–Manila, we are excited to very soon announce the start of our third Hotel101 project in Metro Manila and first in Quezon City, the 745 room Hotel101-Libis Bridgetowne in E.Rodriguez Avenue, Libis Quezon City," said DoubleDragon Chief Investment Officer Hannah Yulo-Luccini.
About Hotel101's new HappyRoom global look; with the AI (Artificial Intelligence) designed Hotel101 Banig accent design; Hotel101-Cebu Mactan Airport project to be the first to adopt the new HappyRoom global look
Hotel101–Cebu Mactan Airport is set to be the first Hotel101 project to adopt the new global version of Hotel101's 21sqm standardized signature HappyRoom.
The new Hotel101 global look has been designed for construction and operational efficiency, optimizing the use of modular furniture and fixtures as well as the use of prefabricated bathrooms. Hotel101 is expected to become known as one of the most technologically advanced hotel chains across all parts of its value chain. The next version of the Hotel101 App is set to integrate the fully automated self-check-in system with IOT (Internet Of Things) capability.
For its signature look, Hotel101 has chosen the 'banig'—the traditional handwoven mat of the Philippines. Banigs are where Filipino families would gather, form lasting bonds and shape memories. The banig symbolizes home, and that's how we want you to feel when you are staying at Hotel101. The Hotel101 banig colors were carefully chosen to radiate happiness and intended to evoke a Filipino touch in all Hotel101 projects across different countries worldwide.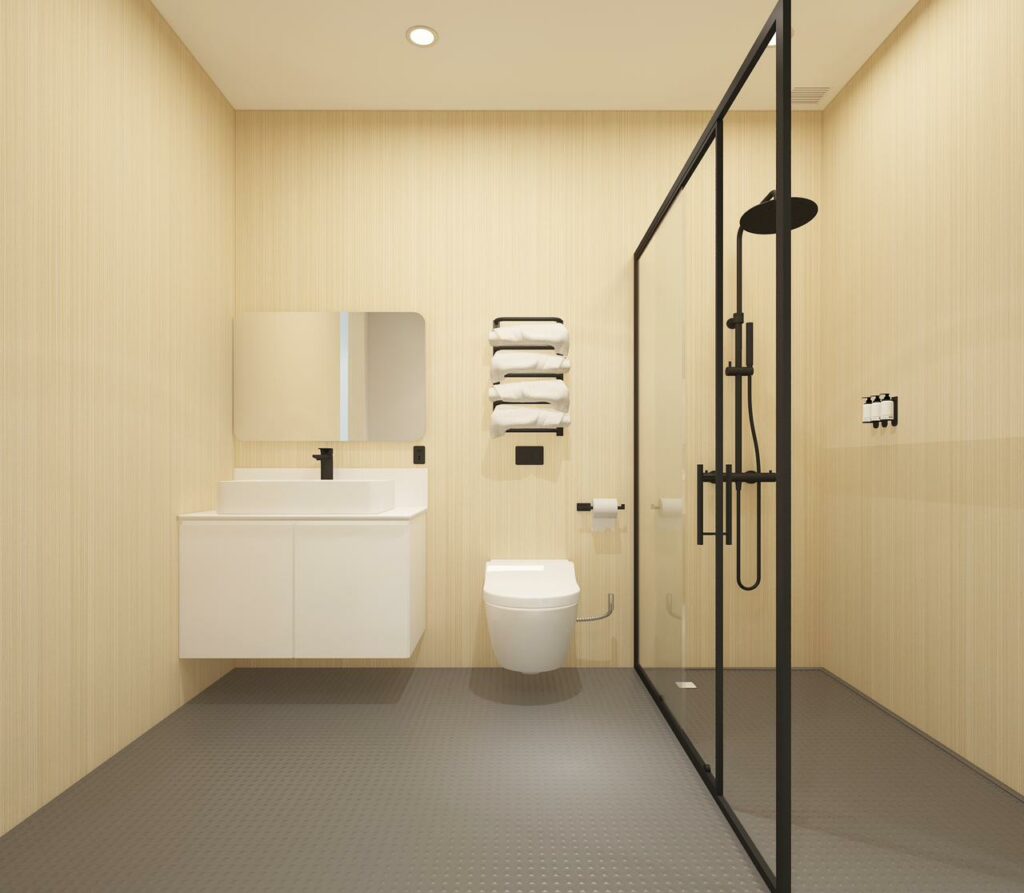 The Hotel101 signature modern banig was designed by AI (Artificial Intelligence) to symbolize that Hotel101 will always stay ahead of the curve in technological advances.
"Hotel101 Global has spent several months putting together the most ideal hotel room, we have meticulously gone over each and every detail of the new signature 1 SKU Hotel101 HappyRoom to ensure that it can become the most efficient hotel room to build and maintain, while fulfilling every essential need to delight the growing number of Hotel101 customers from various parts of the world.
If there is one hotel chain that can optimize the use of modern technology in the global hospitality space, we believe it will be Hotel101, given its pioneering standardized signature 21 sqm HappyRooms and asset-light concept globally.
Eventually, when you stay in any Hotel101, no matter what country you are in, for the first time you will know exactly what to expect," said DoubleDragon Corporation and Hotel101 Global Chairman Edgar Injap Sia II.
As previously disclosed, Hotel101 pipeline of inventory from secured prime titled land sites in CEBU, LIBIS, BORACAY, PALAWAN and BOHOL expected to generate P18.14 Billion in revenues, excluding the dollar revenues to be generated from the Hotel101 overseas projects.
Hotel 101 adopts dynamic pricing on its room rates similar to airline tickets where its room price moves up and down depending on the real time supply and demand on the chosen date of booking.
The Asset Light Hotel 101 concept allows DoubleDragon to generate revenue and income twice, first from the pre-selling of the Happy Rooms, then second after the project is constructed it generates long term recurring revenue from hotel operations.
About DoubleDragon Corporation:
DoubleDragon Corporation is one of a handful of companies in the Philippines that has accumulated a completed a recurring income portfolio of 1.2 million square meters in diversified hard assets in office leasing with its Jollibee Tower, DoubleDragon Plaza at DD Meridian Park complex, its string of CityMall community centers, its string of CentralHub warehouse complexes, and its string of Hotel101 projects in the Philippines and overseas.