Do you long for the delectable flavor of Cebu lechon?
Look no further, Tatang's is here to satisfy your palate.
We take pride in providing you the original flavors of Cebu, from the familiar and beloved Classic Lechon to the hot and delectable Spicy Lechon.
Tatang's is dedicated to preserving the time-honored practices that distinguish Cebu lechon.
Each lechon is prepared with care by our professional chefs, who infuse it with a delectable blend of aromatic herbs and spices that will transport your taste buds to the radiant shores of Cebu.
The end result?
A deliciously crisp and tender lechon that will leave you wanting more.
We've deliberately placed our branches in strategic areas to ensure that everyone may enjoy our lechon pleasures.
From the busy Gilmore neighborhood, the bustling streets of BGC, the quaint Orion neighborhood, or the boisterous Reposo street, Tatang's is just a stone's throw away.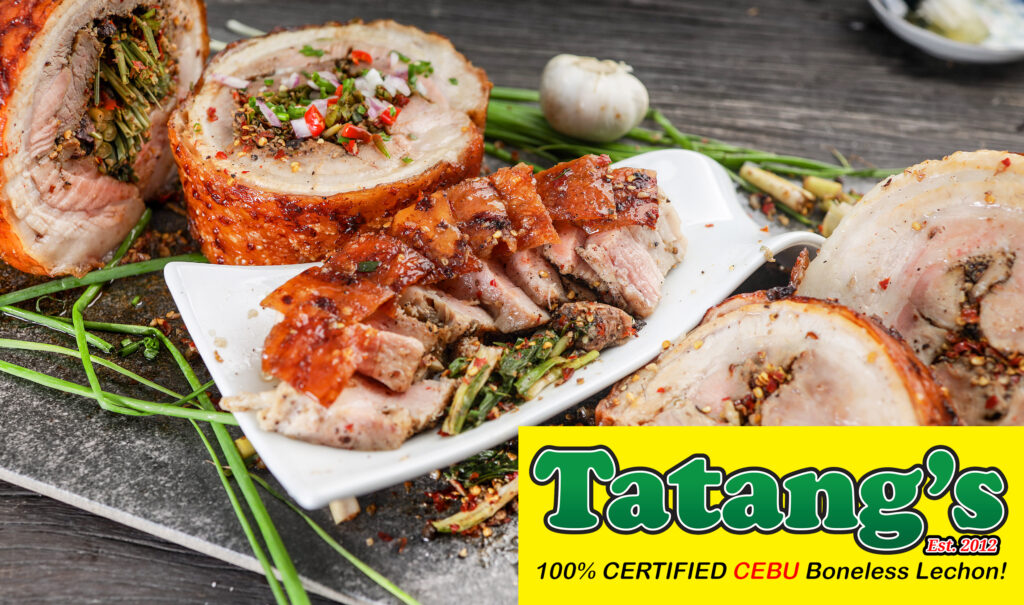 But it's not only about the food; it's also about the experience.
Here at Tatang's we believe in creating memorable experiences with every meal.
Our friendly staff will make you feel right at home as you walk into our welcoming environment or place an order for delivery.
We're committed to supplying you with the best levels of taste and quality, so you may enjoy your favorite lechon recipes with a grin.
Whether you're planning a birthday party, a family boodle fight, or simply treating yourself to a flavorsome delight, Tatang's Boneless Cebu Lechon is the perfect choice.
Let us take you on a gourmet experience where the flavors of Cebu come to life. Experience the warmth of our hospitality and the richness of our lechon at Tatang's.
Follow us now on Facebook, Tatang's Cebu Boneless Lechon – Reposo, and Instagram, @tatangsreposo.
And contact us on 09167068223 and 09634732477 to book your deliveries now.