Puerto Princesa City – The renovation of health facilities, an important component of the health and medical advocacy of SM Foundation, does not only cover barangay health centers.
It includes the rehabilitation of military health stations where both uniformed and civilian personnel and their dependents are given medical attention.
Last July 10, a refurbished Naval Station Apolinario Jalandoon Medical Dispensary (NSAJMD) in the city was inaugurated and formally turned over to the Philippine Navy, a major service of the Armed Forces of the Philippines by SM Foundation.
The NSAJMD in the Naval Installation and Facilities West is the Philippine Navy's Military Treatment Facility that dispenses medical and healthcare services to all Philippine Navy personnel, their dependents, and authorized civilians within the Naval Installation and Facilities West and in the area of responsibility of the Naval Forces West.
Following standards set by the Department of Health, the upgrade covered both the exterior and interior of the health facility.
Walls were repainted to provide a cheerful and conducive environment to healthcare workers and patients.
Inverter-type of air conditioner units and refrigerator were installed to reduce power consumption.
LED lights were likewise used.
Aside from the medical dispensary makeover, SM Foundation donated furniture including hospital beds and medicines for its pharmacy.
Other military medical facilities that have been renovated by SM Foundation include the Philippine Military Academy Fort del Pilar Station Hospital, Camp Evangelista Station Hospital Annex, Edwin Andrews Air Base Hospital, BGen Benito N. Ebuen Air Base Hospital, Philippine Air Force General Hospital, Air Force City Hospital in Clark, Fernando Airbase Station Hospital in Lipa, the Convalescence, Orthopedic & Heroes Ward of the V, Luna Hospital, now the AFP Hospital and Camp Evangelista Station Hospital Annex in Cagayan de Oro City, among others.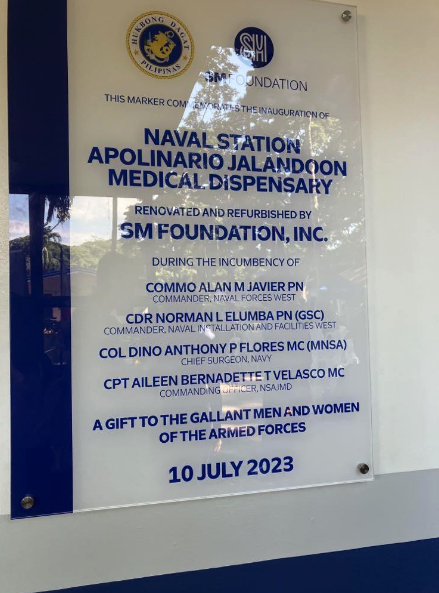 The NSAJMD is the 194th SM Foundation Wellness Center to date.
It is the 39th military facility renovated by SM Foundation and the second in Puerto Princesa City following the 2018 turnover of a renovated Camp General Artemio Ricarte Station Hospital.