CONSISTENT with its mandate as the country's premier charity arm, the Philippine Charity Sweepstakes Office (PCSO) on June 8, 2023 turned over a check amounting to P834.2 million to the Philippine Health Insurance Corporation (PhilHealth) in support of the implementation of the Universal Health Care Law.
PhilHealth's top executives, Atty. Eli Dino D. Santos, Renato L. Limsiaco Jr., and Atty. Ma. Emily P. Roque received the check amounting to P834,219,343.15 from PCSO Director Jennifer Liongson-Guevara and Assistant General Manager for Charity Sector Dr. Larry Cedro at PCSO Main Office in Mandaluyong City.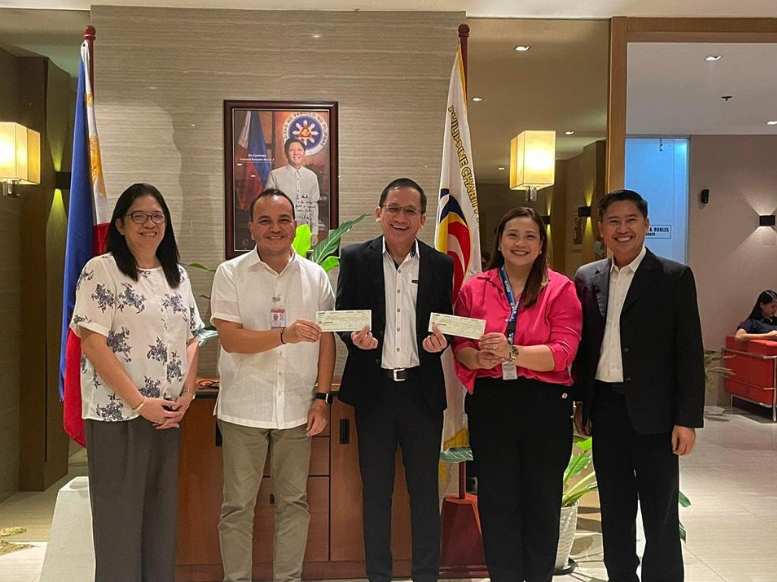 PCSO General Manager Mel Robles said the amount would be remitted to the Bureau of Treasury and will cover the agency's contribution for the 4th Quarter of 2022 and January-February 2023 to Universal Health Care.
Under Republic Act 11223, also known as the Universal Health Care Act, the PCSO must allocate 40% of its charity fund to help subsidize the national government's health program.
PhilHealth, a government-owned and controlled corporation under the Department of Health was created in 1995 to implement universal health coverage for Filipinos and seek to ensure a sustainable national health insurance program for all.
Robles stressed that PCSO is working hard to surpass its revenue target this year to raise more funds for UHC and the national government's other charity programs. "We are committed to supporting President Ferdinand Marcos's goal of improving the country's public healthcare system by providing quality treatment and necessary medical assistance to our poor countrymen," he said.
In 2022, the PCSO generated P57,398,945,550.90 revenue from its various gaming products such as Lotto, Digit Games, Small Town Lottery, Instant Sweepstakes, and Keno.
As a result, the agency surpassed its annual sales target of P46.1-B by 125 percent.
The agency has recently partnered with the Philippine National Police to stop the proliferation of illegal gambling, and in the process enhance its capacity to raise revenues which it would then use in its various charity programs.