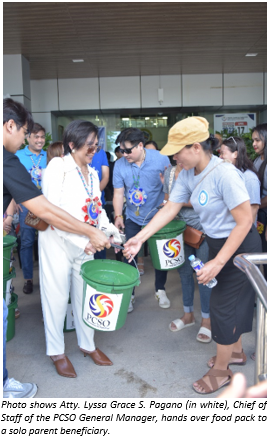 During the commemoration of Real, Quezon's 60th anniversary on June 23, 2023, the Philippine Charity Sweepstakes Office (PCSO) contributed by providing 500 food packs to Persons with Disabilities (PWDs) and single parents.

The donation coincided with the inauguration of the new Municipal Government Center, where PCSO Chief of Staff, Atty. Lyssa Grace Pagano, and Executive Assistant to the General Manager, Atty. Isidro Martin Reyes personally turned over the assistance to Governor Angelina Tan and Vice-Governor Anacleto Alacala III.
"Most of the Realinos make a living only by fishing and farming. The assistance is a big help. Thank you, PCSO, for bringing food to their tables," Municipal's Social Welfare and Development Officer Leo James Portales said during his speech.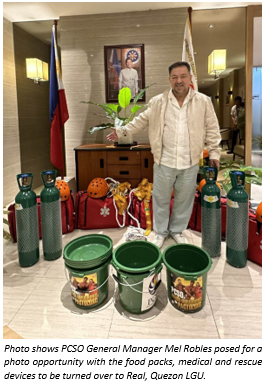 On June 15, PCSO also provided Real with first aid kits and medical and rescue devices received by Mayor Diana Abigail Diestro-Aquino at the agency's main office.
The town of Real is nestled between high mountains and a long coastline, at high risk of disasters or calamities, and the PCSO is fully aware of the city's need for reliable emergency equipment that can be deployed and used in the event.