Violinist Jeanne Marquez with pianist Gabriel James Frias is all set for her coming concert at Manila Pianos on Thursday, August 17, 2023, at 7 p.m.
Her outreach concerts were made possible with a grant from the National Commission for Culture and the Arts.
Marquez is first prize winner of the 2022 New York Laureate International Music Competition and the New York Young Performers Prize Competition and the 2018 National Music Competition for Young Artists (NAMCYA).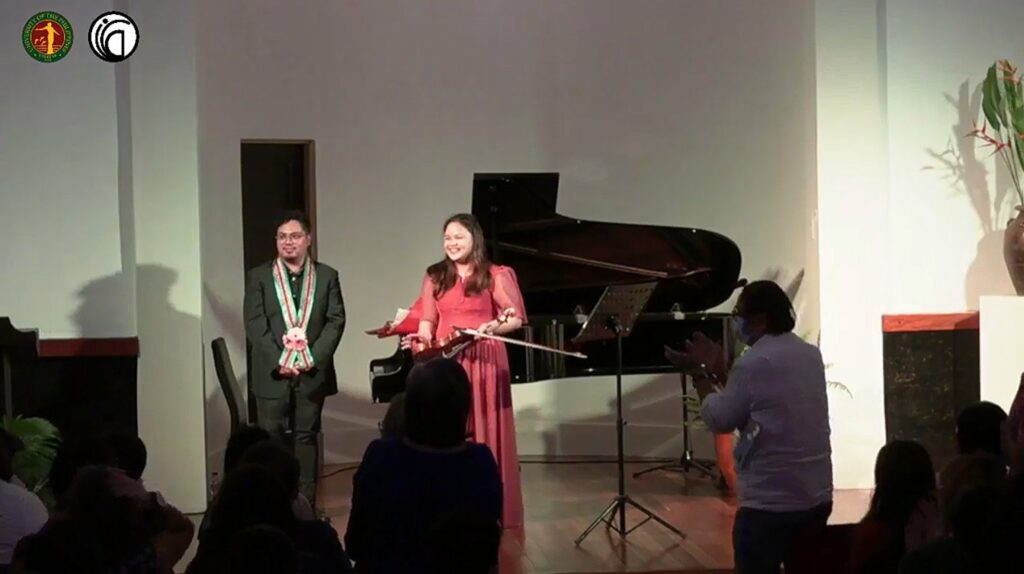 Last year, she received standing ovations in her concerts at Manila Pianos, the University of the Philippines Visayas in Iloilo City, and Science City of Munoz in Nueva Ecija.
Wrote music reviewer John Anthony Estolloso and Miguel Antonio Davao from the Daily Guardian:
"In a nutshell, Jeanne Marquez's (Iloilo City)  performance was exhilarating: she displayed musical expertise relatively prodigious at her age and an understanding of the violin that is rare among musicians of her generation. The encore pieces reverted to the comfortably familiar – and Ms. Marquez and Mr. Paguirigan did not fail to deliver. There was Nicanor Abelardo's 'Cavatina,' a sad, tender composition that just gets more beautiful each time it is performed."
Business World columnist Mav Rufino reacted after hearing her encore piece, Meditation from Massenet's Thais: "What a beautiful, doubly memorable, concert! I couldn't help shedding tears after rendition of Massenet's Meditation dedicated to the impresario's daughter,  Kerima Tariman. Simply unforgettable!"
Iloilo City's media personality Ted Aldwin Ong posted on FB: "Jeanne Marquez's performance rendered Ilonggo audience breathless. An indescribable afternoon of fine music for Iloilo City audience made possible by the brilliant impresario Pablo Tariman."
Maria L. Salgado, niece of composer Nicanor Abelardo commented: "Thanks once again for Jeanne Marquez's  beautiful night of music made more special by the performance of my uncle's Cavatina."
A graduate of the Colburn Music Academy where she was featured in the Colburn School's spotlight series, the violinist is now in her second year as scholar of the Juilliard School of Music in New York.
The August 17 concert repertoire includes Sarasate's Zigeurneweisen, Paganini's Cantabile, Mozart's  Sonata in E minor, K. 304, and the complete movements of Wieniawski's Violin Concerto No. 2 in D minor.
Tickets are priced at P1000 and P500 with discounts for senior citizens and students.
Call  0906 510 4270 or email : artsnewsservice@gmail.com.