The new office space lease take up is expected to form part of the goal of DDMP REIT Inc to achieve 95% occupancy by the end of 2023
DDMP REIT Inc receives payment of ₱55.26 million as rental deposits for 15,100 square meters or 1.51 hectares of new office space lease with total lease value of ₱798.81 million. The new office space lease take up is expected to form part of the goal of DDMP REIT Inc to achieve 95% occupancy by the end of 2023.
DoubleDragon Plaza at DD Meridian Park is positioned as a mini central business district (CBD) in the Bay area given its prime landmark double corner location of EDSA, Roxas Boulevard and Macapagal Avenue in the Bay Area, Pasay City, Metro Manila.
DoubleDragon Plaza is LEED Gold certified and currently houses two government agency headquarters, namely: the Philippine Economic Zone Authority (PEZA) and the Tourism Infrastructure Economic Zone Authority (TIEZA) and expects to soon welcome an additional third government agency to relocate their headquarters in the complex, in addition to many private corporate head offices in the complex.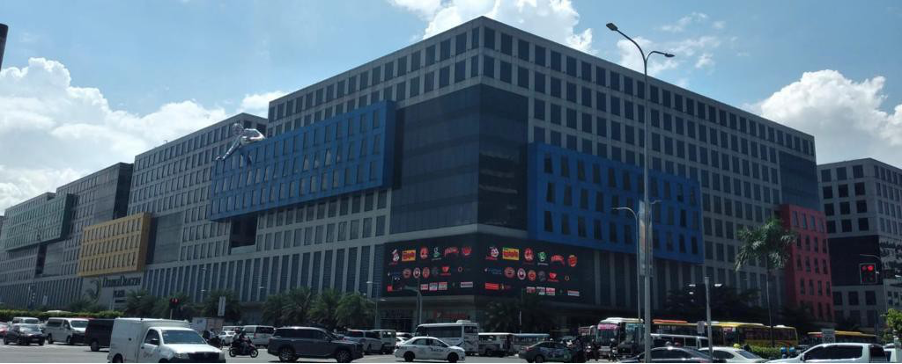 DoubleDragon Plaza at DD Meridian Park as a complex brings undeniable advantage to a variety of office tenants whether corporations, government agencies or BPO companies, given its very prime landmark location with various top food chain brands in the Ground Floor such as Jollibee, Mang Inasal and many others.
DD Meridian Park is like a mini-CBD in the Bay Area being the only complex in the area that has eight commercial banks (Landbank, RCBC, PNB, BPI, AUB, Unionbank, Chinabank, and BDO) making it uniquely convenient for office tenants to complete their banking transactions all within their proximity.
These dining and banking options are further complemented by a full-sized supermarket, MerryMart Grocery, located at the Ground Floor of DoubleDragon Plaza. The complex also houses thousands of parking slots, with a separate conveniently located large parking area at the basement solely dedicated for outside customers who visit DD Meridian Park either for business meetings or leisure.
DoubleDragon Plaza is located in a landmark double corner location, just a 10 to 15-minute drive to NAIA airport via NAIAx, a few minutes drive to the top 3 convention centers in the Philippines (PICC, SMX and World Trade Center), and not too far from other CBDs in Metro Manila.
"During economic crisis, office tenants will have so many choices to choose from a bunch of available office spaces, but when the smoke starts to clear, office tenants, especially corporate offices, will choose efficient and newly built LEED Gold buildings, such as DoubleDragon Plaza at DD Meridian Park in prime locations that will bring better value than alternative CBDs", said DDMP REIT Inc Chairman Edgar Injap Sia II.
During extraordinarily challenging global economic times, important fundamental advantages of each project or business line here and there would start to become vital, and for this I am personally grateful to the whole DoubleDragon team with the support of all the DoubleDragon Group stakeholders that enabled the planting of the right quality of seeds at the right places over the years, which at this point starts to demonstrate its positive fundamental difference", added Mr. Injap Sia II.