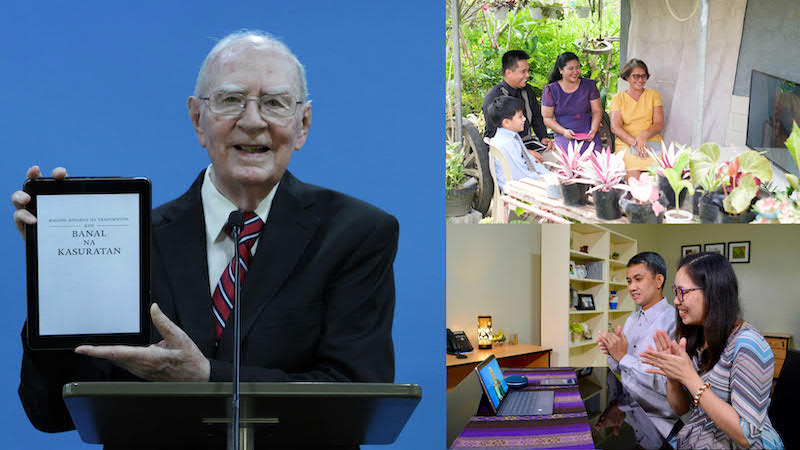 Jehovah's Witnesses released Bagong Kinaban na Traduksiyon kan Banal na Kasuratan (New World Translation of the Holy Scriptures) in the Bicol language on June 20.
In a special virtual meeting, Denton Hopkinson, a representative of the Philippines Branch Office of Jehovah's Witnesses, announced that the digital format of the complete New World Translation in Bicol could be downloaded for free at jw.org, the official website of the Witnesses.
"It took a group of six translators more than seven years to complete the translation work," said Joseph Mendioro, a volunteer at the Naga City Remote Translation Office (RTO) of Jehovah's Witnesses.
He added, "The New World Translation in the Bicol language restored the name of God—Jehova (Jehovah)—to the more than 7,000 places in the Bible where other Bicol translations have substituted it with titles such as Kagurangnan (Lord)."
The translators put forth earnest effort to ensure that the translation is clear, accurate and easy to read and understand.
Israel Aves, another volunteer at the Naga City RTO noted, "A good translation makes the message it contains understandable to sincere people regardless of their background. Clear, common and readily understood expressions are preferred over terms that are rarely used by the average person. The New World Translation in Bicol achieved this by using more contemporary terms than archaic ones."
Expressing her appreciation for the release of the New World Translation in Bicol, Nerissa Tiangco from Albay said, "This is a wonderful gift from God wrapped with love!"
Michael Dañas, a native Bicol speaker from Camarines Sur exclaimed, "God is showing us how much He loves us because He wants to talk to us in the language of our heart!"
The complete revised version of the New World Translation has now been translated to seven languages in the Philippines including Cebuano, Hiligaynon, Iloko, Pangasinan, Tagalog and Waray-Waray.
Leynard Rodulfa, spokesperson of Jehovah's Witnesses in the Philippines, said, "Translation work, even in the languages of minority populations, has been a key aspect of our public service for many decades."
Rodulfa further explained: "The translation, publishing, and printing work of the Witnesses are all supported by voluntary donations. This allows the Witnesses to make the New World Translation available in over 200 languages worldwide free of charge."
For more information, contact: Office of Public Information, Phone: (02) 3224-4405 E-mail: PublicInformation.PH@jw.org, Philippines Branch Office of Jehovah's Witnesses