To the young ones be the glory: This year's winners of the Nick Joaquin Literary Awards were all young writers with long writing careers ahead of them, a hint, perhaps, that the late National Artist for Literature and Philippines Graphic editor-in-chief Nick Joaquin's advocacy of opening the magazine's pages to young writers and new voices is one of the best things a publication can do for the country's writers.
The winners of the 2017 Nick Joaquin Literary Awards selected by the contest's panel of judges, Alfred Yuson (panel chair), Susan Lara and Sarge Lacuesta are: "Mathilde's Absence" by Christian Ray Buendia (first prize); "Margarita" by Scott Lee Chua and; "Certainly a train love story" by Wayne Benitez Castillo.
Three more stories from the judges' short list of the 40 stories entered in the 2017 NJLA were also selected by the panel as deserving of honorable mentions: Albert B. Casuga's "Sons and Fathers," Danton Remoto's "The Ruins," and "Self-Possessed" by Christina M. Sayson using the pen name Alex Lecing.
A separate panel composed of Graphic's editor-in-chief Joel Pablo Salud, literary editor Alma Anonas-Carpio, and publisher T. Anthony C. Cabangon selected the NJLA Poet of the Year: Young mother Anne Carly Abad, whose poetry is so beautifully crafted that it has consistently seen publication in the Literary Section over the span of the contest period. All of the winners honored in this year's NJLA are within the age-range for the "millennial" stamp.
But honors are not the sole purview of the young.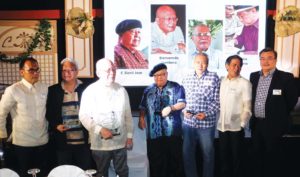 The NJLA 2017 also honored the country's four living National Artists for Literature as "Guardians of the National Memory": F. Sionil Jose, Bienvenido Lumbera, Virgilio Almario and Cirilo Bautista. Jose and Lumbera received their glass plaques of recognition at the awards night on Sept. 13 at the B Hotel in Quezon City, Marne Kilates represented Almario and Yuson received the plaque in Bautista's name.
Some 40 stories considered as entries in the NJLA 2017 were published in the literary section of the Philippines Graphic from Aug. 1, 2016 to July 31, 2017.  Each story was selected from a weekly submission list averaging between 10 and 50 stories emailed to the litgraphic@gmail.com  by the magazine's literary editor.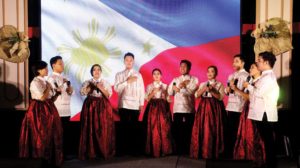 THE CELEBRATION
The 2017 NJLA was also a celebration of Nick Joaquin's 100th birth year. Over the last 27 years, the Philippines Graphic Literary Awards, now called the Nick Joaquin Literary Awards, has honored and rewarded the efforts of the country's crafters of short fiction and, in the last five years, poetry.
Sharing their experiences with and memories of Nick were Carlos 'Caloy' Conde, former Philippines Graphic staff, New York Times freelance correspondent, and now Human Rights Watch researcher for Asia; poet and fictionist Marra Lanot, and Charo Joaquin Villegas, Nick's niece.
The event was organized and staged for the Philippines Graphic by Actualizer Events, which brought singer Madonna Decena onstage to sing the National Anthem and render some of Nick Joaquin's favorite songs.
Decena was a club singer who landed a spot in the semi-finals of Britain's Got Talent (BGT) and was one of the few non-Britons to make it to the BGT semi-finals. She now performs regularly at the Marina Bay Sands in Singapore, among other international destinations.
 SUPPORT FOR PHL LIT
The NJLA sees regular support from the Graphic's partners, especially Pru Life U.K., SM, San Miguel Corp., B Hotel, The Medical City, Team Energy, Richmonde Hotels & Resorts, Landbank, Acer Philippines, Strategic Edge Inc., Diamond Hotel, Eurotel, Icon Hotel, Kitsho, Quaker Oats, the Philippine Retirement Authority, Aging's Food Delight, Swaberger and Dona Maria Premium Quality Rice.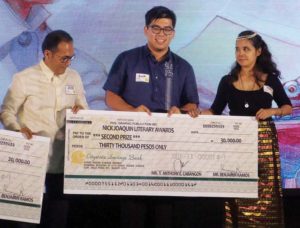 The NJLA sponsors were well represented: The Pru Life U.K. contingent was well represented by Darwin Florita, Alyssa Mara R. Virrey, Elmer Centeno, Ian Glenn Tiempo, Louise Gaile Ocampo, Joshua Elisha Carta and Janica Riego. Acer Philippines' Sue Ong Lim was also there, as were Greggie Mercado and Agie Mercado of Aging's Food Delight. AXN's Bing Daza was there, along with B Hotel's Rowena Relucio and San Miguel Corp.'s Jaysom Brizuela and Francene Callueg. SM Foundation's Neny Regino and Caros C. Roxas and Angela Rebueno of Team Energy Corp. and Kitsho's Lourde Arrieta were also there.
Besides two National Artists for Literature, the literary luminaries present at the Filipiniana-themed awards night included: Poet and University of the Philippines professor emeritus Dr. Gemino Abad, cultural icon Gilda Cordero-Fernando, Karina Africa-Bolasco of the Ateneo de Manila University (AdMU) Press, Ramon C. Sunico and John Allanegui of AdMU, Dr. Cristina Pantoja-Hidalgo of the University of Santo Tomas Institute of Creative Writing (UST-ICW), Ailil Alvarez and Ralph Semino Galan of the UST Publishing House, journalist and writer Celina Cristobal, author Marcel Milliam, National Book Award winners Mario and Alma Miclat, Queena Lee Chua. Also there were National Book Awards judge Dean Francis Alfar and his wife National Book Award recipient Nikki and their daughter Sage—the Alfars all wrote short stories that saw print in the Graphic literary section.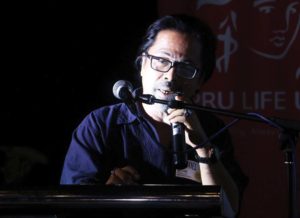 Gawad Balagtas honoree Oscar Penaranda and Makati High School English teacher Luiscilla Agaton were also seen at the event. National Book Award winners Ferdinand Pisigan Jarin and Rolando Tolentino were there, as were Karl Orit, Radney Ranario and Dakila Cutab of the Balagtasan group The Makatas.
Past NJLA winners and authors whose work has seen print in this magazine's literary section were also at the awards night: Ed Maranan (first prize, fiction, 2015, for the story "Our Native Land"), Kate Osias (second prize for fiction, 2016, for the story "Silang"), Bong Flores, and Mac MacCarty.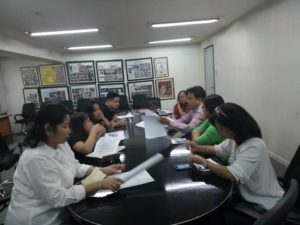 The Graphic's first publisher, Juan Dayang, and the magazine's past editors and writers  Marianne Carandang, Dana Batnag and Alvin Dacanay celebrated right along with M. Pirante Perez (snappily dressed in a barong by Randy Ortiz) and history teacher at Far Eastern University and heritage conservation advocate John Ray Ramos, the latest additions to the roster of contributors to the Graphic. (MPP & AAC)