VILLAMOR AIR BASE, Pasay, (29 June 2020) — The Armed Forces of the Philippines (AFP) dispatched a medical team yesterday to augment Cebu City's health workers who are fighting the COVID-19 pandemic.
The AFP medical team, which flew to Cebu City on board a C-130, is composed of nine military doctors, 10 nurses, and 13 medical aides.
The send-off ceremony was led by Cebu coronavirus management overseer Environment Secretary Roy Cimatu, National Task Force on COVID-19 Chief Implementer Carlito Galvez Jr., and Vice Admiral Gaudencio Collado Jr, AFP vice chief of staff.
"The Group of 32 will be part of history. You are [among] the first responders to help Cebu," Sec Cimatu told the medical team.
"Our services during this pandemic in Cebu will never be repeated in our lifetime. Pagbutihin ninyo ang ating services not only in the name of the AFP but you as an individual. Then after
this pandemic you will feel self-satisfied in your life because we are here to help save lives in this moment of despair," he urged.
Sec Cimatu said the government's main mission in Cebu is to stop the death brought about by the virus.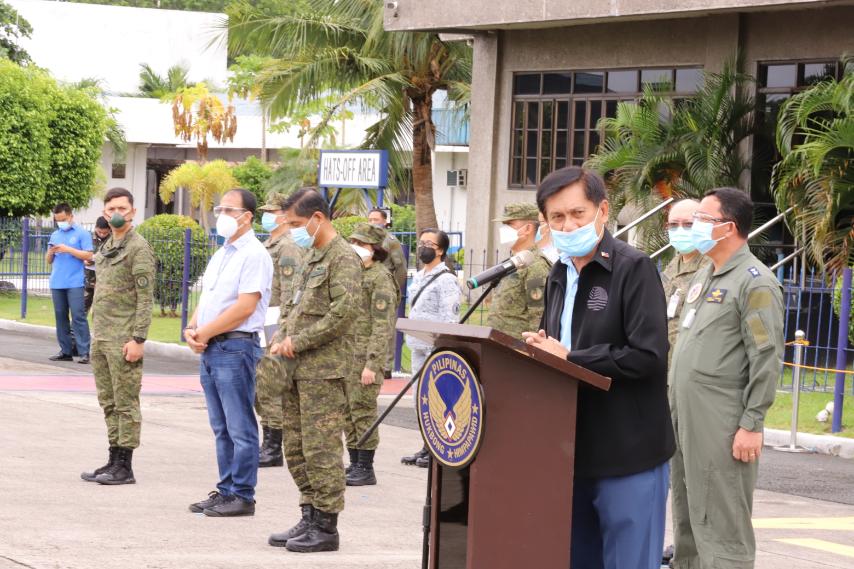 "In our first aid lesson, primary concern is to stop the bleeding. And the bleeding in Cebu is the number of deaths. That's what we are going to do. To stop the bleeding there," he said.
"You will provide leadership to the medical practitioners both in the private and public hospitals," he urged, saying that medical workers in Cebu need moral boosting.
"Wear that uniform with pride. You are representing the Armed Forces of the Philippines. You were brought here presenting the dedications and commitments of all AFP's units… Please take care of yourselves," Sec Cimatu said.
For his part, Sec Galvez lauded members of the medical team for taking part in the health mission, as the number of COVID-19 cases in the city have spiked over the past several weeks.
"I highly commend the services of our military medical personnel to help ease the plight of Cebu to beat the COVID-19," Galvez said.
"I know that our military is now overly stretched. But as members of the military, we know it's the call of duty, and we are prepared to extend our help in whatever capacity," he stressed.
"Taos pusong po akong nagpapasalamat sa military doctors, nurses, and aides for the selflessness you have shown during this health crisis," he added.
"We are proud of this team for stepping up in this dangerous but very important mission. This is what it means to be a soldier and we know more than anyone that no danger of disease will stop us from accomplishing our mission," said Collado who represented AFP Chief of Staff Gen. Felimon Santos.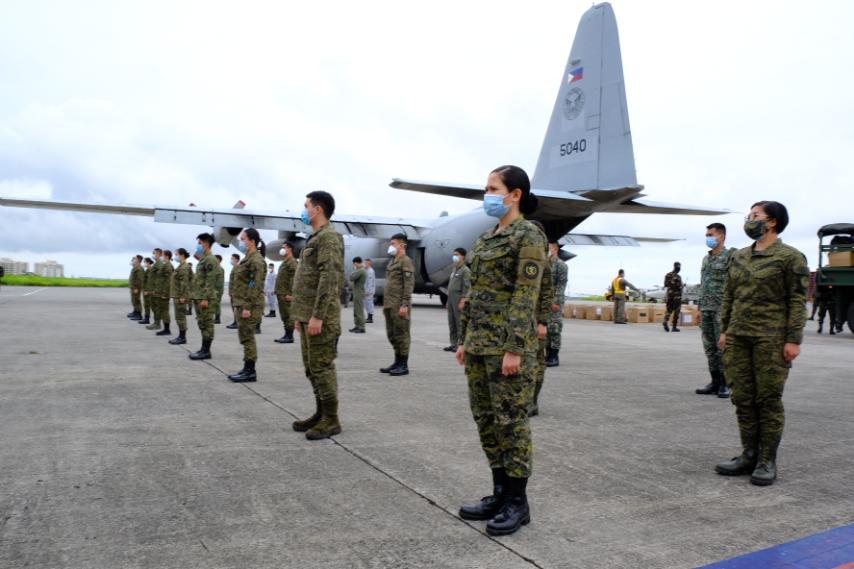 The AFP has already deployed 405 medical personnel to different emergency quarantine facilities nationwide, including the Ninoy Aquino Stadium, World Trade Center, and Rizal Memorial Coliseum in Metro Manila.
There are currently over 1,500 doctors, nurses, and military medical auxiliary who are assigned in military treatment facilities throughout the country.
Galvez noted that other provinces in Western Visayas have responded to the national government's call to aid Cebu by sending doctors.
"This coming Monday, at least 10 doctors from Region 6 will fly to Cebu. Rest assured that the government is doing everything possible to help Cebu recover from the pandemic," he said.
"We are calling on our local leaders and the private sector to join our collective efforts to help Cebu," Galvez said.