Where were you when the magnitude 7.8 earthquake hit Luzon on July 16, 1990?
Many of the millennials today were still too young to remember the biggest temblor that hit the country and killed 1,200 people, severely and moderately damaged 104,614 buildings, and cost P99 billion in total damages.
One of the eerie images the earthquake left was the pancake-like collapse of Hyatt Hotel in Baguio City.
Ma. Mylene Villegas, Chief Science Research Specialist of the Philippine Institute of Volcanology and Seismology (Phivolcs), was a fresh Geology graduate and had just finished the board exam when the earthquake struck.
At a recent webinar held by Phivolcs, Villegas said that whatever memory we have of that scary event, what is important is to remember the lessons learned so we can improve our "preparedness and mitigation" efforts.
How prepared is the Philippines for the "Big One" magnitude 7.2 earthquake that is feared to occur any time soon?
Monitoring network
The Philippines only had 12 earthquake monitoring stations when the 1990 temblor occurred as a result of the movement of the Digdig Fault, a segment of the Philippine Fault Zone that runs from Luzon to Mindanao.
Some 30 years later, this number has increased to 104 earthquake monitoring stations all over the country. Many of these stations have remote data-gathering capability with via satellite communications.
"We have been purchasing these equipment so we can add farther stations all over the country so that even small quakes could be monitored that could send warning to bigger earthquakes," Science Undersecretary Renato Solidum said during the webinar that commemorated the July 16 earthquake.
Early earthquake warning
Ishmael Narag, Officer-in-charge of Phivolcs' Seismological Observation & Earthquake Prediction Division, said data from monitoring stations could be used for early warning although it is not yet being used in the country now.
"We are now experimenting on doing earthquake early warning," he said. "We hope we can create it in the next five years after we develop the parameters."
He explained that if an earthquake occurred in one place, other areas that can be affected by strong earthquakes could be warned.
GeoMapperPH
The Department of Science and Technology (DOST)-Phivolcs is now using data-based applications to prepare for different hazards besides earthquakes.
These are GeoMapperPH, HazardHunterPH and GeoAnalyticsPH under the GeoRiskPH initiative.
The Cabinet and President Duterte gave premium to hazard preparation when they approved the GeoRiskPH initiative last year, Solidum said.
The recently launched GeoMapperPH application (app) is for use by local government units (LGUs) and national agencies for planning and responding during disasters and other disruptions.
GeoMapperPH came as an addition to GeoHunterPH and GeoAnalyticsPH that were both launched in 2019.
It is to be used as the national platform for data sharing among national and local governments in order for them to have a unified data platform and not have separate ones that do not follow standards.
"It is not enough to know the hazards. We need to know which communities, how many people, which houses and buildings, businesses, what operations and vulnerabilities we need to map, so we would know which would be affected by the earthquake and health-related events like Covid-19. We need to capture these nationwide in a consistent data format even before the tragedy occurs," Solidum, who also heads Phivolcs, explained.
Mabeline Kahulogan, project leader of GeoRiskPh, describes the GeoMapperPH as "a map anywhere, anytime."
Unlike the HazardHunterPH and GeoAnalyticsPH, the GeoMapperPH app is only available to LGUs and national government agencies for now "because we want the data being contributed to be accurate," Kahulogan explained.
GeoMapperPH is a tool for data collection, analysis, access and visualization, she said, adding that the data it gathers "are important for assessments and decision-making, with science-based analysis."
Kahulogan further said that the GeoMapperPH could be used in mobile phone and web platforms, and that "those who will use the app will be given usernames or passwords."
Solidum said they are working with the Department of the Interior and Local Government to use the app.
To institutionalize the use of the GeoMapperPH, the DOST has inked agreements with national agencies, such as the Departments of Education, and of Health. They are working to have agreements with the Department of Public Works and Highways, the National Treasury and other agencies.
HazardHunterPH, GeoAnalyticsPH
With the tag, "Hazard assessment at your fingertips," the HazardHunterPH is a one-stop shop for hazard assessment. It empowers everyone to assess hazards in their areas by showing a seismic hazard assessment of earthquakes and volcanic eruption.
Among its improvements is the inclusion of the nearest critical facility where the user would know the nearest hospital, road and public school.
HazardHunterPH also comes equipped with an event-monitoring module or near-real time earthquake monitoring where dots show quake plots, the depth and strength of the earthquake, its magnitude and data on how many quakes occurred in one month.
For those living near active volcanoes, another improvement is the quick volcanic analytics. If the image of the active volcano is clicked, a map will pop out of the area that will be affected by the hazard. It will be accompanied by a summary report, with number of affected people, barangays and schools, among others.
GeoAnalyticsPH, with the tagline "Risk Analysis Made Easy," can be accessed by the public through geoanalytics.georisk.gov.ph.
It provides a summary report of the LGU's land area, demography and other facilities.
"But besides these effects, an earthquake can damage the physical structures of houses, buildings and other structures if we are not prepared. Preparation can be made if we use the latest scientific information and tools," Solidum said.
Usher Structural Sensor
The Universal Structural Health Evaluation and Recording System (Usher) is a device that monitors the integrity of buildings and bridges before, during and after a seismic event.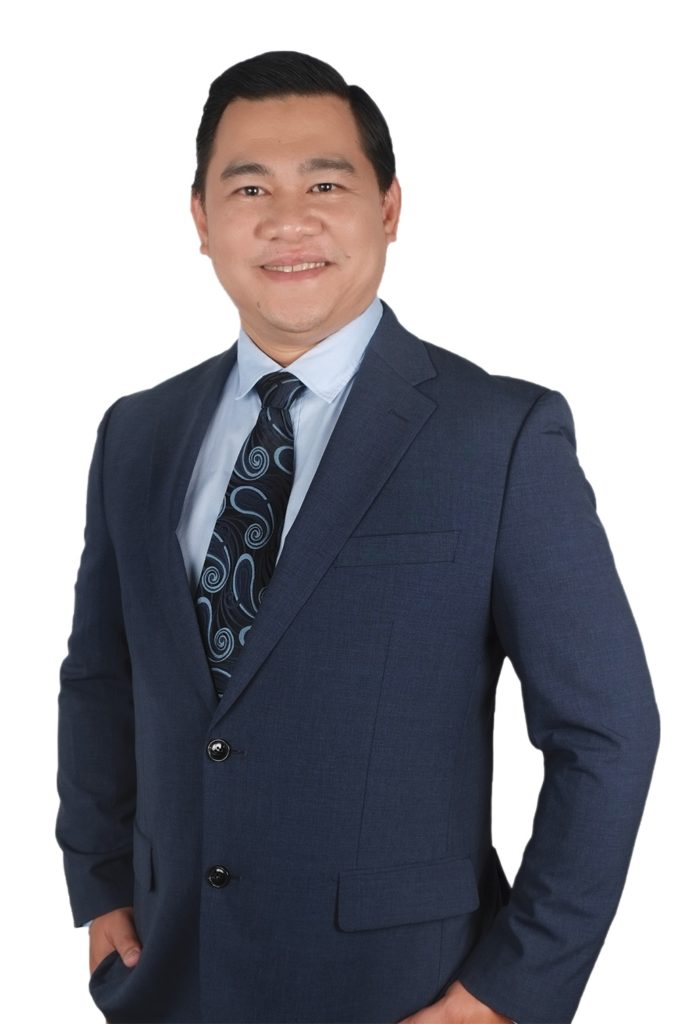 The 24/7 structural monitoring technology is the only Filipino-made technology of its kind in the market, said Dr. Francis Aldrine A. Uy, founder and president of Usher Technologies Inc., the maker of the device.
It is the result of a research project of DOST-Philippine Council for Industry, Energy and Emerging Technology Research and Development (PCIEERD) and Mapua University, said Uy, who is also the dean of the School of Civil, Environmental and Geological Engineering of Mapua University.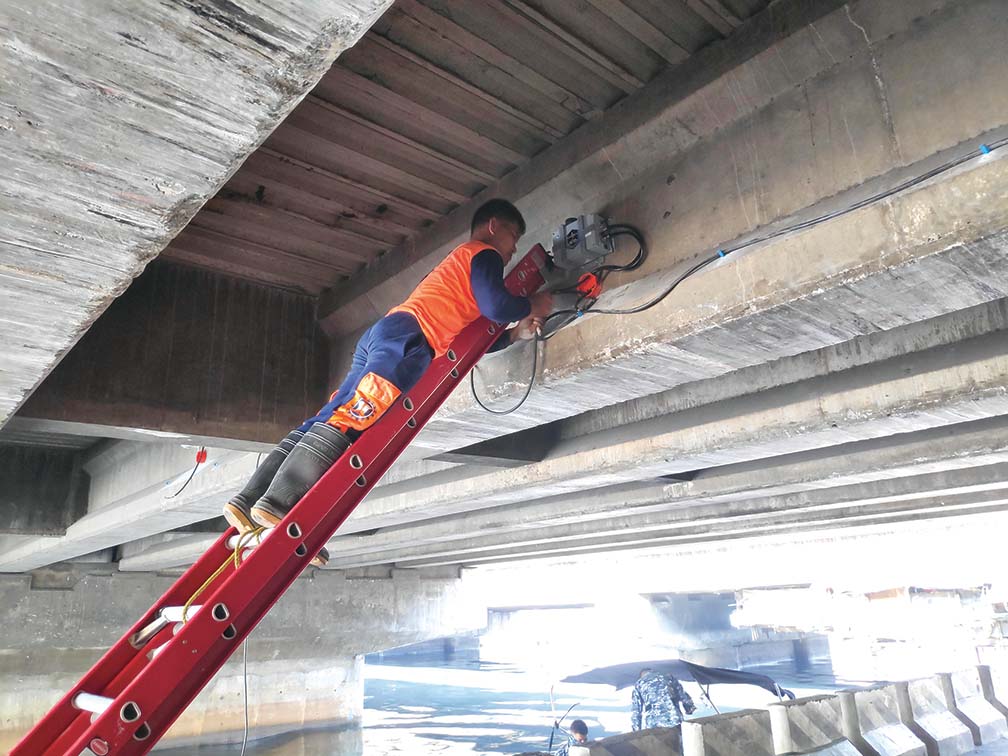 There are now 10 bridges and 22 government buildings fitted with Usher sensors as part of the the Philippine Structural Integrity Monitoring Systems (PhilSIMS) Project that is being supported by DOST-PCIEERD and the Department of Public Works and Highways (DPWH). This initiative is in preparation for the "Big One," especially in Metro Manila.
Among the structures with Usher sensor are the Manila City Hall, Department of Health Main Building, Quezon City Hall Civic Center D, DOST-Science Heritage Building, DPWH Head Office, DPWH NCR, DSWD NCR, Philippine Normal University, Bacood-Mandaluyong Bridge, Vitas Bridge, Aurora Boulevard-Katipunan Avenue Flyover and the Edsa-Roxas Boulevard Flyover.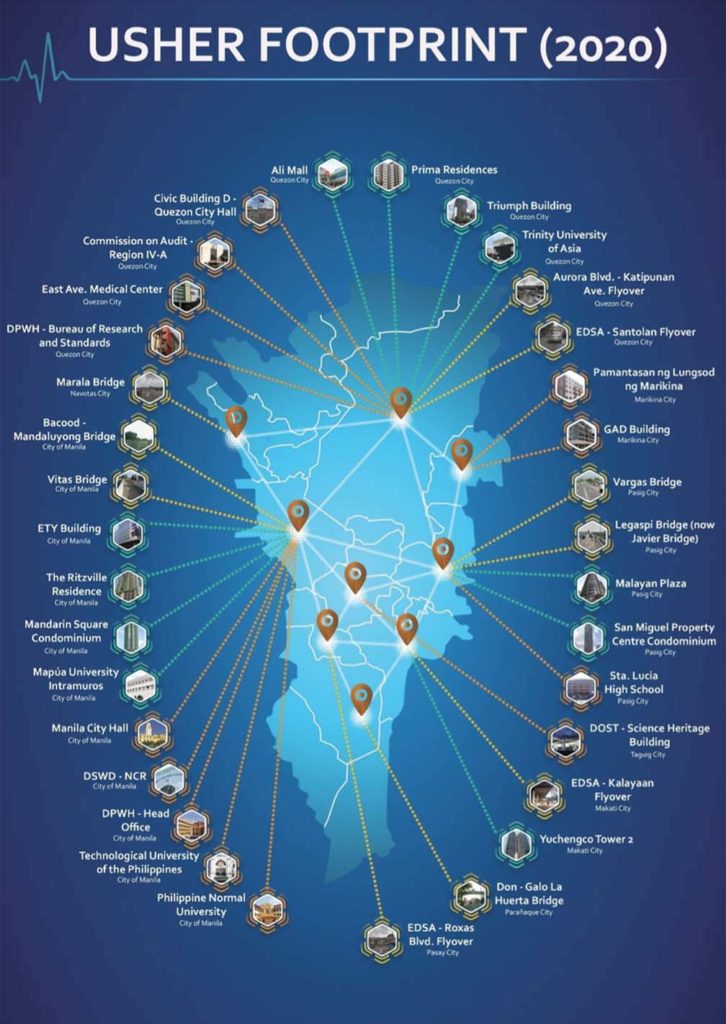 Some of the private buildings with Usher device are the Yuchengco Tower2, Prima Residences, Trinity University of Asia, Malayan Plaza and San Miguel Property Centre Condominium, the Usher company listed in its profile handout.
Asked by the Philippines Graphic in an e-mail interview whether Usher has monitored a defect in a structure, Uy said, "Fortunately, until now we do not see such concern in any of the buildings."
"One primary purpose of the Usher system is to analyze building performance data [normal behavior] then, if we are hit by an earthquake, we can compare the behavior later to help us decide if the building is still safe to be re-occupied. The data can also be used to monitor ageing and deteriorating structures," he added.
Using an analogy, Uy said: "If the doctor checks our electrocardiogram to see if our heart is healthy, the Usher system, through the advances in technology and vibration data analytics, could determine if a strong earthquake would have an adverse effect on a building."
Uy explained that the National Structural Code of the Philippines of 2015, the basis of the Building Code, mandates the use of building instrumentation.
In 2015 the DPWH issued guidelines to building owners or managers for the use of the instrument, Uy said at a recent "DOST Reports" webinar.
Uy said: "If you are working or living in a building or a condominium unit, you should ask your building manager if they have this [Usher] installed to help ensure your safety before, during and after a strong earthquake. This is required in high-rise buildings, hospitals, schools, commercial buildings like malls, industrial buildings and essential government buildings."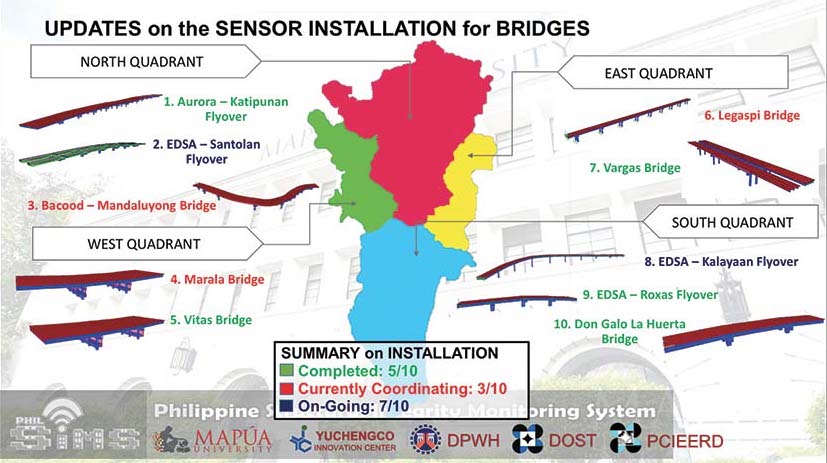 To prepare for an earthquake, the sensor could determine if the infrastructure's design and construction is in good standing.
"It gives us a warning when an earthquake occurs," he said. "After the earthquake, the device helps in determining if the structure is still safe."
The company has its "Back Bounce As One program" for building owners for an earthquake-resilience initiative in the new normal in the heels of the pandemic.
"This is the best offer for this technology," Uy said, adding that one unit of an imported device costs from P950,000 to P3 million. Usher offers a low down payment of P125,000 and a monthly of P15,000 for five years. It includes the annual maintenance, the free use of the Usher web portal and mobile application for the remote data retrieval, analysis, interpretation, storage and archiving.
Science Secretary Fortunato T. de la Peña said the technologies being created by Filipinos are very significant in monitoring hazards.
He added that the DOST and DPWH are working hand in hand in addressing concerns on disaster especially earthquakes that affect infrastructure.
"We are proud of these Filipino-made technologies," de la Peña said.