Like a flawlessly solved puzzle, everything fell into place for Carmen Linda Macasil-Atayde by the time she reached the age of 25.
In 1965, at the young age of 23, she graduated with a degree in Chemical Engineering from the Mapua Institute of Technology. Immediately after, in the same year, she got her first job at the Banco Filipino Savings and Mortgage Bank.
The following year, in 1966, she got married and a year later, at the age of 25, she gave birth to her only son in January 1967.
A budding career, a successful marriage to an Air Force officer, and motherhood—all in one go at the first quarter of one's life are milestones that usually did not go hand in hand with the women in her family.
Born on April 25, 1942, Linda, as family and friends call her, grew up in Zamboanga City, under the watchful eyes of an earlier generation that relegated women to being homemakers.
"My grandmother felt that a woman's place was in the home. She said high school was enough education. Manila was a far place from home and I was no match for the negative things that could befall a young naïve probinsyana. I was in tears as I saw my dreams disappearing before my eyes.," Linda recalled.
Good thing her parents believed in empowering the youth through education. They readily accepted an offer for Linda to study in Manila from Uncle Angel, a younger brother of her father, who was also a colonel in the Philippine Constabulary. It was her parents who assuaged her grandmother's fears until the latter finally gave her blessings.
Linda is the eldest of five children of newspaperman Mamiliano B. Macasil and dressmaker Venancia B. Zapanta. "My mother was a deeply prayerful woman who carried a strong faith. She was educated only up to the elementary level but she finished her elementary years as a valedictorian. My father was a learned man, witty, and knew how to deal with children, as he was naturally friendly. Everyone in the family knew, including me, that I was his favorite. But I never abused his kindness," she said.
While her father worked as Associate Editor of their town paper, the Zamboanga Times, her mother accepted orders for dresses.
According to Linda, they never wanted for new dresses, but they had a house rule on shoes. "We could have at most, only one pair of shoes per year, usually during Christmas. Mother made sure that shoes were one or two sizes larger, in anticipation of our growing feet."
STUDENT
Linda said she and her friends would frequent the United States Information Service (USIS) Public Library in the city. Armed with a library card, they would choose from thousands of books, borrow some and bring those books home to read after school and later, brag about the books' contents.
"Our introduction to books opened the gates for unlimited discoveries and adventures. Starting with children's books and fairy tales, we moved on to mysteries, classics, bible stories, Greek mythology, and biographies. Reading empowered us," she said.
Linda recounted that during a Science project, they were asked to list the uses of electricity, "I listed the electric blanket and the teacher remarked that there was no such thing as an electric blanket. I had to find among the magazines a picture of an electric blanket with the plug shown to convince her that there was indeed an electric blanket already."
According to Linda, their teachers knew everyone of their students by name, the name of the students' parents, and their living conditions. It was a small city where everybody knew everybody, including family secrets.
"They were so familiar with the students' whereabouts that any achievements or failures, good deeds or misbehavior were immediately reported to the parents. There was that much respect for teachers. Every student understood discipline. Spanking was accepted. Parents of children who were spanked reported to the Principal's office not to berate the teachers but to apologize for their children's behavior and to ensure that the erring child made his or her apology and promised not to repeat the misdeed. There was simply no excuse for disrespect, dishonesty, and truancy. Studying was a must. Our parents, having gathered lessons from the Second World War, were upbeat in making up for the years lost in the war," she said.
TEACHER
Even as a child, Linda said she already knew her role in her family. "Our upbringing was both gentle and strict. Being the eldest, I was to set the example for my younger siblings to emulate. This role remained embedded in my thoughts, words, and deeds. I studied hard and tutored two brothers and two sisters. I had a blackboard at home and neighbors sent their children to me to help them with their school assignments."
She said that during enrolment period their neighbors entrusted her to enroll their kids. Some migrants from other provinces who could hardly speak Chabacano (a variety of Spanish spoken in Zamboanga City) or English would request her to speak on their behalf during parent-teachers conferences.
"We had a kasambahay [house helper] who never went to school and I taught her how to write her name and some simple words. She stayed with us for some time then she went home to her province and got married. She proudly wrote to me and said she was able to write her name on her marriage certificate," Linda narrated.
She found herself immersed in learning in every phase of her growing up years. Graduating valedictorian after finishing elementary at the Zamboanga Central Elementary School, she repeated the feat in High School at the Universidad de Zamboanga (formerly the Zamboanga A.E. College), at the same time serving as president of the Student Council and editor of the High School paper.
Prior to taking up and finishing Chemical Engineering at Mapua, she completed a two-year Associate course in Commercial Science at the Universidad de Zamboanga, graduating with the highest honors.
"I initially eyed a career in business. I had a neighbor who was enrolled in Chemical Engineering and her subjects were mostly Math, which happened to be a favorite subject of mine, so I enrolled in the engineering course," she said.
MARRYING A SOLDIER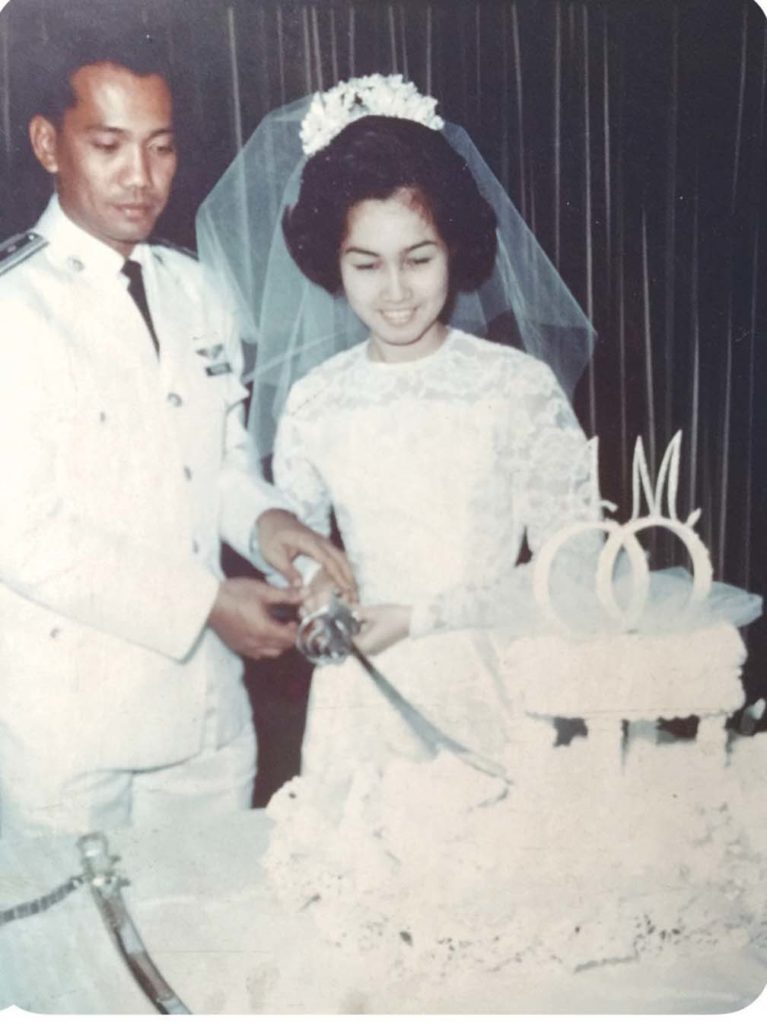 It was in Mapua where Linda met her future husband in 1962. The sophomore B.S. Chemical Engineering student was introduced to the then 2nd Lieutenant Francisco E. Atayde, who was visiting his old classmates at Mapua.
A graduate of the Philippine Military Academy (PMA), Atayde was then training as a military pilot at the San Fernando Air Base Flying School.
"My husband was 28 years old and already a pilot with the rank of First Lieutenant when we married. Wives of senior pilots advised me to never pick a fight before my husband leaves for work, to prepare him a good breakfast, not to go to bed angry and to pray a lot. I followed all, especially the praying," she said.
Linda added: "I never entertained any fears of marrying a soldier until we got married and saw for myself the dangerous missions he took and could not even tell me."
TWO FACES
The Zamboanga City of Linda's childhood was more popularly known as the "City of Flowers," from the profusion of bougainvillea, roses, lilies, carnations, orchids, and other flowering plants that adorned the roadsides of its 98 barangays.
Zamboanga City was pure color during the summer. As Linda recalled it: "Flowers of different species and hues bloomed. Typhoons were unheard of then. Mountains and lush forests protected the city. Water was free and water pipes brought water from the mountain springs. Decorated, bright-colored vintas dotted the sea. Exotic fruits like durian, marang, mangosteen, and large, green bananas were in abundance. Seafood like crabs, shrimps, shells, and curacha (spanner crab or red crabs) could be obtained for a song but were pricey elsewhere."
She remembered the Sundays that brought her and her family to the beaches Zamboanga became famous for. "We'd hear morning mass, have breakfast at home, and pack boiled bananas, sweet potato, cassava, corn, and coke or pepsi or tru orange. With our salva vida (life saver made of unused tires), we'd hail a calesa and head for Cawa-Cawa, the most popular beach in the city. Once a month, we'd use our Sundays to watch a movie. One movie ticket was good for two movies lasting four hours."
To a child, the Zamboanga City of old bore many delights. But the city, in recent years, also carried a long and grim history of intermittent conflict between Muslims and Christians.
In the last decade alone, the city had two incidents of deadly bombings, the first one occurring outside the Zamboanga International Airport terminal on Aug. 5, 2010. It killed one person and injured 24 others. A year later, in November, a bomb exploded at the Atilano Pension House during a wedding banquet, killing at least three people and wounding 27 more.
The peace and order situation turned for the worst in 2001 when the Moro National Liberation Front (MNLF)-Misuari faction rebelled against the administration of then Pres. Gloria Macapagal-Arroyo.
Some 300 MNLF men led by Nur Misuari's nephew Julhambri Misuari hostaged residents of the Cabatangan government complex.
Come 2013, the MNLF once again surrounded Zamboanga City, causing the displacement of more than a hundred thousand people as MNLF rebels occupied several barangays in the city.
Linda was in Manila when the MNLF laid siege on Zamboanga City in 2013. "We felt helpless as we heard our Mayora Beng (Isabelle "Beng" Climaco-Salazar) boldly addressing her messages to the rebel leader and his sympathizers, the residents, and the general public. Our eyes were glued to the TV screen, our ears to the phone, and our hands clasped together, praying for the siege to end. We felt very sad that the fight was against Filipinos; brother against brother."
FULL CAREER
Linda, 78, said she never planned to leave Zamboanga. "I came to Manila to acquire a college education, then one thing led to another. I found employment, met and married a great person, raised our family, and made our home. Still, I always find reasons to go to Zamboanga, at least once a year."
The years rolled like so many waves gently heading back to the shore. Her husband, Francisco E. Atayde has now retired from the Air Force with the rank of Brigadier General. He once served as the country's ambassador to Cambodia.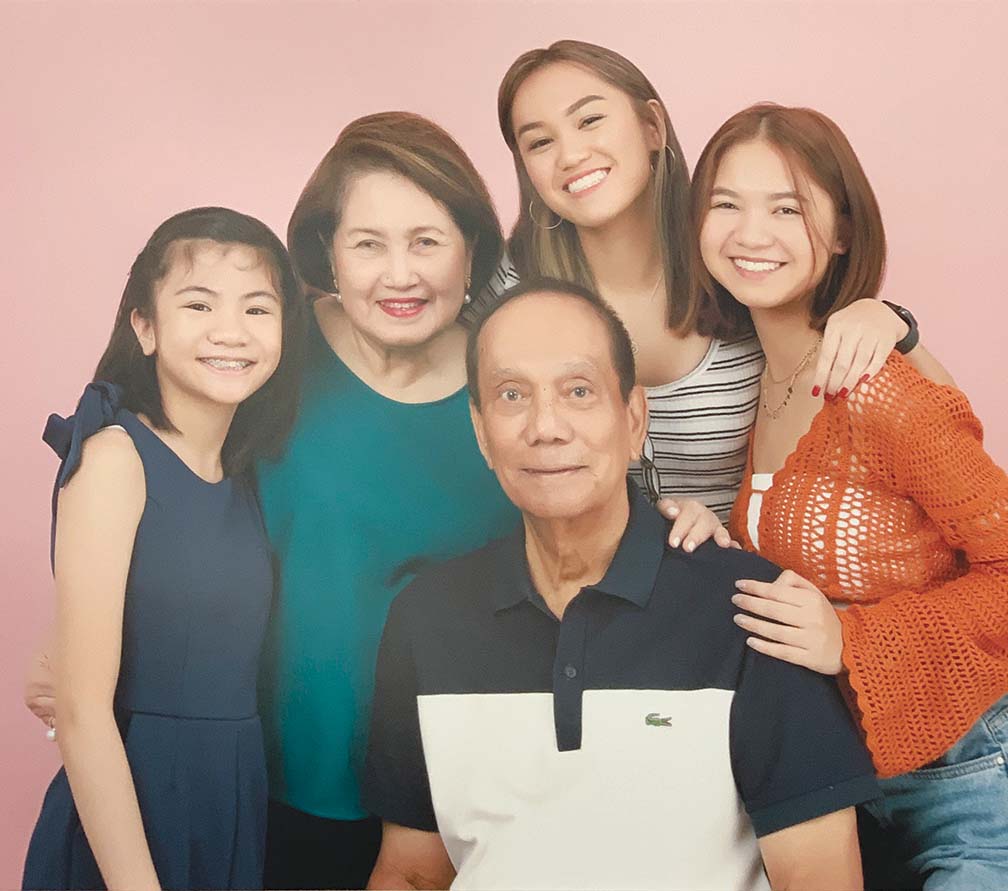 Francisco Jose M. Atayde, Jr., her only son, is a successful hotel manager. He and his wife, Rowena T. Dela Cruz have three daughters: Ysa, Ronnie, and Mandy.
As Executive Director for Education of SM Foundation, Linda said that her earlier involvement in banking—which includes a 10-year engagement with Banco de Oro—has brought diverse experiences, which she is able to apply from time to time in running the education program of SM Foundation.
"Bank clients will bring their high-earned investments in banks and institutions they trust the most. Trust is not earned at a snap of a finger. It is earned over years. Likewise our foundation operates on the trust its benefactors have for it. They trust us to deliver social services at the time frame committed by us. Our beneficiaries expect no less. Our program is prudent with the funds entrusted to us so that every peso disbursed is accounted for while every peso donated is properly acknowledged and receipted. Private information remains secure," she explained.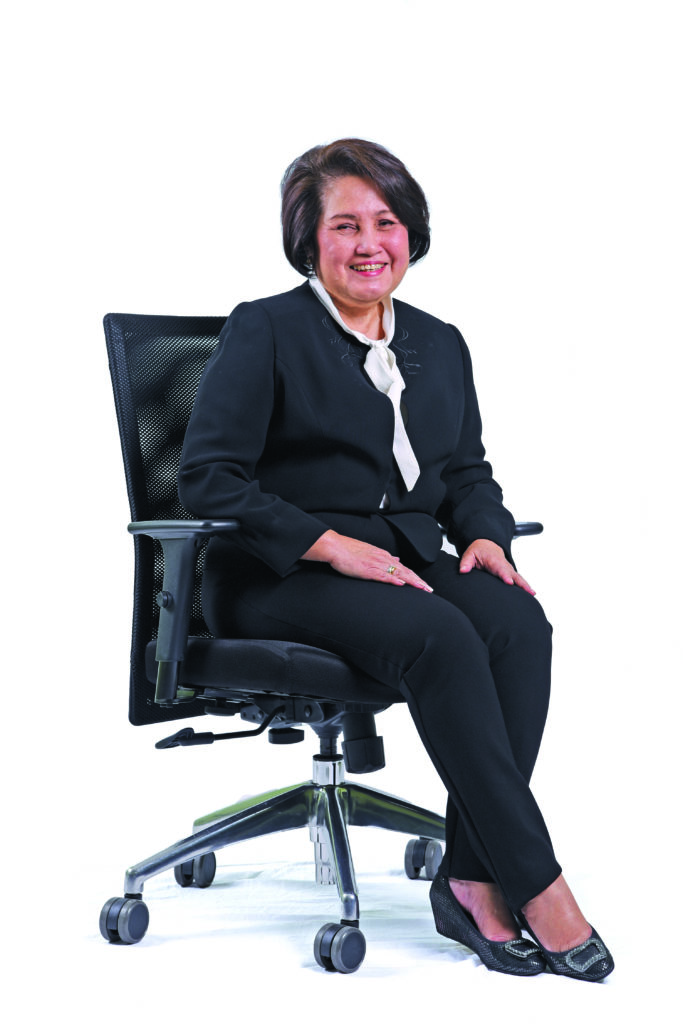 Linda added that she finds most joy when she sees that the donors are very happy over the progress of the program and satisfied with the way donated funds have been utilized. "I am happiest every time a scholar completes his or her studies, is able to seek gainful employment and manages to cut the cycle of poverty; when the scholars' stories to their children and their children's children includes a message of gratitude to the late SM Founder Henry Sy and family, and SM."