Since many people are still reluctant to visit the hospital for their medical needs, The Medical City South Luzon (TMC-SL) now has a mobile clinic that can go around the surrounding communities.
Launched last Feb. 8, the TMC-SL Mobile Clinic is a specially designed vehicle tailored to provide a wide range of quality healthcare services including laboratory and diagnostic services such as all types of X-ray and ECG, ophthalmology screening and referrals to Ophthalmologists and other medical specialists for teleconsultation.
"The Medical City South Luzon tries to be relevant to the communities that we serve and we saw that there was still the fear of contracting the COVID-19 virus," said Dr. Cesar Ramon B. Espiritu, President and CEO of TMC-SL during the inauguration of the Mobile Clinic. "This is our response to that need and we hope we will be able to cater to their health needs."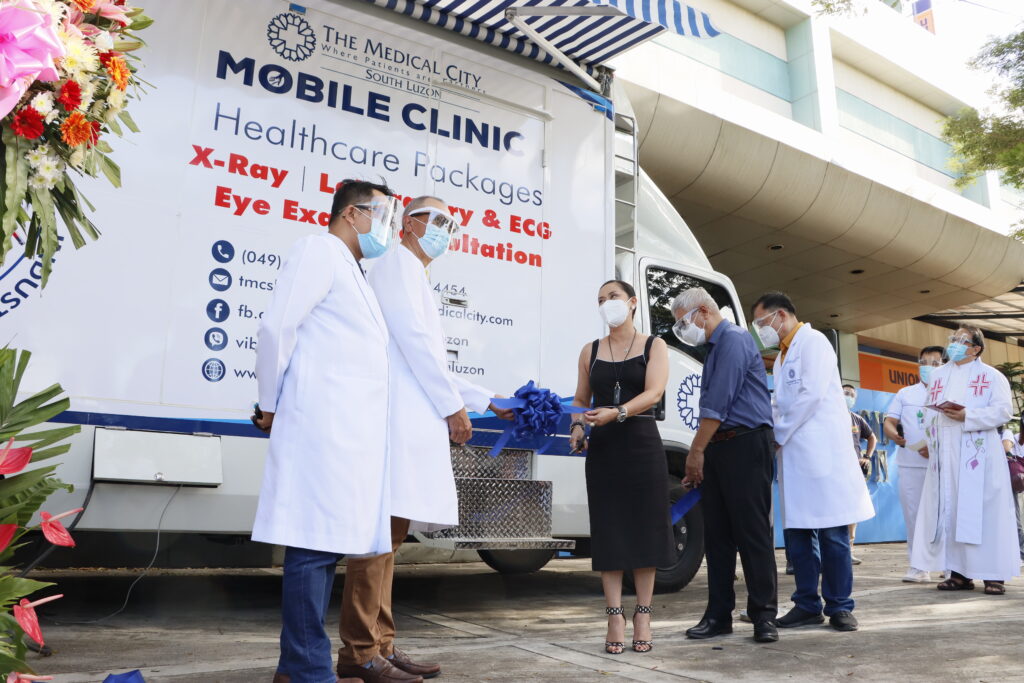 Present during the inauguration ceremony were Sta. Rosa, Laguna Mayor Arlene B. Arcillas, Laguna Provincial Health Officer Dr. Rene Bagamasbad, TMC-SL COO Dr. Jose Enrico Juliano and Dr. Jesus Julio Ancheta, TMC-SL's Chief Medical Officer.
"I would like to thank The Medical City South Luzon for being one of our partners during the pandemic," Arcillas said in her remarks. "This will really a big help to the Sta. Rosa community."
TMC SL Mobile Clinic aims to serve employees from the different locators of the industrial parks such as the Laguna Technopark, Inc., Laguna International Industrial Park, Carmelray 1 and 2 and First Philippine Industrial Park, as well as residents of neighboring communities by giving them easy and convenient access to quality healthcare from diagnostic tests to teleconsultation with TMC-SL doctors.
The clinic will go around on scheduled visits to the different companies and communities to provide easy and safe access to healthcare services. For business owners, having the mobile clinic at their location will help in their employees productivity in providing them with easy access to diagnostic tests thereby foregoing the need to be excused or to be absent from work.
"Having access to a regular health care provider will help people living in these communities receive ongoing health care and support closer to home. It will also save time and transportation costs for patients by bringing primary healthcare services to their community," Dr. Espiritu said.