Faith, sports and entertainment, COVID-19, international affairs, brands, government affairs and social media are the top issues discussed in Filipinos' posts in Facebook in March 2021.
A big data analysis conducted by campaigns consultancy and management firm BluePrint.PH last March showed that influencers also played a great role in establishing issues and influencing sentiments, and in the choosing of commercial brand preferences through social media, which is gaining power as a main tool in disseminating information among Filipinos.
BluePrint.PH made an assessment of Facebook posts, shares and comments with a total of 115,467,742 engagement score from the daily monitoring of 50 keywords for the whole month of March, and grouped the 1,500 discovered keywords into 10 categories.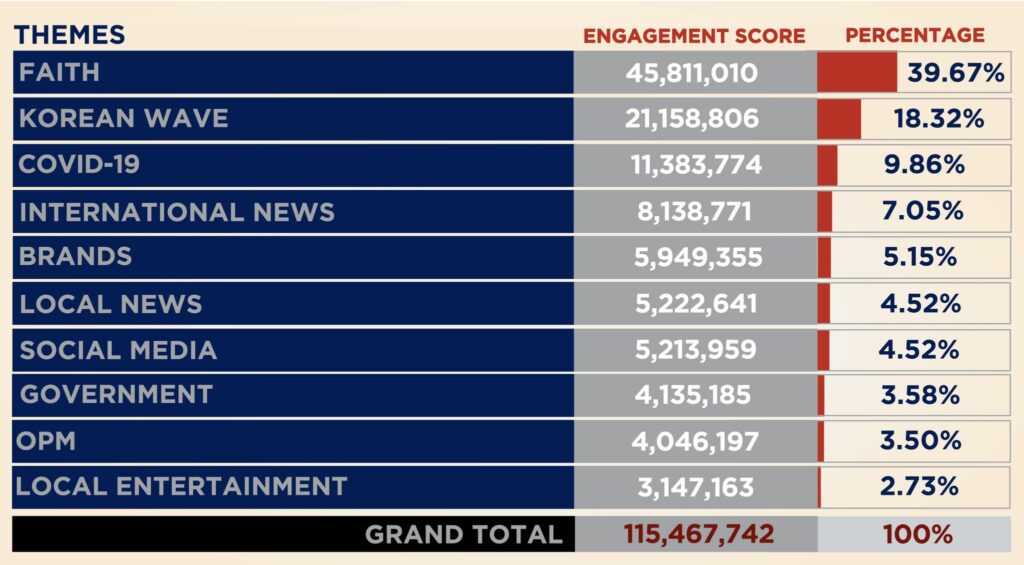 In terms of total engagement, the keyword category of Faith is number one among all keyword categories for the second month since February 2021 as Filipinos continued using Facebook as platform for expressing their Catholic Faith, with the keywords Quiapochurch, holyweek and 500yearsofChristianity as the most used keywords. The top influencer on this category is Quiapo Church, which has 3.6 million followers, and actively posts live online masses on a daily basis.
As in the months before, the Faith category is followed by the Korean wave or Hallyu category with Filipinos still going wild with their love of anything Korean as posts on this category account for more than 21 million engagement score in March. Rose of Blackpink and #ReleasedonYT were the top keywords among Filipinos' Hallyu posts.
Rose released a solo debut album including a single entitled On the Ground which was posted on Youtube on March 13 and discussed extensively in Facebook posts and shares of Filipinos. To date, On the Ground has 133 million views on YouTube, and is currently number 7 on Spotify Philippines. Other top keywords were Lisa (of Blackpink) BTS, and Jungkook (of BTS).
On the third spot is COVID-19, represented by the keywords coronavirus, COVID-19, and Covidph. The resurgence of the number of cases of COVID-19 remains to be one of the hottest topics in social media. This is the only category without any other keyword associated with, and is ranked number 1 in the daily trending 16 days out of 31 days. The top post with the highest engagement score is the post from GMA 7 with a captions "Graduate na sa pagsusuot ng face mask ang mga taga-Gibraltar! Dahil marami na ang nabakunahan at wala nang bagong #COVID19 case na naitala sa Gibraltar, pinapayagan nang gumala ang mga residente doon kahit walang suot na face mask", with 62,989.8 engagement score.
Also a top concern for Filipinos at number Four is international news and issues, particularly the political turmoil in Myanmar. The keywords #justiceformyanmar, #hearthevoiceofmyanmar, #thevoiceofmyanmar had more than 8 million engagement score, proving the extent of how Filipinos reacted, commented, and shared posts about Myanmar in March. Filipino model-influencer Sinon Loresca is the top influencer for the issue of Myanmar. His post with a message, "the hug of a mother to her lifeless child" has the top engagement score ( 37,044.4) under this topic.
Placing 5th is the category "brands" particularly Lazada and Louis Vuitton. Top trending under brands is Lazada's 9th year celebration, amplified through Lazada's endorser, Mimiyuuuh, with an engagement score of more than 11,000. Luxury brand Louis Vuitton trended from Anne Curtis's post on Louis Viutton Spring Summer Spin-off. Other trending brands were Penshoppe, with Black Pink's Lisa, and Smart with Matteo Guidicelli and Sarah Geronimo, and Chris Evans.
Following the category brands is Local News on the 6th spot, Top local news keywords are KMJS (Kapuso Mo, Jessica Soho), RaffyTulfoinAction and BrigadaSaturday. KMJS is consistently a top trending topic being number 1 four times this month. This KMJS story on circumcision (or tuli) gained the highest engagement score of 114,213.2.
The category 'social media' placed 7th with the keywords Facebooklive, throwback and waybackwednesday driving the engagement on this category. Facebooklive was trending from Quiapo Church, as the online masses were shown on Facebooklive. Celebrities Marian Rivera, and Andi Eigenmann drove the engagements for the keyword "throwback". Marian Rivera's post on a 2015 trip to Nami Island, South Korea with husband Dingdong Dantes gained 56,246.6 engagement score.
On 8th spot is the category "government" with the top engagement garnered by the post on "resbakuna". This post generated active interactions, particularly from the Facebook page of the Department of Health. This category has 25 keywords which included pro (buildbuildbuild, dutertelegacy) and anti (dutertepalpak) sentiments on the Duterte Administration, vaccination against COVID-19, and keywords for the city of Manila (alertomanileno).
Consistently on at 9th spot is the category OPM. The trending keywords under this category are "SB19", and "BenandBen." SB19 and members Justin, Pablo, Ken, Stell and Josh made it to the daily trending keywords for the month. SB19 was ranked number 3, from this Facebook post, SB19 'What?' OUT NOW!, and a link to their new music video. "What" has more than 7 million views to date, and more than a million plays in Spotify. The group SB19 has strong skills and talent singing and dancing, well-produced music videos, and a solid expanding fanbase, making way for the sub-genre P-pop on the OPM sphere.
On the 10th spot is the category local entertainment with top trending keywords, Sixto, Asaphothothot and Andreaturns18. Marian Rivera's post of her and son Sixto had the top post engagement under this category with more than 34,000 engagement points. Long-running Sunday variety show ASAP from ABS-CBN is consistently in top trending keywords monthly. Andreaturns18 is another trending keyword; actress Andrea Brillantes turned 18 on March 2021.
A runner-up hot topic on the 11th spot is basketball, specifically the keyword, NBA. Facebook users are actively interacting with posts related to NBA. The keyword #NBAAllStar3 achieved the overall top engagement score for this month's trending topic, at more than 523,000 engagement points. The top post in the Philippines is the Golden State Warrior's Facebook page with this message: THE CHAMP IS HERE Stephen Curry is the 2020-21 #NBAAllStar 3-Point Contest champion! Other trending keywords associated with NBA are, Lakers, StephenCurry, Warriors and TeamLebron.