National Artist Nick Joaquin will always be the quintessential literary giant in the galaxy of poets, fictionists, essayists, and screenwriters in the Philippines.
As the first Editor-in-Chief of the revived Philippines Graphic, under the aegis of the late business mogul, philanthropist, and Ambassador Antonio L. Cabangon Chua, Joaquin never lost touch with the Graphic until his death on April 29, 2004 at the age of 86.
Now, for the first time, the Philippines Graphic reveals the last four years in the life of the writer. The photos may have faded and the words speak of time and place now resting in the memories of people who really knew Nick Joaquin. People like noted poet-essayist Marra PL. Lanot.
It is a warm and deeply personal essay on Nick Joaquin and makes true the observation— Memory is all that matters in the end.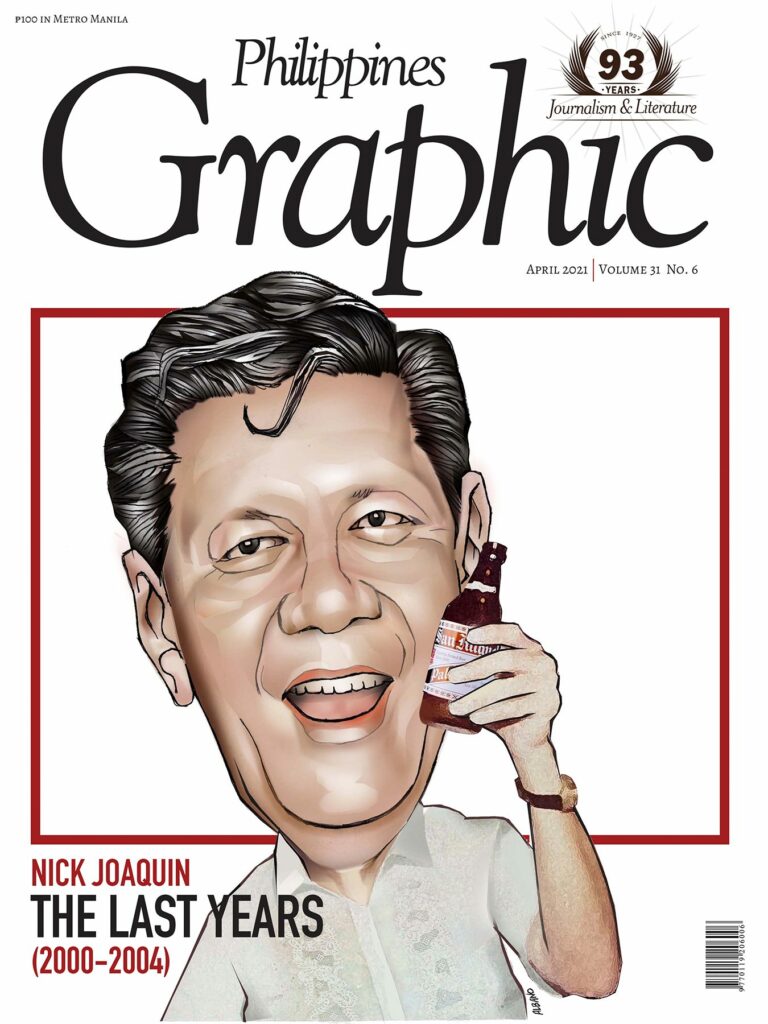 ALSO, IN THIS ISSUE
A tribute to the remarkable friendship of three men

: National Artist Nick Joaquin, Ambassador Antonio L. Cabangon Chua, and Judge Pedro T. Santiago, Philippines Graphic Chairman of the Board.
Hospital Best Practices in the handling of COVID-19

—Papers delivered by Dr. Gerardo "Gap" Legaspi, Director of the Philippine General Hospital (PGH) and Andres M. Licaros, Jr., President and CEO of Asian Hospital and Medical Center
IN OUR WELLNESS SECTION

: Celebrate World Voice Day by looking after your voice
BM Cycling Season 1

: What an amazing ride. What couldn't happen on the road, the BusinessMirror accomplished on air—thanks to the wonders of technology called the Internet, Facebook and Youtube.
First Jab: The politics of the COVID-19 vaccine

. A global report on how politics is coloring the production and dissemination of the COVID-19 vaccine
CATCH ALL THESE AND MORE IN THE PHILIPPINES GRAPHIC APRIL 2021 REGULAR ISSUE…NOW AVAILABLE AT LAZADA.