(With humble thanks to poet and essayist Marra PL Lanot, we commemorate the April 29 death anniversary of National Artist Nick Joaquin—our first Editor-in-Chief in the revived Philippines Graphic under the late Ambassador, media mogul, and philanthropist Antonio L. Cabangon Chua—with this warm and enlightening essay on the life and the last years of the quintessential Filipino writer who died in 2004. The photos may have faded and the words speak of time and place now resting in the memories of people who really knew Nick Joaquin. The Graphic borrowed these memories from Marra PL Lanot so we can share them with you, our dear readers. Memory is all that matters in the end.—Ed.)
Have you ever basked in the presence of your idol? If that idol happens to be Nick Joaquin, the creative writer, or Quijano de Manila, the journalist, have you been thrilled listening to his baritone voice or animated to sing along, almost imitating his tremolo? And when that idol becomes your friend with a similar passion for music, life turns into moments of checking out spots where music is all. Singing and dancing make the earth spin, and magic raises the curtain on Broadway.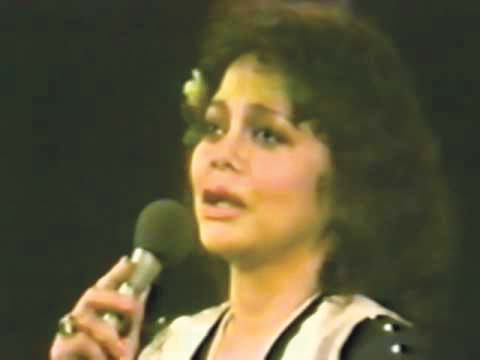 Nick would bring his chums to Victoria Peak along E. Rodriguez Avenue. In the daytime, the said club looked like it was on top of a heap of garbage. At night, the outside lent a pretty hilly view of lights. Merci Molina would croon love songs. Linda Lacsina would belt out hits in her trendy outfits. This was in the 60s to the early 70s. We would listen to singers on the second floor of Tres Hermanas restaurant on the corner of Quezon Avenue and Roosevelt. Nick also enjoyed music at the lobby of Sulo Hotel, where there's a piano, and in the basement of the same hotel.
Two days or a day before New Year's Eve, my Mom Gloria Licad Lanot, my sister Pfootsy, and Nick's San Juan neighbor and constant companion Elena Roco would tag along to listen to instrumental music at the Century Park Sheraton Hotel on Vito Cruz, Manila. From Quezon City to Manila, we would ride a taxi. Soon, it was the Manila Hotel, on the invitation of Billy Lacaba, to hear Girl Valencia, a young singer whose repertory catered to the older generation. We followed her to Richmond Hotel in Pasig, and got more nostalgic ditties.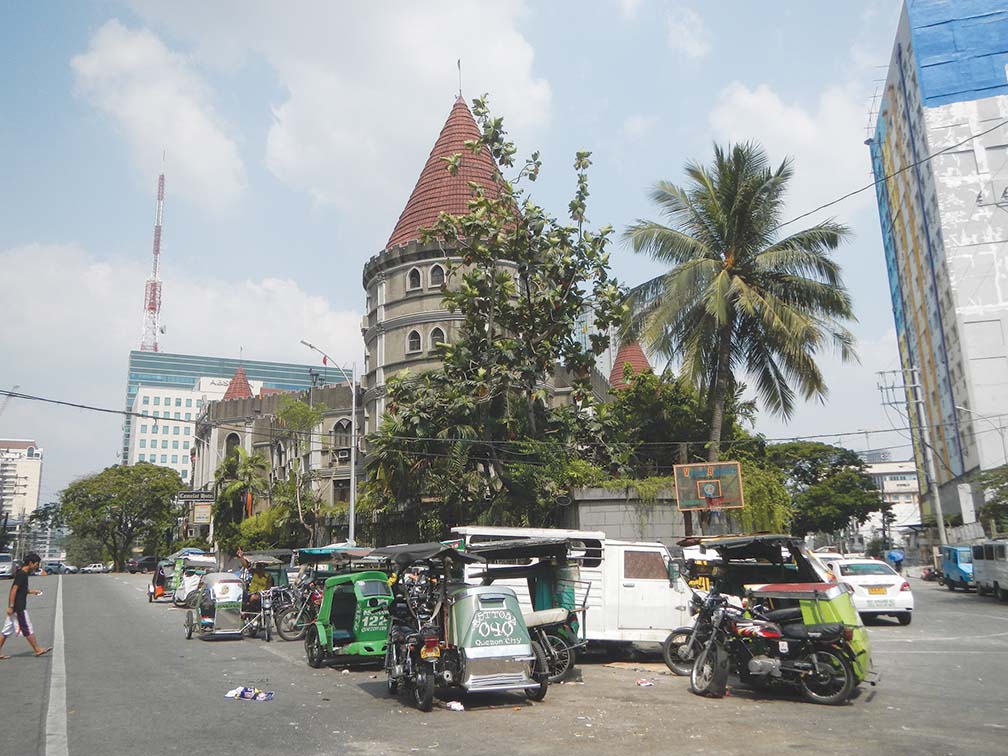 As for something blaring, Nick would take us to Calle Cinco in Ermita, known for its bands. At Camelot Hotel on Mother Ignacia Avenue, a favorite haunt of his was The Dungeon in the basement. Nick would sit right in front of the loudspeaker, and we would go home with a hoarse voice and a sore throat, because the loudspeaker would split our eardrums and we had to shout at the top of our lungs.
COZY EVENINGS WERE SPENT IN THE HOMES OF CLOSE FRIENDS—Recah Trinidad, Greg Brillantes, Ben Bautista, Elena Roco, Joe Quirino, Mina Gabor, NVM Gonzalez, Danny Dalena—where food and beer and wine were served all throughout the evening. NVM, who had by then returned to the Philippines after staying for some years in San Francisco, California, would sometimes play the guitar for his guests.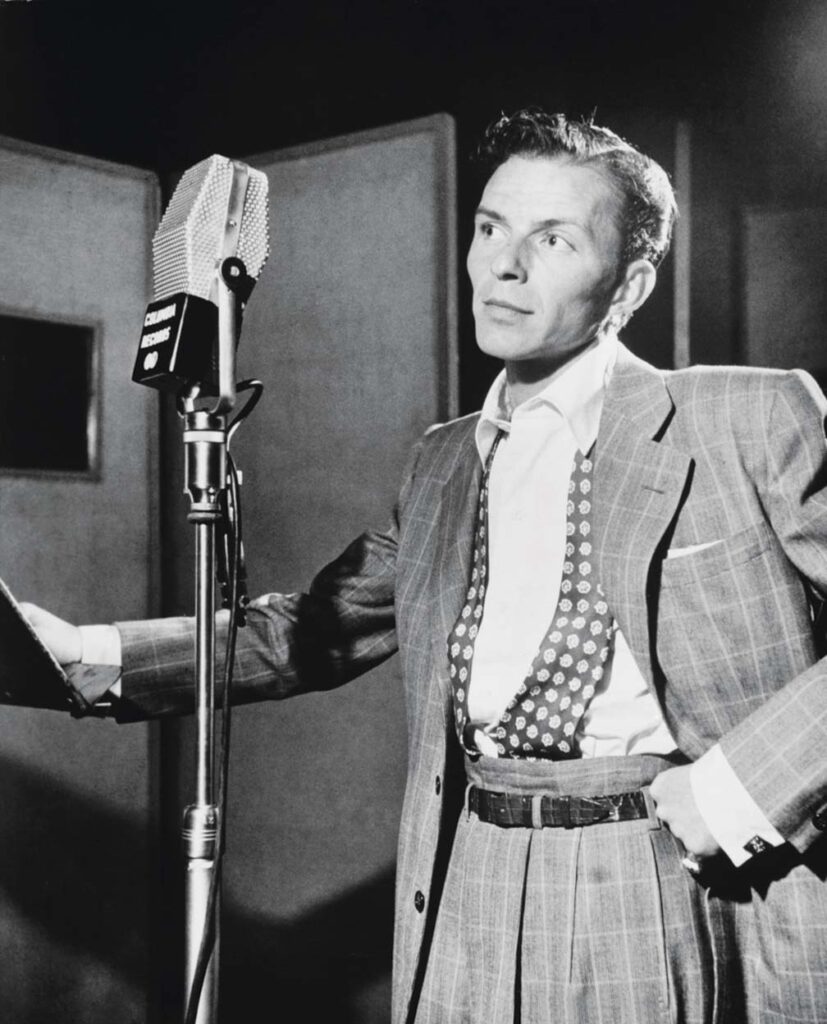 At our house, I would play again and again Nick's requests. Sinatra's "A Foggy Day," "Bewitched," "Chicago," "Everything Happens to Me," "All of Me," "My Funny Valentine," "I've Got You Under My Skin," "Moon River," "The Things We Did Last Summer," "You Can't Take That Away from Me," and "The Way You Look Tonight." Nick also loved Barbra Streisand's "People," Liza Minelli's "New York, New York," Elvis Presley's "Can't Help Falling in Love" Julio Iglesias's "Caminito," and Bing Crosby's "Thanks for the Memory." Mexican songs were also part of his repertory. He also liked "You Make Me Feel Brand New" by The Stylistics, but I didn't have a recording of that.
If there was nothing to listen to, Nick would sing his cherished Cole Porter song, "You're the Top." He would even improvise lyrics, thus:
You're the top
You're Mayon Volcano
You're the top
You're Virgie Moreno
You're the sob and sigh
Of Kabayao's violin
You're lechon de leche
You're escabeche
You're Nick Joaquin!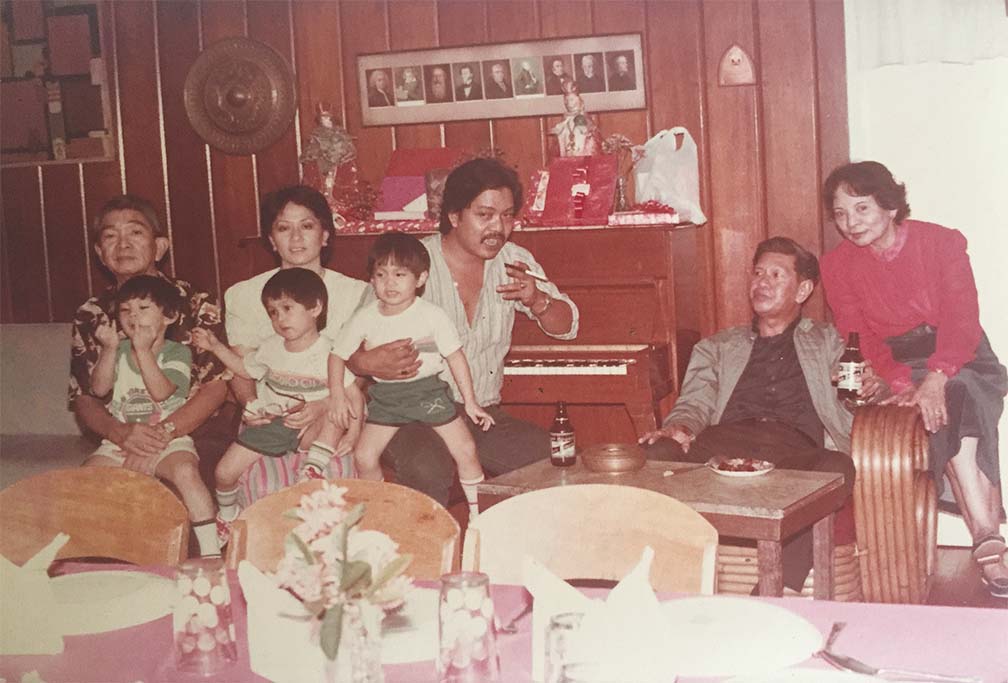 Nick would invite us contributors to a canteen at the Philippines Free Press on Pasong Tamo. There, he would offer beer and pulutan and suddenly sing
The way you wear your hat
The way you sip your tea
The memory of all that
No, no they can't take that way from me
The way your smile just beams
The way you sing off-key
The way you haunt my dreams
No, no they can't take that way from me
We may never never meet again
On the bumpy road to love
Still I'll always, always keep the memory of
The way you hold your knife
The way we danced till three
The way you've changed my life
No, no they can't take that away from me…
Then he taunts his young listeners, "I bet you don't know that song!" And when somebody joins him in his singing, he booms, "How come you know that song?!"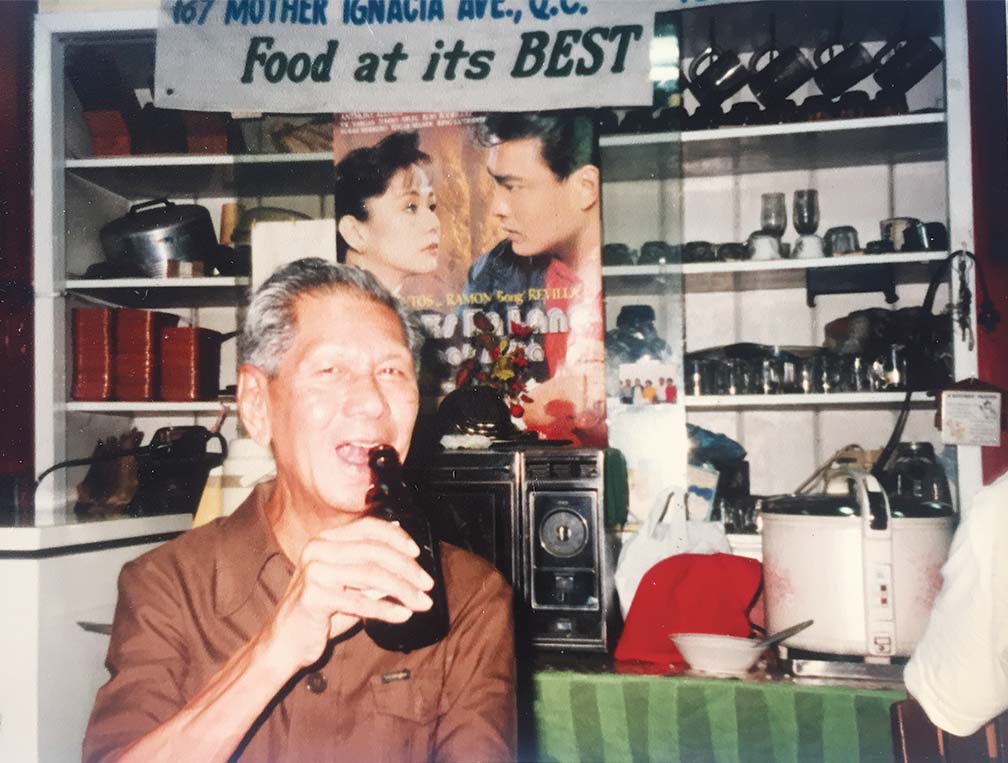 NICK REGALED US WITH HIS JOKES. For example: NICK: Uy, si Dot, sinaksak. LISTENER: Sinong Dot? NICK: Hindi sinundot, sinaksak! And Nick would be the first to chuckle. Again, "Si Tok, sinipa." "Sinong Tok?" "Hindi sinuntok, sinipa!"
When Nick, however, said, "Uy, si Pete binaril!" The listeners didn't ask, "Sinong Pete" or "Sinumpit." Instead, they chorused, "Ha?! Kailan?! Anong nangyari?!" Poor Nick was flustered.
He also enjoyed his own jeproks jokes. (Mike Hanopol's "Laki sa Layaw Jeproks" was very popular in the 70s.) "Bakit jeproks ang lawyer?" "Laki sa laway." "Bakit jeproks ang preso?" "Laki sa latay."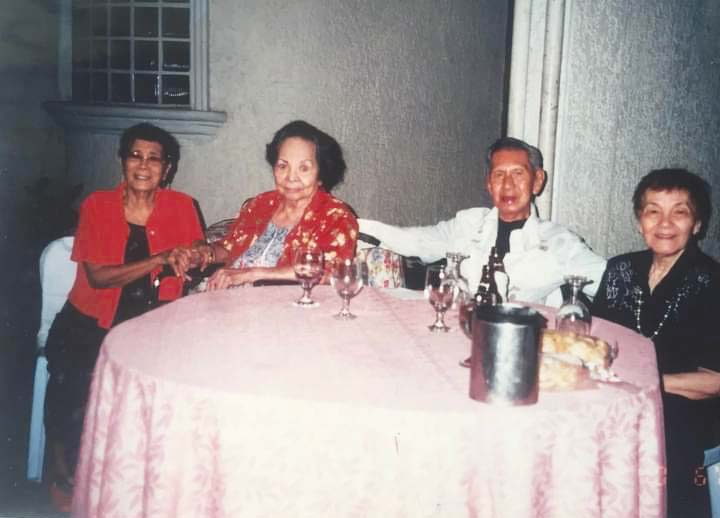 Nick, indeed, blended with our guests—the Madrigal Singers, led by Andy Veneracion, Mama's co–teacher at the University of the Philippines College of Music; the HUK leaders who visited Papa after their release from prison like Luis Taruc, Alfredo Saulo, Sammy Rodriguez, Amado V. Hernandez; the personalities of the Left, also after their discharge from detention such as Joma Sison with wife Juliet de Lima, Bernabe Buscayno, Mila Aguilar, and Victor Corpus; my own English Major group of writers such as Tess Daffon, Dick Malay, Jenny Romero, Ninotchka Rosca, Pris Navarro, Jose Carreon, Erwin Castillo, and Willie Sanchez. Nick, of course, was family to the Lanots, the Licads, and the Lacabas.
I don't remember, though, entertaining Nick in Pateros, Pete's hometown. We have no souvenir photos of Nick during Christmas or birthdays or fiesta. He would, however, go there bringing home Pete in a taxi.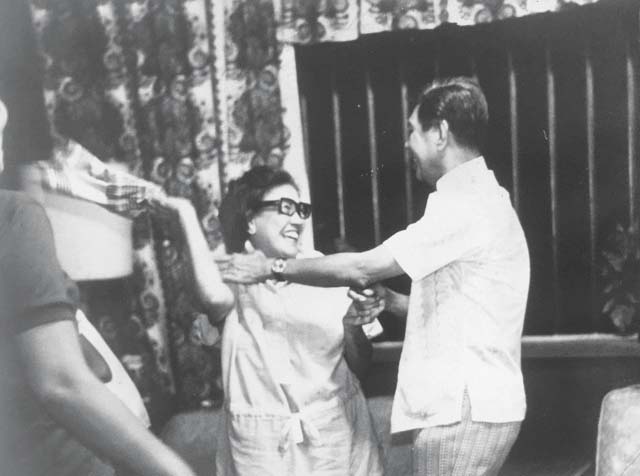 NICK NEVER LOOKED DOWN ON POPULAR CULTURE. There was a time when he and Joe Quirino were the only two members of the Board of Censors. Because Nick was a movie buff, he enjoyed the job. Between him and Joe, no movie was censored. Everything was passed, whether the motion picture was well crafted or not. He praised Nora Aunor's acting early on. He recorded the lingo used in the streets in his essay, "Language of the Street."
It seems the only classical piece he was familiar with was Claude Debussy's "Claire de Lune." Once, while Cecile Licad was playing in one of the gatherings at my parents' residence, Nick loudly interrupted her. "'Claire de Lune,' dahling, play 'Claire de Lune!'"
Whenever Nick discovered good food, he would rave about it. When Ali Mall in Cubao opened, which was the first mall in the Philippines, Nick relished the bopis in the fast food area in the basement. So, he took us there.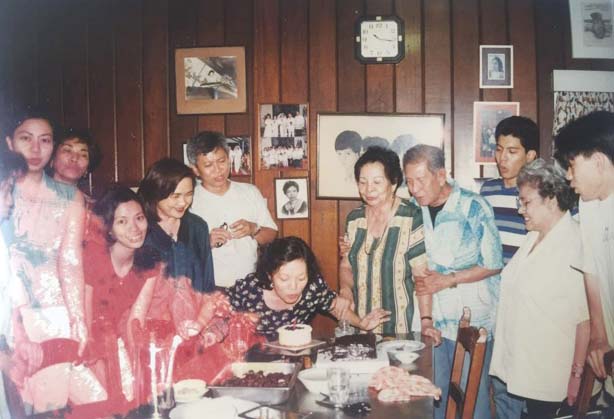 During birthday parties at my parents' house in Quezon City, Nick would bring fried chicken, lechon, and brazo de mercedes. In exchange, he had unli beer and a dose of jokes and laughter. And my Mom, also called Oriang, named after her famous bottled Oriang's bangus, sardine style, fed Nick his favorite callos. Elena would relish her own request of dinuguan. Tita Nene, Nick's older sister, would talk to me on the phone and say, after seeing the party photos, that she missed all the parties in our house, and wanted to come but Nick wouldn't take her with him. Tita Nene said Nick would tell her and Tita Naty, Nick's aunt, how joyous we all were.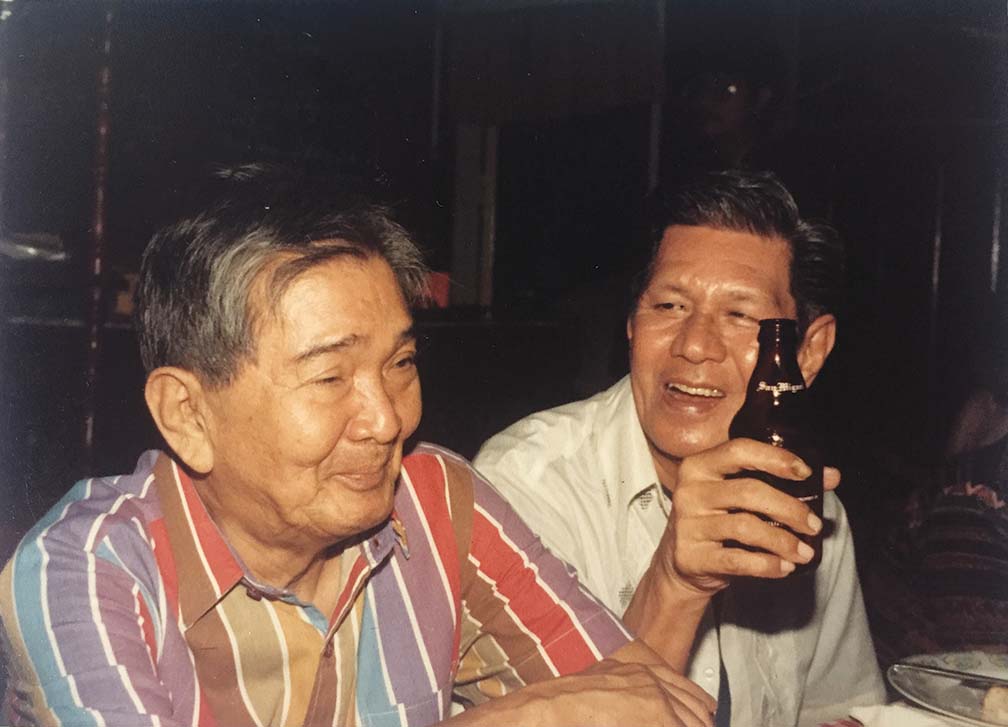 REWIND: I FIRST MET NICK WHEN I WENT TO THE FREE PRESS to submit a poem "Manila to Me." I was about to leave when he told me to wait while he read the poem. Shy and nervous, I waited for his verdict. He then blurted: "This is my Manila!" Seeing my byline, he asked me how I was related to Serafin Lanot. "My father," I replied. He said, "Wait for me, dahling, I'll take you home I haven't seen my friend in ages!" Friend? Papa never mentioned to me that he knew Nick.
When we reached home, I called out to my Dad and informed him somebody wanted to see him. As my Dad emerged from the bedroom, Nick pointed at him and boomed: "My discoverer! My discoverer!" My father shot back: "Of course not! What am I, Christopher Columbus?!"
It was only then that I found out that my father, as literary editor of the prewar Tribune, published a poem by Nick, who was then unknown and a stripling at 17. My father even wondered if Nick Joaquin was a real name or a pseudonym. Serafin wanted to meet the contributor. He went to the Cashier to tell the Cashier to call him if ever a certain Nick Joaquin came to collect his fee. The Cashier did what Serafin requested. As Serafin approached Nick, the shy Nick quickly turned around and sprinted down the stairs, leaving Papa flabbergasted. Papa soon found out Nick was working as proofreader at the composing department of the printing press of The Tribune.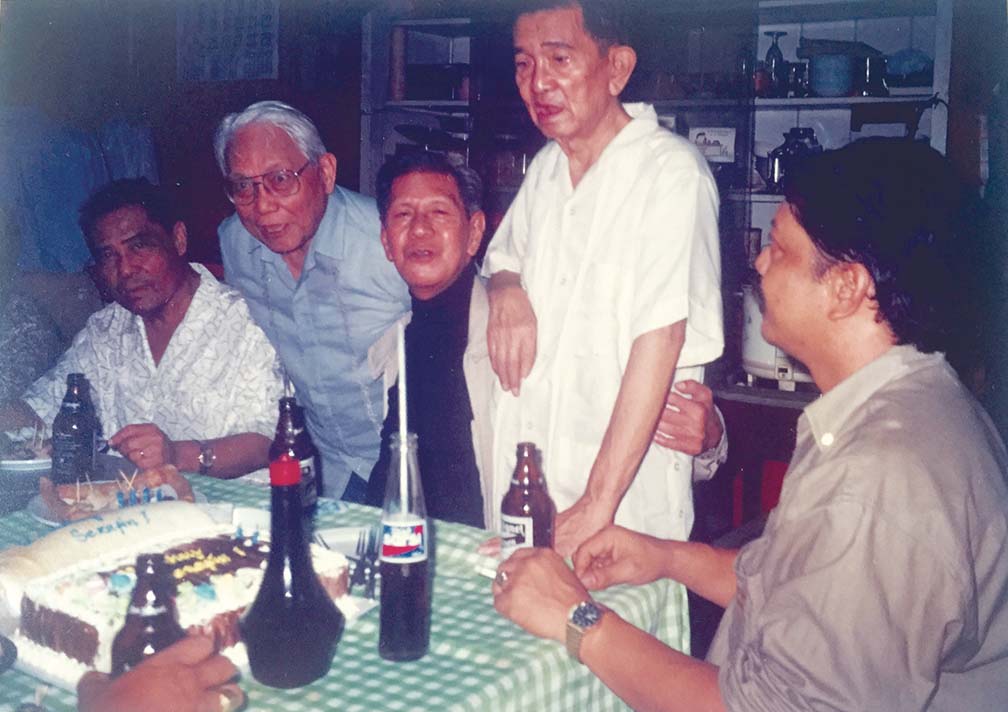 The encounter, on the evening Nick first brought me home, was a meeting of the two biggest influences in my life. It led to a lasting friendship. My strict Mom would not object to my going out at night if I said I would be with Nick. The truth is I would be with friends, not with Nick. If ever Nick did take me out, by midnight he was sure to bring me home by taxi, our magic pumpkin.
When Pete and I suddenly got hitched, nobody but our parents and siblings knew. And when Nick, our long–time matchmaker, and F. Sionil Jose found out about it, they separately feted us with a wedding reception—Nick at my parents' abode, Sionil at his Solidaridad Bookshop on Padre Faura. There was this Banana Club of the Beta Sigma fraternity members who also threw a wedding reception for us.
COME CHRISTMAS SEASON, NICK personally distributed presents to his godchildren. He would hire a taxi and turn it into his sleigh. (Nick refused to learn how to drive.) Imagine how tedious it might have been. But ole St. Nick seemed contented, for his recipients were happy.
If he brought Kris a gift, he would come up for a couple of beers and, of course munch on peanuts or fried chicken or callos. One time, Nick gifted Kris with a jeep. Pete and I never bought Kris toys, except Lego, once in a while. Until his old age, Nick would play Santa Claus to his godchildren.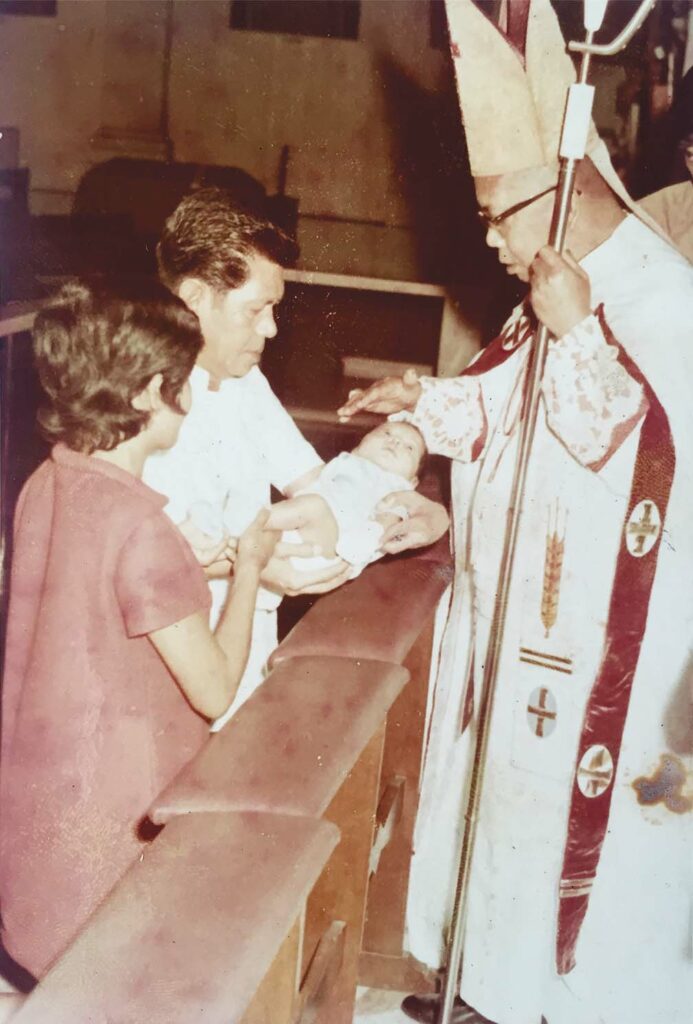 How did Nick become the ninong of Kris? His Lolo Serafin asked Nick to stand as godfather. Nick being so popular, protested that he already had so many hijados. "Sige na," Papa said, "Ngayon lang ako humiling sa iyo, e." Nick tapped his buddy Serafin on the forehead, and consented, then beamed, then pouted and feigned annoyance.
Godfather Nick affectionately showed his fondness for his godchildren by scaring them out of their wits. He would chase the Dalena tykes, Issa, Aba, and Kiri and the kids would scream and hide in their house in Kamuning, which is full of paintings and statues. Nick would also chase the Brillantes children, Patricia, Cecilia, and Alicia, and the girls would run and split up, looking for a place to hide.
In the Lanot house, Nick would run after Kris and his cousins Kojih, Gideon and Gimo. When Kris would pull the big rattan chair away from the window and step on the back rest and go up the window sill and jump, it was Nick's turn to get all wired up. "Hoy, Kulasa!" Nick glared at me, "hindi ka ba ninenerbiyos sa pinaggagawa ng anak mo?! Mabalian yan, lintak ka!"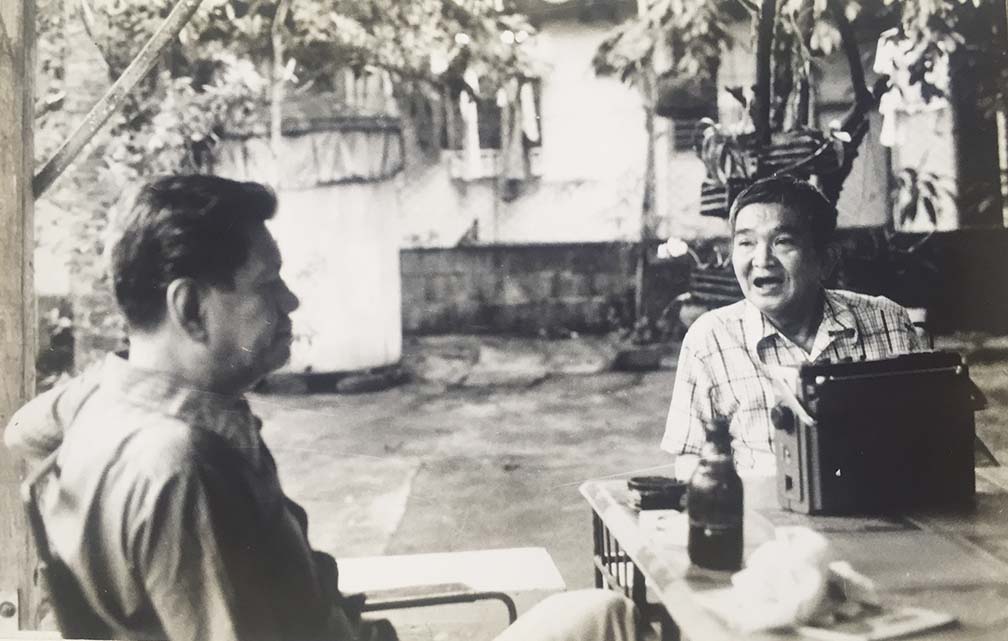 TIMES THERE WERE WHEN I WITNESSED NICK INTERVIEWING his subject. His stenographer Charito Lachica would usually be with him with a tape recorder. Charito would then transcribe the interview.
When Nick interviewed Movement of Attorneys for Brotherhood, Integrity and Nationalism, Inc. (MABINI) human–rights lawyer Augusto "Bobbit" Sanchez, Nick brought my whole family with him. Why? So that we could go swimming at the place of his brother Ike.
Another time, Nick interviewed my father Serafin for Panorama magazine on our little patio. Charito was not present, but Nick had a tape recorder. I don't remember now if I transcribed the interview. Papa talked about astrology, and Nick played devil's advocate, something Nick was expert at. The well–researched article presented the attitude of the skeptic as well as the scientific basis of astrology. It also discussed Papa's new perspective from an Oriental or a Filipino
Nick also interviewed Star for All Seasons Vilma Santos in Papa's office on the second floor of Papa's residence. Nick didn't go to Vilma. Instead, Vilma went to Nick. My mother–in–law Fe volunteered to bring the merienda to Nick and Vilma. My mother–in–law was utterly thrilled to bits.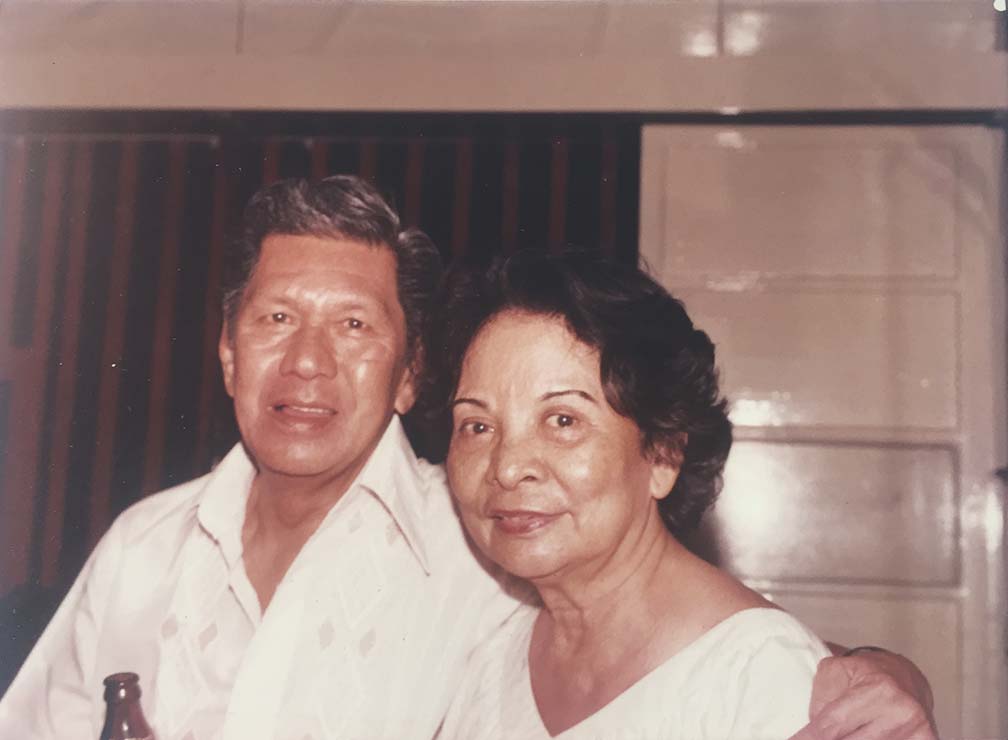 In between writings, Nick listened to music and watched movies in his house in San Juan. No longer writing by hand, he typed directly on his manual typewriter. He even operated his player to see his favorite movies, which he rented by the bulk from Simon Santos's Video 48 on West Avenue. Fred Astaire and Greta Garbo classics were heaven. As Nick became a suki of Video 48, he didn't pay a fine for returning the tapes late. He didn't get tired of viewing Casablanca. One of the last tapes he watched was Roberta, a Ginger Rogers–Fred Astaire 1935 musical in black and white. Nick Joaquin, at least, in his twilight years, was no more a technology troglodyte.
Regarding Nick's major works in his last four years, Billy Lacaba recalled Nick completed in 2000–2004 Sen. Edgardo Angara's biography, Ed Angara: Seer of Sea & Sierra as well as Abe: a Frank Sketch of E. Aguilar Cruz. The de–luxe Malacañan book was published in 2002 and launched at Malacañan Palace. Madame Excelsis: Historying Gloria Macapagal Arroyo was finished in 2001.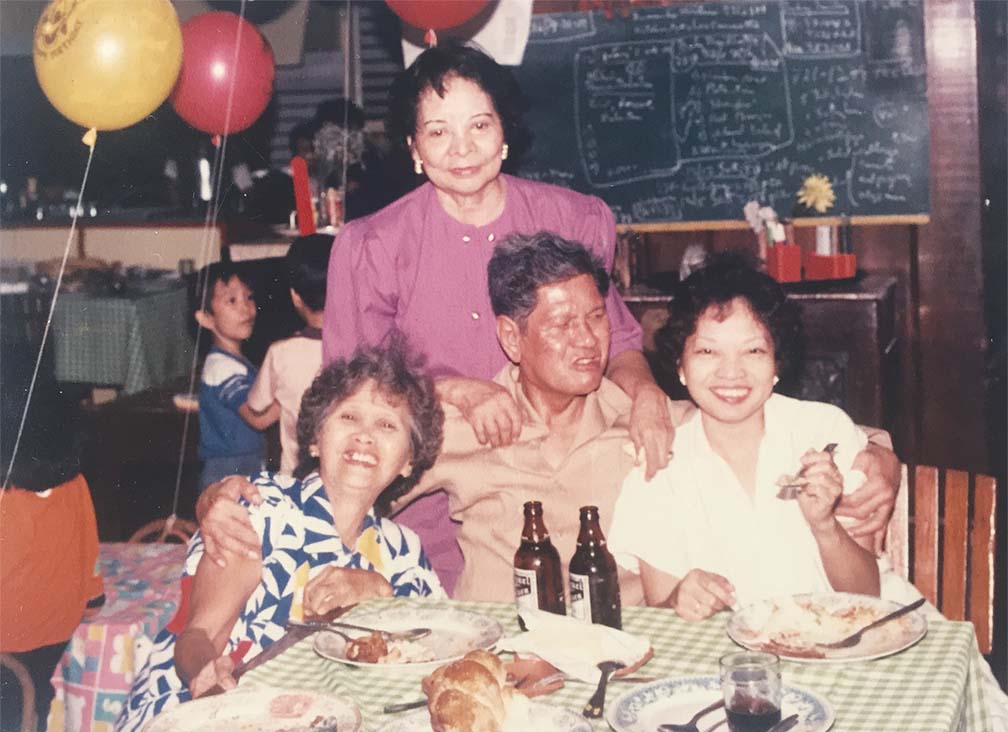 Billy, by the way, became Nick's official literary agent when Nick asked Billy to find him writing projects. When the indomitable Eggie Apostol, founder of Mr. & Ms. magazine (1983) and of the Philippine Daily Inquirer (1985), wanted a full-length play on martial law, Billy got Nick to do the job. No contract was involved, related Billy, just word of honor. But not long after that, Billy started to function as a formal literary agent. He chose the projects, in consultation with Nick, negotiated, and closed the deals.
Nick's last novel, Bat Lake, which is about bats, was first published in the Philippines Graphic in 2002-2003.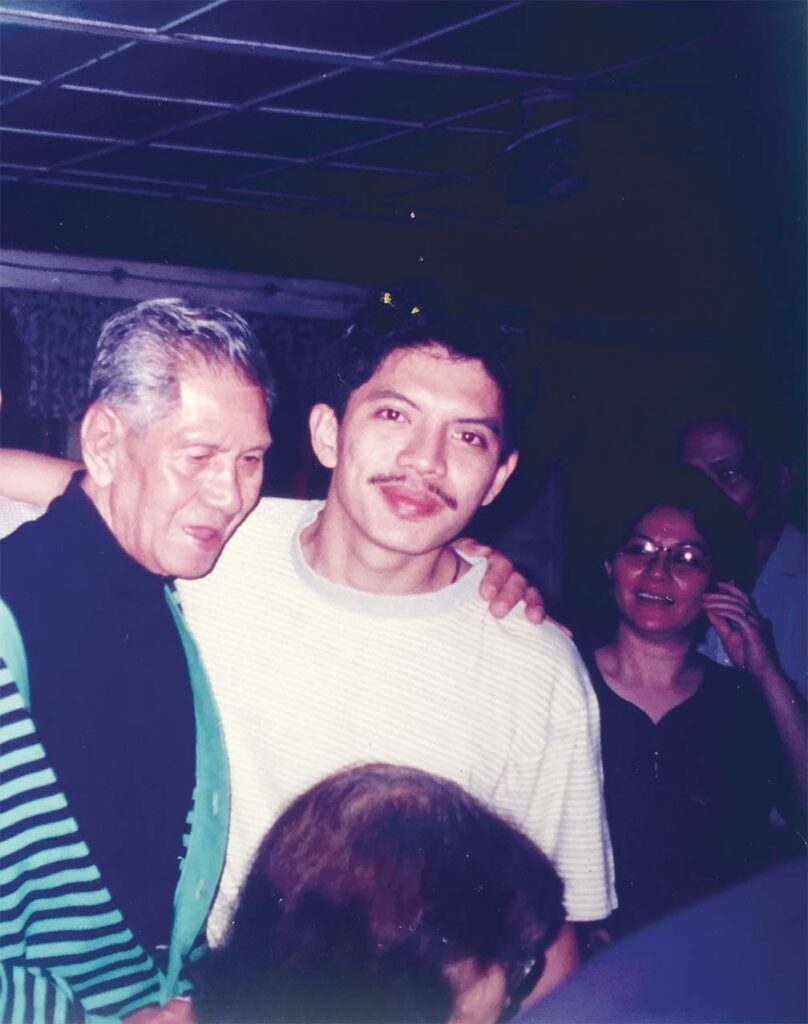 KRIS REMEMBERED THE TIME WHEN Sionil, upon the request of Nick, invited young writers to Solidaridad Bookshop so that Nick could meet the Gen X and the millennial pen pushers.
Nick was always present at important PEN activities and at the annual PEN conference in December. He would drop by Solidaridad to buy books and to chat with Sionil and wife Tessie Jose. And so, the day Nick saw the youngies from De La Salle University, University of the Philippines, and University of Santo Tomas, Kris recalled, Nick cried: "They're so young, and I'm so old!"
At a party, Nick suddenly said, "Kris, ikaw na ang mag-literary editor sa Mirror Weekly, ayoko na, matanda na ako. Dapat kabataan na ang mag-take over." Kris was perhaps so stunned that he did not or could not answer. So, Nick turned to me instead and asked me to replace him as literary editor.
When I accepted his offer for me to replace him as literary editor of Mirror Weekly magazine, the sister publication of Philippines Graphic magazine, I did so on the condition that I publish poetry and short stories in English and in Filipino. I was also to write a regular column in Filipino, entitled Siyanga pala.
One day, in the late 1990s, Nick called me up to ask why I was publishing pornography. He told me that he got complaints from nuns and priests, including Jaime Cardinal Sin, because I published a pornographic short story in Filipino.
"First of all," I retorted, shocked, "I've been writing articles against pornography, so why should I publish pornography? Second, you don't read Filipino, so how can you tell if it's pornography or not? Third, I can tell the difference between porn and erotica, between porn and art!" I was already crying in anger. Nick replied calmly, "Ok, dahling, I'll call you back when you're sober."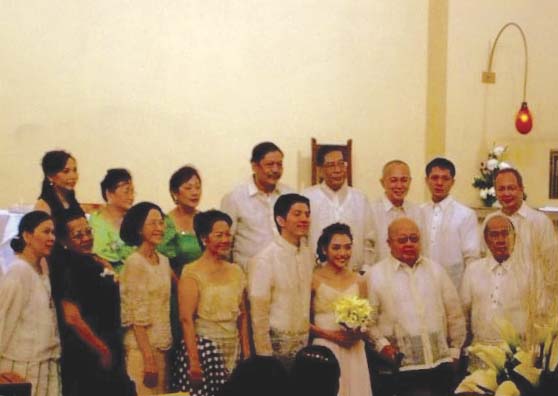 AT THE TIME OF NICK'S CARDIAC ARREST, niece Charo Joaquin Villegas, daughter of Nick's younger brother, the late Enrique, or Ike, saw the unfinished manuscript on his typewriter, the biography of tycoon Alfonso T. Yuchengco, which was later completed by Krip Yuson. The book came out in 2005, entitled To Leave a Good Name: The Legacy of Alfonso T. Yuchengco by Nick Joaquin and Krip Yuson, published by Water Dragon, Inc.
Before Nick passed away, he wrote the first draft of "ACCRA and the Post–Bellum Bar," added Billy, which the ACCRA Law Offices published in 2014. ACCRA stands for Angara Abella Concepcion Regala & Cruz law firm.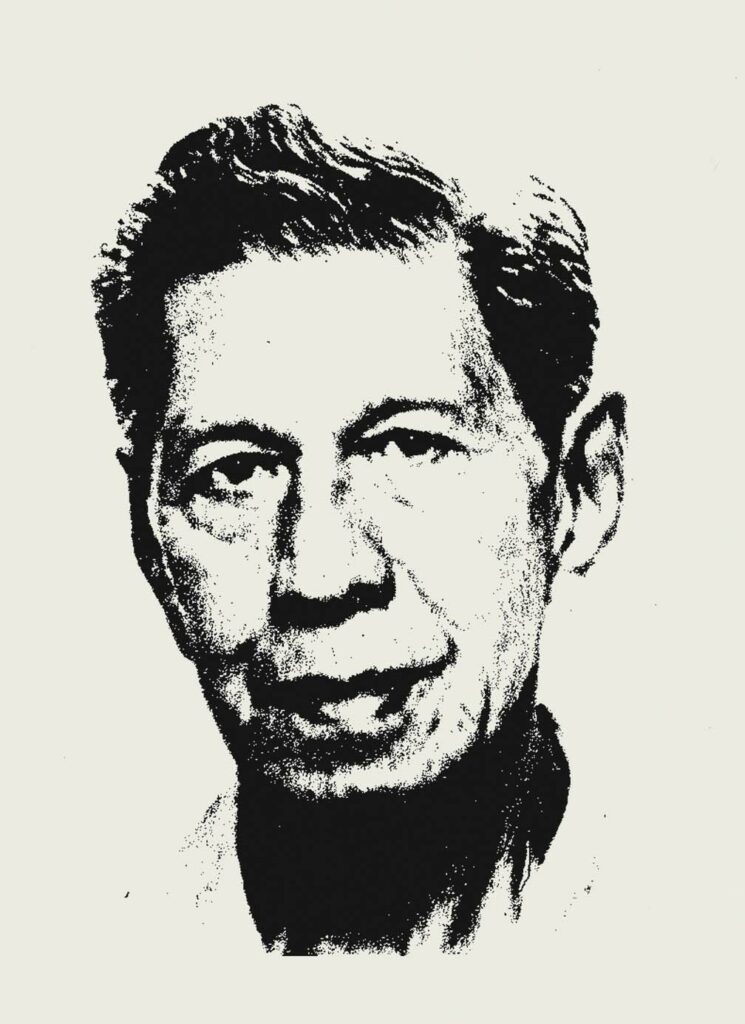 Was Nick political? Never one–sided, Nick wrote on controversial issues from all angles. One just has to read between the lines—study the words he uses, which viewpoints he highlights, what does he devote more space to, etc.
Well, his last play, commissioned by Eugenia D. Apostol for her Foundation for Worldwide People Power, is Pinoy Agonistes, done in 1999, about People Power. It was first performed on February 16–18, 2001, at Onstage, Greenbelt. Later in the same year, Nonon Padilla directed Pinoy Agonistes at the Cultural Center of the Philippines. The CCP presentation was moving. It caught the excitement of the unarmed revolution. It is obvious that he was in favor of toppling down dictatorships.
I vividly remember the day Ninoy's wake was transferred from his home on Times Street, Barangay West Triangle, to Sto. Domingo church in order to accommodate thousands of mourners. From Times Street to Sto. Domingo church, my Mom and Nick joined the procession while walking hand in hand.
ONE DREARY MORNING IN APRIL 2004, we received the news that Nick had gone back to his Creator. It was Charo who told Elena the sad news, and Elena told my Mom. They cried on the phone, not really knowing what to say.
Charo reported that Nick, or Tito Onching to Nick's own family, continued to drink beer until he began to lose appetite and felt weak. He adamantly refused to be taken to the hospital or see a doctor. He didn't want to undergo tests and to have tubes inserted into his body. He hated the thought of people poking their nose into his condition. He just wanted to be left in peace in his super clean, almost bare room, with his things well organized.
Nick's male help Jojo was the only companion of Nick. Jojo, trusted by the Joaquin family for many years, stated Charo, took care of the house and of Nick's food, which Nick didn't want to eat. Jojo immediately called up Charo and told her Nick was gone. That was April 29, about two weeks before Nick's birthday on May 4.
Our house was shrouded with grief. The telephone kept ringing the whole day. People from newspapers and television wanted to know if what they heard about Nick was true. It was as if a sensational scuttlebutt spread like wildfire, and we had only to confirm or deny. They wanted to know our reaction. But how could one talk calmly about such a loss? It hadn't even sunk in yet. It was a cold gust that sent shivers. It was larger than death.
During the necrological service to Nick at the Nicanor Abelardo Main Theater, CCP, Pete, Danny, and F. Sionil Jose, another of Nick's very close friend, paid tribute to the greatest Filipino writer in English. My son Kris Lanot Lacaba cried uncontrollably.
That reminded me of my Papa's wake, which was held in my parents' home. The atmosphere was naturally somber, not gleeful. While Mass was on going, I looked around, and found Nick standing by the window. With no one beside him, he quietly sobbed, his head bowed.
WHAT DO NICK'S barkadas have to say about him?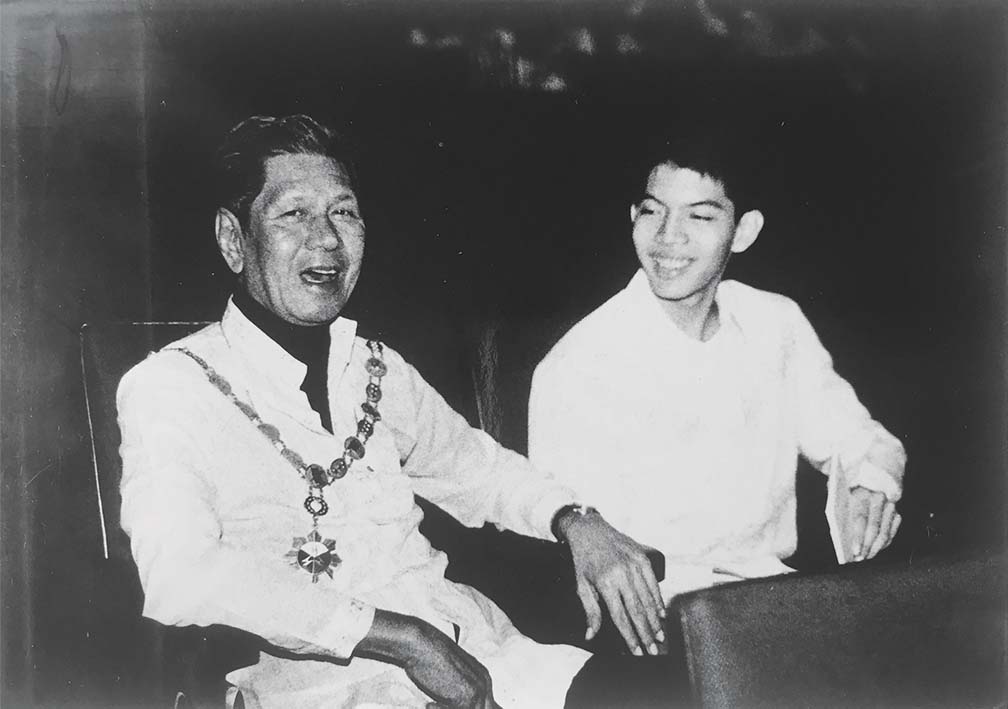 Kris Lanot-Lacaba, poet and co–screenwriter, opined: "His taste was eclectic. While he had a passion for jazz. He would take his inaanaks to see show bands and rock bands. He declared Jim Carey a genius when he saw Dumb and Dumber in 1994. Some years later, though, he vehemently denied having seen the movie. 'Never seen it! Never heard of it! What are you, crazy?' Baka nakalimutan na niya. O nataon lang na noong gabing iyon, ang gusto lang niyang pag-usapan ay Anchors Aweigh at Casablanca."
Jose F. "Pete" Lacaba, Nick's long–time co–worker at the Philippines Free Press and Asia-Philippines Leader magazines, said, "Nakakainggit si Nick. Walang kahirap-hirap sa pagsusulat. Tawag nga niya sa akin, 'agony writer.' Sa bahay, sinusulat niya sa kamay ang artikulo niya, tapos pagdating sa opisina, ita-type niya sa makinilya. Bilang tao, matulungin siya, but at the same time, lasenggo. Marami siyang in-encourage sa kabataan na magsulat tulad ng mga sa henerasyon natin."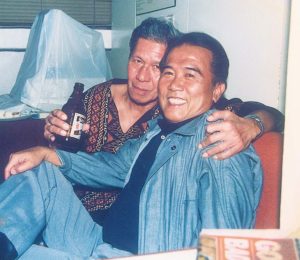 Billy Lacaba: "Nick Joaquin was a great writer and storyteller, and an even greater human being. As a writer: Profound and prolific, he excelled in every field or genre of writing that he chose, whether in literature or in journalism. In the distinguished company of national artists, living or dead, there's no term more apt to describe him than primus inter pares. As a person, the first adjective that comes to mind is compassionate."
Danny Dalena, visual artist and illustrator at Philippines Free Press and Asia-Philippines Leader: "Hindi kami nag-uusap tungkol sa pagsusulat. Wala akong alam doon. Pag sinasamahan ko si Wilfrido "Ding" D. Nolledo (late fictionist and screenwriter) sa bahay ni Nick, silang dalawa ang nagbabalitaktakan tungkol sa literatura. Nakikinig lang ako. Bilang tao, walang kapantay si Nick. Mahal na mahal ko siya. Pakiramdam ko, bakit ako minahal ni Nick, ako na bingengot na, dimwitted pa. Maski di kami nag-uusap nang seryoso, mahal ko siya."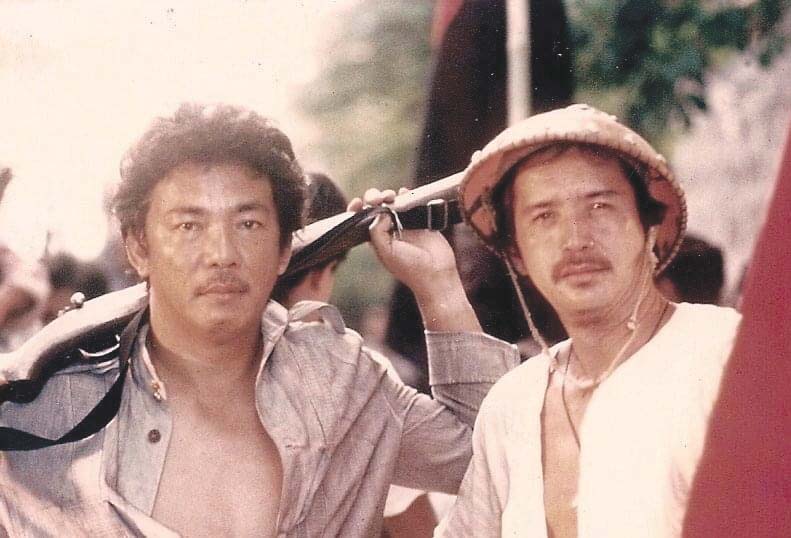 Recah Trinidad, poet and journalist: "Nick is a magnificent and legendary writer. He's a committed person—committed to friends and to his literature. He's a well–loved fellow."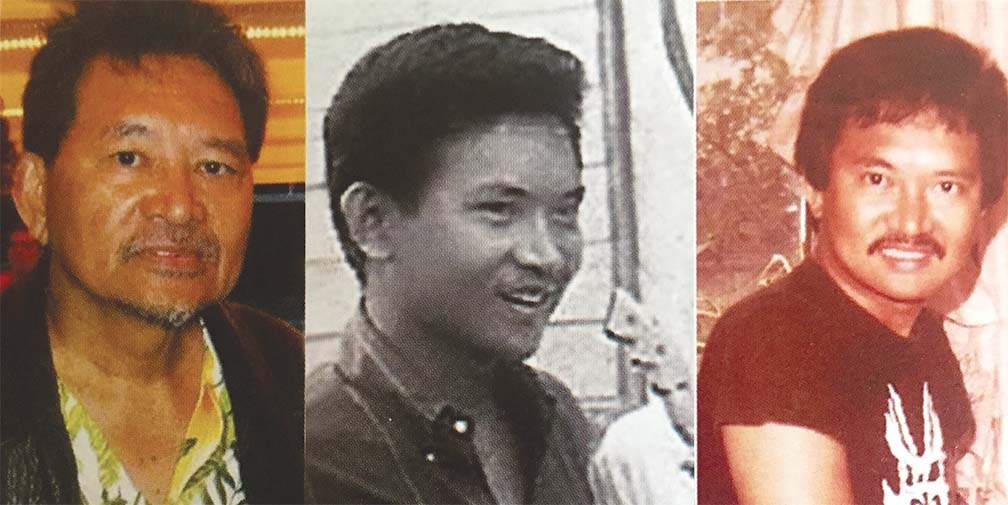 Wilfredo Pascua Sanchez, poet and fictionist: "Nick Joaquin is our Wordking still. Whereas Jose Rizal dissected and engaged the past, Nick treated it with nostalgia and honest scrupulosity. I remember Nick wearing a colored barong to a rare forum at the University of Santo Tomas. That was years ago, when nobody else wore a colored barong."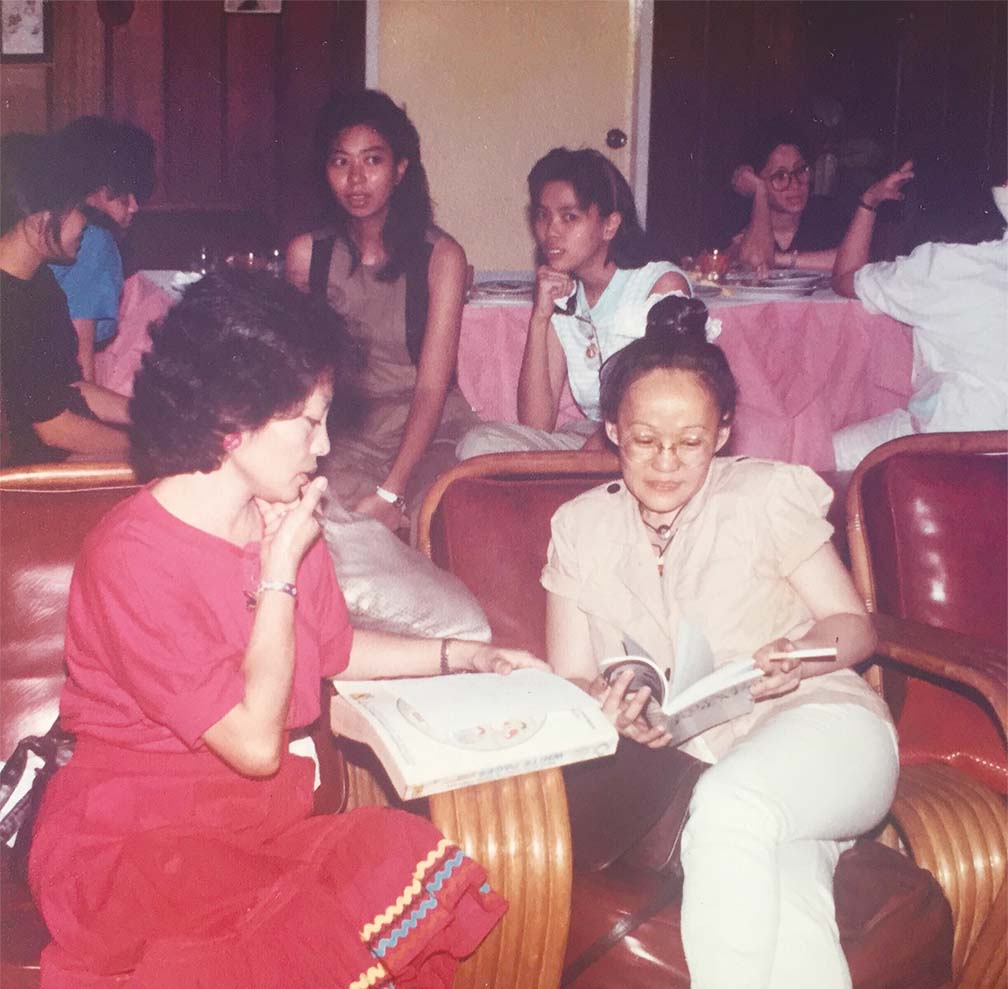 Feminist author and journalist Ninotchka Rosca, or "Nina" to Nick: "As a person, he was capable of profound empathy, of immense affection. When he passed away, I looked back at the instances when he suddenly appeared when I was in crisis and when other friends did not—and I still have no idea how he found out and also how he found out where I was, as we were all peripatetic during martial law. He was a great respecter of women's intuition; I can think of two occasions when, despite all the risks to himself, at great costs to himself, he accepted what I had suggested.
"He was also remarkable for treating everyone as an equal. Rich, poor, young, old, celebrity or unknown, the powerful and the powerless. I learned that from him.
"As a writer, he has had unparalleled influence—in his engagement with politics as a journalist; in his celebration of the melodic component ingrained in our oral literature; in his celebration of defiant Womankind. As I've said before, there wouldn't be as strong a women's movement or women advocates were it not for the impact of his literary writings. I am partly a product of Nick Joaquin, the person and the writer."
Erwin E. Castillo, poet and novelist, wrote in his book The Cycling Chronicles, a memory of childhood: "I had grown up in an almost seamless literary scene dominated by the short stories published by the Philippines Free Press, especially the annual prize winners. This scene extended from Jose Garcia Villa to Krip Yuson. The latter half of this era was distinguished by the example and critical opinions of Nick Joaquin, whom I met when he published a story I had written when I was 15. Nick, then 43, was literary editor and chief of their rotating judges, notably including my teacher Franz Arcellana. Nick was all encompassing; he appreciated the best of all literary styles, methods and kinds of story telling. Across the drinking table, Nick might challenge his freeloading young guests with the rhetorical sequence: 'And where is your novel of manners? Where is your historical novel? Your romance? Your adventure novel?' He would then beam in infuriating triumph, daring us. It was a stretch of course to claim, even in jest, that he had written it. But we ourselves had nothing to show; it was pointless to argue.
"In time, the devil wheezes, in time.
"He was generous in the extreme, partly because Nick was rightfully confident of his own superiority: he could be totally without envy. So, except in a few cases, the prizes seemed to be fairly distributed among the deserving, through a process largely immune from the small–minded nastiness of literary faction politics. Nick championed Greg Brillantes and Ding Nolledo, his upcoming challengers. He lavishly praised the widely dissimilar works of Leopoldo Cacnio, Wilfredo Pascua Sanchez, Lily Amansec, Ninotchka Rosca, Joe Ayala, Gilda Cordero, Cesar Aquino. The entire rising constellation. I was glad to be just outside this magic circle.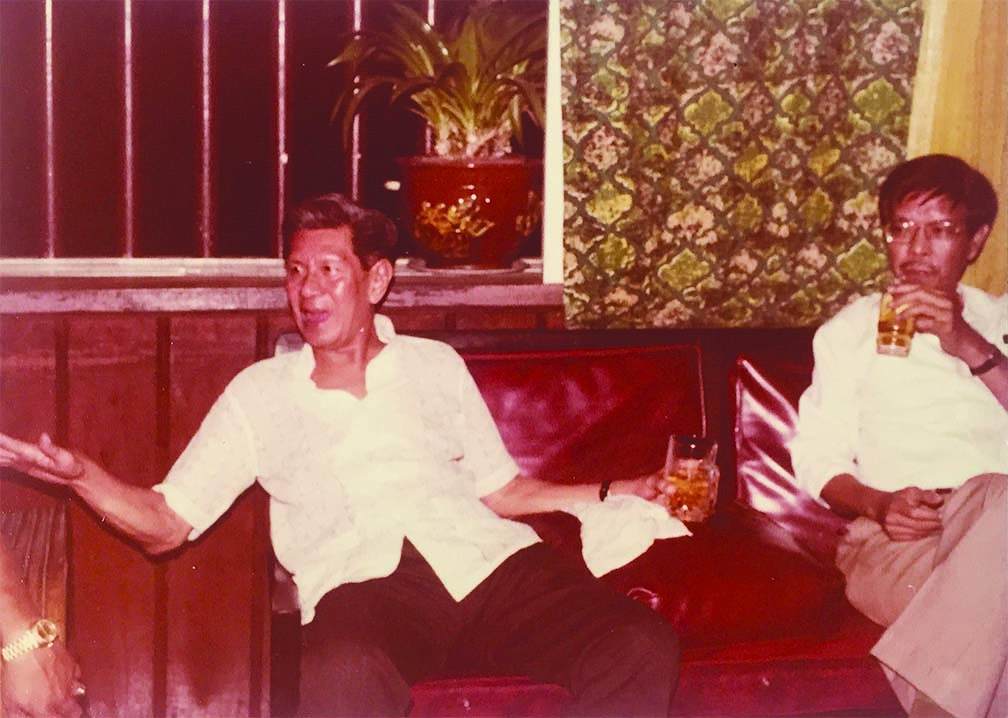 "Nick left the Free Press to found Asia-Philippines Leader with Greg Brillantes and Pete Lacaba. I joined them there later as literary editor. The very first issue of the magazine I worked on was aborted by marital law. To this day, I'm a little wary, unfairly, of authors whose work has not been favorably vetted by Nick."
IT'S A GOOD THING NICK is now beyond today's pandemic, which is politics–besotten in this pearl of the Orient sea, our lost Eden, as Jose Rizal wrote.
On his last days on earth, we didn't see much of Nick. We thought maybe he was busy with book projects. Maybe the Philippines's megabuck writer was also busy enjoying the fruits of his labor or blowing his money. Hardly anyone visited him in his two–story house on V. Agan Street. (Today, the house has been torn down. The herederos sold the lot.)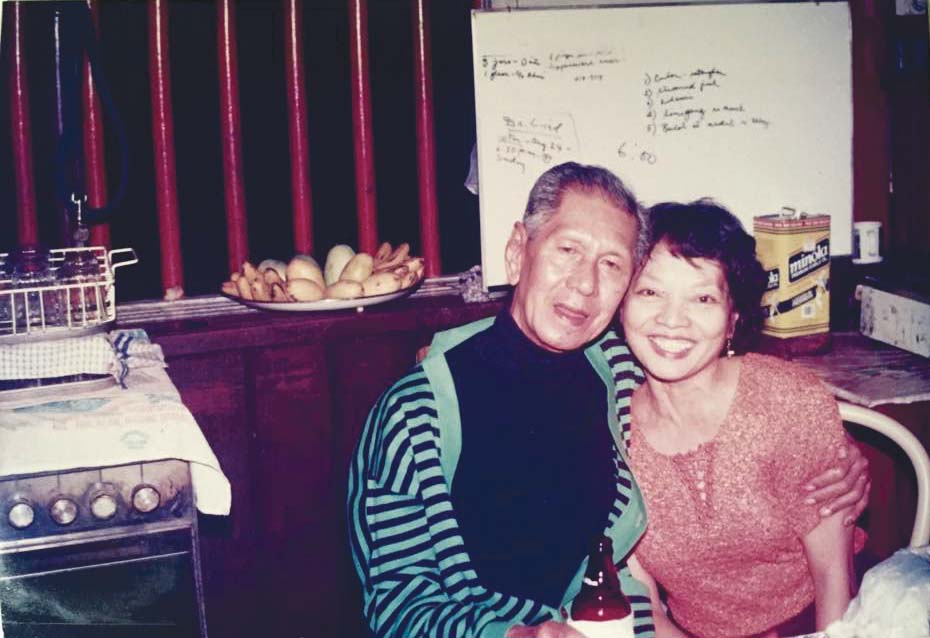 For others, you're the National Artist. To me, you're my ninong, guardian, conversationalist in Spanish, inspiration, friend. You can now laugh freely at your hidden enemies, those unhappy souls dying of envy. You can shake off the stardust or whatever dust there is where both true and fake heroes lie. You can fly free from the mausoleum. You can watch a mat sail your beloved Pasig river to the white foams of the sea. You can wear your tango shoes like a pro and dance on the walls and ceiling like Fred Astaire. You live on until the millionth and the last star fades. Thanks for the memory! Viva, Nick!