TOP PHOTO: As part of the financial education program for firefighters, a virtual training of trainers was conducted recently for more than 60 BFP officers.
BDO Foundation has joined forces with the Bureau of Fire Protection (BFP) and Bangko Sentral ng Pilipinas (BSP) for an initiative that will help the country's firefighters achieve financial independence.
As part of a shared advocacy to develop a financially literate citizenry, the partners have signed a memorandum of agreement for the implementation of the financial education program for the more than 30,000 uniformed and civilian personnel of the government's fire service agency.
The agreement was signed by BDO Foundation president Mario Deriquito, BDO Foundation trustees Lucy Co Dy and Lazaro Jerome Guevarra, BFP chief fire director Jose Segundo Embang Jr. and BSP governor Benjamin Diokno.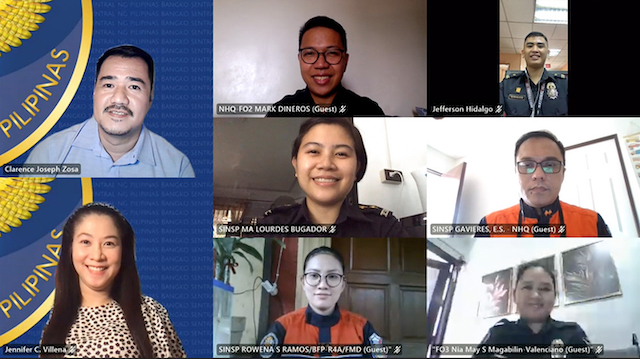 Speaking at the virtual training of trainers session conducted recently for BFP officers, Deriquito said, "Despite the limited mobility and lockdowns caused by the pandemic, we are finding ways to get the partnership off the ground. Together, we are helping improve the capability of BFP to provide financial education to its personnel."
"We would like to thank the trainers of BFP for helping us ensure that the program succeeds. We at BDO Foundation will do our best to provide you the support you need to fulfill your mandate. Thank you also to BSP for organizing the training sessions and for being our financial inclusion partner," he added.
The training of trainers was conducted for the bureau's subject matter experts, who will teach financial literacy lessons to BFP personnel across the country. The lessons covered such topics as saving, budgeting and financial planning, debt management, investing, scam prevention and consumer protection.
To help improve the financial literacy of the target audience, BDO Foundation, BFP and BSP will integrate the on-going financial education program in the regular training sessions conducted by BFP for its officers, personnel, retiring employees and future firefighters.
The partners will embed financial education resources in the bureau's training and development initiatives. They will also leverage the financial education videos produced by the foundation in collaboration with BSP and other partner government agencies.
The financial education program for firefighters is the latest corporate citizenship initiative of BDO Foundation in support of BSP's National Strategy for Financial Inclusion.
The foundation and BSP have also partnered with the Department of Education, Overseas Workers Welfare Administration, Civil Service Commission, Armed Forces of the Philippines, and Bureau of Fisheries and Aquatic Resources for the development of financial education programs for public schools, overseas Filipino workers, civil servants, the armed forces and fisherfolk, respectively.