Relative to the national government's relentless campaign on vaccination through "Bayanihan, Bakunahan," I am happy to share with you that Bataan, by the grace of God, takes the lead among provinces in Central Luzon with the highest percentage of fully vaccinated individuals of its eligible population.
The province of Bataan pursues a strategy of holistic, sustainable and inclusive growth anchored on its mission and vision. This strategy intimately links economic objectives with aspirations for the Bataeños' quality of life.
Bataan is richly endowed in terms of location, natural resources and human capital. In addition, its name evokes heroic courage and resiliency in the face of daunting odds.
Bataan hosts the biggest number of special economic zones, collectively offering a superior basket of incentives, combined with robust infrastructure and security systems, enhanced flow of raw materials and goods to and from factories and warehouses.
Indeed, by the end of 2019, Bataan had been making its mark across all meaningful indices—steady economic growth, declining poverty incidence, low inflation, high savings rate, job creation and a rising quality of life.
Suddenly, the COVID-19 pandemic wrought havoc on societies and economies across the globe. The province's road to recovery and renewed growth started by taking a fresh look at its mission.
Aiming for excellent public service has spawned an automated performance management system in assessing government performance in several areas that paved the way for being awarded the "Seal of Local Governance" in the last four years.
Complementing this feat is a national recognition of being the "Most Business Friendly Local Government Unit" in 2018 and 2021, proving the province's commitment in attaining top level human development index in the country.
SIGNIFICANT BREAKTHROUGHS
In the all-important health sector, Bataan had already been investing heavily in top notch services, systems and facilities. The 1Bataan Seal of Healthy Barangay provides efficient primary healthcare to grassroots communities through their own incentivized initiatives.
The same platform evolved during the pandemic through the 1Bataan Seal of dengue and COVID free barangay by rewarding frontliners with P25,000 for zero or 20% decrease of COVID and dengue cases respectively in their areas for two consecutive weeks.
Significant breakthroughs in secondary and tertiary healthcare were also made via the Service Delivery Network as patients seeking medical assistance are seamlessly being referred from the primary level.
During the pandemic, this online referral system has been the key to providing immediate and efficient medical attention to COVID-19 patients. It facilitated the enabling of Bataan as a pilot site for implementing the Universal Health Care (UHC) Act, as well as granting equitable access to quality healthcare through Malasakit Centers for indigent patients and 1Bataan Dialysis Malasakit Assistance Centers.
Prevent, detect, isolate, test and reintegrate—a holistic direct response to the pandemic. Fast, accessible PCR testing and efficient contact tracing have slowed down local transmission.
Pervasive online and on ground risk communication has effectively engaged communities in adhering to minimum public health standards and reporting violations.
Border control has been effectively enforced through technology driven measures. About 32 temporary treatment and monitoring facilities were established in 2020 to accommodate the rising cases of COVID-19.
The surge due to the new variants of the virus gave birth to the 1Bataan Mega Quarantine and Processing Facility catering to COVID-19 patients.
Our referral hotline with real time monitoring dashboard of active cases and the hospital bed tracker eased the burden for patients needing hospital treatment.
In addition, bed capacity was expanded in two major hospitals for COVID-19 cases—the Mariveles District Hospital (MDH) and the modular hospital inside the Mariveles Mental Wellness and General Hospital (MMWGH).Treatment for non-COVID patients continue to be sustained through facility expansions and partnerships with private hospitals.
VACCINATION PARTNERSHIPS
Experts all over the world dug deep in the lessons of history and came up with the understanding that only after the immunization of a viable percentage of the population can there be a possibility of normalcy to the life we know. This is how the anti-COVID-19 vaccine and the promise of achieving herd immunity quickly became the rallying point of every nation all over the world.
Recognizing vaccination as the ultimate preventive weapon against the pandemic, Bataan has harnessed its resources optimally to make sure that every eligible Bataeño would be inoculated.
A cold storage facility has been set up at the Bataan People's Center, the province's main vaccination site which is supported by 29 jab sites including the vaccination on wheels.
Partnerships have been forged with private sector and civil society to reach more people and resolve the problem of vaccine hesitancy due to misinformation.
The goal of the massive vaccination effort is to achieve herd immunity to protect a larger number of Bataeños and keep them healthy and ultimately open up the economy.
As of December 6, 2021, 88.37% of the population have received the first dose while 65.97% are fully vaccinated.
In this regard, Bataan is leading the way in Region 3. The province was recognized as a leader in Central Luzon with the most number of its residents who received the vaccine.
Indigenous peoples and persons deprived of liberty or PDL were targeted for vaccination.
And to reach, convince and prioritize the remaining unvaccinated population, the government launched "Handog sa Bakunadong Bataeño" Program side by side the Department of Health's (DOH) "Bayanihan Bakunahan" by giving away five kilos of rice to those who will receive the vaccine during the inclusive days of the National Vaccination Drive.
RESILIENT ECONOMY
On the economic front, Bataan has proved resilient thanks to its world class business processes and facilities which continue to improve with the aid of technology and human resource development.
To help tide over many Bataeños over sporadic lockdowns, the province supplemented ayuda from the national government with swift initiatives to keep families from going hungry. This was achieved through cash subsidies, distribution of 25 kilograms of rice per household and the distribution of hot meals to every indigent family.
Beyond stop gap measures, the provincial government accelerated efforts to make job and livelihood opportunities through job placement referrals, a PESO call center and an enhanced online platform for spotting employment opportunities.
The province has perked up livelihood and job creation on the ground by sustaining micro, small and medium enterprises or MSMEs. This was done through the creation of the 1Bataan Smart Business directory, a mobile lifestyle business app, a free online label design and printing services to MSMEs, thereby boosting their marketing efforts and the creation of the 1Bataan Handicraft Industry Eco-System.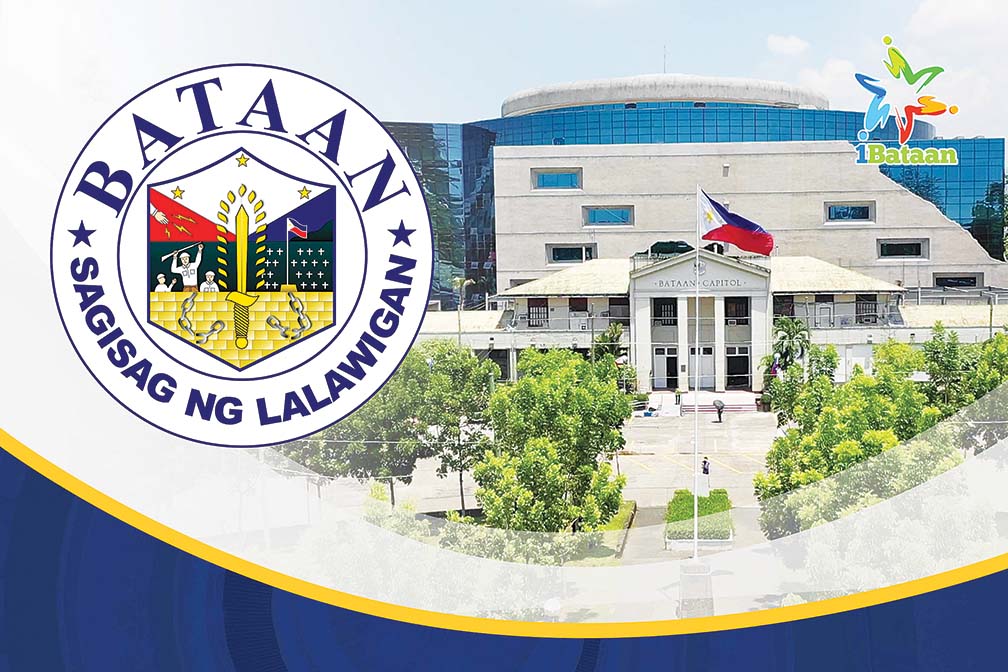 Over the years, the provincial government has honed its system of attracting, soliciting and processing bids for Public Private Partnerships or PPPs. The Bunker, the pilot PPP flagship project of Bataan, now serves as an elegant, one-stop shop. Now PPP projects are germinating in various industries.
The province has teamed up with an Israeli company to set up the One Bataan Agriculture, Innovation and Technology Center which empowers clusters of small farmers to modernize their operations and diversify into high value crops.
In healthcare, the provincial government is harnessing the expertise of a technology partner to develop the Heroes Health Smart Card. Bataan has also developed its no contact apprehension system
With sustained support over the years, Freeport Area Bataan (FAB) has established itself as a major contributor to the provincial and national economies. With FAB nearing full capacity in terms of locators, it comes as a welcome development that it is now legally authorized to accept locators in any part of the province. As of mid-2021, 19 FAB expansion areas have been identified, 11 of them outside Mariveles.
INFRASTRUCTURE, HOUSING
By far, Bataan's biggest ticket item in the pipeline is the 32-kilometer Bataan-Cavite Interlink Bridge that will further energize the dynamic economies of Regions 3 and 4 as well as the National Capital Region. Moreover, the redevelopment of Samat Shrine of Valor will make it a world class hub for history and culture.
In the shadow of the massive structure, 14 housing projects are in the works with built-in community facilities. These 1Bataan Villages will bring a decent province life to erstwhile informal settlers, fishermen and low income government employees.
Now, investors can ride on that dynamic momentum more easily than ever before. Through the 1Bataan Investment Center at the SM Mall of Asia Complex, potential investors can get a taste of Bataan's potential as an eco-tourism hub. The province is now a few comfortable hops away.
Even as the province continues to dream big in the middle of a pandemic, it makes sure that no Bataeño is left behind. The COVID-19 experience has showcased Bataan's resiliency, malasakit and the value of unity and cooperation on multiple levels. It all comes back full circle to the Bataeños' shared aspiration for holistic, sustainable and inclusive growth.