A journalist remembers how the former labor and foreign affairs secretary and Senate President remained a lifelong newspaperman at heart
The opportunity to cover Blas Fajardo Ople, the late labor and foreign affairs secretary and lifelong newsman, when he became a senator, was a fortuitous point in my career as a political reporter who spent most of his years at the Senate.
I had known Ka Blas way back when I was in my early teens, as one of the colleagues of my late father, the journalist Calixto "Stutz" Fernandez Jr. Both were in the pre-martial law Times-Mirror-Taliba stable—in an era considered as one of the best for Philippine media.
From their office on Florentino Torres St. in the heart of Manila, these grizzled journalists would work 10, 12, even 14 hours a day, darting in and out of the newsroom to cover, and then coming back to write stories. In the case of Daddy Stutz, he was also made to close some news pages of the Daily Mirror. Ople was tasked to write editorials, which fitted him perfectly, as he had shown, I was told then, an amazing grasp of so many issues, something attributed to his voracious reading habit, and an equally amazing articulateness in writing.
My father liked to recall, later in life, how they "worked hard and played hard," as newsmen of their generation liked to put it, by way of justifying the rowdy evenings at the National Press Club bar.
Blas and Stutz liked to shoot the breeze after a hard day's work by imbibing alcohol. One story has it that one day, Ka Blas shot something else besides the breeze: after a particularly long, exhausting day filled with bad news, he took out a handgun and fired a shot at the newsroom's ceiling, earning a stern warning from the bosses.
According to recollections of older newsmen, then Manila Mayor Arsenio Lacson gave his roving field officers a standing order to "make sure these two men get home safely if your [police] mobile team sees them wandering past midnight."
As it turned out, neither man had any major mishap in their rowdy days as newspapermen, and eventually found themselves reunited at various occasions later in life. Ople would later write for the Philippines Graphic magazine.
Martial law, of course, shuttered most of Philippine media, and the lives they led in the newsroom would never be the same again. But that's another story.
QUINTESSENTIAL JOURNALIST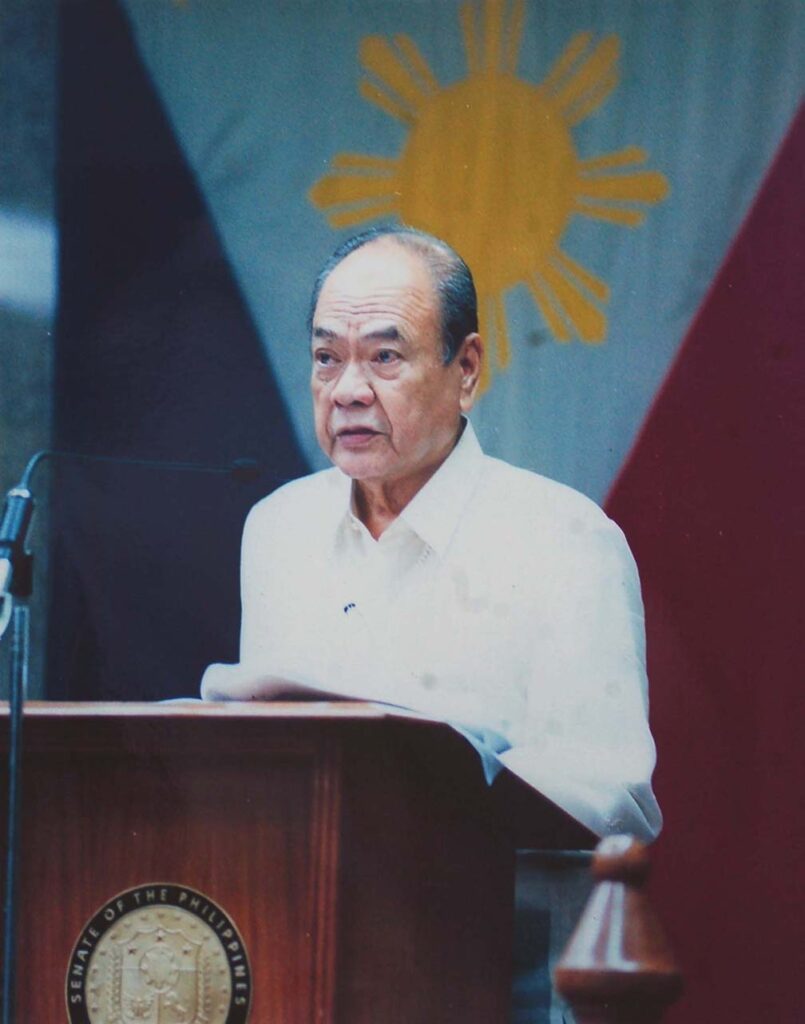 From the trenches in Manila's chaotic media and labor front, to a serene afternoon by Lake Geneve in the nineties, Ka Blas Fajardo Ople, the larger-than-life former Senate President, foreign affairs secretary, labor secretary, Constitution framer, was, to me, someone who never strayed from what I would call the essential Blas F. Ople.
Down to earth. Madaling kausap [easy to talk to]. Humble despite his intelligence and his largely self-fueled education.
He was a few years younger than my father when they were starting out in the Times-Mirror-Taliba.
They were the quintessential hard-nosed journalists of their generation—hard-working, intelligent, tireless, tough interviewers but soft-hearted when writing about common folk and the marginalized. And they were excellent story tellers, especially when sharing booze at the end of a long, hard day.
Ka Blas improved constantly on this last skill, thus making himself the perfect source for journalists when he went on to be a public servant, with several incarnations. I didn't have the chance to cover him in his long years as labor secretary; and later as foreign affairs secretary. But in between those two Cabinet positions, he was a senator for many years, and it was during those years that we covered him with all the gusto that star-struck reporters had.
Ka Blas was a dream interviewee. He said the best things, used the right words, told stories in an engaging manner, and, unlike other news sources who just liked to hear their voices, he kept one eye out on the interviewer. If he noticed you're not writing as fast as he spoke, he would deliberately slow down or repeat some key words. He seemed to keep that unique talent of journalists to read notes backwards, so that—we sensed it in the Senate beat—he could read what we were writing down.
He had another habit that endeared him to reporters, and showed us he was, forever, the newspaperman par excellence: he wrote his own press releases and speeches. Each time the Senate was approaching a recess—or, to borrow that famous word that nearly tripped him, "interregnum"—we would come up to him and inquire, suggestively, "paano iyan, sir, break na naman kayo, e, di tigang ang istorya natin [Sir, now that you're going on a break, we're in for a drought in stories, huh]?" Whereupon he would chuckle, his eyes famously narrowing, "siyempre, ako na naman ang aasahan niyong mag-supply ng istorya niyo, ano [of course, you guys would now expect me to supply you with stories, huh]?"
He would say it good-naturedly, and then, in the next few days, his flawlessly written press releases, statements and even occasional notes on issues would keep coming. The man was truly a workaholic.
The only time we would notice his absence were during those brief, weekly trips to his favorite barber. The late broadcast journalist Jun Bautista of GMA-7 used to call the guy "the highest-paid barber in the world," because, he said, Ka Blas just went to him not so much for a haircut—what with his hair having thinned early—but for the soothing, "snip snip" sound of his scissors. It seems the senator needed that soft sound to lull him to sleep. Besides the restful nap, the barber gave him a brief head and neck massage that must have provided precious respite from the crushing burdens of his office.
Besides those precious trips to the barber, the essential Ka Blas seemed to draw comfort from coffee breaks with close friends and colleagues, and with some of his most trusted journalists. Once a week, he loved to host a regular press conference over lunch with his close friend, Sen. Ernesto "Boy" Herrera and businessman-friend Matthew Tan. So much so that the Ople-Herrera tandem was dubbed the Senate's "Batman and Robin."
I'd like to think that, despite all the incarnations in his career, and the lofty positions he held, Ka Blas was, first and foremost a newspaperman. That's why he stayed true to his journalist friends. When he was Foreign Affairs secretary, a crisis of sorts erupted when a former newsman who became a career diplomat became subject of a complaint by his host government because of some colorful remarks he made in an exuberant moment in an interview.
Ople, having seen the newsman blossom from intrepid, talented reporter to a well-honed diplomat, had to find a quick way to douse the fire without looking like he disregarded what seemed to be a valid complaint. At the same time, he valued his man. From what I would piece together later, the DFA chief quietly asked Filipino media friends to show their support for their former colleague, so that he could also in turn signal to the complaining hosts that the newsman-turned-diplomat enjoyed a good reputation and remained widely respected. This, so that the hosts would not resort to the worst sanction of expulsion. The mini-crisis was soon extinguished and ruffled feelings smoothed out.
COLORFUL LANGUAGE
Because he was such a voracious reader, Ople's vocabulary was understandably robust. He loved using such multi-syllabic words to journalists such as impregnable, intermittent, transmogrified, and, his most memorable—interregnum. We thought he deliberately used those words to play a prank on us, to force us to run to the dictionary.
If his English vocabulary was robust, so was his cabinet of Filipino words. The true son of Bulacan used the most colorful and precise words. Reporters especially remember some of his favorites—gulugod for spine and kabuktutan for anomalies. But he also used street words occasionally, and this we found amusing. On the sidelines of the ILO assembly in Geneva in the late nineties, we joined him on a brief boat ride, where he wore his new pair of shoes—we had toured the Bally plant the day before, and got a couple of pairs at factory price. But as we were navigating for space near the berthing line, a boat accidentally hit a post, creating a wave that sprayed water on ours. The Senate President's precious new shoes got wet with the spray. He grinned, but you could sense the disappointment as he wondered aloud, "sino bang nakaisip ng katarantaduhang ito [whose idiotic idea was this]?"
One sunny morning in that same Geneva trip, Ka Blas showed his love for a good laugh, a trait that most newspapermen would keep long after retiring. We were sipping coffee at the al fresco area of the Hotel Balzac—a favorite of the Philippine delegation to the ILO, so much so that they once called it, "Hotel Blas-zac"—when a Filipino official, who was not on Ople's entourage, passed by. He greeted Ka Blas, then turned to me and gently slapped me on the shoulder: "Butch Fernandez, what are you doing here?" Taken aback by what I felt was a tinge of condescension in the tone, I quickly shot back: "Me? I live here!!?" Whereupon Ka Blas could not help but spit out his coffee as he laughed out loud.
Of course, covering Ople without his smoking habit would not be a complete recollection of the man. If you wanted to get up close and get his private views or advance reading of a tough legislative measure or divisive issue, the best time to do that was during his famous cigarette break at the corridor near the men's room in the old Senate building on P. Burgos. But of course, you'd have to be able to stand the feeling of a game cock being prepped with puffs of smoke.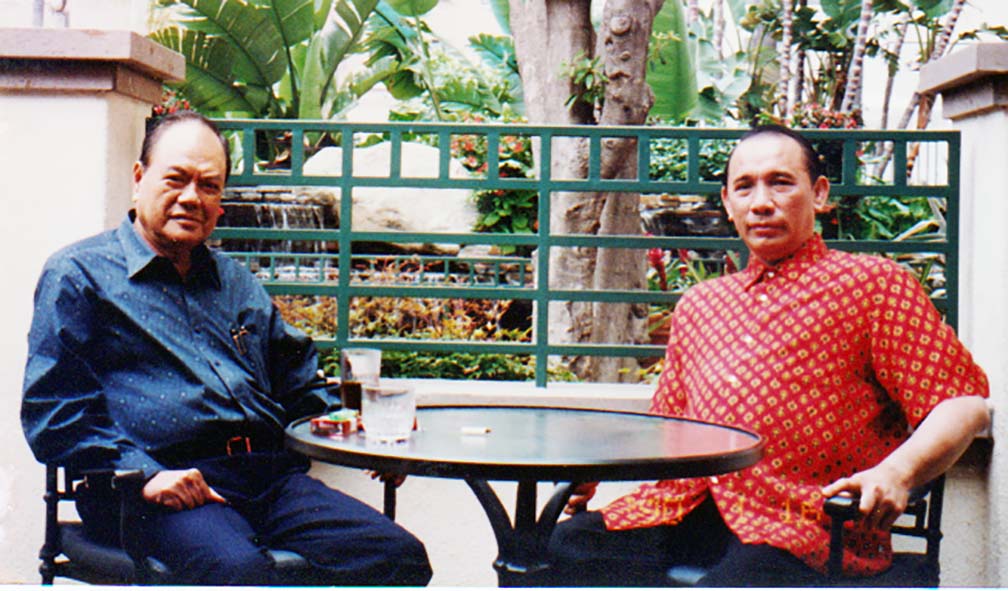 I have covered presidents, generals, Cabinet secretaries, rebel leaders, mayors and local warlords. But no one compares with Blas Ople. Ka Blas, Amang, and "Batman" to Senator Boy Herrera's "Robin"—he went by various monikers but had a singular style that no one else in Philippine public service could perhaps ever match. And few, I think, could match the impact on national life of his work. Truly, this is a legend come to life.
______________________
The essay is partly based on the remarks delivered by Butch Fernandez, BusinessMirror's senior political reporter, at the Feb. 3 "Blas Ople Forum on Philippine Overseas Employment: Past, Present and Future," marking the late Labor secretary's 95th birth anniversary