The Metrobank Foundation, Inc. (MBFI)took home its 3rd Grand Anvil at the 57th Anvil Awards, specifically for its program that provided supplemental aid to 10 community pantries in Metro Manila.
Organized by the Public Relations Society of the Philippines (PRSP), the Grand Anvil is given to a public relations program which stands out among the Gold Anvil winners. Considered as the Oscars of the public relations industry in the Philippines, the Anvil symbolizes excellence in public relations and is awarded by distinguished multi-sectoral jury to outstanding public relations programs and tools. The Gabi ng Parangal was held virtually on February 24, 2021.
With the disrupted food supply chains and inadequate livelihood opportunities due to restrictions, the most vulnerable struggled to find means to nourish their families and put food on the table. What emerged from this need was the Filipinos' display of ingenuity and compassion. Soon enough, community pantries started to open in various cities, bringing together people to provide food aid.
Together with GT Foundation, Inc. (GTFI), the project was able to bring people together to a shared cause, show solidarity and provide hope and inspiration to Filipinos whose lives and livelihoods were severely affected the pandemic.
Leveraging on its thrust of fostering multi-stakeholder partnerships, assisted community pantries provided food assistance to 13, 926 indigent families during a four-week period, from May 22-June 12 in Manila, Quezon City, Makati City, Mandaluyong City, Marikina City, and Taguig City. By working with the Society of Jesuit-run Tanging Yaman Foundation, Inc., other affected sectors like local farmers and displaced jeepney drivers were also assisted. Working with the Tanging Yaman Foundation enabled MBFI to source vegetables and dried fish directly from the source—various farmers from Northern Luzon and fishermen from Visayas, following a "farm-to-community pantry" framework.
In his acceptance message, MBFI president Aniceto Sobrepeña said, "This Grand Anvil, is dedicated to the national movement to curb hunger. We share this victory with our partners in the government and private sector, as well as each frontliner and Filipino, who strive to look after communities. May we all lean on hope and be the hope that our country needs as we carve a better future for all."
Sustaining its commitment to provide food for the marginalized, the joint efforts of MBFI and GTFI has benefitted more than 31, 926 families all over the country. These projects include feeding programs and distribution of food bags to communities most affected by the pandemic, as well as those who were victims of natural calamities and disasters.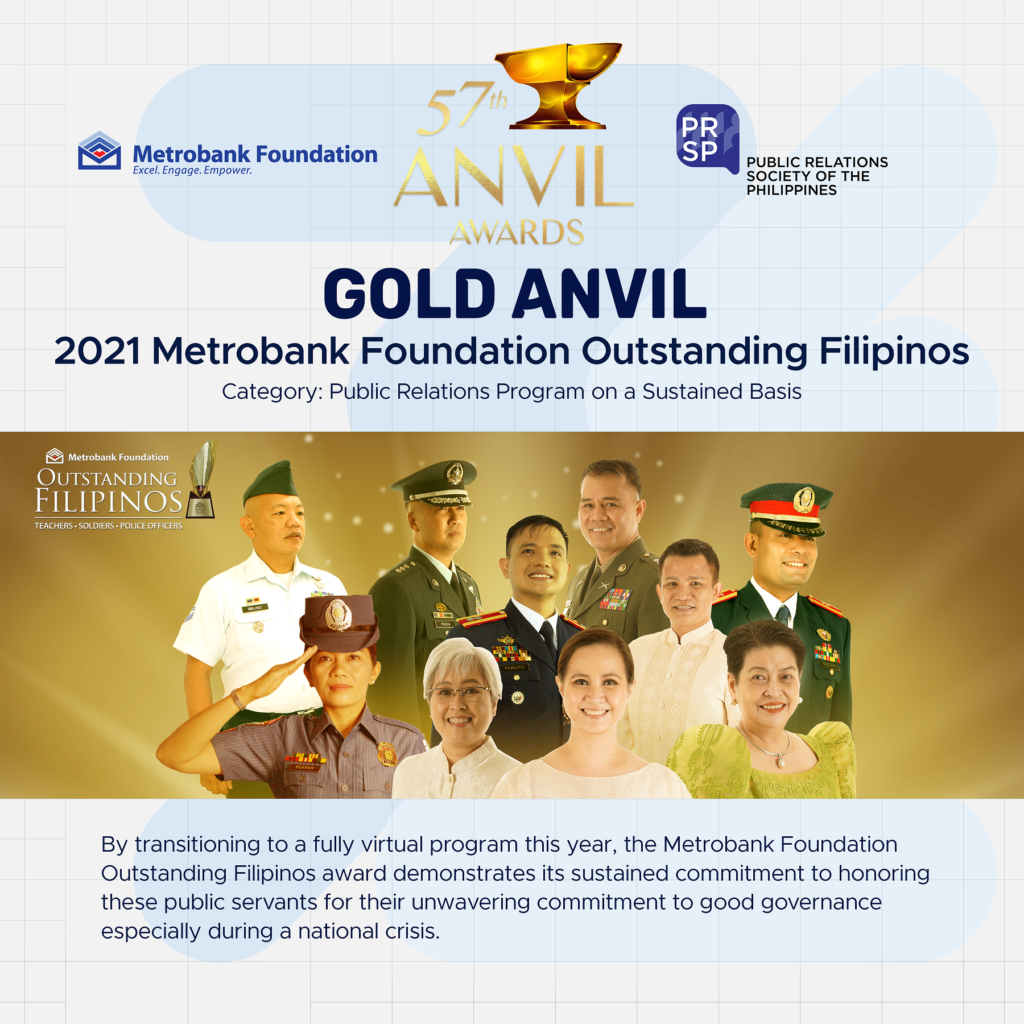 Another recipient of the Gold Anvil is the "2021 Metrobank Foundation Outstanding Filipinos." Also nominated for the Grand Anvil, this public relations program is considered as the most prestigious career-service award in the Philippines, recognizing exemplary teachers, soldiers, and police officers. Since its inception, it has recognized 685 Outstanding Filipinos who went above and beyond their call of duty as public servants. The program was deferred last 2020 due to the restrictions imposed by the COVID-19 pandemic. By transitioning to a fully virtual program in 2021, MBFI demonstrates its sustained commitment to honoring these public servants for their unwavering commitment to good governance especially during a national crisis.
These accolades made way for MBFI's nomination to the most coveted "Company of the Year," a recognition given to an organization which garnered the greatest number of accumulated points based on the trophies it received.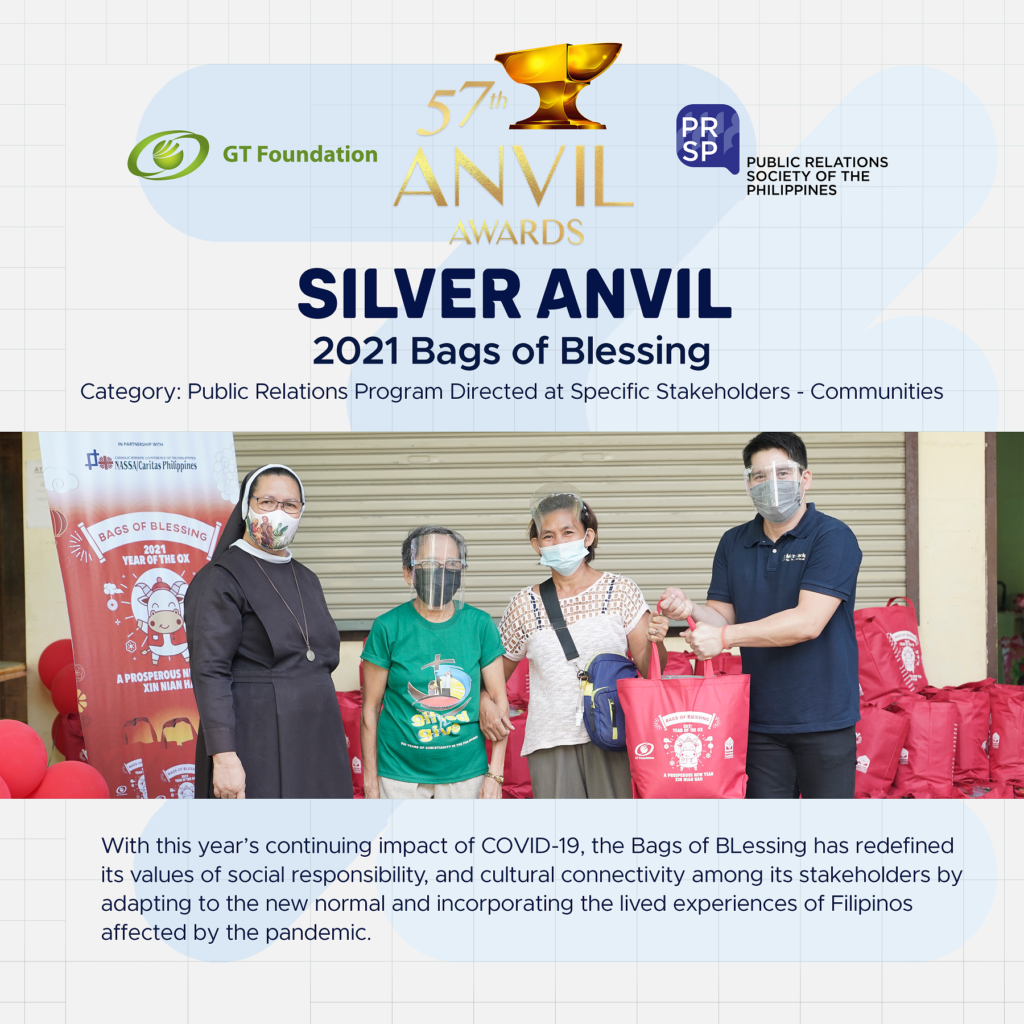 On the other hand, GTFI, the family foundation of the Ty family, received a Silver Anvil for the 2021 Bags of Blessing (BOB). A gift-giving program initiated by the late Metrobank Group Chairman Dr. George Ty Siao Kian, BOB is celebrated every Chinese New Year and unites employees of the Metrobank Group of Companies, and institutional partners to participate in the legacy to sustain a culture of "paying it forward." Last year, BOB has distributed 18,000 bags of food items worth Php 1,000 to 18,000 indigent families in 33 sites nationwide.
MBFI has been winning the Anvil awards since 1985. To date, it has won 95 Anvil awards for its various public relations programs and tools, gaining the record as the first corporate foundation to win a back-to-back Grand Anvil (Metrobank Foundation Search for Outstanding Teachers in 2010 and National Teachers' Month Campaign in 2011) and 2 Platinum Anvils ("Launching Dreams:" The Metrobank Foundation, Inc. 35th anniversary Celebration in 2015 and "Empowering Filipinos, Building the Nation" 2014 Metrobank Foundation Annual Report in 2016) in the history of the award-giving body.
MBFI has also earned three Hall of Fame Awards for its programs the Metrobank Art & Design Excellence (MADE) (2016), the Metrobank Math Challenge (2018), and the National Teachers' Month (2020). It was also hailed as Company of the Year during the 51st Anvil Awards in 2016.