March is women's month, thus, among other stories, this take on women in Philippine politics, not by a political pundit, nor a social scientist but by one from womankind who hold up half the sky.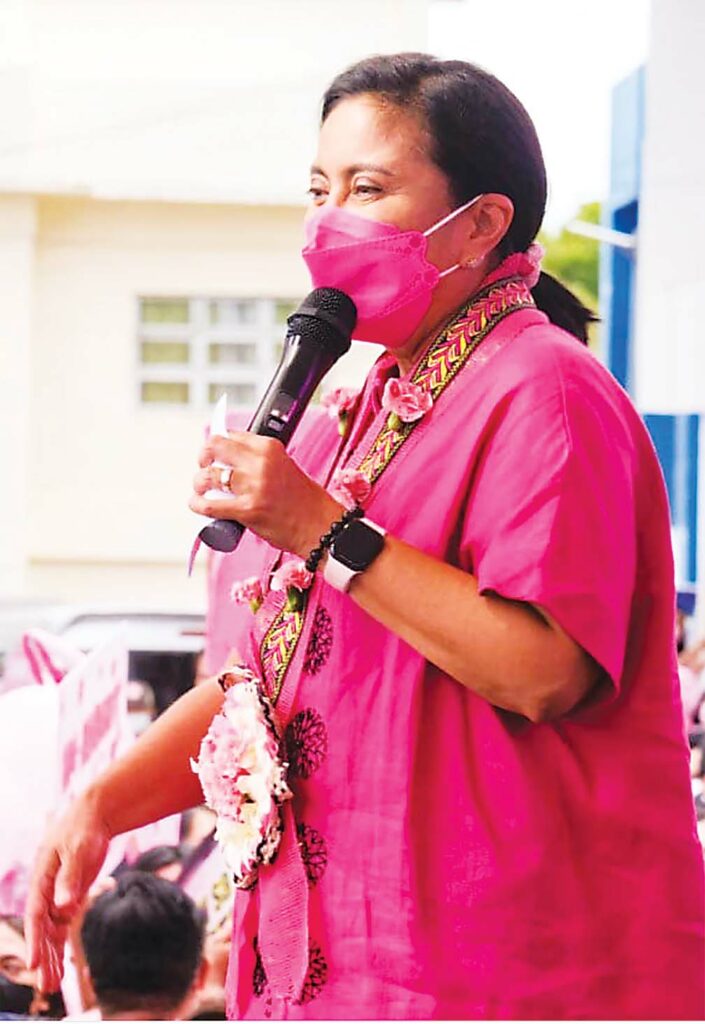 Thirty-six years apart, in a different, yet similar time and clime, a phenomenon is repeating itself. No matter on what side of the political divide one stands, one must admit that no story of Philippine politics can be told without the narrative of two women, both widows of political icons, both reluctantly drawn into the political arena, both subjected to withering criticism and falsehoods, and both fated as dragonslayers. Cory Aquino, who was instrumental in ending the dictatorial regime of Ferdinand Marcos. And now, Leni Robredo, for the second time in a bid to stop the return of Marcos rule.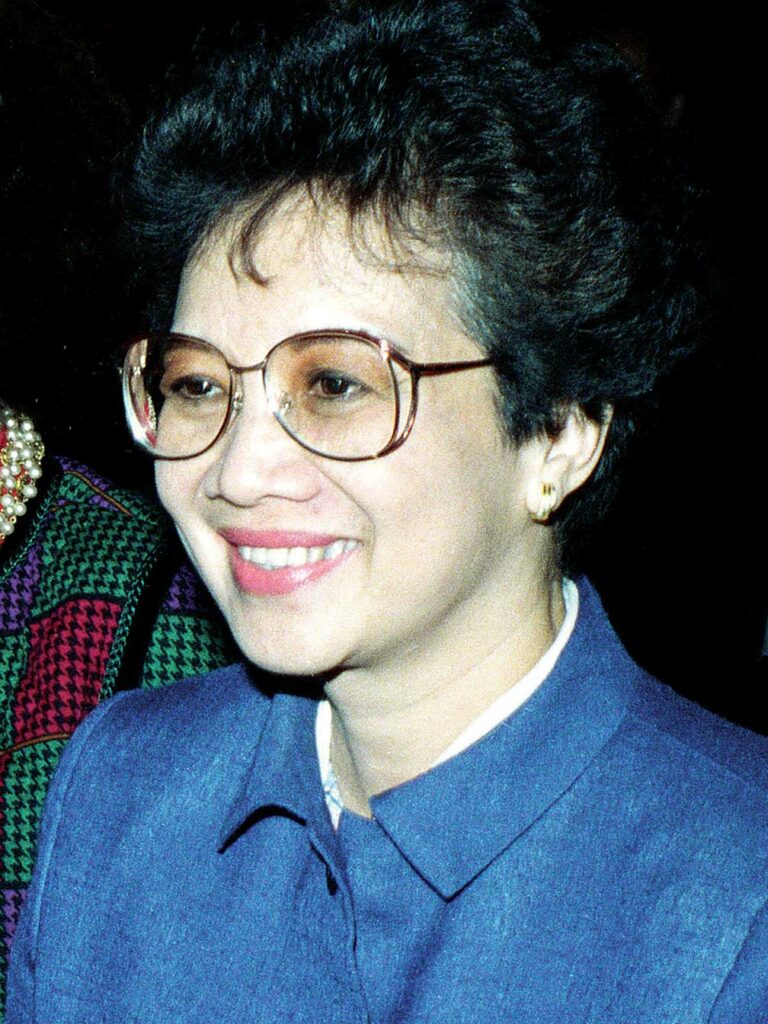 I remember the campaign for the 1986 snap election. A coven of warlocks, call them advertising hotshots, put their heads together to think of ways to diminish, demolish presidential candidate Cory Aquino. She was dismissed as "just a woman," knows nothing, is weak, emotional and other chauvinistic, stereotypical putdowns of women. But Edsa happened. Similarly, attacks plague presidential candidate Leni Robredo today. Absent any legitimate issue to throw against her, opponents use the immorality card, with hackneyed accusations like engaging in illicit affairs, being a mistress, getting pregnant, having an abortion. Nothing seems to stick though, because the woman has ignited a movement, a spontaneous combustion of support.
I cite the above not to be partisan, but to take exception to the sexist profiling of women by some sectors as babae lang (only a woman), mahina (weak), emosyonal (emotional), walang alam (ignorant), boba (stupid), imoral (immoral). Compared to this vitriol, the reason for denying women the right to vote before they earned it in 1937 is gentler, kinder, chivalrous, even though still sexist. To quote election lawyer Romulo Macalintal, "Since the first national election in 1907 for the Philippine Assembly, only Filipino men were allowed to vote. Filipino women were deprived of their right of suffrage on what we may now find as a frivolous, if not a totally ridiculous ground: that they were mere extensions of their husbands and fathers, not fit to participate in the affairs of the government, and whose sweet womanliness should be protected from political strife and passion so that sweet home may not lose any of its sweetness."
Women, led by the suffragettes, fought hard and won the right of suffrage under Commonwealth Act No. 34, passed on April 30, 1937. The Act led to a plebiscite where an overwhelming majority of 447,725 Filipino women voted in favor of their right to vote in political elections.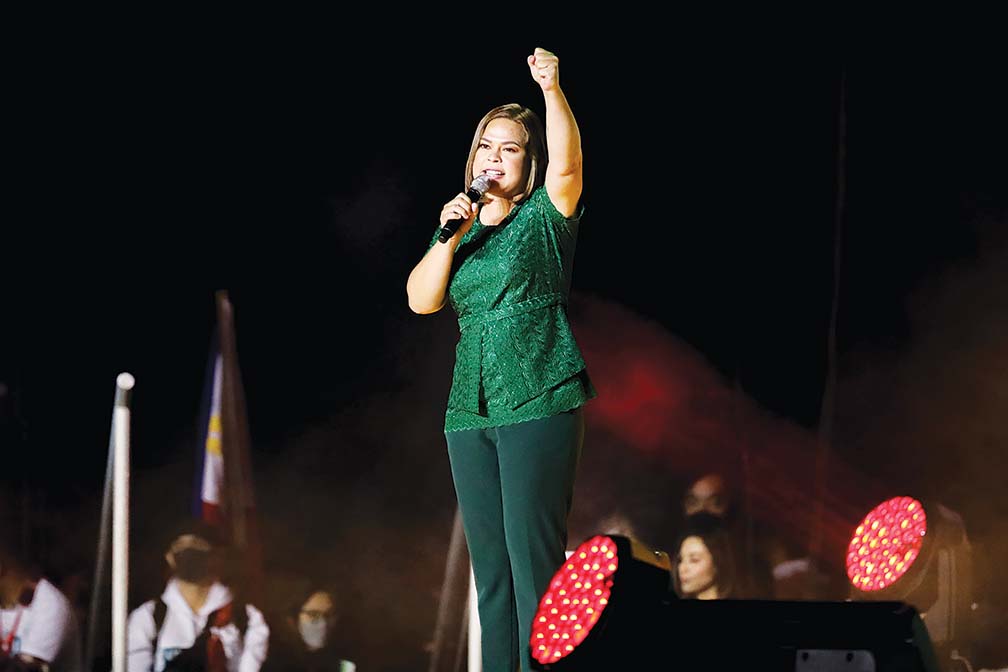 The good news is, these "mere extensions of their husbands and fathers" are out there in the hustings. Women have made strides in Philippine politics. We have had two female presidents. In 2022, we have women contenders for president and vice president who have strong chances of winning. Should Leni Robredo and Sara Duterte win as president and vice president, we will have a precedent-setting situation where the top two positions in government are occupied by women, albeit of very different persuasions and temperaments.
Let's extend it further. Loren Legarda is making a senate comeback after a term as representative of Antique where her claim to provenance is her maternal grandmother was born in the province. Loren has topped her every senatorial run except in 2013. Grace Poe burst into the scene when she came home from the U.S. when her father Fernando Poe, Jr. ran for president. Poe ran for the senate after FPJ's loss and demise, and with the wellspring of sympathy and support, took the top spot. Should Legarda, or Poe, or for that matter, Cynthia Villar, who was top of the heap in the last senatorial election, decide to gun for the Senate presidency, then that's the top 3 spot going to women. That would be surreal.
THE FIRST SIX WOMAN SENATORS
Before looking at some in our current crop of Filipino women occupying or vying for elective positions, it would be interesting to establish a benchmark. I choose to backtrack to our pioneering women senators. They must be familiar to pre-boomers, whom my young grandson playfully calls Pearl Harbor babies, and to baby boomers, but most probably not to millennials and the generations after.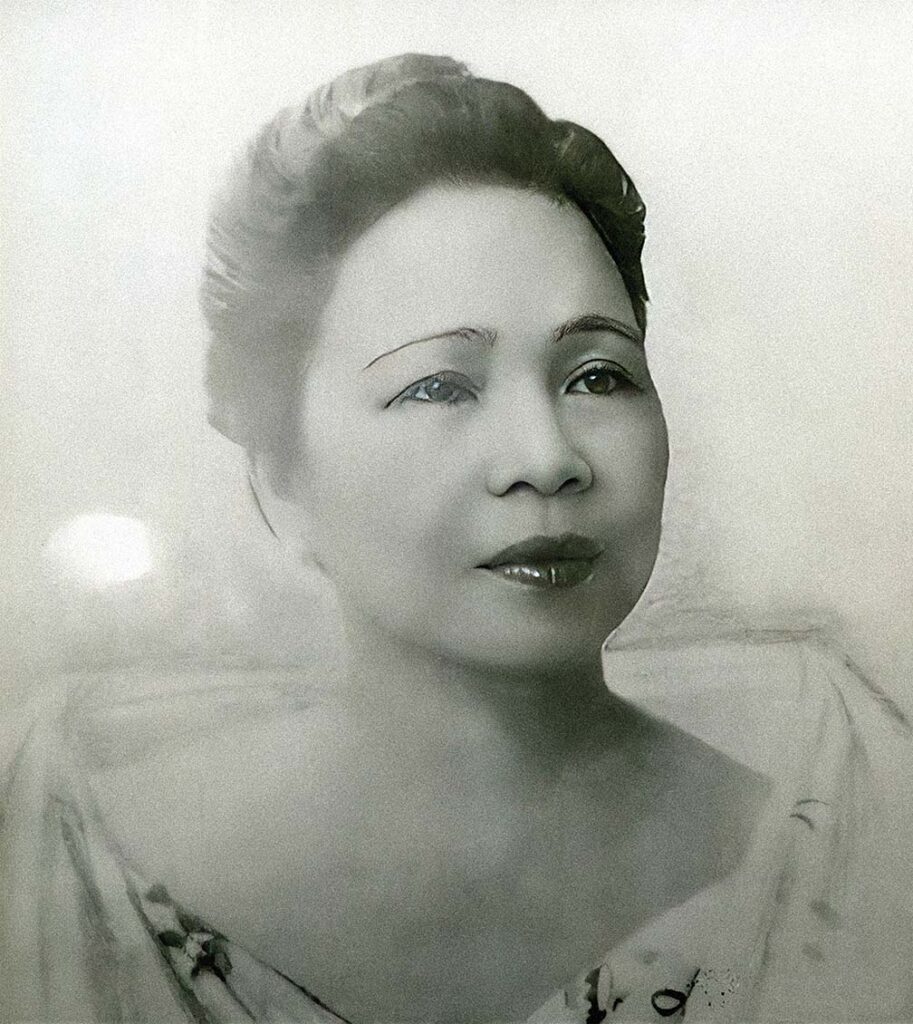 Geronima Pecson, an educator, suffragette and social worker, was the country's first female senator elected in 1947, and served until 1953. Pecson headed the Senate Committee on Education, Committee on Health and Public Welfare, and the Joint Congressional Committee on Education. Among her notable laws were the Free and Compulsory Education Act of 1953; the Vocational Education Act; the law permitting the establishment of training facilities for instructors in specific national school of arts and trades; and the law transforming the school of forestry of the University of the Philippines into a college. She was the first Filipino and first woman elected to the executive board of UNESCO. She obtained her Bachelor of Science and Master of Arts from the University of the Philippines. She was born in December, 1896 in Lingayen and died on July 31, 1989 at age 93.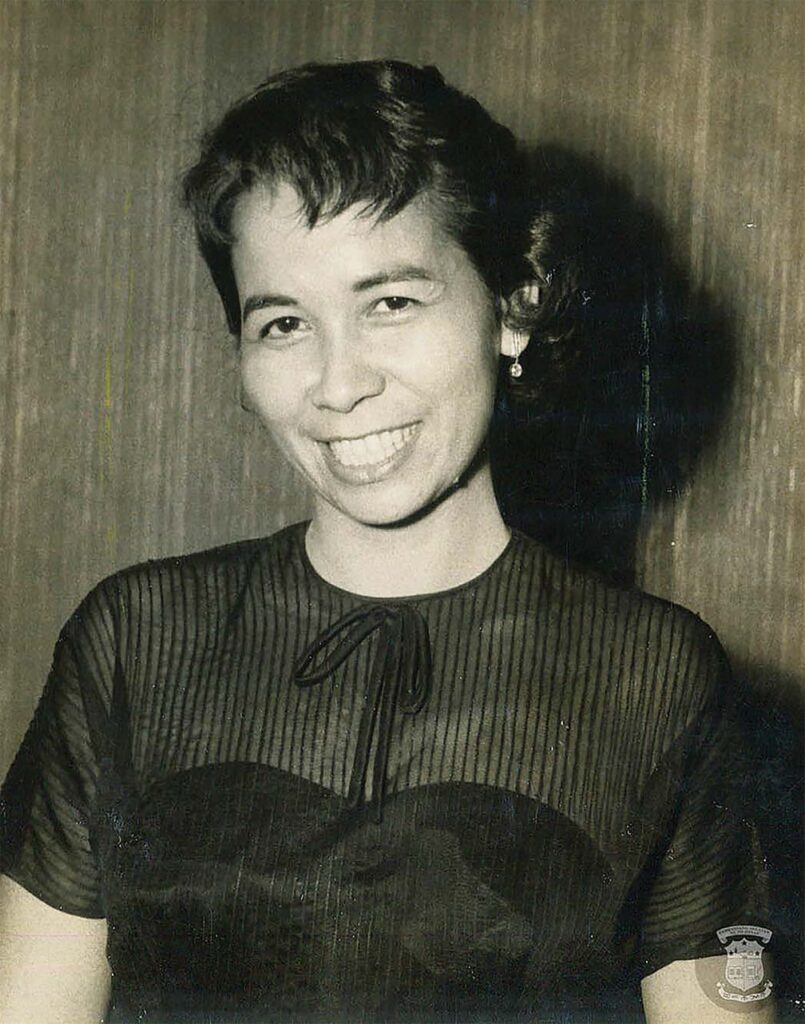 Pacita Madrigal-Warns was the second woman to be elected to the Senate, garnering 2,500,000 votes, the most ever polled at the time by a senatorial candidate. She served from 1955 to 1961. Warns was to the manner and the manor born in San Miguel district, Manila to millionaire Senator Vicente Madrigal and Susana Paterno. She attended Sorbonne University, Paris and other finishing schools.
Warns represented the League of Women Voters in the Triennial Congress of International Alliance of Women in Naples, Italy. She was counselor of the Philippine delegation to the UNESCO Seventh General Conference in Geneva and Paris. In 1953, she turned to politics and organized the Women's Magsaysay for President Movement (WMPM) in support of Ramon Magsaysay's presidential candidacy. She was appointed to Magsaysay's Cabinet as Commissioner of Social Welfare. She was elected to the Senate in 1955, where she was chairperson of the Committee on Social Justice, Community Development and Welfare. Widowed early after husband Herman Warns passed away, she married Atty. Gonzalo Gonzales in 1956. She was born on May 4, 1915 and passed away on Sept. 12, 2008 at 93.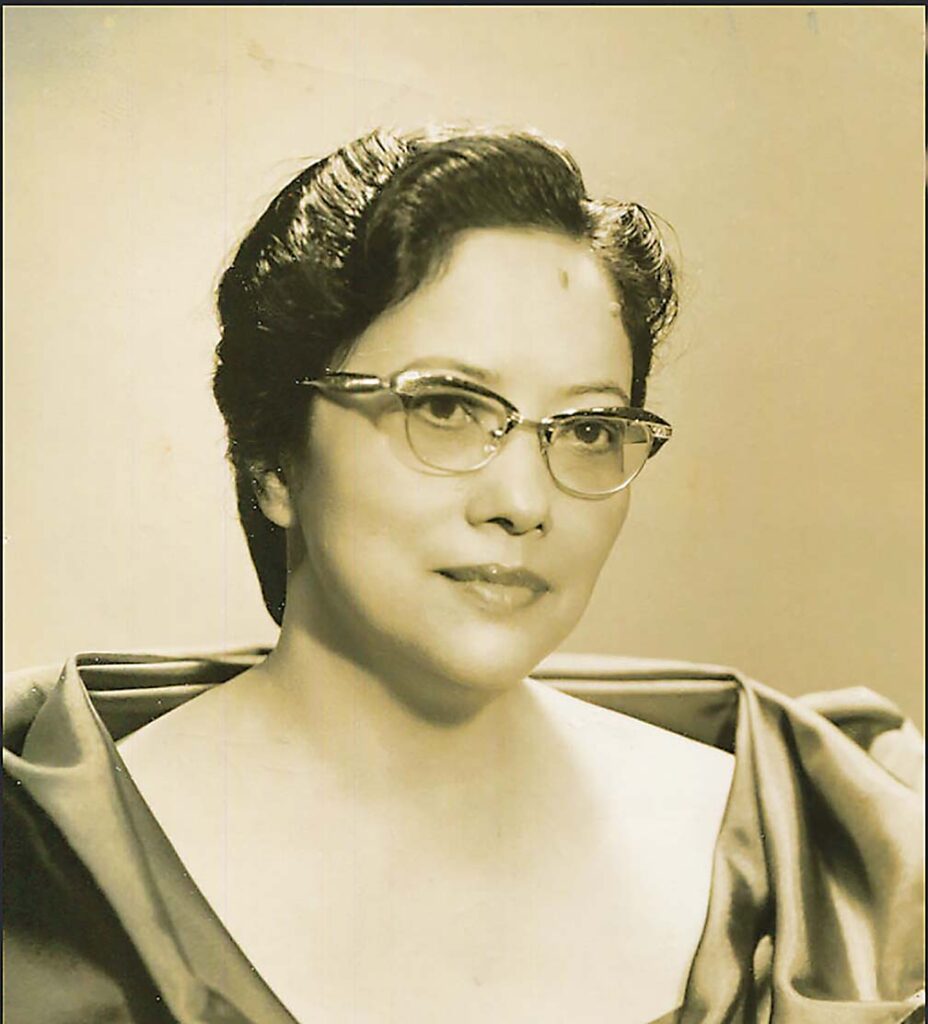 Maria Kalaw-Katigbak was the eldest of four children of Teodoro M. Kalaw, writer, statesman, former secretary of the Interior, and director of the National Library, and Pura Villanueva, a Spanish mestiza of the prominent Lopez-Villanueva family of Jaro, Iloilo. Pura was a writer, pioneer for women's suffrage and property rights for women, and first president and organizer of the League of Women Voters.
Katigbak earned her Bachelor of Philosophy and MA in Social Work at the University of the Philippines, and a master's in literature from the University of Michigan in 1933 on a Barbour scholarship. She received her bachelor's degree in literature and her doctorate in philosophy, magna cum laude from the University of Santo Tomas, She became a writer and was one of the few women writers to be admitted to then male-dominated UP Writers' Club. She ran for senator and served from 1961 to 1963. She authored Senate Bill 652, ordering to restore the old school calendar; the Consumer Protection Act, a.k.a. R.A. No. 3765, which enabled consumers to buy goods on instalments and similar forms of transaction by credit; measures regulating financing companies; creating the National Commission on Culture; and establishing the Philippine Executive Academy as an affiliate of the University of the Philippines. She was born Feb. 14, 1912, died on Dec. 10, 1992 at the age of 80.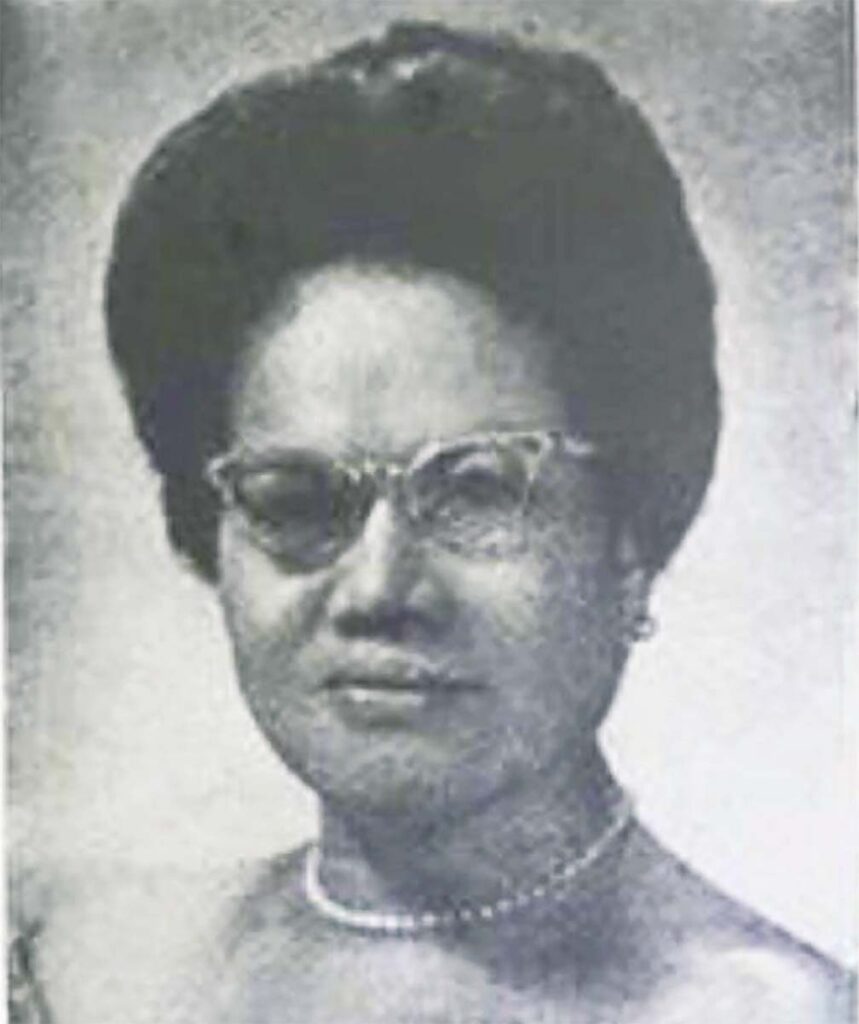 Tecla San Andres-Ziga was a Bicolana from Naga City. She obtained her law degree from the University of the Philippines, and was the first Filipina to top the bar exams. She also topped the 1937 Philippine Civil Service examination. San Andres-Ziga worked for the Department of Justice. She distinguished herself as a lawyer, which paved the way for her entry into politics. In November 1955, she was elected to Congress to serve the unfinished term of her brother-in-law who died in a car accident. She was recognized for her vigilant fiscalizing and genuine concern for women. Her political agenda as senator focused on the protection of women and children. With her efforts for this population sector, she was appointed administrator of the Social Welfare Administration. In 1963, she was elected to the Senate. She served in the committees on agriculture and natural resources; education; foreign affairs; Blue Ribbon; and social justice and welfare. She was born on Aug. 23, 1906 and died on Aug. 17, 1992 at 86.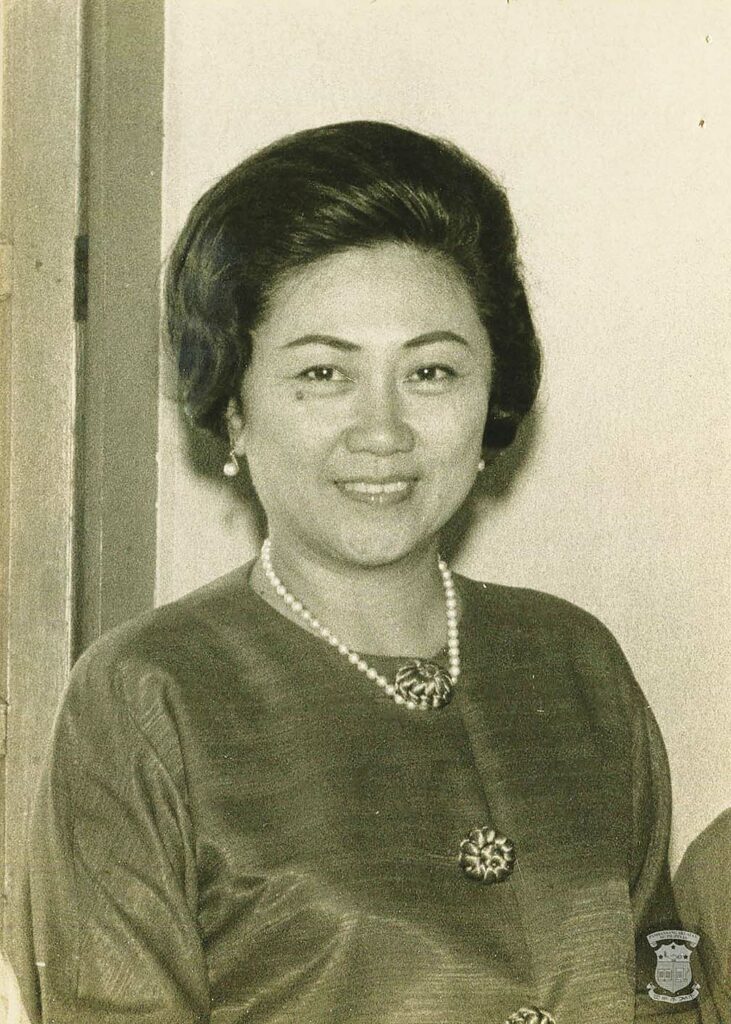 Eva Estrada-Kalaw was a senator from 1965 to 1972 during the tumultuous years leading to President Marcos' declaration of martial law. She was the lone woman senatorial candidate under the Nacionalista party, a big winner, garnering 42% of total votes cast. From the start of her Senate term, Kalaw took an independent stance on issues with overarching impact on national interests. In 1966, to Marcos' chagrin, she vehemently opposed and voted against the Vietnam bill which proposed to send Filipino troops to the raging Vietnam War. She suggested instead to send not soldiers but humanitarian aid in the form of doctors, engineers, and nurses to the frontlines. The story goes that she refused to be labeled a "dove" or pacifist, as against a "hawk" who favored war. She famously said: "I am not a dove nor am I a hawk. I am a Kalaw, a truly Filipino bird."
In her first year as a senator, Kalaw was able to pass laws that remain beneficial to this day: The elevation of the Social Welfare Administration as a new department (it is now the Department of Social Welfare and Development); admission of student and faculty representatives in the governing bodies of state universities and colleges; a law increasing and standardizing the salaries of public school teachers to dignify the teaching profession; and the creation of "barrio high schools" in remote areas in the provinces to make education more accessible.
In the 1971 elections, the Nacionalista Party dropped her as a candidate because of her critical stance against the Marcos administration. She ran as a guest candidate of the Liberal Party, instead. On Aug. 21, 1971, the infamous Plaza Miranda bombing occurred during the Liberal Party's proclamation of its eight senatorial candidates. Two bombs ripped across the stage and immediate vicinity, killed nine people and injured 95. Kalaw was among those injured, along with Sen. Jovito Salonga, Sen. Eddie Ilarde, Liberal Party president Gerardo Roxas, and Sergio Osmeña Jr. Kalaw returned to the campaign trail in crutches.
The Plaza Miranda bombing galvanized support for the Liberal party candidates. Kalaw became the first woman to be re-elected as senator. She continued to be a fierce oppositionist. In 1972, Marcos declared martial law and padlocked the Senate. Kalaw suffered political persecution, was jailed twice, but survived to see the dismantling of the dictatorship.
Kalaw earned a Bachelor of Science in Education degree from the University of the Philippines in 1940. She also took post graduate studies in social work. She was married to Teodoro V. Kalaw of the prominent Kalaw clan. She was born on June 16, 1920 and died on May 25, 2017 at 96.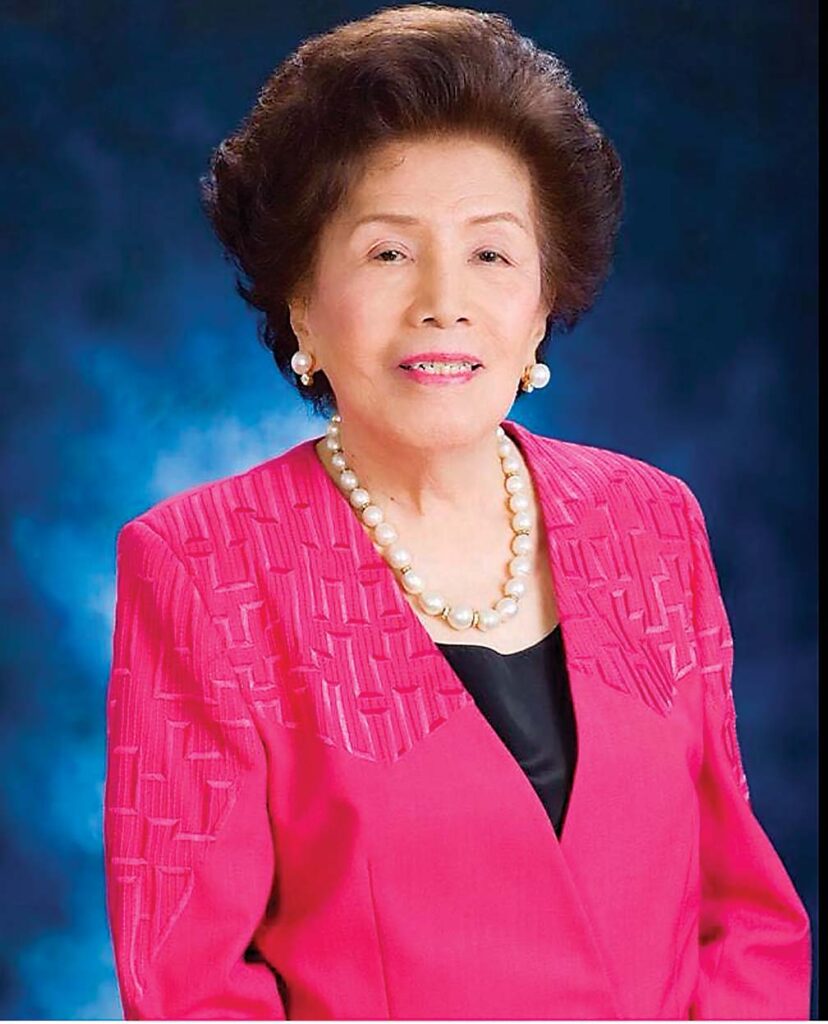 Helena Z Benitez, was senator from 1967-1972, and Batasang Pambansa assemblywoman, 1978 to 1984. Prior to this, Benitez represented the Philippines through various roles in the United Nations. During her term as head of the UN Commission on the Status of Women, she successfully presided over the first major policy statement adopted by the Commission, the draft of the Declaration on the Elimination of Discrimination Against Women in 1967, which paved the way for the creation of the Convention on the Elimination of All Forms of Discrimination Against Women (CEDAW).
In the Senate, Benitez advocated environmental protection, women's rights, education, and culture and the arts. In the academe, she was chairperson of the Board of Trustees and chairwoman Emeritus of the Philippine Women's University (PWU) which was founded by her parents, Francisca Tirona Benitez and Dean Conrado Benitez in 1919. She was popularly identified with the world-renowned Bayanihan Dance Company
organized by PWU.
Benitez holds several university degrees. Bachelor of Arts and Bachelor of Science in Education, magna cum laude, PWU; Master of Arts, George Washington University; and post graduate studies, University of Chicago and Iowa State College. She was born on June 27, 1914, and died of natural causes on July 14, 2016 at the age of 102.
LATTER DAY SENATORS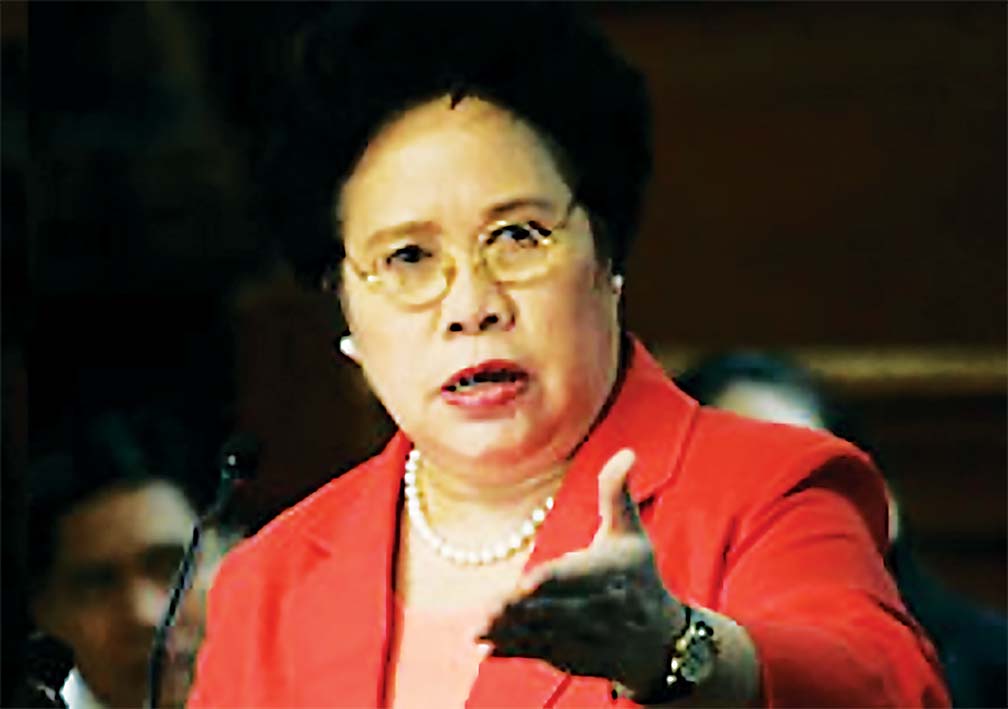 We have had two senators, both now out of the race, out of the fray, who can more than hold a candle to the pioneering senators. Miriam Defensor-Santiago brilliant, feisty, fiery, irascible. The woman who ate death threats for breakfast, and people refer to, arguably, as the best president we never had. She was a class by herself. She served in all three branches of government—judicial, executive, and legislative. She is considered the leading expert of her generation in constitutional law and in international law. In the Senate where Dr. Santiago served three terms, she filed the highest number of bills, and authored some of the most important laws. She was the first Filipino to win a seat as a judge at the International Criminal Court. In her more than 20 years of political career, Miriam has proven herself to be an honest, efficient, and excellent public servant. In her last years, she was very popular with young students who enjoyed her quotable quotes, her shattering putdowns, her razor-sharp wit, and her crusty humor. Defensor-Santiago, ran for president but lost in the May 2016 election. She died of lung cancer on Sept. 29, 2016 at the age of 71.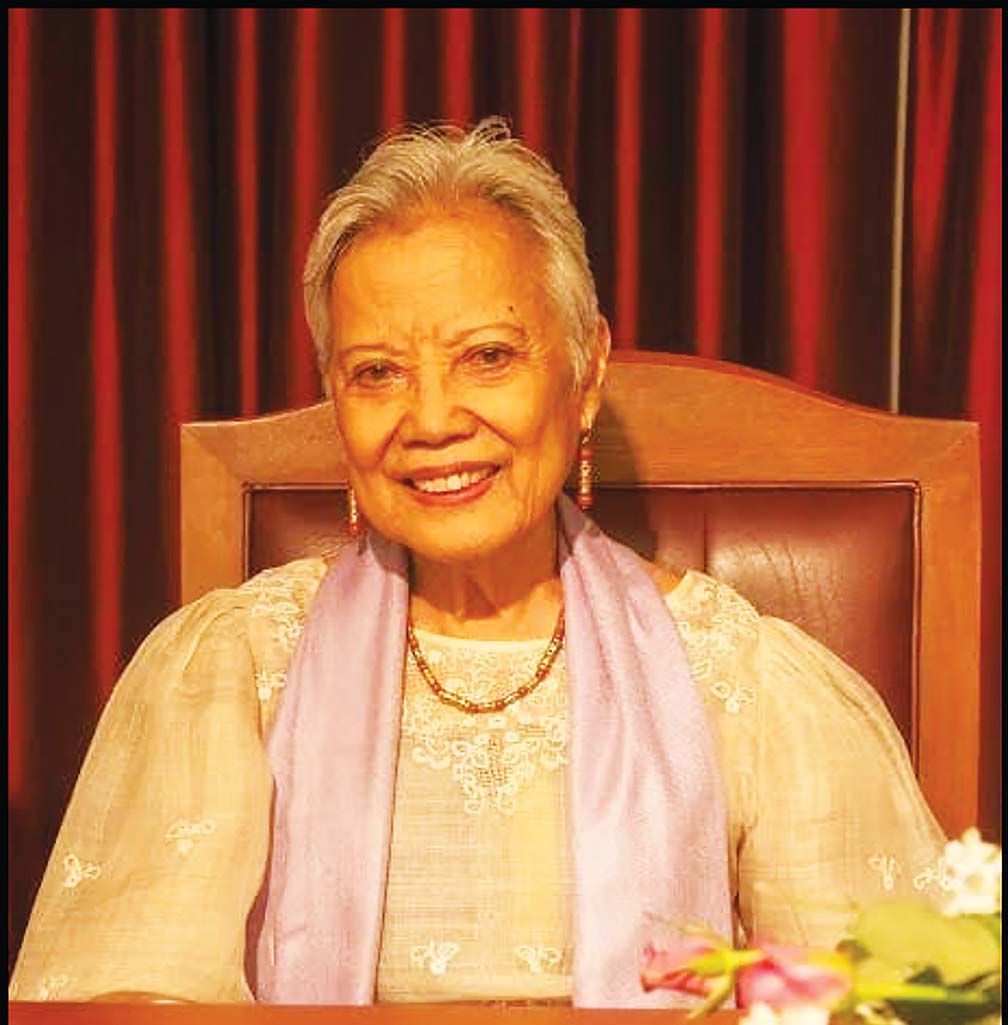 Then, there's Leticia Ramos-Shahani, a diplomat and lawmaker, founder of the Philippine Commission on Women, and a pioneer in the international women's movement. I had the opportunity to meet her in the Senate during the final year of an unpaid sabbatical from my advertising job to rejoin the protest movement. I worked briefly in the staff of another senator after the installation of the new government and the 1987 senatorial election. Shahani was a sedate, strong, no-nonsense but gracious presence in the Senate.
A tribute by the New York Times in 2018 called Shahani a name every feminist should know. The tribute reads in part: "At a time when few women had a place in statecraft, she became one of the highest-ranking women at the United Nations. In the 1970s, she led the drafting of a convention on the elimination of discrimination against women, also known as the international women's bill of rights. As a senator, she was instrumental in expanding the legal definition of rape, including the recognition of marital rape." Shahani also fought for equal pay and a mandate that all Philippine government agencies allocate at least five percent of their budgets to gender and development issues. Shahani died on Mar. 20, 2017. She was 87.
PATHWAYS TO POLITICAL ELECTION
There are more than 18,000 elective seats up for grabs in the 2022 national and local polls. According to the Philippine Commission on Women (PCW), scholars identify a 30% "critical mass," as the minimum percentage necessary for a minority group to be able to influence decision-making.
PCW believes that the adoption of a gender quota and other temporary special measures will accelerate women's political participation and representation in elective positions.
PCW noted that in the 2019 national and local elections, only 20.16% (8,782) of the candidates were female. It attributes low women's representation in politics to prevailing patriarchal norms and values, and gender stereotypes, and the "multiple burden" borne by most women in responsibilities in and outside the home. One may add as another deterrent for women are dirty, costly elections marred by widespread cheating.
So, what have been Filipino women's entry points or pathways to an elective position? The following have been observed. Personal achievement or prominence in their respective fields of endeavor, organizations, socio-civic involvements; being born to a political family a.k.a. dynasty; marrying into a political family or marrying a politician; being a movie, TV, and media personality; substitution for a withdrawing, disqualified, or deceased candidate; and as a party-list nominee.
Political Families a.k.a. Dynasties
Political families or dynasties have ruled Philippine politics for a long time. An Anti-Dynasty Bill has been pending in Congress for years, but its passage is dim. One of the bill's authors has tagged it the "Mona Lisa Bill." Following the lyrics of the 1950 song, the bill "just lies there. And may die there." Reason is, it goes against the interests of many politicians who are part of dynastic families.
Drs. Teresa S. Encarnacion Tadem, Professor of Political Science and Eduardo C. Tadem, Professorial Lecturer of Asian Studies, University of the Philippines, in a presentation on political dynasties in the Philippines in 2013, defined them as generally referring to traditional political families or the practices by these political families of monopolizing political power and public offices from generation to generation and treating the public elective office almost as their personal property.
A listing of political families show familiar names like the Espinosas of Masbate, Alontos of Lanao del Sur, Sinsuats in Maguindanao, Dys of Isabela, Romualdezes of Leyte, Reyeses of Marinduque, Marcoses, Singsons and Fariñases of Ilocos, and relatively newer names like the Estradas, Cayetanos, Binays, Revillas, Remullas, and the Dutertes of Davao. An oddity after the 2022 elections is, should the concerned candidates win, there will be a mother and son (Cynthia and Mark Villar), a father and daughter (Jojo and Nancy Binay), a brother and sister (Alan Peter and Pia Cayetano), and two brothers (Jinggoy Estrada and JV Ejercito), (did we miss any one?) sitting in the Senate at the same time. Relatives also proliferate in the House of Representatives.
To illustrate, I have chosen two political families at random. A relatively small one so we don't get lost in a tangled web. The involvement in politics of the Ynares family of Rizal began in the early '50s when the patriarch, Casimiro Ynares, Sr. was mayor of Binangonan from 1952 to 1956. His son, Casimiro "Ito" Ynares, Jr. also served as Binangonan mayor in 1971 and was unchallenged for 15 years because no elections were conducted during martial law. He served as mayor again in 1988 after the Edsa Revolution, then as governor of Rizal province from 1992 to 2001, then 2004 to 2007.
The women in the family? Rebecca "Nini" Alcantara-Ynares, wife of Casimiro, Jr. Not much is written about her personal circumstances except she took up Commerce at St. Paul's College, was a director of UCPB, and is in real estate. She was the first and only woman elected as Rizal governor from 2001 to 2004. She held the seat for her husband who reclaimed it from 2004 to 2007. Ito and Nini's son, Casimiro "Junjun" Ynares III succeeded his parents as governor for two terms from 2007-2013. Nini, after one term of her husband and two terms of her son Junjun, (are you still with me?) won a second consecutive term in 2016 and a third consecutive term in 2019. Junjun is married to Andrea Bautista, sister of Senator Ramon "Bong" Revilla, Jr. whose family, as we all know, is politically entrenched in Cavite province. Andrea is currently serving as mayor of Antipolo City. Her husband Junjun was Antipolo mayor in 2013 to 2019. Junjun is running in May to reclaim mayoralty of Antipolo City.
Orange is the color of the Ynareses, having been staunch supporters of former president Joseph Estrada, who if we may recall, was under house arrest for some years in his sprawling property in Tanay, a Rizal town. Orange is the color branding of Rizal province, and the letter Y is its emblem. For example, all waiting sheds are supported by posts the shape of the letter Y.
The Binay family has a deeper female bench. Binay is synonymous with Makati. One Binay or another has served as mayor of the city. Jejomar Binay, Sr. served in 1987–1998 and 2001–2010. His wife, Dr. Elenita Binay, served as the first woman mayor of Makati from 1998 to 2001. Only son Jejomar "Junjun" Binay, Jr. served as mayor from 2010-2015. In 2019, Junjun ran under the Una Ang Makati local party against sister Abigail a.k.a. Abby, and lost. Abby is the incumbent mayor of Makati. Junjun Binay has been permanently banned from running for public office on charges of grave misconduct, dishonesty and conduct prejudicial to the best interest of the service. Daughter Nancy Binay is an incumbent senator since 2013, and doing quite well, advocating for women and children, improving the outlook for pregnant women, particularly those of poor economic status, as a means of improving infant mortality and health. Jojo Binay, the father and former vice president is running for senator.
Celebrity Route
Politics has proved to be the path of least resistance for people in the entertainment industry for various reasons—as a second career for the successful ones who desire a new platform; for those who never quite made it but achieved a measure of name recall; for those with faded glory and dwindling resources; and for those who belong to showbiz families. There are a few who became mission driven, and succeeded in their new role. There were flash in the pans, and those who fell from the frying pan to the fire, made a bad name for entertainment people because they committed graft as early as their first (and thus only) term. What follows are a few illustrative stories.
Star for All Seasons, now a seasoned public servant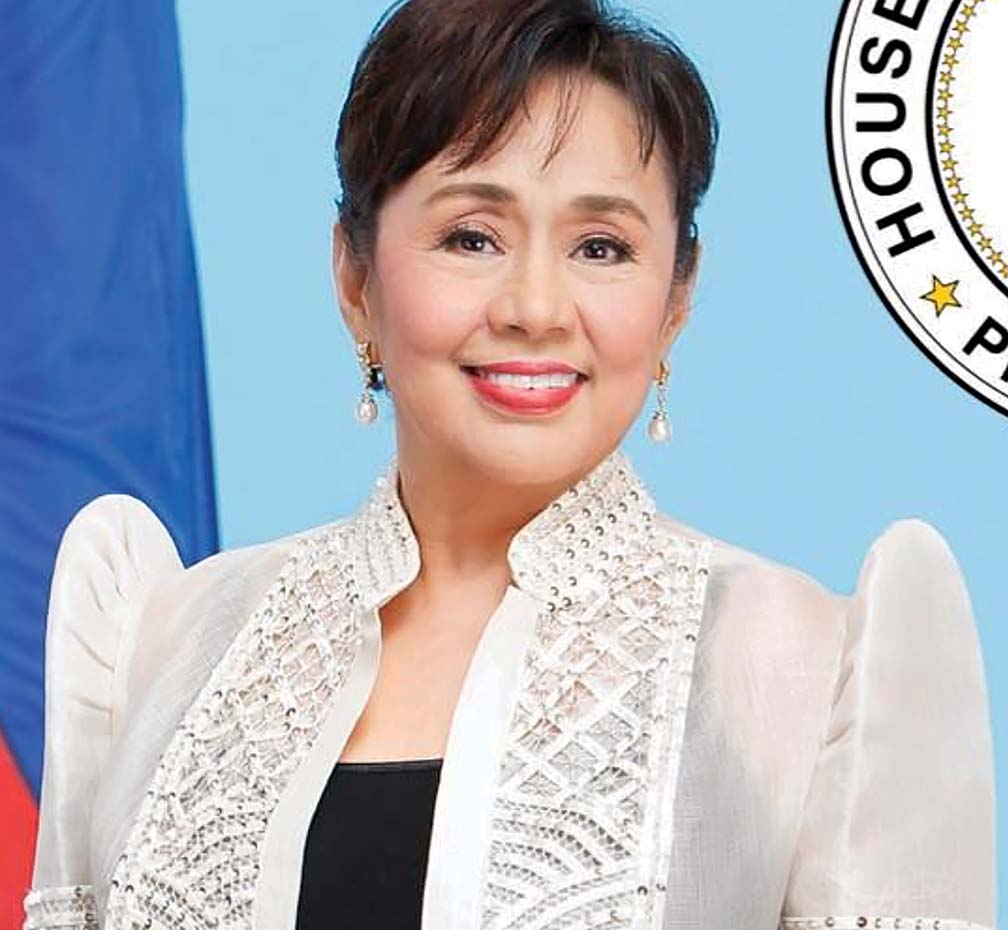 She married a politician, but didn't end up a wallflower or just a trophy wife. Vilma Santos, the Star for all Seasons, married Sen. Ralph Recto, who has roots in Batangas, in 1992. She settled in the province and came into her own as a public servant. One of the most respected and multi-awarded actors in Philippine cinema, she still had a thriving career when she decided to lie low and concentrate on the political career of her husband and later, as well as her own.
Santos-Recto has been undefeated since entering politics in 1998. She has served three terms, or nine years as mayor of Lipa City and six years as Batangas' first woman governor since 2007, for a total of 15 years as a local politician. This has filled her with gratitude for the people of Batangas. "Not everyone has the chance to be given this kind of trust," she said. She was elected the first woman Representative of Batangas in 2016, and rose to Deputy Speaker of the House in 2019. In my book, Vilma Santos is the most successful movie celebrity to transition from entertainment to politics. And she continues to excel in both. She is quietly doing a good job, with no adulatory fanfare.
While she is part of the "super majority," Senator Recto, says she is an "independent thinker." She is among the 54 lawmakers who stood against House Bill 4727 that seeks to revive capital punishment for seven drug-related crimes. Santos-Recto explained her vote thus: "I value human life. That was my guiding principle in voting against the reimposition of the death penalty. In my conscience, nagpapahalaga ako sa buhay. Mapagmahal ako sa buhay. Importante ang buhay ng tao [I value life. I love life. Human life is vital]." She also said she consulted her constituent Lipeños before voting, and majority of them are against the measure.
As a result of her negative vote, the House leadership stripped Santos-Recto of her chairmanship of the Committee on Civil Service and Professional Regulation. She took this in stride and said she is ready to face the consequences of yet another of her conscience votes. She voted for the renewal of ABS-CBN's franchise, which her colleagues voted against and killed. Education remains her priority as lawmaker. She is one of the authors of the Anti-Discrimination Bill or SOGIE Equality Bill; the Expanded Maternity Leave bill; and the Expanded Senior Citizen Bill.
Jumpstarting Goma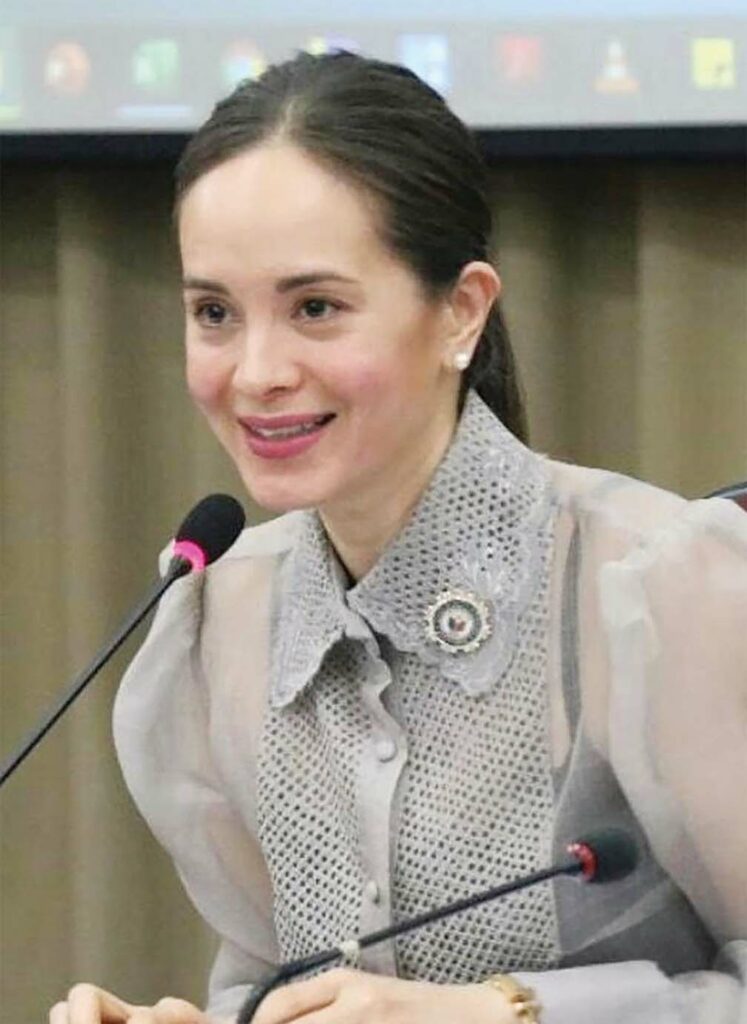 There are women in showbiz who became the ticket of their husbands to a political career. Matinee idol Richard Gomez, husband of Lucy Torres-Gomez never quite made it to an elective position in Metro Manila. In 2001, he tried the party-list entry to the House of Representatives. But Comelec disqualified the anti-drug group he was representing after it was found to be funded by the government and not representing a marginalized sector. He ran for senator in 2007 as an independent candidate but lost. In 2010 he ran for representative of Leyte's 4th district. Leyte is Lucy's home province. He was disqualified again for failure to sufficiently establish residency in Ormoc City. In 2013, Richard lost again in a very tight race for mayor of Ormoc City. Finally, he won as Mayor of Ormoc, Lucy's home city, in 2016.
On the other hand, Lucy Torres started as an accidental candidate who won her very first election bid. In 2010, she substituted for her husband when he was disqualified to run as Leyte representative. Lucy won, although she was later ousted after the Supreme Court ruled that her substitution for Richard was not valid. She was re-elected in 2013 and is now on her third and final consecutive term as representative of the 4th District of Leyte. Husband and wife are switching positions in the May elections. Richard is running for Congress and Lucy for mayor of Ormoc. Congress will not be new to Richard as he served as Lucy's Chief of Staff in her incumbency in Congress.
Lucy is identified with the administration and is supportive of Duterte. She supported the Anti-Terrorism bill which faces opposition from lawyers, academics, human rights and civil society groups because it is subject to abuse. "Laws may be abused, but that risk is 'not a valid reason' to reject the anti-terrorism bill," Lucy argued.
Married to the Clan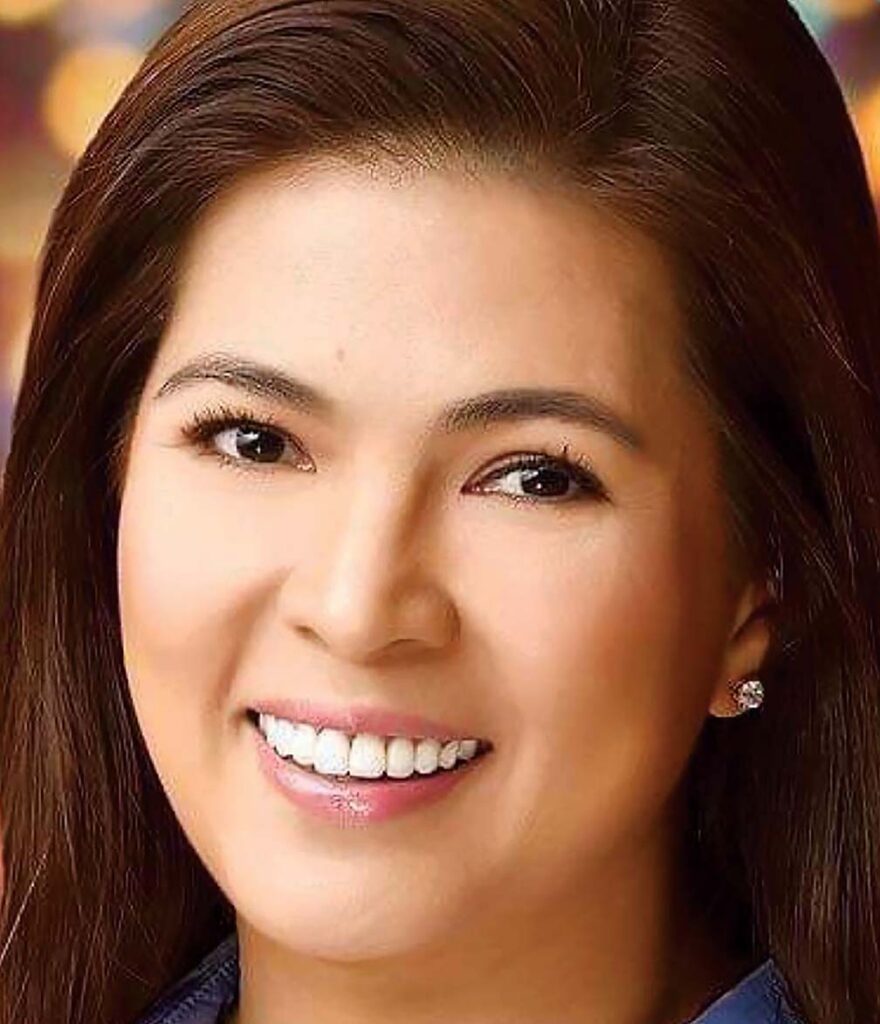 Lani Mercado-Revilla became part of a political family when she married action star Ramon "Bong" Revilla, Jr. in 1986. In Philippine action movies where the hero is always paired with a beautiful actress, Lani was one of Bong's favorite leading ladies. She cut her teeth in politics campaigning for her father-in-law Sen. Ramon Revilla Sr. and her husband. She first ran for governor of Cavite but lost. She was elected representative of Cavite's 2nd District, served from 2010 to 2016. She is at the end of her term as the incumbent mayor of Bacoor, and is running again for Cavite's 2nd District. Son Jolo Revilla is also running for representative of the 1st District of Cavite. She drew flak recently for her reaction to the scrapping of the Priority Development Assistance Fund (PDAF) or pork barrel. She was reported to have referred to the Filipino's "squatter mentality" and said "Basta huwag lang manghihingi sa amin ang mga tao [for as long as the people don't ask money from us]."
Showbiz, Politics, and Back to Showbiz
Cristina Gonzalez-Romualdez, started out as singer and actress Kring-Kring Gonzales in the early '90s. Her parents are the late matinee idol José Mari Gonzales and Charito Malarky, a former model of Spanish and British ancestry.
Cristina, who was born in Tacloban City, became part of the political and moneyed Romualdez clan when she married Alfred Romualdez, son of Alfredo "Bejo" Romualdez and nephew of Imelda Marcos. Cristina served as city councilor from 2007 until 2016, and mayor of Tacloban City from 2016 until 2019, a total of nine years during which she counts as her achievements building a shelter for women and children, and establishing livelihood programs under her 'Cristina's Learn and Earn for Women' project .
After more than 15 years as wife, mother, and politician, Cristina Gonzales has come full circle. She made a showbiz comeback in 2021 through Viva Entertainment. She is now with the cast of "FPJ's Ang Probinsyano," the longest-running TV series, and ready to tackle movie projects.
Also Running
A number of female movie and TV personalities are running for local council positions. Aiko Melendez, 2nd District of Quezon City (She held the same post from 2003 -2008); Angelu de Leon, Pasig City; Arci Muñoz, Cainta, Rizal; Ali Forbes, singer and beauty queen, Quezon City; Claudine Barretto, Caloocan City (sister Marjorie was Caloocan City 2nd District Councilor 2007-2013); and Leren Mae Bautista, beauty queen, Los Baños, Laguna.
Also running are beauty queen Sharifa Akeel, for governor of Sultan Kudarat. She is wife to 2nd District Representative Toto Mangudadatu. Imelda Papin, singer, for vice governor, Camarines Sur (Papin held the same post from 1998-2004). She ran for the Senate in 2010 and lost. Actress Angelica Jones, three-term board member of Laguna, is running for representative of the 3rd District of Laguna, which will be vacated by Sol Aragones, former ABS-CBN news reporter who is running for governor of Laguna. Jinkee Pacquiao, one term vice governor of Sarangani is not running for any position and is actively campaigning for her presidential candidate husband.
Actress Alma Moreno has the most number of runs for an elective office and the most number of humorous quotes which today would be considered memes. She ran for mayor of Parañaque in 2004 after her ex-husband Joey Marquez' term (1995-2004) expired, but lost. In 2007, she was elected councilor of the city, and re-elected in 2010. Both Joey Marquez and Alma Moreno's terms in office were marred by cases filed against them. In 2012, Moreno became the first female National President of the Philippine Councilors League (PCL). Her second husband was former Marawi City Mayor Fahad "Pre" Salic (married in 2009 and Divorced in 2014). She ran for senator under UNA in 2016 and finished in 24th place.
Party-List Representatives
Another path to an elective position is through party-list representation. The 1987 Constitution created the party-list system to "promote proportional representation in the House of Representatives." It opened the opportunity for marginalized, under-represented community sectors or groups, including labor, peasant, urban poor, indigenous cultural, women, youth, and other such sectors as may be defined by law (except the religious sector) to be part of the electoral process and be represented in Congress by their chosen nominees. Some of the parties which have successfully gotten their representatives elected are ACT, Gabriela, Bayan Muna, Partido Lakas ng Masa, Buhay Hayaang Yumabong (Buhay), NATCCO Network Party (COOP-NATCCO), Citizens'Action Party (Akbayan), and Butil Farmers Party (Butil).
Sixty-three seats are up for grabs for party-list representatives in the 2022 elections. As of last count, there are a total of 173 party-lists in contention. The party-list system has been seriously bastardized over the last several years. Poll watchdog Kontra Daya observed that in the 2019 polls, almost half of participating groups possibly represented "the interests of well-entrenched political dynasties and big business interests," given the influential ties of the groups' nominees.
Also, there are those who invent all sorts of sectors, devise many unbelievably ridiculous names like Noble Advancement of Marvelous People of the Philippines or Marvelous Tayo, and forced acronyms, like Home Owners and Marginalized Empowerment Through Opportunities with Neighborhood Economic Reliability (HOME OWNER), quite a mouthful. Some are quite narcissistic. Others use their name as party acronym, like Mocha Uson's MOCHA or Mothers for Change, which has non-mothers as organizers and nominees, and National Organization for Responsive Advocacies for the Arts (NORA) organized by Nora Aunor but disqualified by Comelec. Of recent vintage is Pilipino Dapat Paglingkuran PDP CARES, organized by PDP Laban President Koko Pimentel. Its first nominee is Kathryna Pimentel, Koko's second wife. It could happen that Koko's first wife, Jewel Mae Lobaton and Kathryna may be bumping into each other in Congress. Lobaton is a party-list nominee of Batang Pinoy.
Fit and Match—Leader to Locale
Obviously, we need more women in elective positions to meet the needed 30% critical mass. We need women who are qualified, well-prepared, of honorable and strong character, well-informed and on the right side of issues and concerns that affect national interests. We also need to clean up the elections to encourage more women to run as candidates. But aside from all these and a hefty resumé, let me share a wishful thought. The following is part of a longer story of mine but let me ride some parts here.
In the same manner that an employer would hire an applicant with the background, attitude, disposition and values suited for a particular job, I wish there was a way of stipulating qualifications for candidates to assure a fit and match of elected officials, both men and women, to the unique needs and character of the town, city or province that they will serve.
Let me cite a few examples. Cavite which still has vast, sprawling empty lands should have leaders who know urban master planning and have learned from the overdevelopment of Tagaytay. Palawan needs gutsy environmentalists and nationalists who appreciate it as the last frontier, who will protect its patrimony, and are good at self-defense. Bongabon in Nueva Ecija, the leading producer of onions in the Philippines and in Southeast Asia, is plagued with problems of marketing bumper crops, and keeping them dry in the rainy season. It needs somebody who knows his onions.
Laguna is a lovely province, gifted with beauty by nature, rich in built cultural and historical heritage, artisans and artisanal products, the shoemakers of Liliw, the vanishing carvers of Paete, the ancestral houses restored and repurposed into restaurants serving heirloom recipes, and so many more natural endowments making it a province that should be loved and cared for. Laguna needs to be run by officials who know its worth and have pride of place, and appreciate proper conservation and restoration of its historical and cultural built heritage. Maybe it needs the commitment and sensitivity of a woman, the right woman.