Bayambang, Pangasinan—ECCD F1K Dietary Supplementation Program for Mothers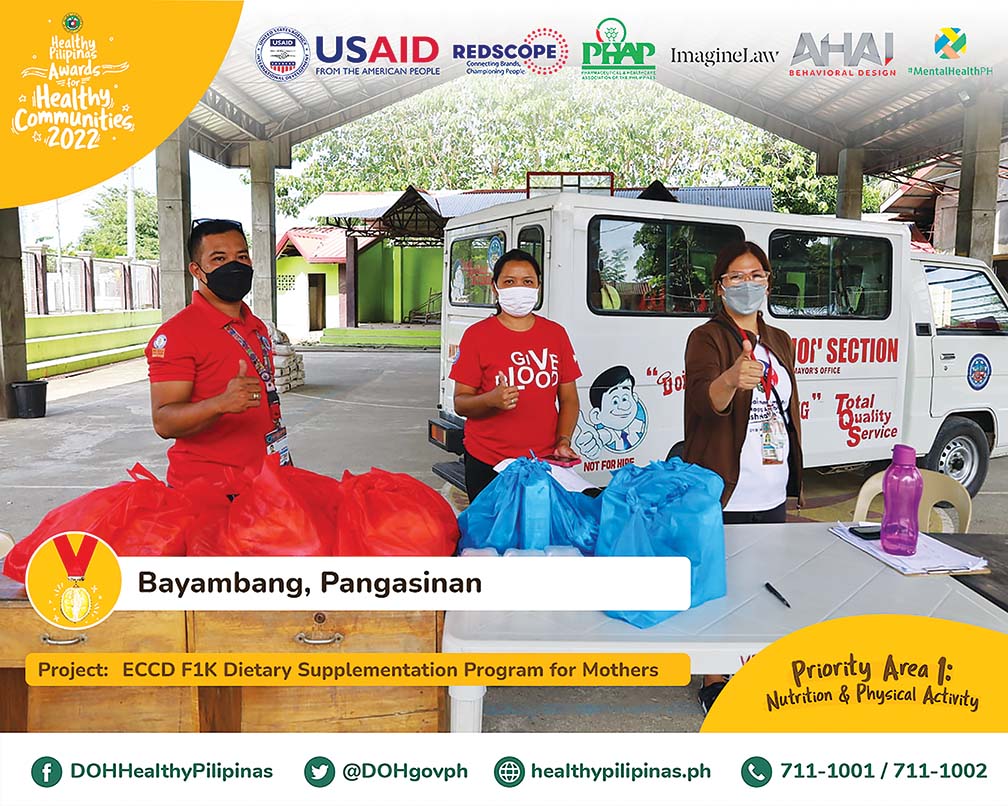 Through the donation of Bayambang Mayor Cesar T. Quiambao, the local government unit set up the LGU Bayambang Fitness Center to help uplift the mental and physical health of mothers in the community.
The LGU Bayambang Fitness Center houses new gym equipment like dumbbells, treadmills, bench presses, leg presses, cable cross machines, T-bars, punching and speed ball stands, sit up benches, barbell bench presses, punching bags, and magnetic elliptical trainers. It has its own gym instructor and these can be availed of for free through the initiative of the mayor in partnership with Municipal Physical Fitness and Sports Development Council.
Borbon, Cebu—Borbon Healthy Nanay and Bulilit
The Borbon Healthy Nanay and Bulilit Program is a comprehensive approach towards malnutrition in children and women in Borbon, Cebu.
The program aims to address malnutrition by empowering mothers and grassroot health workers through a series of capacity building, trainings and seminars that aims to reduce stunting, wasting, low birth weight and underweight children as well as nutritionally-at-risk mothers in the community.
Since the program started, there is a noticeable improvement in the health indicators mentioned. The involvement of mothers and health workers in addressing the problem in nutrition has given them a sense of ownership and accountability for their own health, their children and their community's health.
Canlaon, Negros Occidental—Multi-sectoral Approach in the Reduction of Malnutrition
Undernutrition has always been one of the biggest problems in Canlaon City and the reduction in the prevalence of underweight children has been a main focus in the fight against malnutrition. The city has initiated several projects, programs and activities that directly and indirectly addresses malnutrition to ensure a healthier and well-nourished community. These programs involve a multi-sectoral approach that includes the City Population Office, City Agriculture Office, City Social Welfare and Development Office, City Health Office, with the cooperation of the 12 Barangays as well as the non-government organizations of the Nutrition Committee.
The interventions that were conducted, include, among others the conduct of pabasa sa nutrisyon/idol ko si nanay; inclusion of nutrition education in pre-marriage counseling; establishment and maintenance of the Rehabilitation Center for Malnourished Children (mal-ward); increased budget in the city nutrition action plan; capacity building of health workers; integrated community food production; cooking demonstration to mothers with undernourished children; 5K sa Unang 1K program; and an income generating project dubbed as "Sikad, Sayaw ug Tikang: Kabataan sa Canlaon atong Amumahon, MALNUTRISYON atong Sugpuon!" which will be implemented and organized every year onwards.
The main purpose of these programs is to reduce the prevalence rate of undernutrition through the delivery of quality and integrated nutrition programs. The Field Health Services Information System 2014 and 2019 data showed an increase in infants who are exclusively breastfed, a decrease in low birthweight prevalence, and increase in facility-based delivery. While the Operation Timbang data showed a decreasing trend in underweight children from 2009 to 2019.
Quezon City—Grow QC: Quezon City's Inclusive and Sustainable Food Security and Healthy Public Food Procurement Program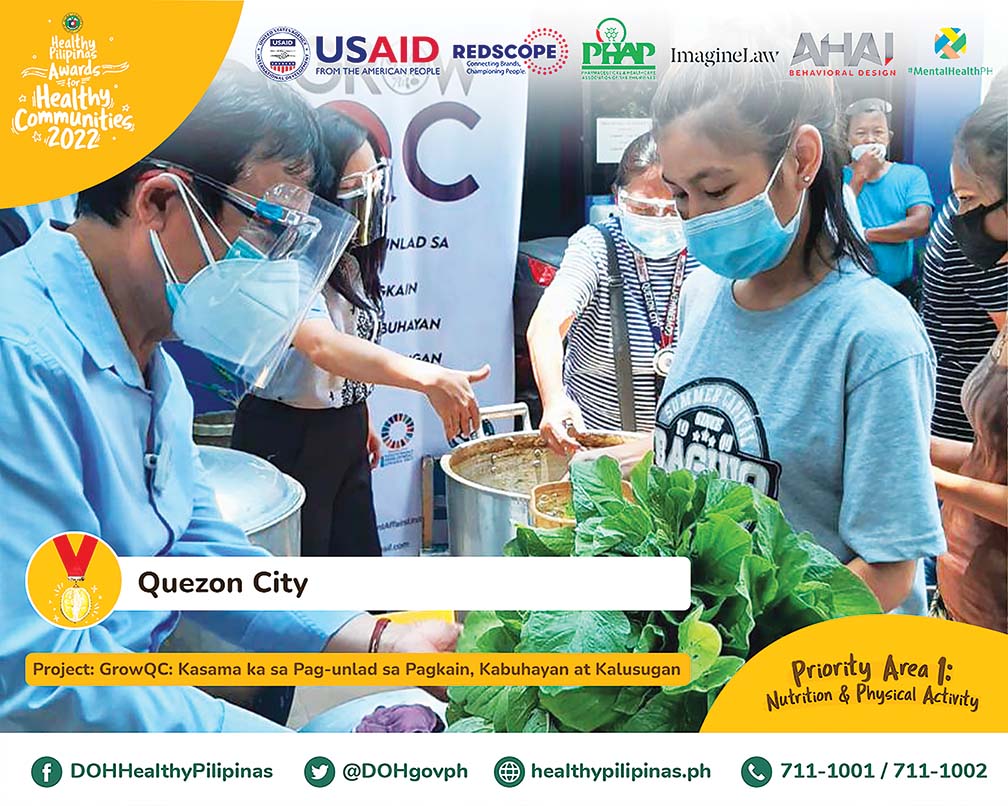 The GrowQC Program is built on the foundation of participatory governance that ensures coordination, collaboration, and convergence of endeavors among stakeholders towards food security.
As one of the fundamental components of the city's COVID 19 Recovery Plan, GrowQC aims to (1) ensure availability, access, stability and continuous supply of healthy and nutritious food; (2) create inclusive and sustainable livelihood for the vulnerable groups, along with complementing the livelihood and economic recovery of supply chains; (3) expand the city's urban agriculture program through the conversion of idle lands to productive urban farms; (4) lead communities towards a nutrition positive environment and support the promotion of locally grown produce; (5) create inroads for climate adaptation practices in food production and processing; and (6) build and cultivate local and international partnerships on food security and nutrition.
To show moral ascendancy in promoting locally sourced food and increasing the consumption of healthy and nutritious food, Quezon City passed an Executive Order establishing the Quezon City Healthy Public Food Procurement Policy, a first of its kind in the Philippines, which mandates that no public funds will be spent on unhealthy food.
Along this line, the policy requires all food procured by the city to pass a set of nutrition criteria. The key nutrition guidelines require the diversification of nutrient sources, the inclusion of more fruits and vegetables, the reduction of sodium and sugar, and the elimination of trans fat in all meals and snacks.
The policy also includes cluster- and institution-specific guidelines for cases which require more calibrated nutrition specifications or exemptions to the key nutrition guidelines. It also aims to establish linkages to local food producers to help achieve food security in the city and promotes research and advocacy programs to explore possible interventions in the food environment outside of the procurement process.
Tandag City, Surigao del Sur—First 1,000 Days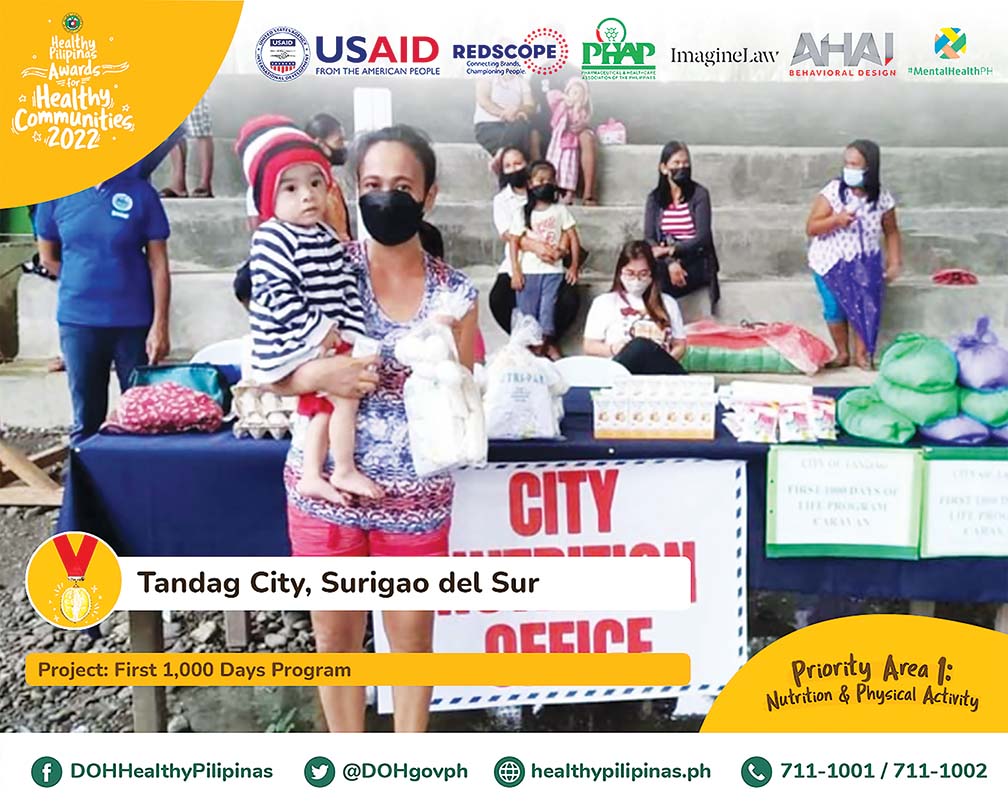 The City Nutrition office of Tandag City created and operationalized the First 1,000 Days program through Kinabuhi sa Isa ka Libong Adlaw (K-ISA) Program under Executive Order 053.
The K-ISA program focused on the delivery of quality nutrition and health services in the first 1,000 days of life to all 21 barangays of Tandag City.
The First 1000 Days is globally recognized as the "golden window of opportunity" for nutrition and related interventions to have a positive impact on the child's physical and mental development. Good nutrition of both mother and child is an important driver for a child to achieve maximum growth and development potential that has a lasting, profound effect on the life course.
The implementation of K-ISA program ensures the delivery of quality services for the first 1,000 days of life at the grassroots level in which services offered are maternal, neonatal, child health care, and nutrition program (pregnancy tracking, prenatal, post-natal, promotion of breastfeeding, complementary feeding, immunization, family planning) dental services, and nutrition services (nutrition assessment, counseling, dietary supplementation).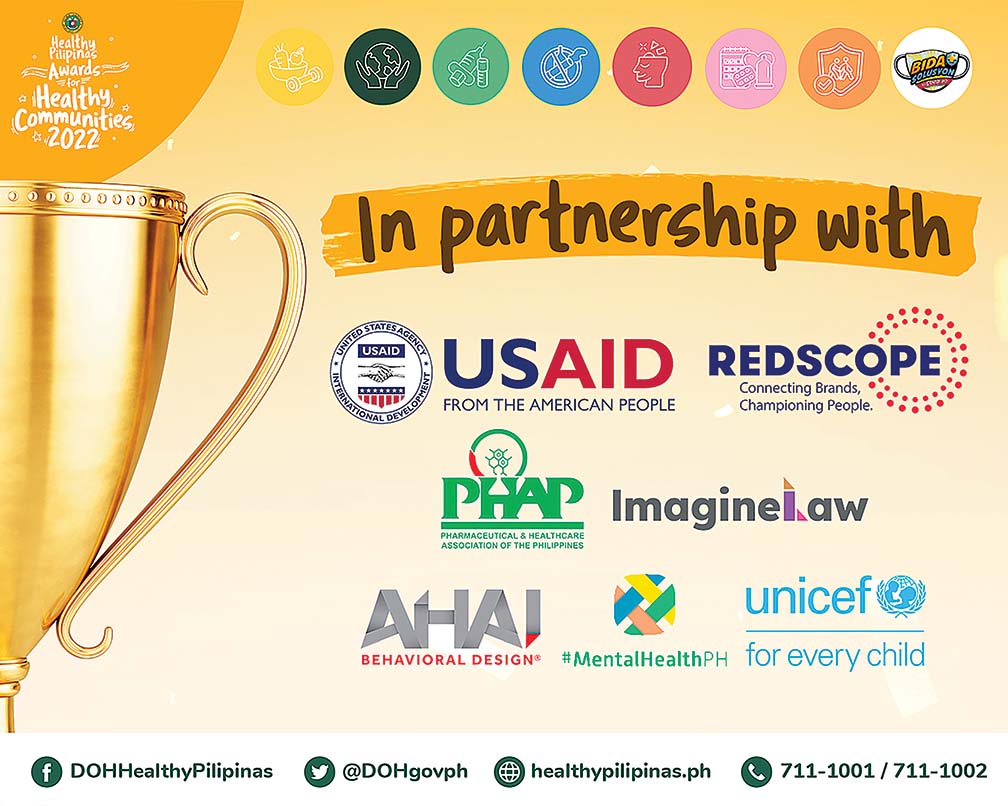 The source of funds for these programs are charged to the annual Gender and Development Fund, Children's Fund, and Development fund of the city.