The old city of Biñan is an agricultural township. It was founded by Captain Juan De Salcedo in 1571. And from that time up to the present, it has always evolved as a center for trade and commerce, culture and history, and industrial peace.
Biñan is a first class city and home to industrial estates and export processing zones. It is famous for a lot of things, but no one cannot deny the fact it has gained a delicious reputation for its very own rice cake.
The fluffy pancake-styled delicacy, popularly known as Puto Biñan, has over time whetted the taste buds and gained the patronage of young and old, alike.
And this year, at the 12th Puto Latik Festival, the celebrated Puto Biñan caps the annual festival celebration with a one-of-a-kind cook-off challenge.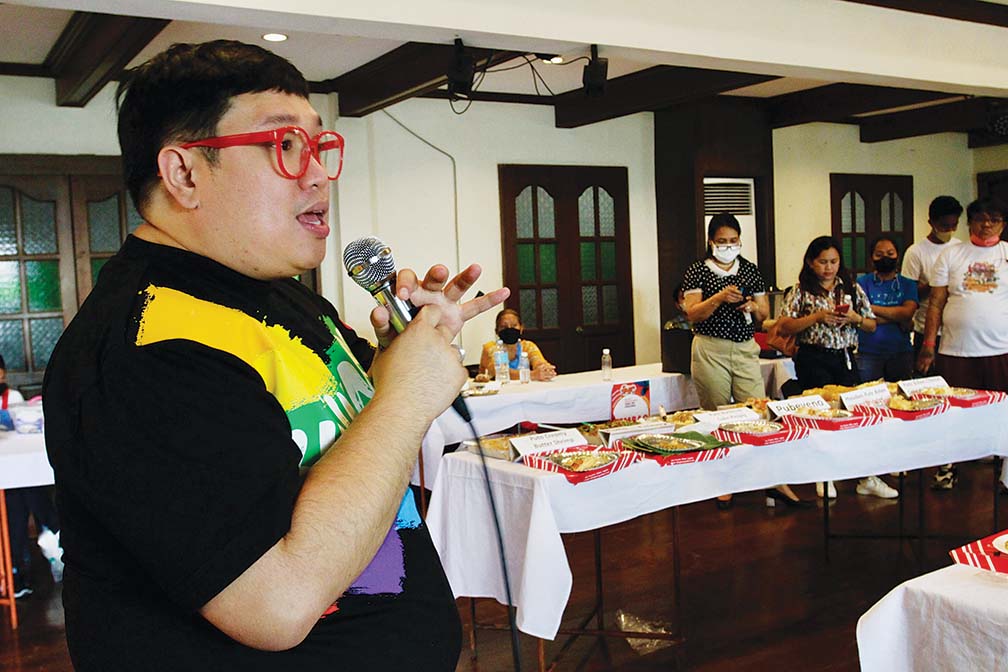 "Using the base material, we will try to reconstruct and reinvent a variety of ways for preparing and serving Puto Biñan," said Bryan Jayson T. Borja, head of the Biñan City Culture, History, Arts and Tourism Office (BCHATO).
COOK-OFF CHALLENGE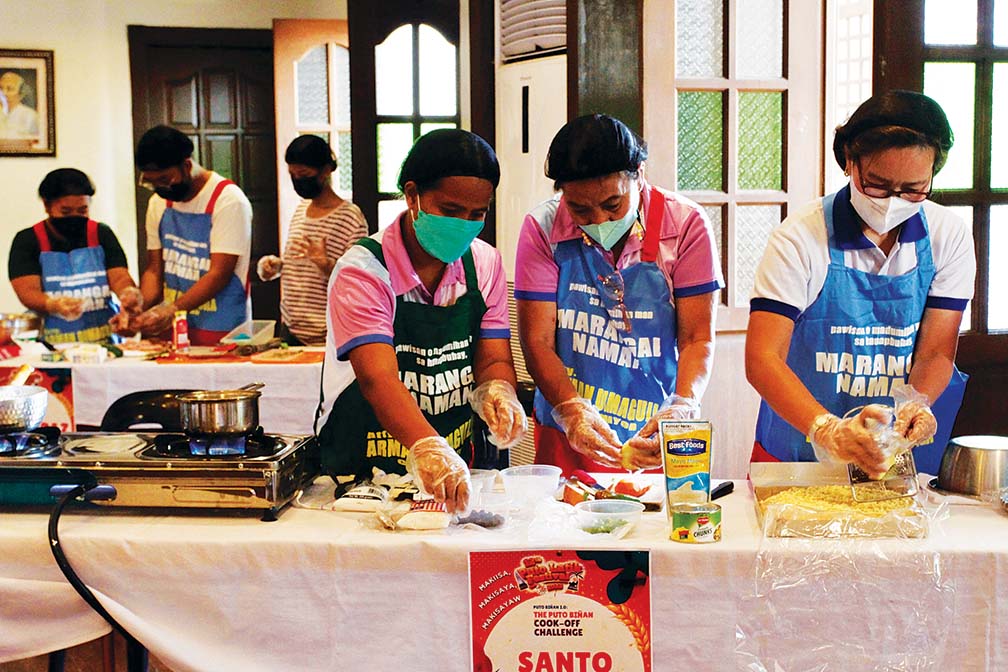 A total of 12 Barangays competed in the challenge to show their creativity to either compliment the traditional Puto Biñan or create another product using Aling Nila's puto as base product.
Dr. Apolinario "Pol" Alzona of San Vicente said that Puto Biñan originated from San Vicente, where most of the townsfolk love to cook. And after their shift from making bakya (wooden clogs) and tsinelas (slippers) using endemic materials, the elders made rice cakes coming from the bounty of the land.
"It was always for the love of cooking. Our great grandmothers can't work in the rice fields. So, their test kitchens produced what became famous during those times. Most of them went to Manila via train and brought with them their kalakal (merchandise)—the Puto from Biñan being one of them. From Biñan to any point of Luzon and it also reached our kababayans abroad," continued Alzona.
FROM SISIG TO PANCIT
San Vicente is the defending champion in the Puto Biñan cook fest.
Competing Barangays were given P500 each to market and think of their toppings that will go with the base material, the famous Aling Nila's.
Lily Tabuyog of Barangay Langkiwa is confident that her sisig, which she sells online, can keep the judges happy once they tasted her Puto Biñan with Sisig.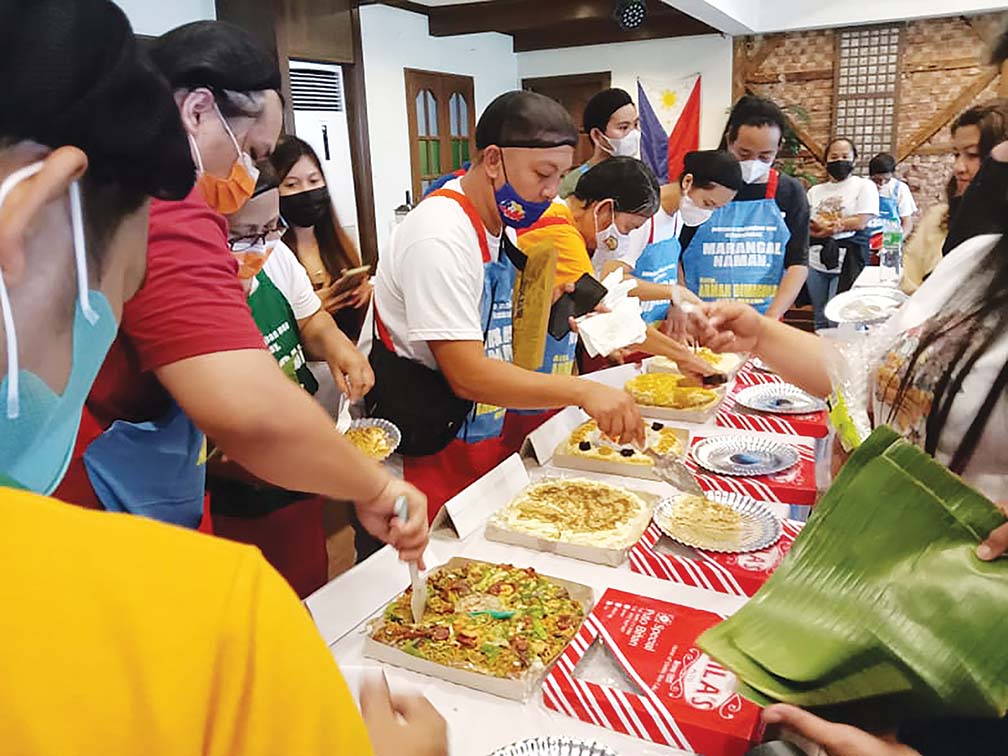 For the representatives of Barangay San Antonio, the cook fest is a family affair, with Meagy (son), Rosemarie (mother), and Eduardo Alag (father).
According to Meagy Alag, during the feast of San Isidro Labrador on May 15, the Filipino-Chinese community in Biñan chose to celebrate the Pistang Tsinoy with so much fanfare after nine days.
Urban legend says that during the class war, the Insulares, the Tsinoys, and Filipinos (mestizos and indios) celebrated different dates of the town fiesta, from May 15 to May 23.
The Chinese invented firecrackers anyway, and with much pride they also celebrate the Biñan town fiesta by lighting up the sky.
Meagy, Rosemarie and Eduardo are all history buffs. Their pancit version of the Puto Biñan is a rare must-see. According to them, the Tsinoy community in Biñan is a very important fragment of their history.
JUDGES' VERDICT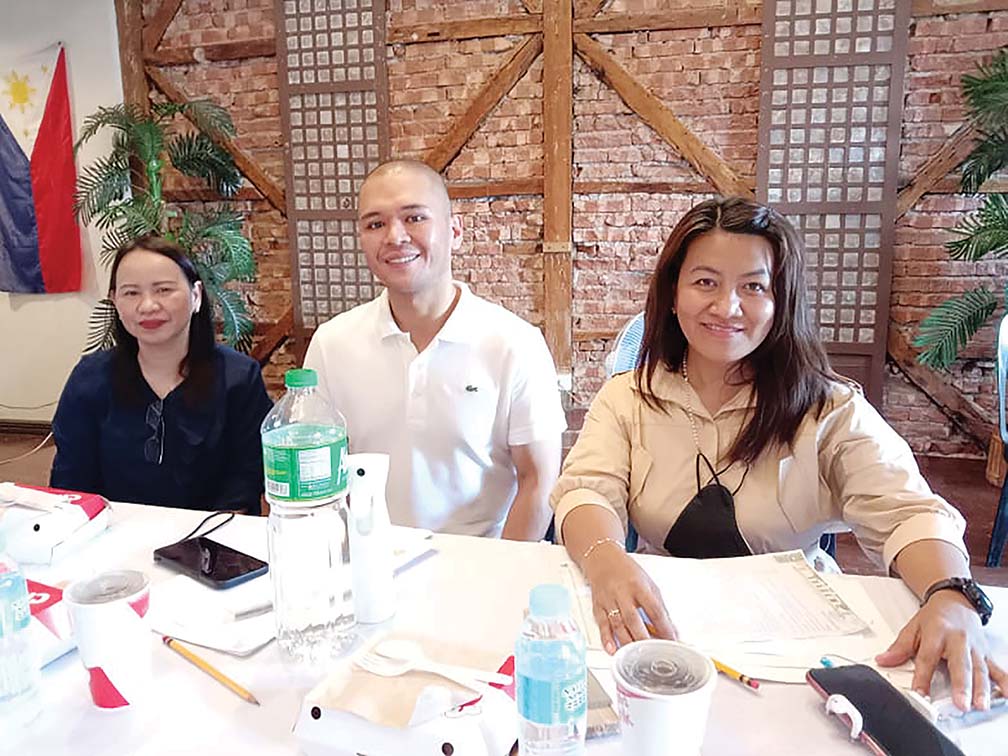 One of the judges is Chef RV Manabat, a celebrity chef, vlogger, and author. One of the processes of the puto is to ferment rice and that is what makes Puto Biñan stand out among the rice cakes all over the country, Manabat said.
"Puto Biñan is part of our tradition. We expect modern flavors to be incorporated in the classic taste of the puto, while preserving the texture and flavor of the traditional Puto Biñan," he said.
And speaking of flavors, many are classic Filipino flavors; flavors we already see in other dishes. We just are not yet sure how they will be accepted as Puto Biñan ingredients," Chef RV added.
"Tayong mga Pinoy e medyo masawain tayo sa pagkain [We Filipinos are rather finicky when it comes to our choice of food]. In order to add to the excitement, we have to offer seasonal flavors para maputol yung umay [to remove our aversion to eating the same food over and over]. But for sure, at the end of the day, we go back to the classic." he added.
PINIPIG IS BEST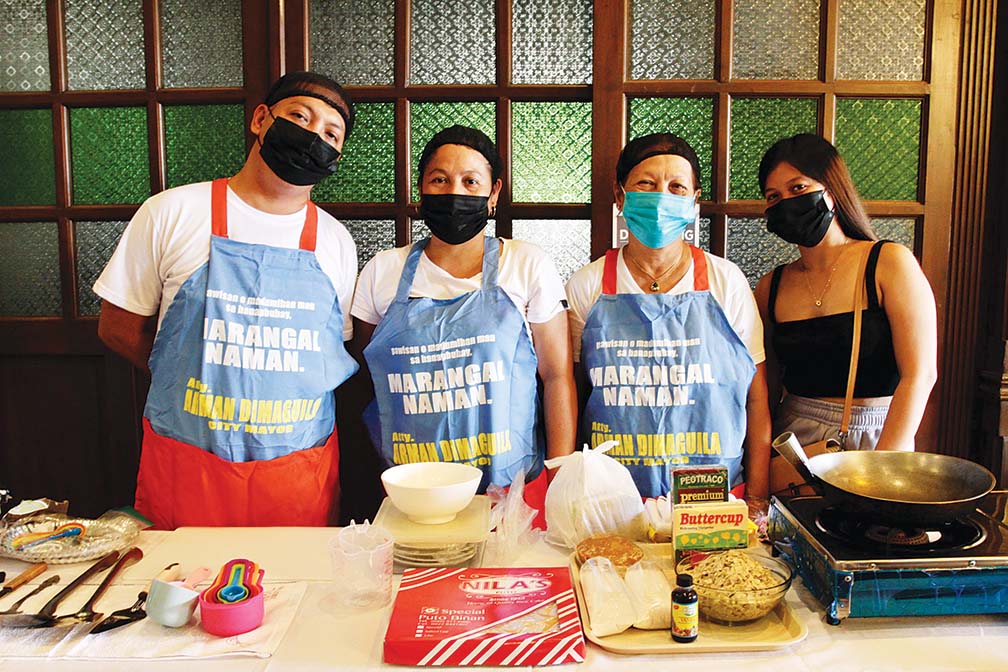 Representatives of Barangay Canlalay, winning barangay in the 12th Puto-Latik cook-off
In the end, Barangay Canlalay—represented by designer Roma San Luis—won the top award in the Puto-Latik Cook-off.
San Luis literally jumped with joy after the announcement of winners. "We followed the criteria and chose to keep it simple. The dressing should complement the puto base. Bakit di nating gawing cake? Pamalit sa chiffon dough, pwedeng gawing sans rival, at ibinida namin yun produkto ng Barangay Canlalay, which is Pinipig [Why not make the puto a cake? We made it a sans rival kind of puto, featuring the Pinipig, a product of Barangay Canlalay]."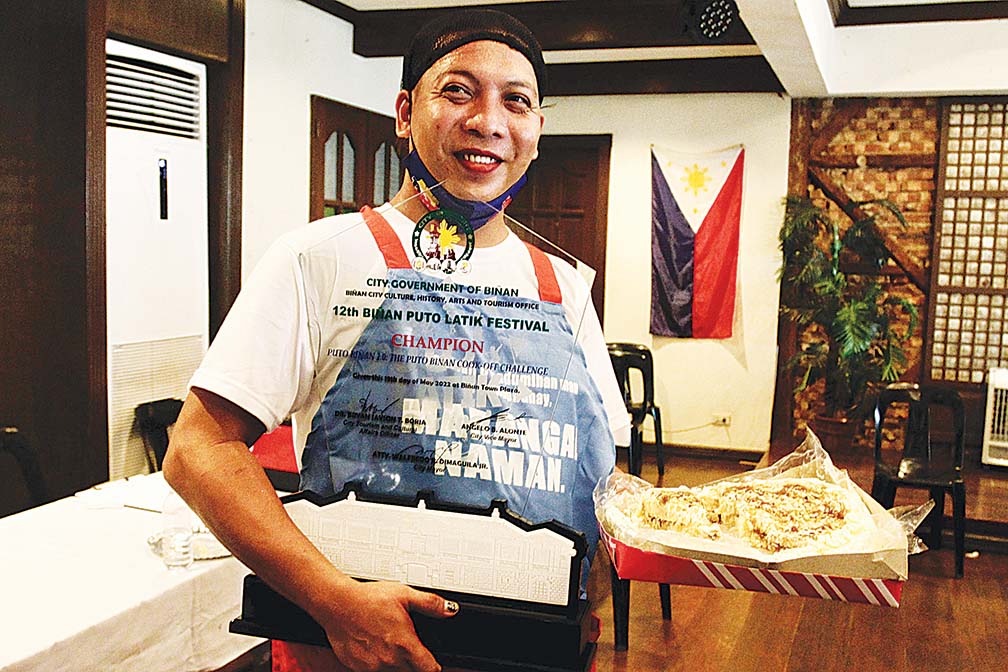 It was a repeat win for San Luis and Barangay Canlalay, who first took the cook-off top award in 2017.
Working quietly during the 90-minute time limit given to them, San Luis and two others carefully roasted their best pinipig. With an electric beater and a mini cooler, they topped their Puto Biñan with crunchy pinipig, complimenting the tartness of the cake.
Among the judges of the cook-off were Ospital ng Biñan Nutritionist/Dietician Alma Aguilar and Cavinti tourism officer Myrnalen Calupig Pautan.
Aguilar, while doing her rounds, said all the judges took notes on the ingredients, recipes, and preparations undertaken by the contestants. "I based my judgement on the ease of preparation and palatability," she said.
CHAMPION Puto Biñan recipe
BARANGAY CANLALAY'S PUTO BUTTERED CAKE PINIPIG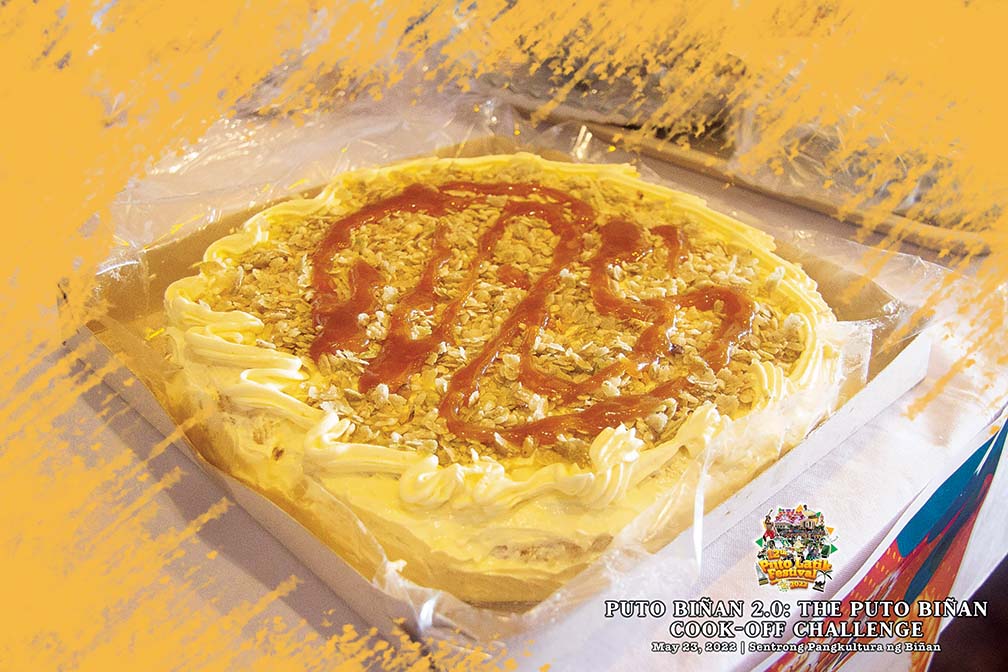 Ingredients:
Nila's homemade puto
pinipig
DariCreme/Buttercup
powdered sugar
vanilla
small condensed milk
1/2 panocha
2 whole coconut milk (gata)
food color (optional)
Instructions:
1. Using a mixer, whisk DariCreme/ Buttercup in a mixing bowl until fluffy.
2. Slowly add the powdered sugar to the creamed butter until fully incorporated.
This will become the base so that the butter cream does not melt.
3. Toast the pinipig in a pan until it becomes crunchy.
4. Cook the panocha with the coconut milk until it dissolves and attains the consistency of a coco jam.
5. In the sliced puto, fill the top with coco jam and add pinipig before placing another slice of puto on top. Use the butter cream you made as icing.
6. Spread icing on the whole surface of the puto using butter cream and sprinkle with pinipig.
7. Place it in the refrigerator for 20 minutes to allow the icing to set.
8. Puto Buttered Cake Pinipig is now ready to be served.
___________________
1st RUNNER UP PUTO BIÑAN RECIPE
BARANGAY SAN VICENTE'S PUTO BEGG WITH CACANG GATA CON LATIK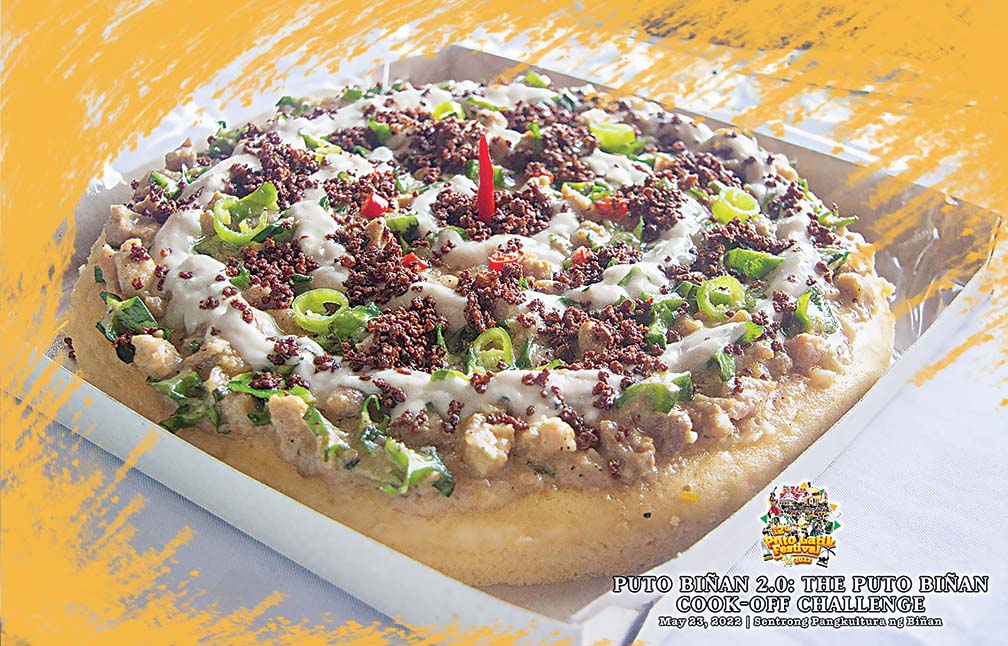 INGREDIENTS
1/4 pork belly sliced
1 cup winged beans
2 cups of coconut milk
1 white onion
1 thumb ginger
2 cloves garlic chopped
2 pieces siling labuyo
3 pieces sili panigang
5 pesos alamang
5 pesos mantika
Ground black pepper
INSTRUCTIONS:
1. Heat oil in a wok or pan. Add pork belly. Sear until enough oil is extracted from the fat.
2. Add onion, garlic, ginger and chili pepper. Continue cooking until the onion softens.
3. Add shrimp paste (bagoong, alamang); saute for 1 minute.
4. Pour coconut milk into the pan. Cover and let boil.
5. Cover the pan and adjust the heat to the lowest setting. Continue cooking until the pork gets tender.
6. Add winged beans, cook for 5 minutes.
7. Season with ground black pepper.
8. Continue stirring until thick.
9. Place on top of the rice cake evenly.
10. Add chili pepper slice, cacang gata, and latik on top to make it more delicious to eat.
11. Make 6 to 8 serving.
12. Serve, share and enjoy!
_________________
2nd RUNNER UP PUTO BIÑAN RECIPE
BARANGAY MALABAN'S PUTO BIÑAN LANGKA-TULAD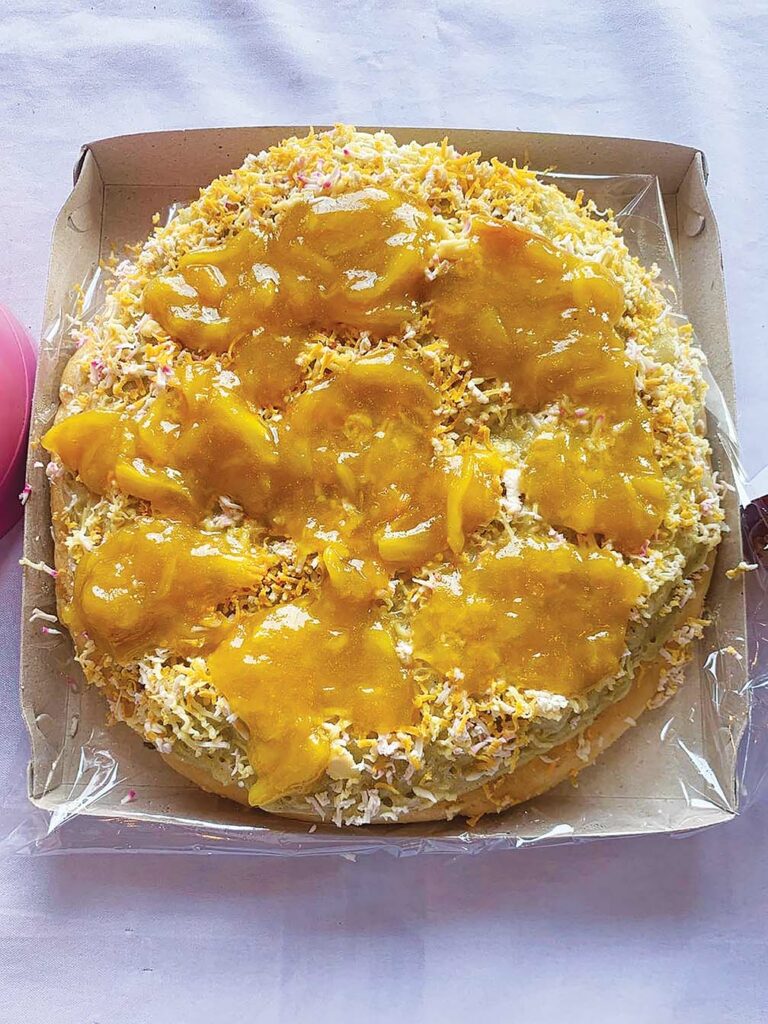 INGREDIENTS
1/4 cake flour
1/4 calumet
1/4 sugar
pandan syrup
salt
egg
water
1 condensed milk
malunggay powder
cheese
salted egg
jackfruit
lakatan banana
INSTRUCTIONS
1. Mix together cake flour, calumet, sugar, pandan syrup, banana, malunggay powder, salt, egg, and water until fully incorporated.
2. Mix until it becomes thick.
3. Boil water and place cheesecloth in the steamer and pour the mixture made.
4. After 15 minutes, add milk, remove from the steamer and set aside to cool.
5. Cook the jackfruit in sugar until it caramelizes.
6. Add cheese, salted egg, and sweetened jackfruit on top of the puto.