A few hours before deadline, I am watching FPJ's Ang Probinsyano where Susan Roces was known as Lola Flora, the barangay captain.
For close to seven years, she was part of this teleserye. Almost always, I was invited in the yearly anniversaries.
She would muse during interviews: "Alam mo Pablo, when you become part of this teleserye for years, you stop acting just like a character of this hit teleserye. You become close to your own character through the years and your character becomes you. Now, I treat Coco Martin (Kardo Dalisay) not just as a co-actor. I actually treat him now as my real grandson."
As I review photos I can use in this article, I saw a photo of Coco Martin with Susan Roces guffawing to high heavens. That must be after another break from taping sessions now on their seventh year.
I recall now, the last scenes of Susan in that teleserye is a praying scene asking for the Lord's intercession to keep her grandson (Kardo Dalisay) safe.
And this was just before her 80th birthday last year.
On the day she breathed her last, I was in the island vacationing with my grandchildren.
I remember I took a dip in the island resort pool Friday night after staying sometime in that tree of my childhood in the heart of town the whole afternoon. That was where I used to watch movies in the late 50s and the early 60s. In that time of my youthful years, the films of Susan Roces and her husband FPJ, figure prominently.
I paid homage to that tree of my youth as silent witness to my small-town cinema-going days: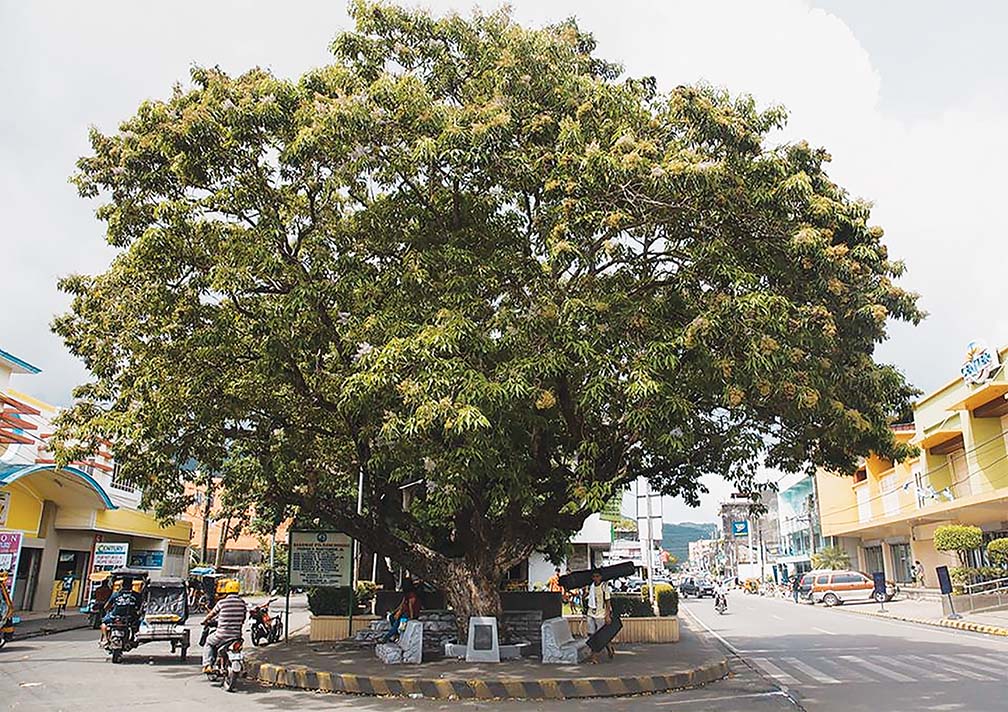 I have deep affinity
With this tree
In the heart of town
In the island.
It is the repository
Of my youth
In the 60s.
The first intimate yearning
Of desire
The first signs of love
that were not meant to be.
It is just a walk away
From an old theater
Where once we watched
Double action movies
And lachrymose dramas,
Endless Bible films
On holy week
Including sensual treats
From the decade's hot stars.
I can still smell
The pungent scent
Of humid air
In the old theater.
I can still imagine
The sound of wood creaking
As you claim your seat.
And the whirring
Of huge electric fans
Blowing away
Trail of dry sweat
From the weekend islanders
On a rare respite from work.
I cannot count
The number of times
I sat under that tree
Waiting for my ride home
After watching double treat
In the capital town.
It is still there
This tree of my youth
Beside the now extinct theater
Turned into another mall
And eatery.
I recalled every piquant moment
In that island theater
As I watched Cinema Paradiso
With nostalgia magnified many times over
By the soulful music
Of Ennio Morricone.
The last time
I was in the island,
I told my grandson
To remember that tree
Which was a virtual playground
Of his once youthful grandpa.
My sunrise in the island
Always find me
Gazing at this tree
As the town folks
Prepare to welcome another day.
I also like to watch this tree
At sunset
As darkness falls
In the once and future town
Of my youth.
For once I connect
With Joyce Kilmer.
That along with my memories
of this island
'I shall never see
A poem as lovely as a tree.'
Before midnight of Friday, the 20th of May, I woke up restless.
I checked what's on FB.
And so, it came to pass that the erstwhile Queen of Philippine Movies passed away May 20—a shy two months short of her 81st birthday in July.
As it turned out, Susan was prepared for this encounter with her final destiny.
She ruled out going to the hospital one more time for further checkup.
As her daughter Sen. Grace Poe recalled during the wake, Susan intimated she was ready "for her time."
Even as daughter pleaded for another hospital confinement, mother was adamant but gentle about her fate. Yes, she was thinking of people she would leave behind. But this time, she was sure she could accept her fate. Not that she didn't care about her loved ones. But it was time she thought of herself.
In Poe's words, her mother said: "I've been thinking of other people and how they'd feel if suddenly I leave them behind. This time I am thinking of myself and the much-needed rest I deserve. I am 80 years old and I am ready."
And so, she was laid to rest Friday, May 26 at the Manila North Cemetery beside Fernando Poe Jr.'s tomb.
TELESERYES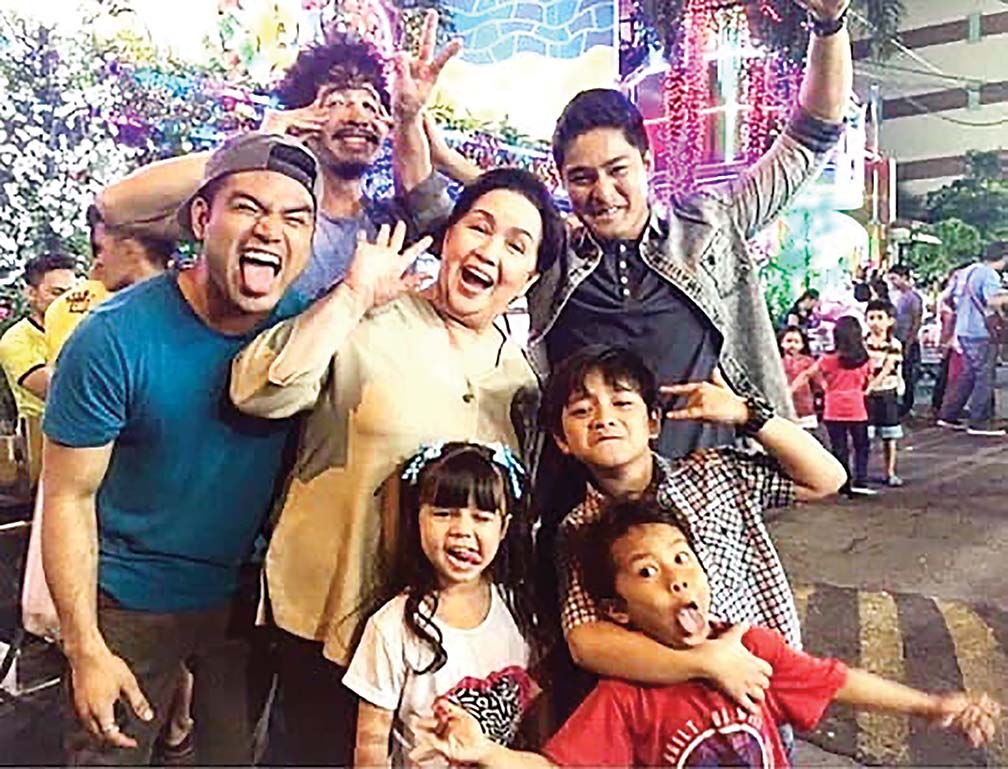 A few days before her 80th birthday in July last year, Susan was still busy living her role as Lola Kap in FPJ's Ang Probinsyano.
In this scene, she tearfully begged her grandson Cardo Dalisay (Coco Martin) to stop being impulsive. Tears were rolling down her cheeks as she implored grandson not to take the law into his own hands.
It was the former movie queen at her most active phase yet in a blockbuster teleserye now on its 7th year.
She is no stranger to teleseryes.
Some years back still regal and charming in her 70s, she delighted in being installed as "Lola Ng Bayan" with her assorted grandma roles on television.
She admitted she liked the exposure. "Let's face it, some households have more than one TV set and viewers watch you in the comfort of their living room, in their bedrooms. Even the maids have their own viewing sessions. We are watched even in sari-sari stores. They cheer the bidas and hate the contrabidas. Some of them even talk to the characters and warn them during chase scenes, 'Dali, takbo, aabutan kana.' As a senior citizen, the teleserye is just one of my sources of relaxations and I relate to it a lot. Believe it or not, I also cry when my favorite character is depressed."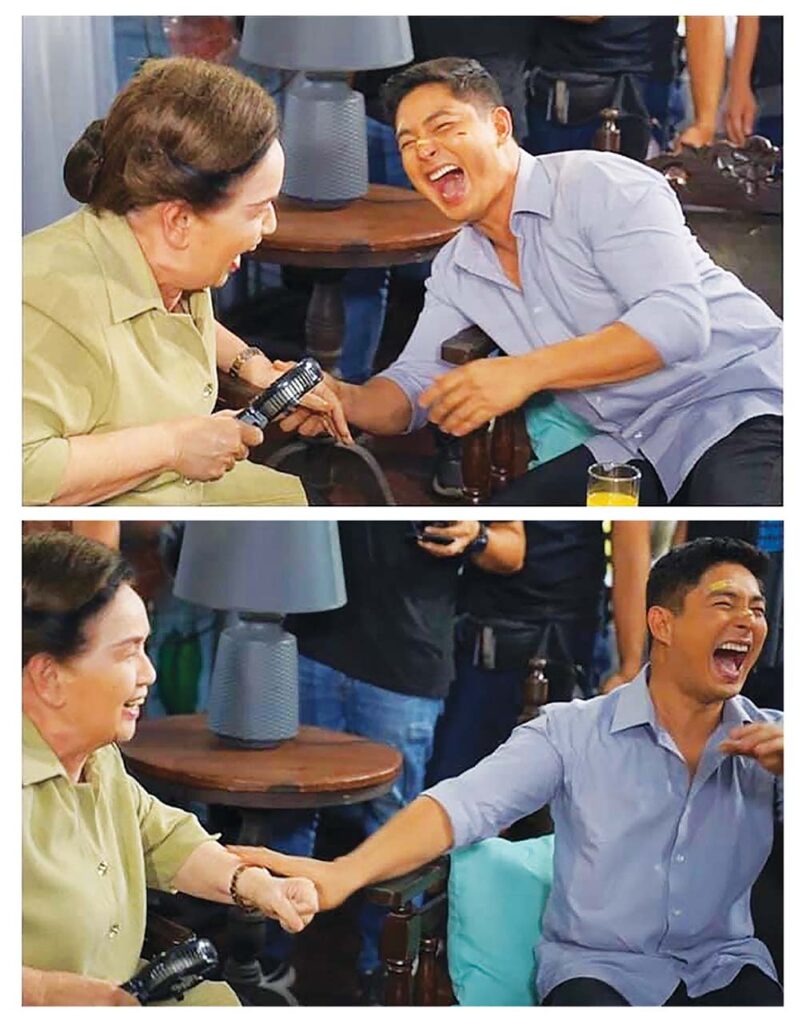 True, the past decade was her years of top-rating teleseryes, "As an actress, I find extra challenge doing teleseryes. There are more cameras grinding around you and the flow of your emotion is unhampered by continuous taping. Thus, I feel good not having to re-live the same sensitive emotion over and over again the way they do it on film. I admit it is not easy for me to cry on television. Thus, my constant request from the director is to shoot all my crying scenes in one take. I don't really like crying in real life."
Some years back, retired broadcast journalist Cheche Lazaro came up with a TV special analyzing the evolution of the Filipino teleserye.
Entitled "Si Ser Chief, Si Maya at Ang Teleserye," the TV special gave both producers and audiences a bird's eye view of what kind of soap operas would click with audiences and those likely to be ignored.
One such successful noontime teleserye called Be Careful With my Heart indeed had an audience acceptance that cut across ages, gender, social classes and race.
Be Careful With My Heart Business Unit Head Ginny Ocampo said many things come into the making of a successful teleserye. "We have an active creative group that decides the direction to which the teleserye should go and what episodes need to be developed or discarded depending on the feedback we get from the audience."
Award-winning screenwriter and now National Artist Ricky Lee, who was Creative manager of ABS CBN, opined the direction of the story almost always depends on the feedback they get from the audience. "Yes, we write the story but most of the inputs in the teleserye we also get from the audience. The teleserye villain gains popular acceptance when he or she becomes widely 'hated.'
The Lazaro TV special traced the Philippine teleseryes from the time of the Gulong ng Palad in the 50s to the reign of Janice de Belen and Judy Anne Santos as child stars of Philippine teleseryes and the time the Filipino favorite soap operas invaded Brunei, Myanmar, China, Indonesia, Hong Kong, Singapore, Vietnam, Korea and Taiwan. It also analyzed the impact of the invasion of the Mexican teleserye import, Mari-Mar.
Finding herself in another Coco Martin top-rating teleserye, Susan said she has learned to treat co-stars as relatives in real life. "Through the years I have learned to treat Coco Martin not just as co-star but as honest-to-goodness grandson in real life. Imagine fearing for the safety of your grandson for six years now!"
SUSAN: 60s, 70s, & 80s
Susan Roces was born Jesusa Purificacion Levy Sonora in Harrison Hospital in Pasay City on July 28, 1941. But she grew up in Bacolod.
I only saw her movies in the 60s in our island's Catanduanes Theater.
By then, islanders were divided into pro-Susan Roces and pro-Amalia Fuentes.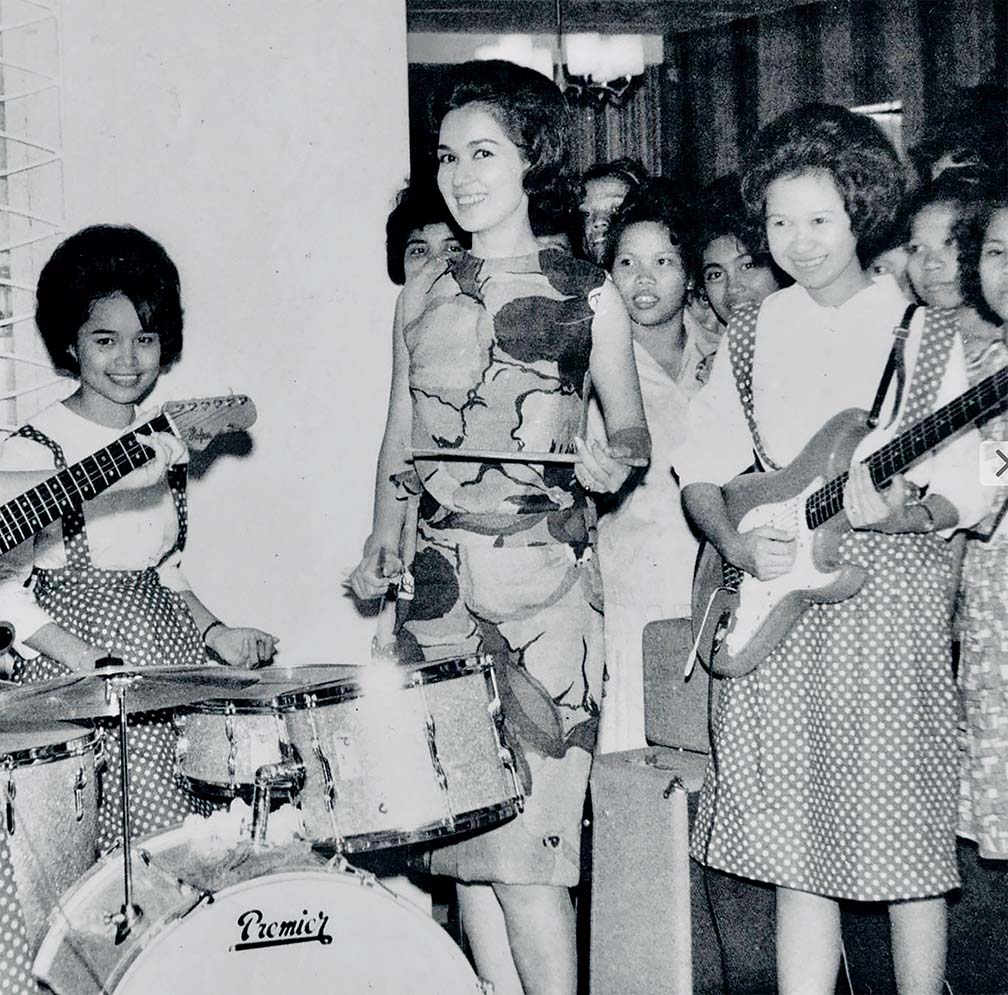 My being pro-Susan led me to the belated company of the number one fan and confidante of the movie queen—the movie writer Baby K, Jimenez who happens to be one of the movie queen's best friends.
That friendship lasted close to seven decades and still continuing even by the movie queen's sudden death.
Recounted movie scribe Baby K. Jimenez and close friend of the movie queen: "I first met Susan in 1963 when I was still a student. I was a member of an-all girl combo called the Polka Dots and we were invited to play at a party for her held at her own home. Years later, I bumped into her at a tv station and she remembered my name! I was pleasantly surprised. When I started writing for entertainment, it was easy to get access to her because of that meeting."
It was easy liking Susan in the 60s, 70s and 80s.
For Baby K, Susan is synonymous with being kind, sincere, thoughtful and intelligent.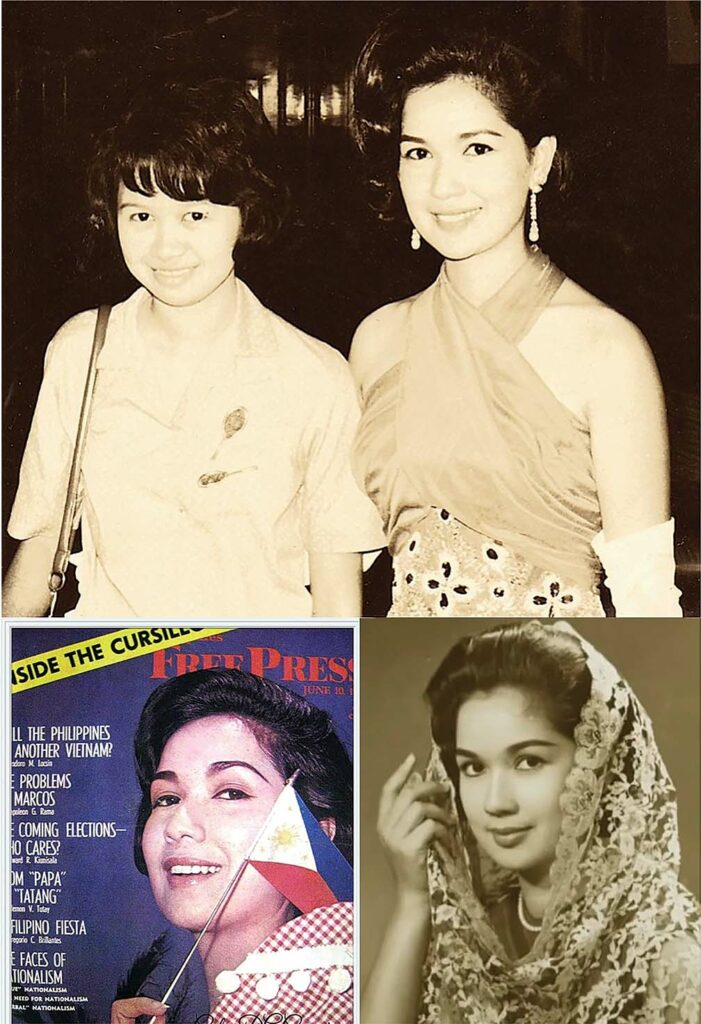 She likes to sum up Susan's 80 years as glorious decades. "I can say she was blessed. But then her name was also synonymous with humility. How she treats people is also legendary. Talk of being kind and generous to a fault."
One episode she will not forget was when she was asked to be one of the wedding sponsors of her 1968 wedding to action star, Fernando Poe, Jr.
Main sponsors were no less than the late President Ferdinand Marcos and then First Lady Imelda Romualdez Marcos.
As it turned out, the Susan Roces-FPJ nuptials in 1968 was wedding of the year.
Baby K still gets misty-eyed recalling best friend's wedding 54 years ago. "It was dawn of the season's first simbang gabi. As the church bells rang merrily to start the Misa de Gallo, Jesusa Levy Sonora officially became Mrs. Ronald Allan Poe in civil rites officiated by Mayor Gerry Angeles in Valenzuela, Bulacan. (They first went to Mayor Norberto Amoranto of Quezon City but he was not home)."
Meanwhile at the Sonora residence, they wondered where Susan was. Her bedroom was empty! They knew that the two were together earlier at a basketball game at the Araneta Coliseum and Susan even went home after that. Mommy Sonora was so worried. So, Uncle Nes, Susan's uncle-chaperon, decided to call the Poe residence. Is FPJ home? Do you know if he's with Susan? The reply: "We also want to know his whereabouts, he's not home either! Maybe they're together?"
It turned out that after their civil wedding in Bulacan, the newlyweds motored to FPJ's Beverly Hills home in Antipolo.
Continued Baby K's recollection: "A few hours later, I was roused from sleep by a hand-carried note from Susan written on a half-torn lined pad paper.
The letter read: "My Dearest Babes: I am so happy right now and I want to share my happiness with you. Please see me as soon as possible, you have to help us with our church wedding plans!"
Susan and Baby K rushed together to talk to Pitoy Moreno regarding the wedding ensemble and later to Mila Dayrit for the rings. Asia's fashion czar had barely seven days to work on the bride's wedding gown. Baby K. overheard Pitoy saying he was going to do rush import of lace from Italy.
Yes, the King and Queen of Philippine Cinema eloped first week of December and figured in a rush civil wedding shortly after.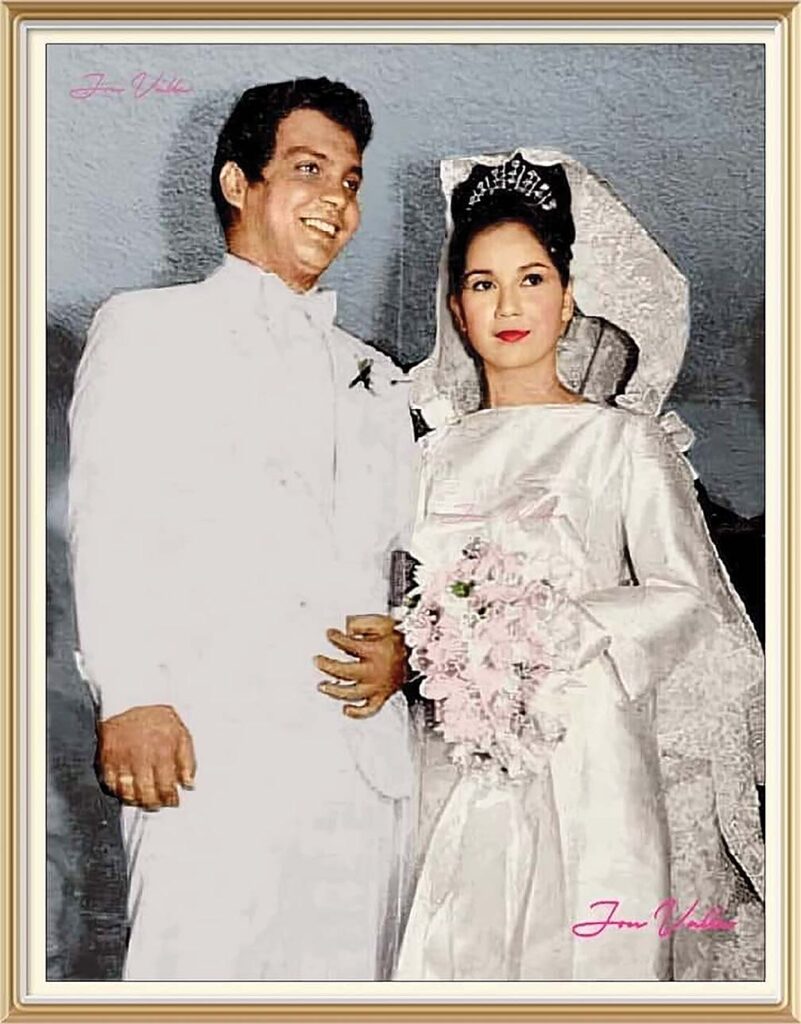 A church wedding followed on Christmas Day (no other dates were available).
Baby K's farther recollection of that wedding of the year: "At 6 a.m. of December 25, 1968, I remember hurrying up to 226 Wilson St., San Juan, Rizal, the residence of Susan. It was her wedding day and Susan had told me most of us (her bridal entourage) would all converge first at her residence before proceeding to Santuario de San Jose in Greenhills. Susan did not forget to remind me, 'Babes, be slow in lighting up the candle ha, check the wick properly.' I was the candle sponsor."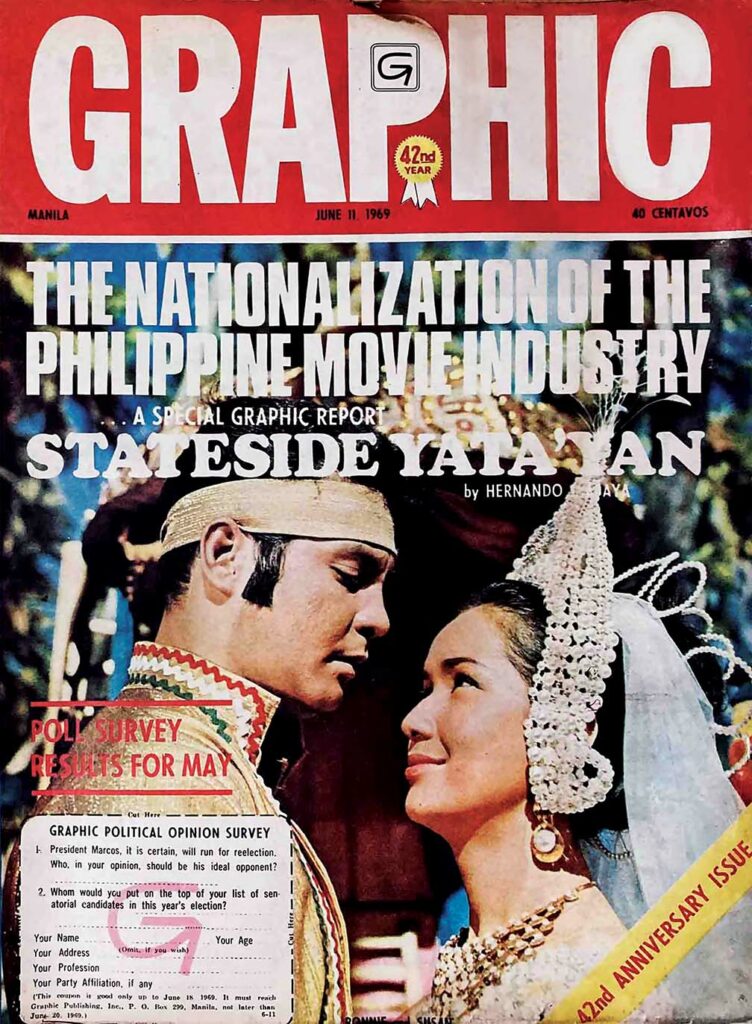 Reception was at the Presidential Hall of the Philippine Plaza. The love lovebirds left in the afternoon for their honeymoon in Japan.
MOVIE IDOL, GIRL-NEXT-DOOR
In the mid-60s when I first set foot in Manila, I walked from East Avenue to Gilmore Avenue in Quezon City to do whole afternoon vigil at the gates of the Sampaguita Pictures studio hoping to see Susan Roces in person.
Never had such luck.
Saw everyone from Boy Alano to Rosemarie Sonora but never Susan Roces.
When Ricky Lo assigned me to interview Susan Roces in 1991, I replied with a triple "Yes!"
Waiting at the living room of her Lincoln Street home in Greenhills, I actually was very nervous.
That was the feeling when the one you were about to interview was the same person you had hiked East Ave. to Gilmore Avenue for—just to see them in person.
The niece, Sheryl Cruz, appeared in the living room and told me "Swanee" would be around in a while. "Mukhang nininerbiyos. Baka daw mahihirap ang mga tanong mo [She (Susan) seems nervous. You might ask difficult questions]," she said and I thought she was kidding.
Actually, I was the one nervous (or maybe more due to excitement).
When Susan appeared, I thought I saw a saint descend in the living room.
It took a while to break the ice as I instantly recalled how I would frequent Catanduanes Theater in Virac every time there was a Susan Roces-FPJ starrer.
In that meeting in the early 90s, I actually became more relaxed when she recalled her first audition at the Sampaguita studio. One of the audition scenes she was made to re-enact was an "attempted rape" scene.
She recalled she hollered "Saklolo" as though her life depended on that scream. We ended up sharing laughter because she said she was very naïve when she did that audition.
Later during the interview, she also recalled visiting the grave of a close relative and noticed what looked like snow all over the place, "Pablo, I thought finally nagka-snow na sa Pilipinas. But when I touched it, sabi ko bakit hindi malamig?"
It turned out they were just ashes from Mt. Pinatubo whose eruptions sent ashes kilometers away into the wide Philippine skies.
Again, we shared boisterous laughter and then I realized my movie idol was just as human as the girl next door.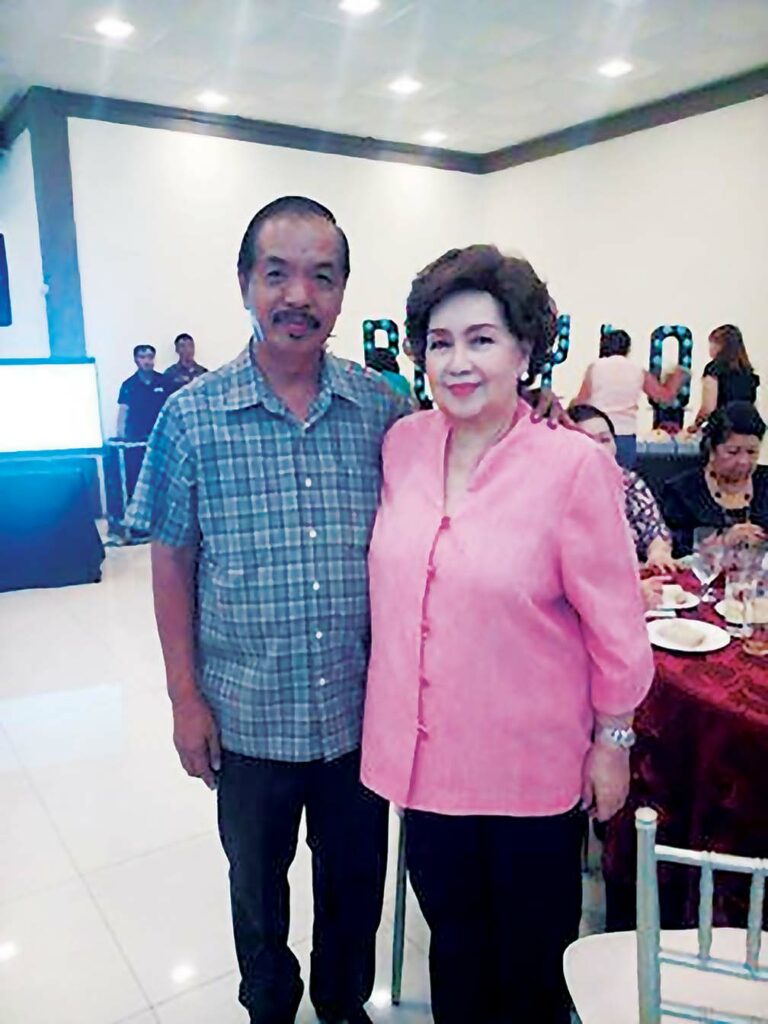 FULL CIRCLE
Six years ago, it was my turn to re-unite with Baby K and her Susan Roces in an intimate dinner hosted by Carlitos Siguion Reyna and Bibeth Orteza.
I was hushed to silence when the guests started arriving. First to come was movie queen Susan Roces whose films were what I remember of Catanduanes Theater, now long gone.
Second to arrive was The Nora Aunor, and then another iconic Bicolana, Boots Anson Roa with husband, King Rodrigo, Jr.
I was not through staring at Ate Guy when Tirso Cruz III arrived with wife, Lynn Ynchausti.
Tirso and Nora were one of my first showbiz assignments in the pre-martial law Graphic Magazine while Susan (and husband FPJ) was the reason Catanduanes Theater was always full especially on a Sunday when moviegoers from all over the island trooped to the capital town to watch their idols.
Sharing one table, you find yourself listening intently to the conversations only to discover the stars were just as human as the rest of us.
Susan asked Boots' husband what federalism is all about, Nora said the only musical instrument she knows is the guitar and added, "Oido lang [Playing by ear].
Seated in one dinner table literally surrounded by stars, I remember my days as a movie fan.
In this select crowd, you had time to gently approach your favorite stars.
Approaching Nora, one told her one voted for Sen. Grace Poe to ask for justice for her being dropped from the list of National Artists (she got the highest number of votes among the nominees).
As this story is being written, Nora Aunor has been declared National Artist for Film along with director Marilou Diaz-Abaya and screenwriter Ricky Lee.
Deep into the night, you had these stars all to yourself as dinner guests and not as presscon personalities.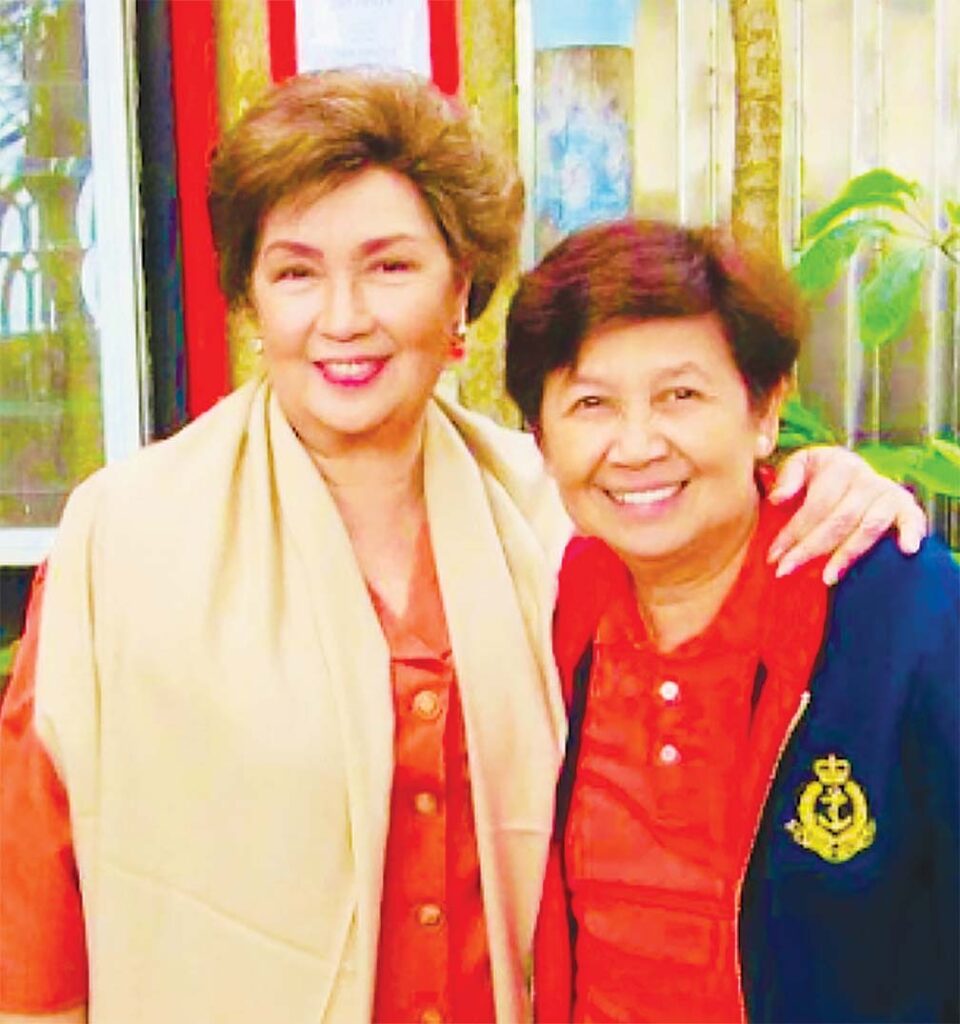 The sumptuous dinner was intimate as it should be and a fitting despedida for showbiz writer Baby K again leaving for Canada after campaigning for Sen. Grace Poe who literally grew up with her and the family of FPJ.
The stars and the non-stars have come to terms with their lives.
As for me, that dinner date made me come full cycle in my life as movie fan. Now I commute between the arts and the movies and happily enjoying the best of both worlds.
How I wished pianist Cecile Licad was there playing for her fans in the showbiz circle. By coincidence, Licad has a showbiz background. Her mother Rosario Buencamino Licad grew up in the compound of LVN studios where filmmaker Mike de Leon is a close relative.
Looking at Susan Roces and Boots Anson Roa and Nora Aunor in the same dinner table, I couldn't help recalling my happy days in the island when I'd emerge fulfilled and amply rewarded with a double movie treat in the only theater in the island in the 60s.
SAYING GOODBYE
So, how did the movie queen spend her last birthday, her 80th, on July 28 last year?
She spent it quietly.
But her living room and lanai were overflowing with flowers and birthday bouquets from friends and fans who remembered.
Outside the movies and teleseryes, the movie queen was a certified green thumb. In her lanai were a modest harvest of fruits—santol and rambutan, among others, that she raised in her garden.
Baby K described her best friend as green thumb: "She has a special way with plants and on how to create a special environment for them. I remember when she was my house guest in LA, she planted some geraniums and zinnias in my backyard and they bloomed beautifully!"
How does a movie icon say goodbye?
The movie chroniclers recalled her first and last movies. They talk about her 1952 film, Mga Bituin ng Kinabukasan followed by Ang Daigdig Ko'y Ikaw, Gumising Ka Maruja, Patayin Mo sa Sindak si Barbara, and Mano Po. Her first lead role was in the 1956 film, Boksingera. She made more than 130 films the most memorable of which were Gumising Ka Maruja, Patayin Mo sa Sindak Si Barbara and Mano Po 2.
Meanwhile, co-stars shed tears recalling happy times.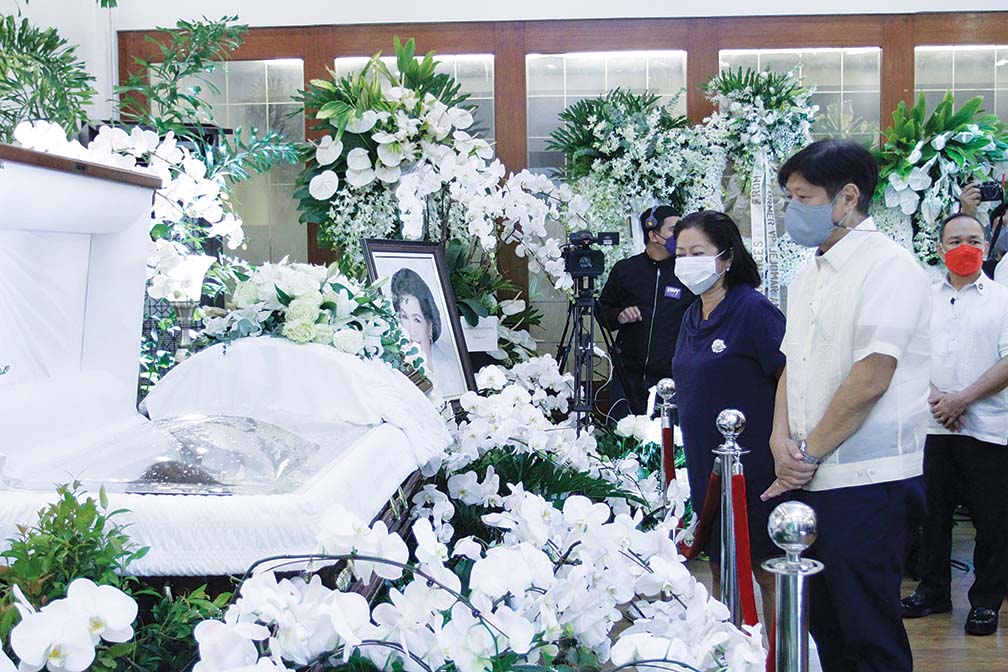 Politicians like newly-elected President Ferdinand "Bongbong" Marcos, Jr. paid due respects. Marcos and his wife, Louise "Lisa" Araneta arrived at the Heritage Memorial Park in Taguig City in the evening of May 24. They were received by Sen. Grace Poe.
Also present during that night were former Rep. Gina de Venecia, Ogie Alcasid, Pops Fernandez, and Eric Quizon.
Baptismal godchildren posted baby pictures.
Senator-elect JV Ejercito regretted not being able to thank Roces, his baptismal mother, for her support during the campaign.
Another godson, outgoing Manila Mayor Isko Moreno, demurred maybe death came for a good reason. "Maybe it's time for Ninang Susan to rest. At least she is now in Ninong's (FPJ's) loving arms."
Sen. Poe recounted it was "symbolic" that her final phone conversation with her late mother was the passage of the foundling law that both of them have championed from the very start.
The law signed by President Duterte recognized foundlings as natural-born Filipinos.
After that last phone conversation, she complained about recurring pain. She noticed her mother was having trouble finishing the conversation.
Outgoing senate president Vicente Sotto III, a comedian and actor before entering politics, penned a resolution seeking to express the chamber's profound sympathy and sincere condolences.
Senate Resolution Nos. 1002, 1004, and 1005 expressed the Senate's profound sympathy and sincerest condolences on the death of Jesusa Sonora Poe, popularly known as Susan Roces, who who passed away on May 20, 2022 at the age of 80.
The family of Sen. Poe thanked those who condoled. "Remember her in her beauty, warmth and kindness. She is now with the Lord and her beloved Ronnie—FPJ. We will miss her but we celebrate a life well-lived."
On May 26, Susan Roces was buried at the Manila North Cemetery, beside her husband Fernando Poe, Jr.