The 64th Ramon Magsaysay Awards was held on Nov. 30, 2022 at the Ramon Magsaysay Center.
The four recipients of Asia's premier prize and highest honor, namely Gary Bencheghib from Indonesia, Sotheara Chhim from Cambodia, Tadashi Hattori from Japan and Bernadette J. Madrid from the Philippines, received their Award in an intimate in-person presentation ceremony.
During the event, Ramon Magsaysay Award Foundation Chairperson Aurelio R. Montinola III, praised the four 2022 Ramon Magsaysay Awardees.
"A lighter of freedom, is surely someone who ignites in others, the desire to uplift, to free those who live in hopeless darkness of poverty, ignorance, hunger and injustice. It is a perfectly apt phrase to describe Ramon Magsaysay, as well as this year's Ramon Magsaysay Awardees," remarked Montinola.
The four Magsaysay Awardees expressed their gratitude for being elected to receive the Award and their awe to belong to a unique group of transformational leaders working in Asia.
Cambodia's Sotheara Chhim said, "This Award is very special to me on both a professional and personal level. It is an acknowledgement of the work that my organization, Transcultural Psychosocial Organization-Cambodia, have done to alleviate the suffering of the Cambodian people from trauma and mental health problems over the past decades."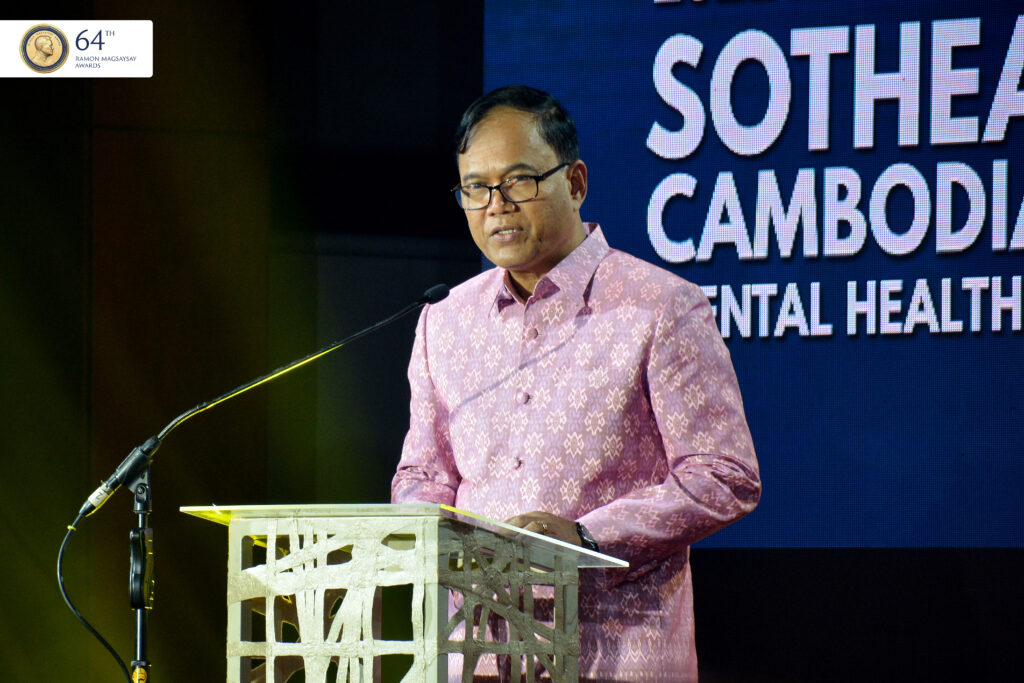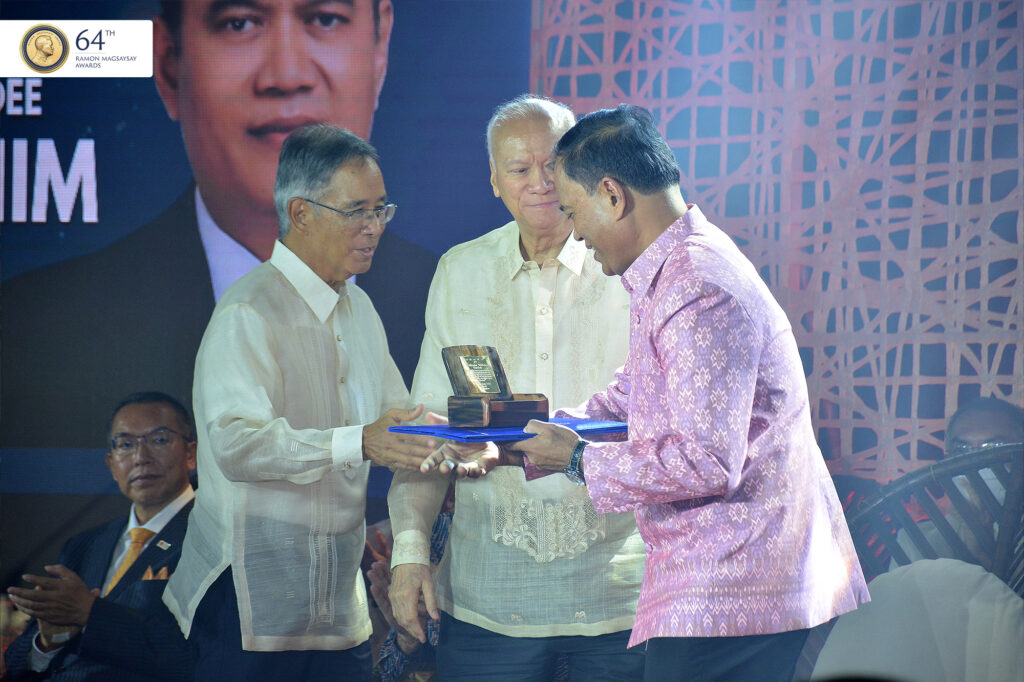 Japan's Tadashi Hattori shared why he continues to provide free eye surgeries to marginalized people in Vietnam.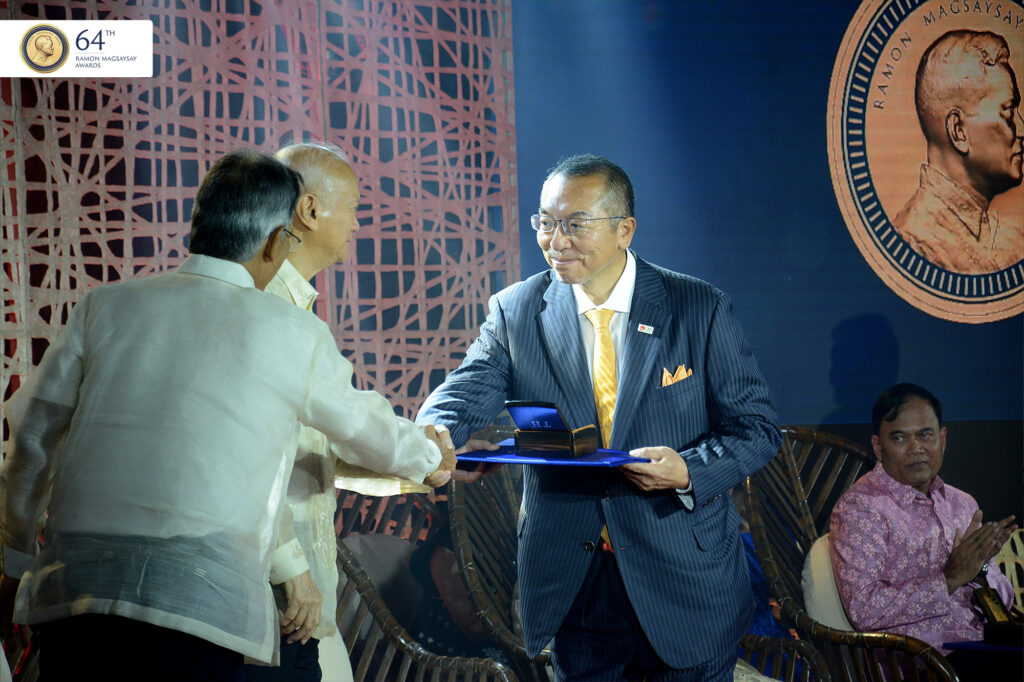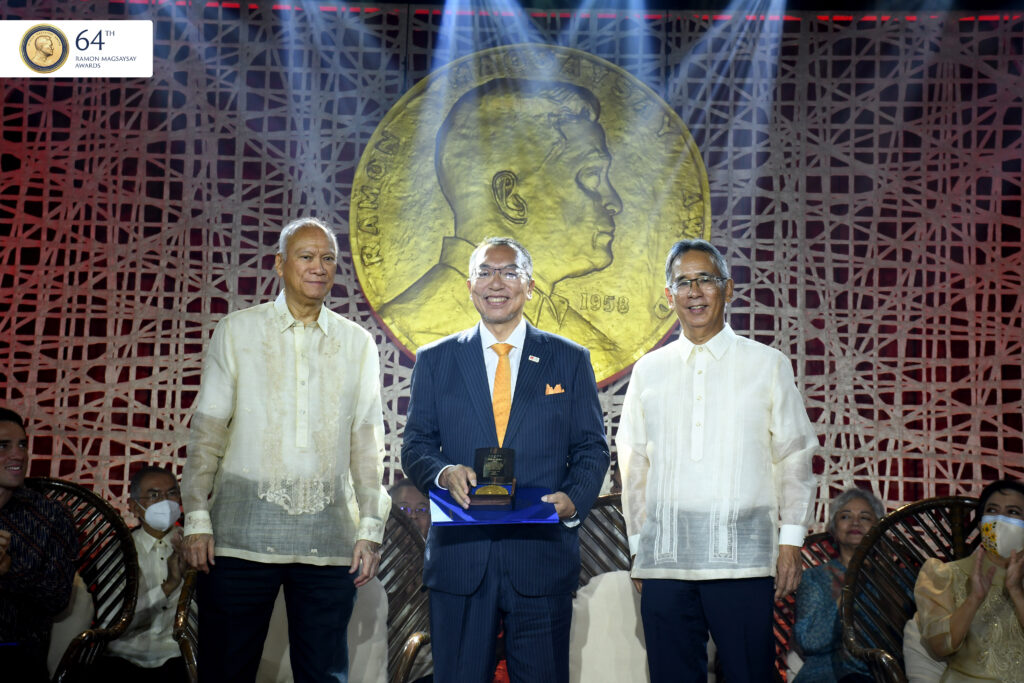 "When a child cannot read or write, unable to go to school because of blindness, it means the child is deprived of the opportunity to explore the full potential of life that God has given. There are many adults who cannot see, and live every day feeling helpless, useless and hopeless simply because they do not see the light ahead in life. If there is anything that I can do as an ophthalmologist, it is to bring light to such people, so that they will turn their despair to hope and live a better life that they deserve to live".
In her acceptance speech, Bernadette J. Madrid, a Filipino pediatrician who champions protecting every child in Asia, rallied everyone to support children's rights.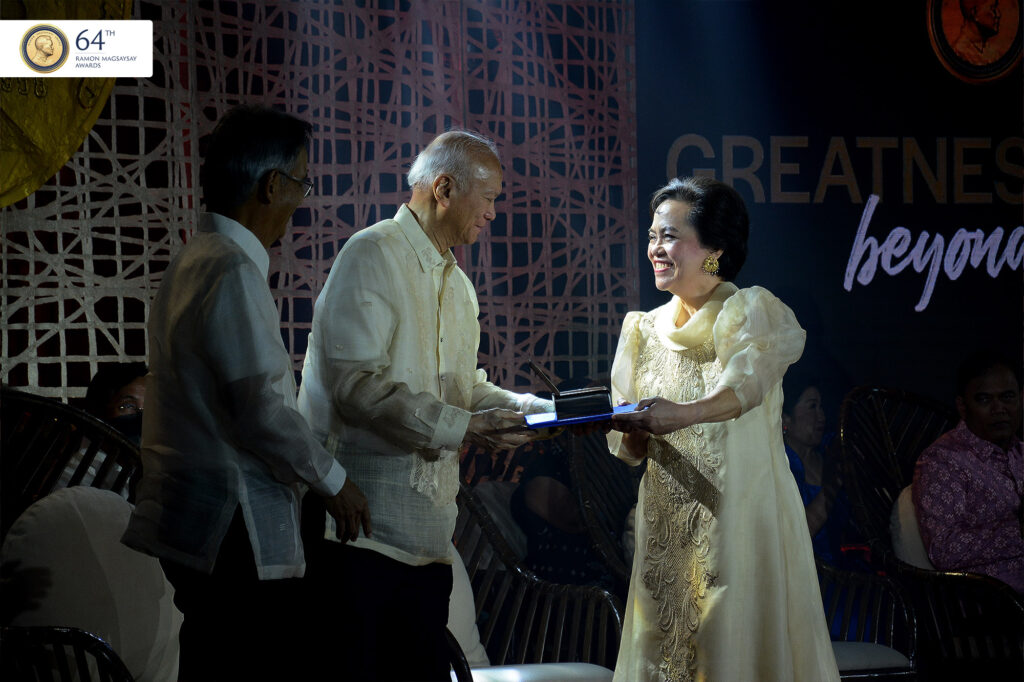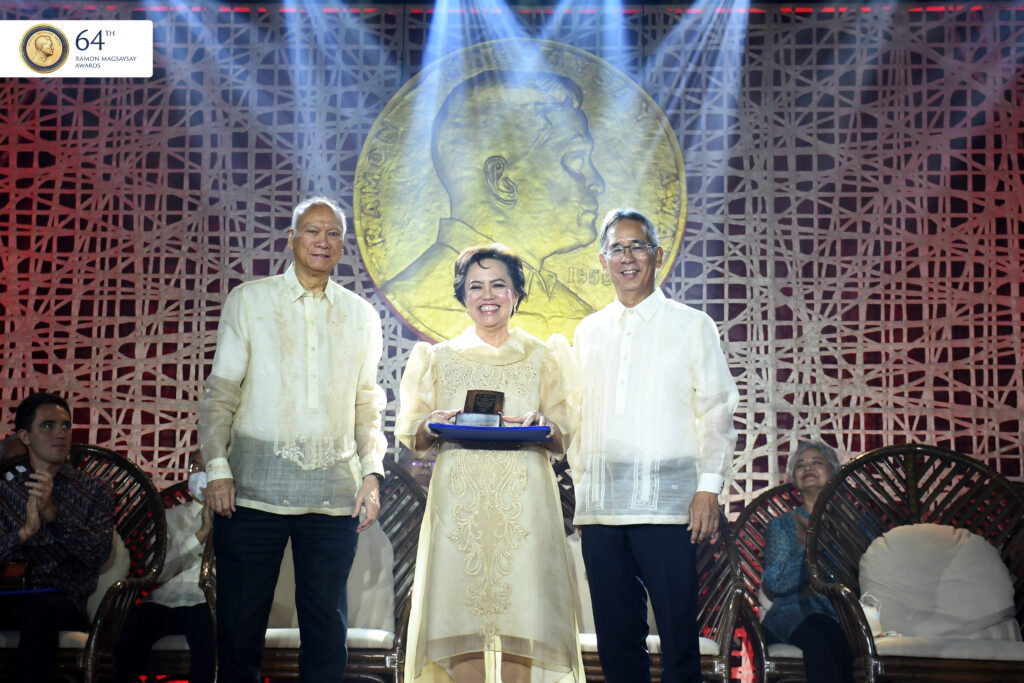 "We are stewards of this world and particularly of the children. We are stewards of their soul. The Ramon Magsaysay Award has made me realize how much people care and that I am not alone."
She concluded her speech by asking the live and virtual audience to stand up and pledge their support to children across the globe.
"Ako Para Sa Bata. I am for every child."
28-year old Gary Bencheghib from Indonesia, who received the Ramon Magsaysay Award for Emergent Leadership, paid homage to his mother who told him that if he does not study hard, he will end up working as a garbage man.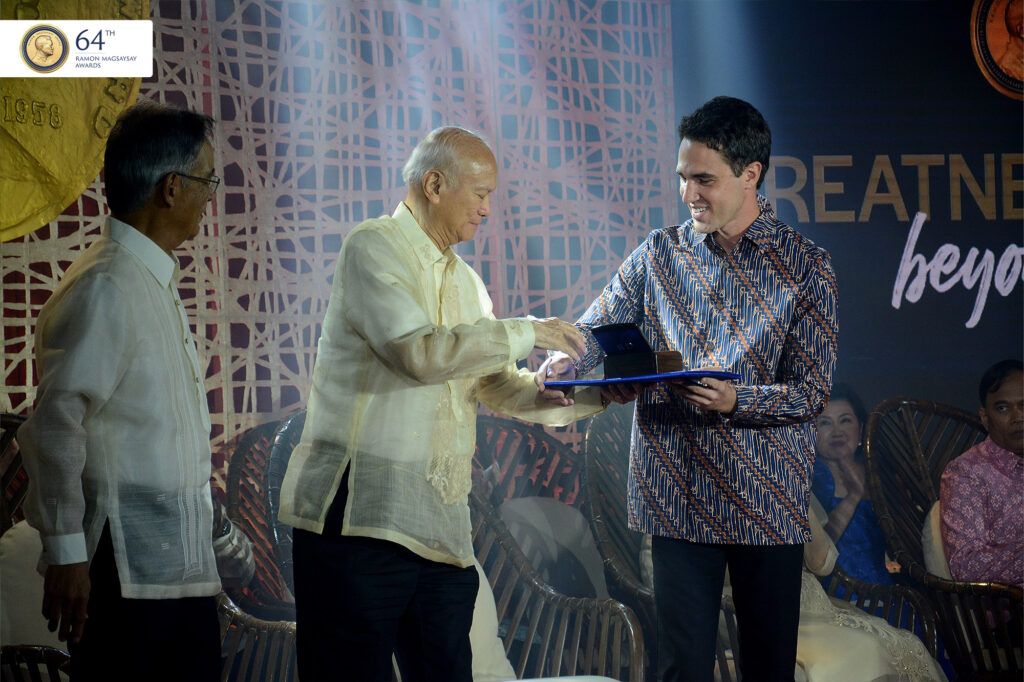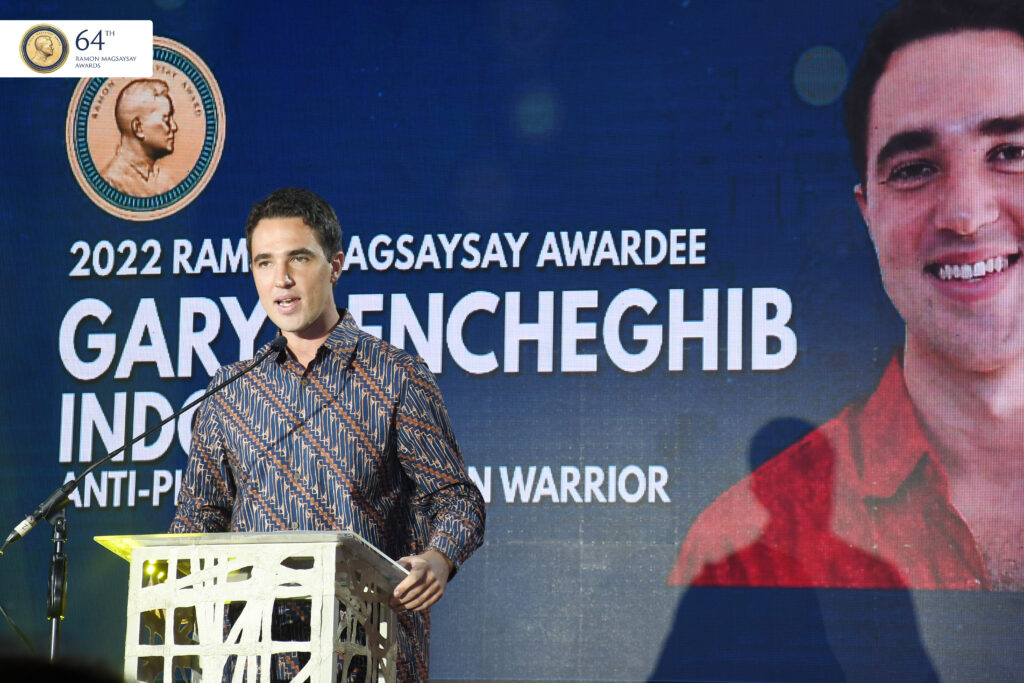 Bencheghib has since cleaned up Bali's waterways from marine plastic pollution.
He shared, "Today, I am deeply honored to be receiving the Ramon Magsaysay Award for my work as a garbage man."
The formal Presentation Ceremonies is the culmination of the 64th Ramon Magsaysay Awards Festival Season.
With this conclusion, the Ramon Magsaysay Award Foundation (RMAF) is already gearing up for its 65th Anniversary in 2023.
In a statement, RMAF President Susanna B. Afan said, "Our four Ramon Magsaysay Awardees this year are the embodiment of the spirit of Pres. Ramon Magsaysay – his Greatness of Spirit. The Foundation could not be prouder of all of them. They are torch bearers that shed light to the lives of the people that they have touched."
The Foundation promises another purpose driven 65th Anniversary season in 2023.
Afan continues, "The Ramon Magsaysay Award Foundation is committed to staying the course in continuing its mission in finding these inspirational leaders who tirelessly work for the benefit of Asia. Through the Award, we hope that our Magsaysay laureates' messages get amplified and their successful solutions get replicated in many different parts of the world. We hope that the stories of our laureates will continue to make all of us proud to be Asians."
The four 2022 Ramon Magsaysay Awardees received a medallion bearing the image of Pres. Ramon Magsaysay and a certificate. Their Awards were handed out by RMAF Chairperson Aurelio R. Montinola III and Ramon B. Magsaysay, Jr., the son of Pres. Ramon Magsaysay.