Dear Emman, Keya, Tanya, Tyra, Teo & Katharina,
It is almost Christmas and where did 19 years of our lives go?
I can only recall where you all saw the light of day
Katharina, you were born in Innsbruck, Austria during a Christmas holiday, your sister Keya was born in a Mandaluyong hospital one fine day in October 2003—two months short of nine months.
Tanya, if you didn't know it yet, your cousin Emman was born in a hospital in a nearby barangay in Ligao City, Albay, the hometown of my favorite writer, Kerima Polotan.
(Yes, I named Emman's late mother after her.)
What I remember of Emman's first week after birth was that he smiled at me after being given a morning bath. It was an early hint he'd end up under my care in the first two decades of his life.
I recall watching you for the first time Tanya and Tyra in the same hospital where Teo was delivered by Caesarian. He was in a hurry to get out but his tiny feet went ahead of his fragile head. Doctor decided on a Caesarian.
We are all in different parts of the world now.
In faraway Frankfurt, Keya, I am glad you are now in college enrolled in a design school while Katharina is in kindergarten and taking ballet classes for beginners on the side.
Can't help being overwhelmed seeing you Tyra in school uniform for the first time. And just like that, your sister Tanya is now in Grade 6 and will be in high school a few years from now.
Emman the years just went by so fast.
Suddenly you are now a BS Math sophomore at UP Diliman, the same school where your parents were former staffers of the Philippine Collegian.
Keya, Katharina, Tanya, Tyra and Teo—you are all lucky to be growing up with caring parents.
You know it's not the same with your cousin Emman. He lost his mother last year and we are still recovering from that tragedy. He has learned to cope with an absentee father and a mother gone for good.
Our last moments with your Aunt Kerima I could not bear.
Last few days of August last year, we were all connected by video call in different locations.
Your Aunt Kalon with Keya and Katharina were in Frankfurt, while your Kuya Emman and I were in a Bacolod crematorium.
Tanya, Tyra and Teo—your Aunt Kerima's high school classmate bade farewell while your Aunt Kalon, in Frankfurt, I could see crying on video. I know how you felt staying by your Mama's side and watching her cry.
In the middle of the pandemic, that's how you witnessed death in the family for the first time.
I am relieved your Kuya Emman took it all calmly. Never saw him cry even during the first time he saw his mother lifeless in a morgue up to the time her mother's urn was intered on its final resting place in a Pasig cemetery.
More than a couple of years and with the pandemic not yet totally wiped out, my thoughts are on so many things.
I worry a lot how you will fare as the world copes with world-wide recession caused by pandemic and I am resigned to the reality that we can only see each other through video calls.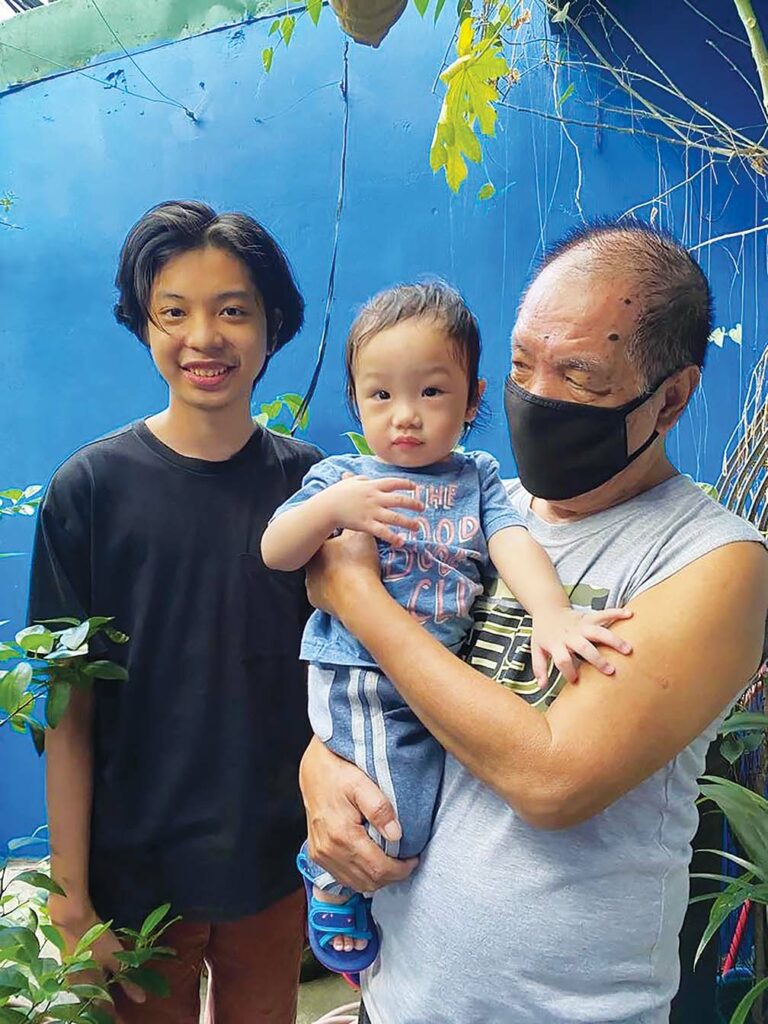 Emman, I am glad you are taking this new "normal" as a way to keep busy. You are good not just in Math. You use your night time composing with your friends till the wee hours in the morning. Now you have an active rock band called Matoki and doing gigs all over.
Keya and Katharina, I can see that you all love books and you look quietly content in your Frankfurt home reading something to your sister during the pandemic. Katharina, I am happy your sister Keya became an author in her high school years and also drawn to writing poetry. In German at that!
I have almost become a full-time homebody and it suits me. Your Kuya Emman taught me how to use GCash but I can't learn how to book a Lalamove.
For now, I am relieved we all survived more than two years of the pandemic and the long lockdown.
I recall when a growing number of people were being infected. Even sending your Kuya Emman to an errand would cause a lot of worrying on my part. I decided to get all errands done through a barangay tanod who is a neighbor.
I remember not seeing a barber for over three months. Suddenly my white hair was more prominent hidden as they were by hair dye for many years.
I am not surprised that you saw a different grandpa on our first video call.
Tanya—you laughed at my white hair but I wonder why Tyra is not so happy about it. I must have aged a lot in that cell phone image.
Back then, you probably wondered why we couldn't see each other even as we used to live just two blocks away from each other.
COVID-19.
Now this is one word you will remember even as you outgrow your childhood.
It is this virus that caused all these sudden separations, the sudden loss of jobs and sudden death by the millions.
I remember I could not even walk to your place and say, hello.
Now I am glad to know you are all safe despite the challenges.
The past three years, I witnessed friends who lost their brothers, sisters, parents and they couldn't even reunite for the last farewell.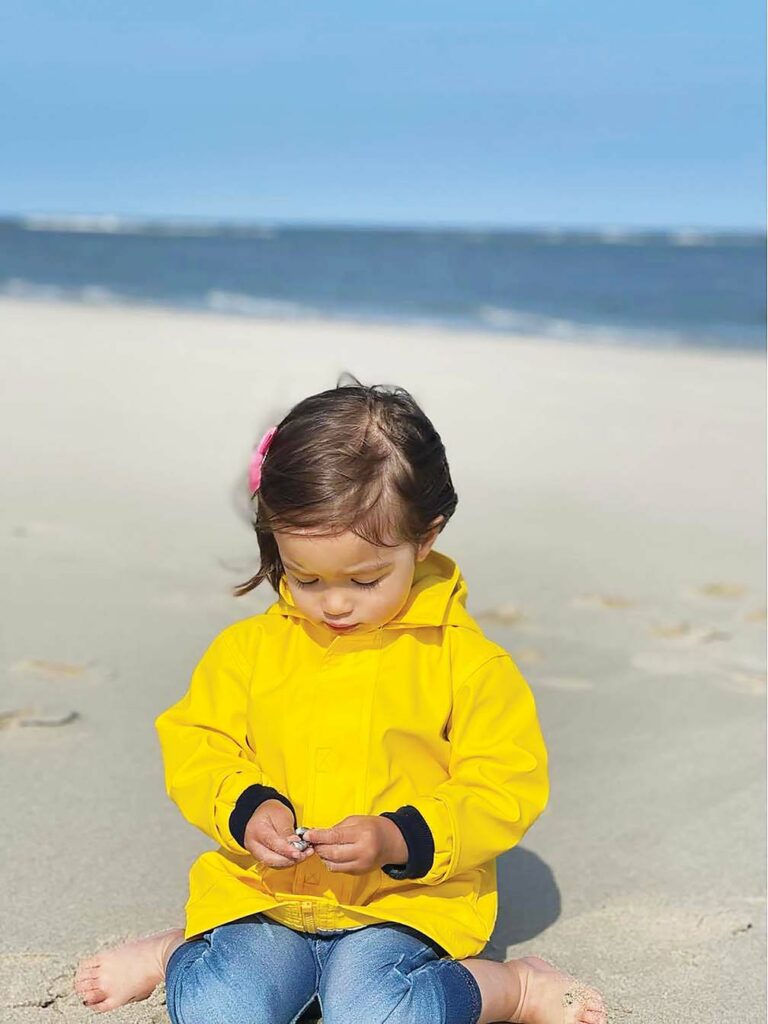 I cannot imagine myself going without seeing all of you. It would be heart-wrenching.
But I tried to make something out of this prolonged isolation.
As is my habit waking up at three in the morning, I look at all your pictures in the living room and wonder when we could have longer reunions.
Of course, you knew your grandpa turned to poetry during the pandemic. What he didn't expect was to be anthologized in Manila and Singapore and to be re-accepted as a poet in literary folios and magazines. And guesting in a university symposium.
This year, all I did was sign books in Manila, Catanduanes, Iloilo City, Baguio and Nueva Ecija.
Of course, we had our happy reunions in Hong Kong three years ago and got to see each other in Singapore one more time, two years before the pandemic.
I remember that Singapore reunion before the pandemic and seeing the then few months old Katharina.
I was filled with happiness seeing a beautiful human being smiling at you. I imagined she would be another grandchild you could pick up in school and another one you could bring to the ballet on weekends.
Grandkids, I always find myself asking: what is it about being a grandfather that keeps me happy and serenely content?
Looking at your pictures as I reflect on the last few years of my life, I see a future writer, a future teacher, a future economist and, who knows, a future performing artist.
A grandfather can only wish the best for his grandchildren as he enjoys what's left of his time.
This is the phase of your life when grandpa learns to say a little prayer—not for himself, but for his little ones starting a new life far away from his abode.
True enough—as Billy Crystal would love to say over and over—every granddaughter's birth makes you want to create things she will love. Hopefully, I will still be around to watch "Hansel and Gretel" with her at the Frankfurt Opera.
You can imagine how happy I was when on video, Katharina cooed, "Papu" and looked at me like she knew me from way back.
As your cousin Keya turns 19 in October, let me recall interesting stages of my life.
I became a father at 27 in the mid-70s and what followed were years when your mothers were schooled and raised under different circumstances.
Keya, your mother went through the Pasig grade and secondary levels in the public schools and was an early achiever. She was valedictorian from grade one to grade six and at the end of secondary school, she again topped the class in what at that time was the biggest high school in the world (the Rizal High School in Pasig).
She was a college scholar and graduated cum laude at the Ateneo de Manila and finished her master's degree in the same school. Don't be surprised that she earned another master's degree in management and finance in record time in Frankfurt.
What I am saying is that I have learned to respect your mother's choices even if they were contrasting ones.
Emman, I went to your mother's invitation to "relevant" plays at UP.
Keya, I enjoyed your mother's first attempt at acting in Ateneo's Entablado.
The one I could not bear to watch was her participation in a controversial play, Eve Ensler's Vagina Monologues. It was banned in Ateneo!
Keya and Katharina, your mother was in tears when her theater group had to move to UP campus to stage its Pilipino version, ("Usaping Puki").
And the more I could not find time to watch it. Your mother understood my begging off. Your grandpa is still unbelievably conservative after being a theater buff and reviewer for more than 40 years.
Emman, your mother went through more or less the same schooling getting varying honors but skipped Rizal High School to be at the Philippine High School for the Arts in Mt. Makiling, major in creative writing.
On her high school graduation, she walked barefoot to the stage to get her medal as salutatorian and delivered a poem instead of a salutatory address.
It impressed the graduation speaker, actress Boots Anson Roa.
She proceeded to the University of the Philippines in Diliman, worked at the Collegian university paper and just a couple of years before graduation, she disappeared and was soon found in the jungles of Isabela figuring in an armed encounter with the military which claimed to have found several Armalites in your mother's possession.
She was charged with illegal possession of firearms and spent 14 days in jail while awaiting the court decision for a petition for bail. She was soon out on bail and this episode found her in the headlines and primetime TV news for a few months.
As you all know by now, life of Emman's mother ended on a rich man's hacienda in Silay City early Friday morning of August 2021.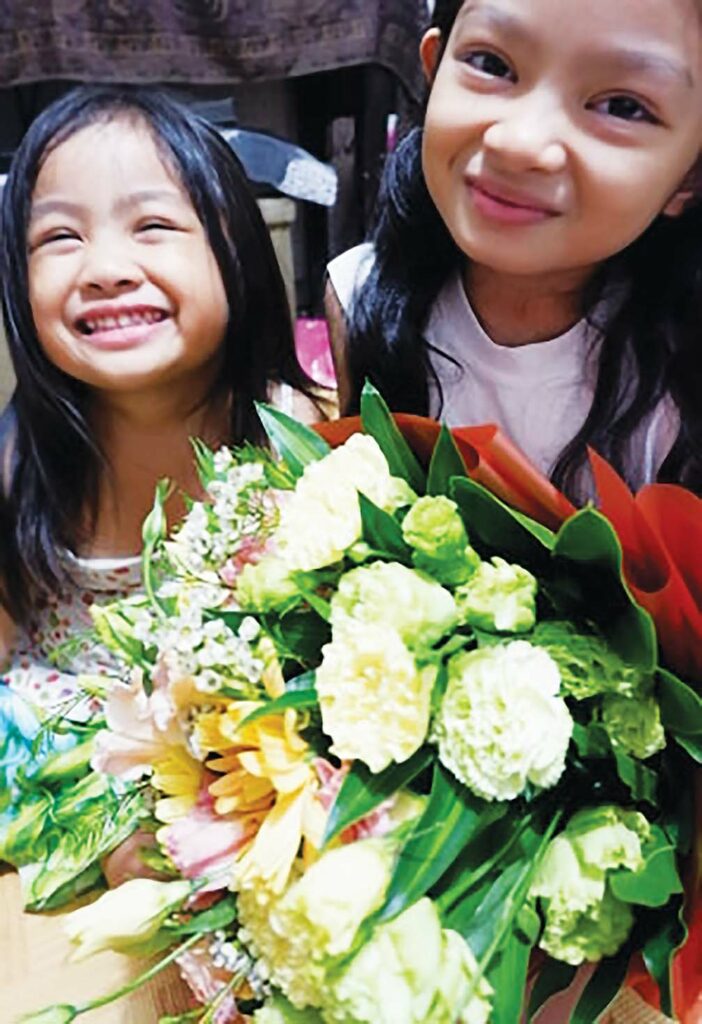 Tanya, Tyra and Teo, your mother was into sports and although I have not seen a single live volleyball game in my life, I like your mother's choice.
What I am saying is that I have learned to respect your mother's choices even if they were contrasting, if complicated, ones.
Keya, looking at the way your mother raised you in the last 19 years, I swear she is a better mother than some of the prim and proper mothers I know and probably more humane and sensitive than the church-going types.
In the end, your mothers' choices explain the way you live now.
And how Emman lost his mother.
Keya, you were brought up speaking English, learning German, studied in private nursery and kindergarten schools, taking violin and ballet lessons courtesy of your Grandma Baby and spending Christmas in Hong Kong, Singapore and Australia.
Oh boy, was I worried to death when I learned you were going to this safari trip in South Africa chasing giraffes, lions and elephants on an uncovered jeep. You even beat me to the house where Beethoven was born. I only want to visit Germany only to see the grave of Mozart but I guess I will never make it to Germany in my lifetime.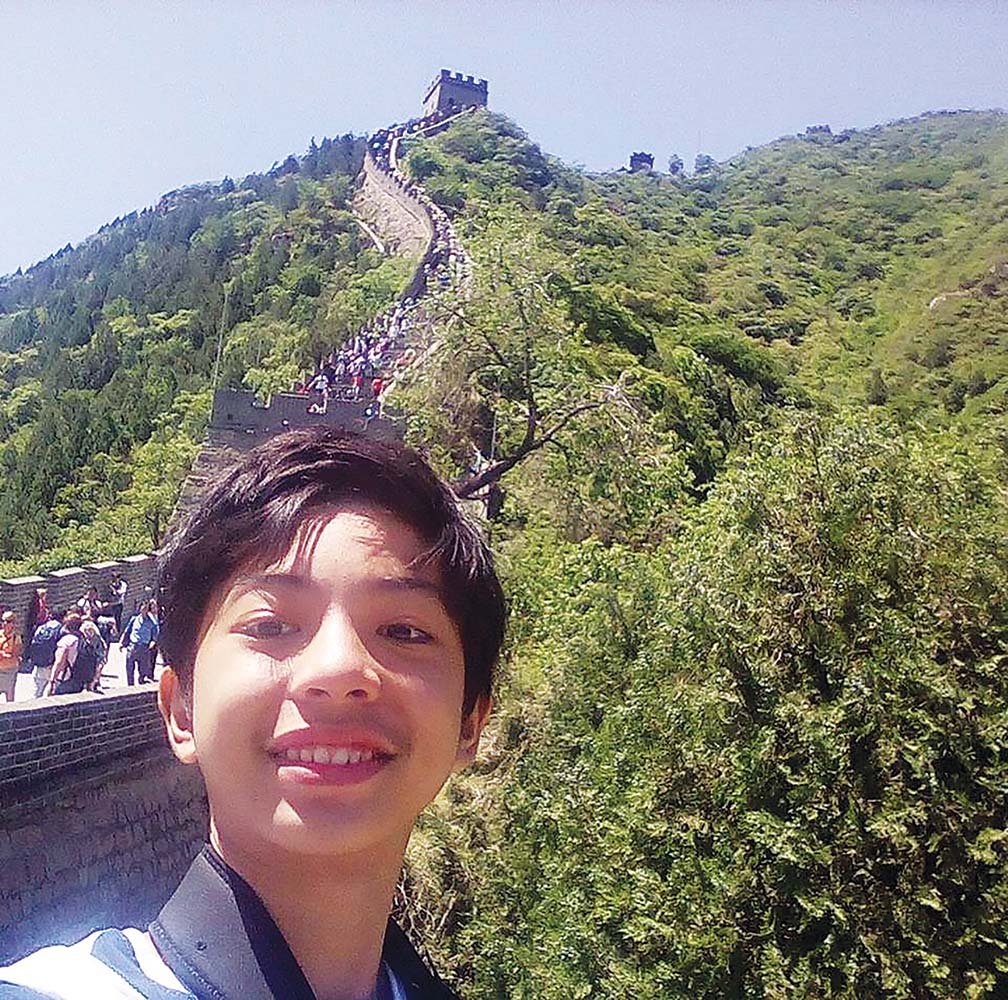 Emman you were lucky you won a Chinese history competition and made it to the Great Wall of China as one of your prizes.
What I am saying is that people may have contrasting beliefs and lifestyles but they can still respect and love each other the way your mothers did.
For some reasons, I have no lessons to teach but only a few pieces of advice to spare when you get through this life.
First, accept people for what they are.
Second, I guess it pays to keep a few friends.
Keep a few possessions but avoid most expensive things.
Don't blame anyone, much less the heavens, if your abode remains modest and without the mind-boggling possessions of box office queens and noontime show hosts.
Keep life simple because living up to everyone's expectations will not get you anywhere.
I was no perfect father and grandfather and had very little, if nothing, material to impart.
At the moment, the most luxurious treat I have given you, Keya, was a visit to Ocean Park where for the two of us, I happily lost a fortune (the equivalent of writing fees for two articles).
I got to this age knowing that it's good to acquire a few basic values (respect, trustworthiness and hard work).
But when you don't live up to them, reflect and find out where you went wrong and start all over again.
You can see from daily headlines and evening newscasts that virtues are better off bandied about but never really practiced—especially in the government.
Of course, I am still trying to find the words to explain why our past President kept on cursing on prime-time television and enjoyed jokes that would not sit well with your mothers, aunts and grandmothers.
I have expressed my anger once on FB and boy, did I go viral with thousands sharing my anger over the kind of President we all ended up with.
In this light, I can't think of no better lesson to teach you than to try (and oh boy, how hard it is) to always find the good in people and not the bad.
I am having a hard time praying for the newly elected President but yes, we all have to pray for everyone in these trying times.
But as the cliché goes, nobody is perfect.
Certainly not your grandfather.
Not this President and the past ones.
And the future ones, I am sure.
Thus far, I have been through 10 Presidents and dozens of State of the Nation addresses.
Sad to say that in the last 73 years of my life, nothing much has changed. Only the people did.
On your grandpa's 12th president, I admit, it's not going to be easy.
But having been on Planet Earth for 73 years now, you learn to look at people not as politicians but as human beings.
As for me, I can survive anything now.
I survived what I thought was a really bad, foul-mouthed president.
Surprised I can relate to him as a grandfather.
Just a thought: a former president who loves his grandchildren can't be all that bad.
At my age now, I am not quick to judge and easy to forgive.
I myself was intolerable at some stages of my life: I could not beat deadlines; my negative reviews have given actors and families of young musician's sleepless nights.
I am still a clumsy entrepreneur with first-rate concerts yielding untold deficits. They say your grandpa is better off a music missionary than an investor.
I have made mistakes and I am sure you will make yours. Whatever they are, try to learn from them.
I debuted as a graduation speaker eight years ago and like another speaker before me, I told the new graduates that "failure is the perfect teacher."
You can see from my status that the phrase—'perfect father and good provider'—hardly applies to me. I certainly am far from the ideal.
But maybe you can be!
Reach out for excellence and not necessarily for perfection.
Just keep trying to be the best that you can be—not to win awards—but to live up to your full potential.
It is a whole new world after corona virus.
And yes, after a new president.
Your cousin Emman probably grew up hearing horror stories about martial law. His grandmother was a martial law detainee and his mother died in an encounter.
Of course, I was curious what was in your cousin Emman's mind when he set foot in a Marcos abode full of Amorsolo paintings during a birthday treat for the family's favorite pianist. I remember how the presidential daughter (now the presidential sister) attended to your cousin Emman while doting grandpa was enjoying live music from divine fingers.
A few years after that encounter, the family was back in Malacanang.
Presidential daughter (now presidential sister) earlier confided to your grandpa she wouldn't know how to cope with her family's fate without her attachment to music.
A little less than two decades ago, that presidential sister invited the family 's favorite pianist and I to lunch in an Ilocos hotel. With her is the now new president of the country and his family.
I was quite touched when all the future presidential kids gave us (along with the pianist) a welcome buss on our cheeks. The future first lady even invited me to stay in their place if I am staying for a few days more. I told her in jest I'd be a nuisance visitor as I vocalize at three in the morning. I like that laughter when she reacted.
A little lesson in life.
You can't be on top all the time.
Learn to cope when you are down.
True, you should be tough when life gives you lemons.
All I care for now is that you are all safe and happy and loving your parents more than ever after the siege of the virus.
Look after your cousins even if you live far away from each other.
All my love,
Papu