Jetour Auto Philippines and Maybank Philippines held a special event at the Synergy Center of the Maybank Corporate Center in Bonifacio Global City (BGC), Taguig, to commemorate World Environment Day on June 5th, 2023.
Both brands have taken the initiative to raise awareness on electric vehicles to promote sustainability. The collaboration between Jetour Auto Philippines and Maybank is focused on encouraging the adaption of electric vehicles (EVs) and supporting an environmentally friendly lifestyle.
One of the key initiatives of this sustainability partnership is the promotion of the Jetour Ice Cream electric vehicles (EVs) with Maybank's support in providing affordable options for EV ownership, the offer of a low-down payment of 15% or a monthly amortization as low as PHP7,339 making it easier for individuals to own an electric vehicle.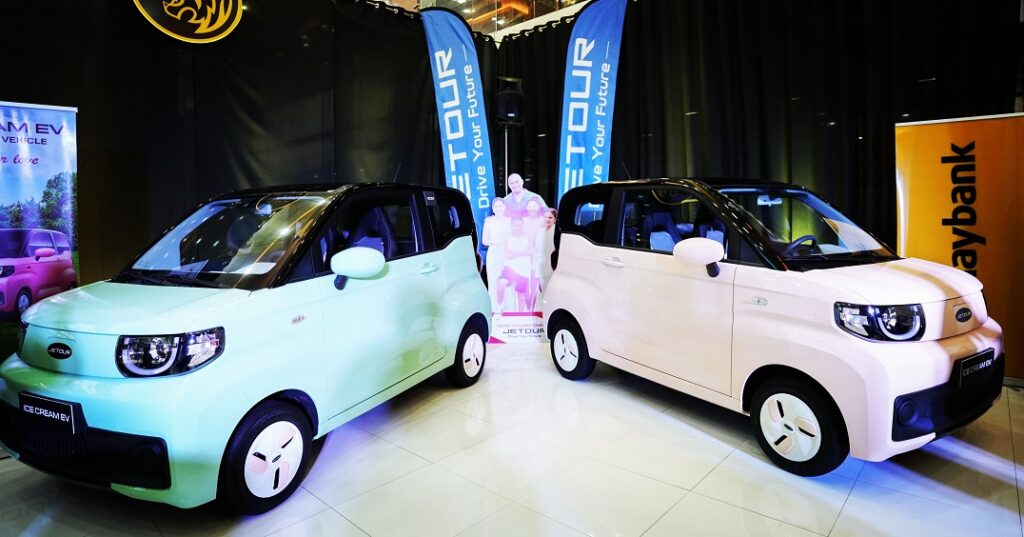 "We have always looked for partnerships that are aligned with our strategic thrusts and will be able to support our sustainability commitments to our customers and the community in general," said Maybank Philippines President and CEO Abigail Tina Del Rosario.
"We found one in Jetour, and in our own way, through this collaboration, we hope to be a significant contributor to efforts on saving the environment, by acting decisively in lessening our carbon footprint and enabling our customers in their decarbonisation journey," Del Rosario added. "Ultimately, may this initiative contribute in addressing the impact of climate change." 
Miguelito Jose, Managing Director of Jetour Auto Philippines said, "By working together on World Environment Day, as we move forward to transitioning from internal combustion engine (ICE) vehicles to hybrids, to a visionary path towards full-electric vehicles. We are grateful to have found a like-minded partner in Maybank, sharing the same purpose and direction as we embark on this remarkable journey together by providing accessible financing options for the Jetour Ice Cream EV, we can make it effortless for new car owners to embrace electric mobility."
The Jetour Ice Cream EV is available in four colors named after ice cream flavors: Vanilla, Strawberry, Blueberry, and Matcha. The U-shaped smiling LED daytime running lights add a touch of charm and playfulness to the vehicle's design. The lights' unique shape contributes to the Ice Cream EV's overall cute and distinctive look, enhancing its visual appeal and making it stand out on the road.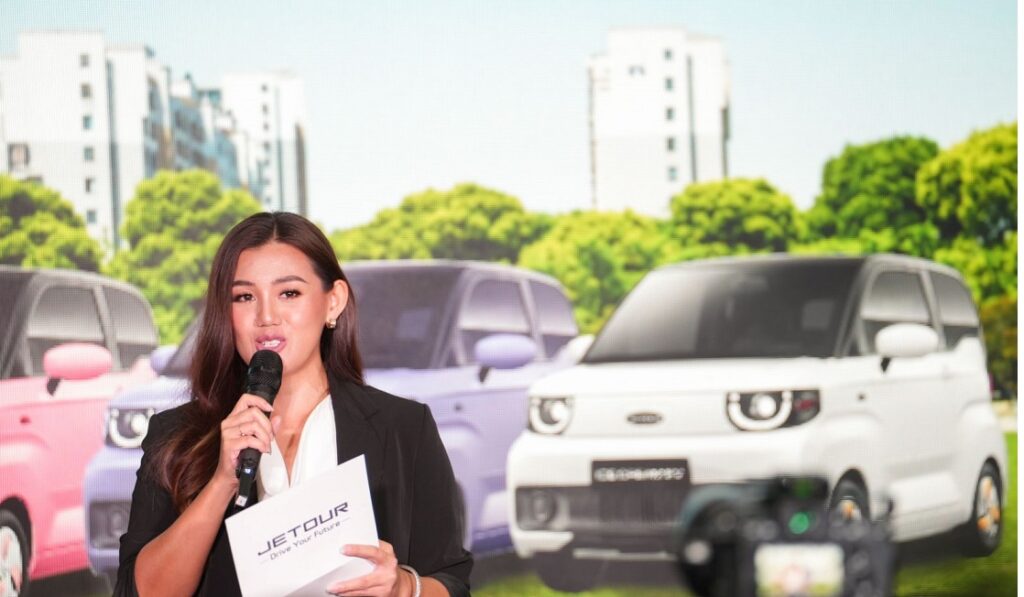 The inclusion of a high-grade gaming chair in the Ice Cream EV emphasizes the importance of comfort during drives. These chairs are typically designed to provide ergonomic support and comfort, allowing occupants to relax and enjoy the journey. The use of high-grade materials ensures durability and long-lasting comfort, enhancing the overall driving experience for a maximum of four people.
Equipped with a 20kWh E-motor that delivers a maximum speed output of >100 km/h and a peak torque of 85Nm. The motor is powered by a lithium-ion battery with 13.9 kwH power capacity and 220V charging voltage that ranges to 170 km on a single charge; the Ice Cream EV offers ample distance coverage for typical daily commuting and short trips. This makes it ideal for running errands, going to the store, or visiting nearby malls without worrying about range anxiety.
Some notable features of the vehicle include a reverse camera, a multi-info display that also serves as an infotainment unit, steering-wheel controls for phones, audio functions, and eco and sport driving modes.
With a starting price of PHP699,000, it also comes with an 8-year battery warranty or 120,000 km, whichever comes first, and a 3-year vehicle warranty or 100,000 km, whichever comes first. The Jetour Ice Cream EV is positioned as one of the most affordable full electric cars in the market, making them more accessible to a broader range of customers.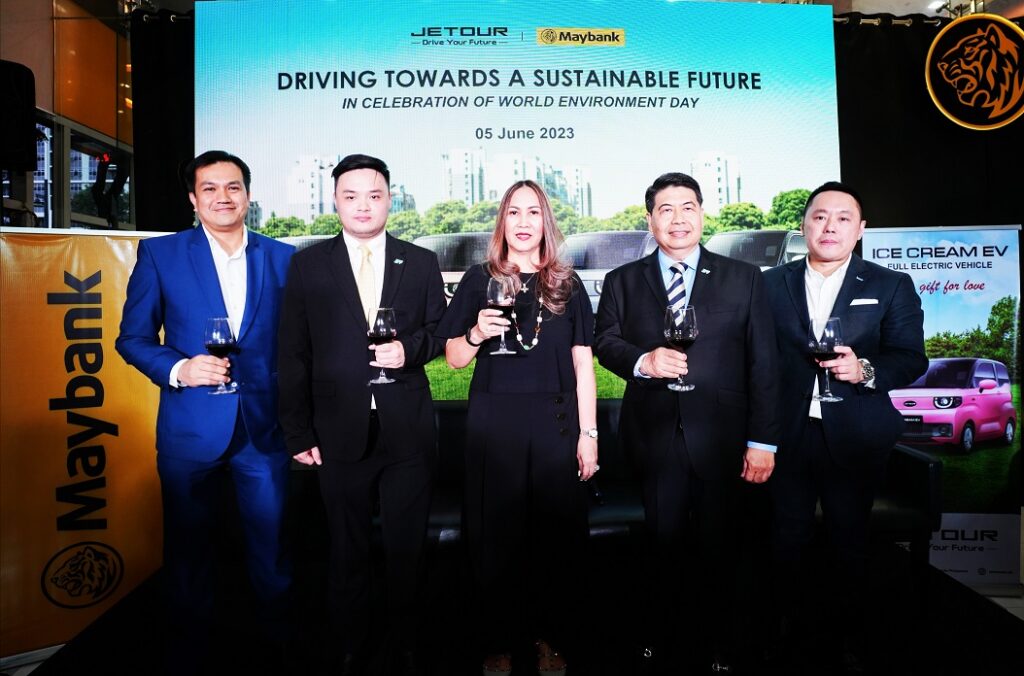 The collaboration between Jetour Auto Philippines and Maybank Philippines on World Environment Day showcases a shared commitment to promoting environmentally friendly practices and supporting the adaption of electric vehicles in the local market. The joint initiatives aim to educate and inspire individuals to consider electric vehicles a viable and sustainable transportation option.
For more information about Jetour Auto Philippines and its range of vehicles and services, visit https://www.jetourauto.ph/; follow the brand's Facebook page. (JETOUR Auto Philippines).
Maybank Philippines, Inc. (MPI) is a member of the Maybank Group, one of Asia's leading banking groups, and Southeast Asia's fourth largest bank by assets, with 60 branches and 4 Branch Lites nationwide.
To learn more about Maybank's Auto Financing, you may contact Maybank Customer Care at Metro Manila: (02) 8588-3888; PLDT Toll-Free: 1-800-10-8588-3888; or email mpi.customerservice@maybank.com. Maybank Philippines, Inc. is a proud member of BancNet and PDIC. Deposits are insured by PDIC up to PHP500,000.00 per depositor. Maybank Philippines, Inc. is regulated by Bangko Sentral ng Pilipinas I www.bsp.gov.ph.