Sir Boyet mentally counted the sacks of uling stacked up on the porch of his nipa hut. 43 sacks. Last week, there were just 10. But they kept on coming.
Upong started it all. He pleaded that Sir Boyet buy the ten sacks of uling that were left unsold because of the lockdown.
"It's sold for P240, Sir, but I'll give it to you for P220 per sack. I just need money to buy rice and fish," Upong pleaded. "They're mahogany and ipil-ipil, Sir. Very good quality."
Sir Boyet looked at Upong's soot-stained hands. He carried the sacks all the way from Macaebang, some 10 minutes away. His sweat combined with soot on his face and neck; the grime accumulating on the seams and sleeves of his tattered, loose shirt. His toenails were blackened by charcoal dust, and his Spartan slippers were caked with mud.
It hadn't rained for several weeks, but Upong had to pass by a stream that had dried up into puddles. He went back and forth carrying one sack at a time, ten times. He would have wanted to hire a tricycle but the driver charged P20 per sack. That amount could already buy about five kilos of well-milled rice at Auntie Nining's.
Since the Enhanced Community Quarantine was declared in Aklan, stores had closed at the public market. The store where Upong brought the uling was closed. He had delivered the 20 sacks there before the lockdown. But the ten sacks were from the second kiln, a woodpile surrounded by dried and fresh coconut leaves as kindle and covered by moistened clay or any type of soil. It usually took five days to turn wood into charcoal. Upong was caught in the lockdown, and the sacks of uling were left unsold.
"I have to pay Nene Yolly, Sir. She would not give me canned sardines unless the debt is paid today," Upong said, his eyes fixed on the ground. He could not look at Boyet in the eye; this was too much for his pride.
Sir Boyet felt his conscience stabbed. His salary for the kinsenas had been deposited to his ATM. Next week, he expected his mid-year bonus to arrive as well. While everyone else bore the brunt of the pandemic, government employees like Sir Boyet, were receiving their salaries without delay. His work-from-home arrangement also made things more convenient for him. He had not reported to school since ECQ began. He conducted his classes via Messenger, and his weekly reports were sent via email.
Yesterday, they had crabs for lunch and pampano for dinner. He just ordered Cebu-style lechon from a friend who offered free home delivery.
He went inside to get his wallet, took out two one-thousand and two one-hundred bills. He gave the money to Upong whose eyes brightened with joy.
"Thank you, Sir!" he sounded livelier this time.
Sir Boyet nodded and gave a curt smile. He watched Upong go to Nene Yolly's store. He could not hear what they were talking about, but he saw Upong with a yellow sando bag containing packs of dried fish, cans of sardines, and miswa. He also saw the Tanduay lapad he tucked in his waist.
Sir Boyet smirked. Ah, lapad is an essential commodity.
After Upong, Atoy and his father Lando came. This time with 20 sacks of uling laden on a karosa. The carabao was panting as it reached the yard of Sir Boyet's house.
"Sir, we heard you bought Upong's uling. We have 20 sacks, Sir. Please have them, too, for the same price," Lando said.
"I don't have use for them at the moment, Nong Lando. We have ten sacks already," Sir Boyet explained.
"Please, Sir. You can sell them. They will command a higher price when rainy season comes. We just need the money because Atoy's wife will give birth next month," Lando pleaded. He motioned Atoy to come to his side, and put his hand on Atoy's shoulder.
"The hospital will not accept his wife because she has no ultrasound result. We will have to get a kumadrona to help deliver the baby," Lando said, all the while looking at Atoy.
Sir Boyet tried to fight his growing sympathy for the plight of Lando and Atoy. But their story tugged at his heart.
The two left fleet-footed with their carabao after they piled up the sacks on the porch, now with 30 sacks of charcoal. Sir Boyet's motorcycle has to be parked outside in the yard to make room for the additional sacks.
"Mother, I don't know why they're selling the charcoal to me. We don't need many."
"It's alright, Boyet. You're helping them at this hard time." Sir Boyet's mother knew his son feigns complaining. He always could not say no to people coming to him for help. Last week, he nearly bought all the walis tingting sold by a band of Ati. He just ran short of cash and drove to the poblacion to withdraw. The Ati were gone when he came back.
The pair of red-keeled flowerpeckers chirped on the aratiles tree while the korokokok sang at a distance. Sir Boyet woke up to this unlikely chorus on a Sunday. He heard his mother's footsteps pacing outside his room. She did not part the curtain that serves as a door to his room.
"'Yet, 'To Linggoy is outside," she said softly. "He has sacks of uling."
Sir Boyet rolled his eyes. More sacks of charcoal, he thought.
"We have too many, Mother," he answered.
"Just go out and tell him that," she urged him.
Sir Boyet groped for his glasses by the bedside and got up. He could smell the garlic in the fried rice from the kitchen. He saw Onse, his eight-year-old cousin, pumping water from the artesian well. 'To Linggoy was standing under the jackfruit tree, the sacks of charcoal neatly standing beside him.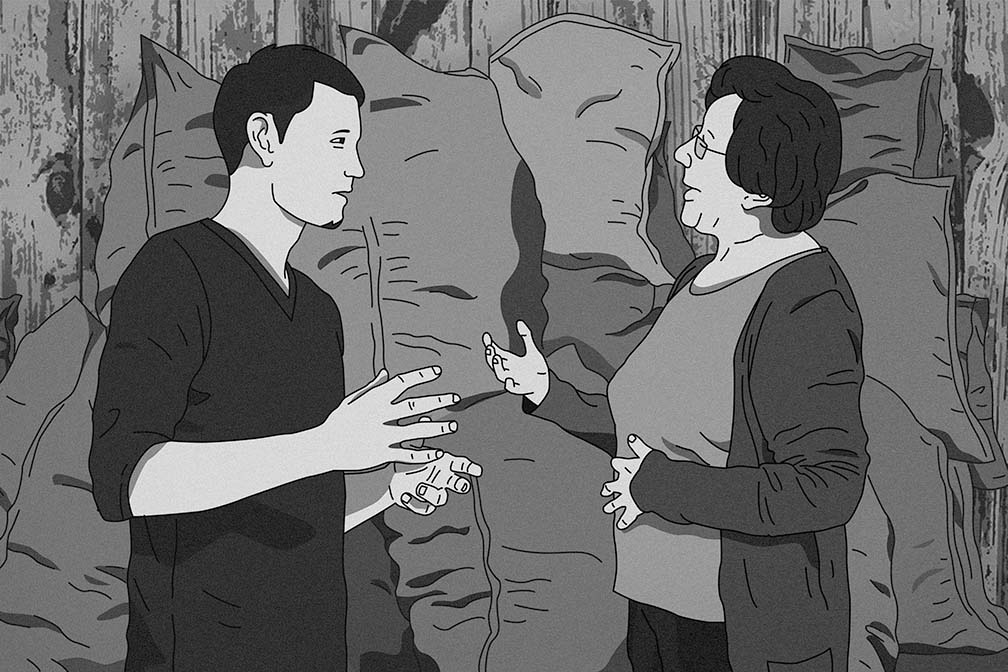 "Good morning, Sir Boyet. I was told by Upong that you buy uling," 'To Linggoy said. "I have 13 sacks, Sir. I hope you will buy them, too."
"We have no more room for more, 'To Linggoy," was Sir Boyet's way of declining.
"I need the money, Sir. Our senior citizen pension has been delayed because of this pandemic. You can have all these at P200 per sack, Sir," 'To Linggoy bargained.
"That's a good offer, 'To Linggoy, but I simply don't have use for more charcoal," Sir Boyet replied.
"I was hoping you'll take them, Sir. These are hard times for a senior citizen like me. Perhaps, Toto Kalbo will take them. Thank you, anyway, Sir," 'To Linggoy looked defeated. Toto Kalbo lives in Barangay Proper. Transporting 13 sacks of charcoal there would mean more work for him, and expenses for the tricycle.
Sir Boyet met 'To Linggoy's eyes. He tried to turn away but he had been caught. He felt shame for rejecting the charcoal.
"Okay. I'll take them 'To Linggoy," Sir Boyet said, in a tone of pity and self-exasperation for not standing his ground. I hope no one else brings more sacks of charcoal, he thought.
He paid 'To Linggoy, whose spirit sprang to life. His stooped posture straightened a bit. He turned away and walked towards the store, whistling. The red-keeled flowerpeckers answered with their metallic seep-seep.
Sir Boyet sat on the stacks of charcoal on the porch. He counted them again. Forty-three sacks of charcoal for a total of P9,200. It was just the second week of April, and the news about the pandemic was still grim. Lifting the lockdown seemed unlikely.
It would be weeks before the rainy season. Sir Boyet was hoping to dispose of the uling by then. He hoped the lockdown would end soonest.