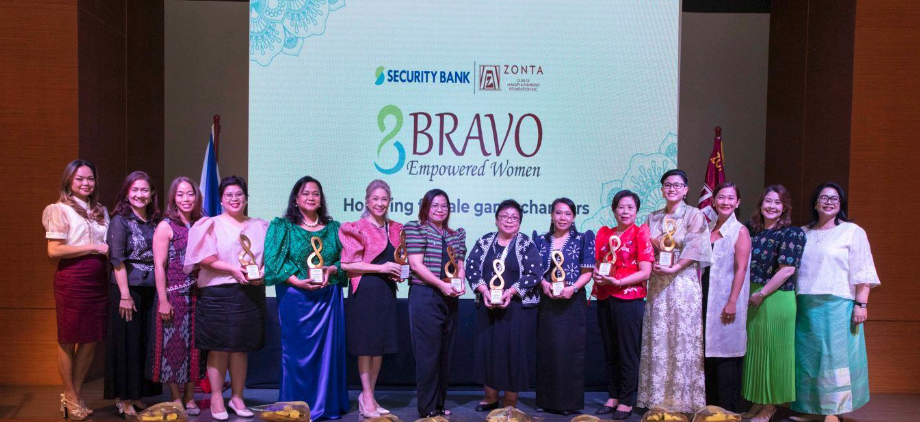 Security Bank, in partnership with Zonta Club of Makati & Environs Foundation, Inc., paid tribute to eight Filipinas from different walks of life through the 5th Bravo Empowered Women Awards, held at Security Bank Centre in Makati City on July 27, 2023.
The Bravo Empowered Women Awards honor female trailblazers who have achieved success in their careers and personal advocacies, as well as made meaningful impact on their communities.
The distinctions are given to Filipinas who drive social change in the country and actively work to uplift the lives of the less fortunate.
They all hail from different roots, have different beginnings but share the same commitment to service, paving the path toward economic and social progress.
"We've always been proud to support the Bravo Empowered Women Awards as we honor fearless Filipinas who work hard to improve the quality of life in their communities. These women are so inspiring, given their passion to promote good, render service, demonstrate leadership, and contribute to nation-building and recovery.," said Tanya Ansaldo-Deakin, FVP and Corporate Communications and Brand Division Head of Security Bank.
She added, "As Zonta's ally, we're happy to extend financial grants to these women and organizations that align with our mission to enrich lives, empower businesses, and build communities sustainably." 
The awardees for the 5th Bravo Empowered Women Awards are Celia Alicia Baltazar Elumba for Arts, Culture, and Heritage; Lourdes Landayan Delos Reyes for Business/Entrepreneurship; Jennie V. Jocson for Education; Dr. Cheryll Ruth R. Soriano for Media and Public Affairs; Rebecca R. Angeles for Social Services; Maria Caterina Cristina R. Lopa for Sports, Dr. Rose Marie O. Mendoza for STEM; and Mryna Dizon Segismundo for Tourism and Hospitality.
The awardees' contributions to society include rescuing women from the sex trade, empowering underprivileged girls through sports; advocating for just labor, gender awareness in education, and safe technology for children; driving innovation in textiles; providing livelihood and faith opportunities for women, promoting Filipino cuisine globally, and research in science and technology.
A special award was given to Filipinas, the Philippine Women's National Football Team, in recognition of their outstanding athleticism and inspiration to women in the world of sports.
"The organizers of the 5th Bravo Empowered Women Awards embarked on an extensive nation-wide search for women who are unsung heroes, great achievers, and advocates for change over a period of six months. The screening committee shortlisted and selected the top 27 from this pool of 87 highly qualified and accomplished nominees, for interview by the panel of judges, said Olivia Ferry, Chair of the 2023 Bravo Board of Judges. "Our panel wishes to express our profound congratulations to our awardees. They are deserving of this prestigious and well-respected award because of their professional accomplishments, their courage and advocacies for gender equity, and their pioneering work that helped spur societal transformations in various sectors of society."
To know more about Security Bank's advocacies and latest news, visit www.securitybank.com/news or Security Bank's Facebook page at www.facebook.com/SecurityBank.